Tofukuji Temple is one of the most visited religious temples in Japan, thanks to its brilliant architecture and scenic natural landscape. The temple complex is located within walking distance of Kyoto Station, making it an ideal historical attraction to visit. Plus, the temple sits beneath sprawling cherry blossom trees, maples, and natural scenery that present ever-changing color schemes throughout the year.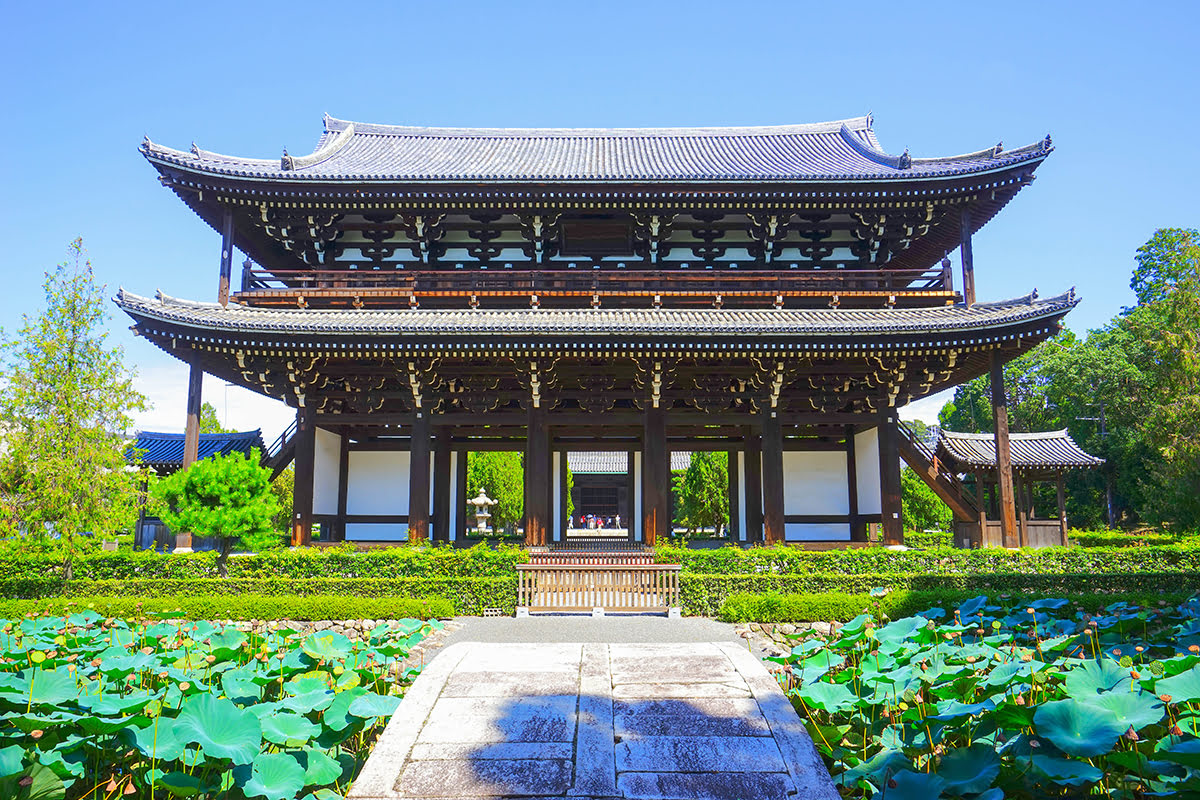 A Closer Look at Tofukuji Temple
Tofukuji Temple was constructed in the year 1236 and was the brainchild of the Fujiwara clan. Tofukuji Temple holds historical significance in the region as being one of the largest zen temples and the home of the Rinzai sect of spiritual Zen Buddhism. For those who want a peaceful place to meditate or to reflect on the meaning of life, this is the place to go.
Opening hours, admission & what to see
The complex of Tofukuji Temple spans a distance of several acres and is home to 24 buildings. The complex features a 22-meter high grand entrance gate called Sanmon Gate, a meditation hall, a zen garden, and several small buildings that were constructed between the 1300s and 1500s.
The main attraction is the ornate white and dark wood Hondo, which was constructed in the early 1900s. While at Tofukuji Temple, guests are invited to cross over the Tsutenkyo Bridge and check out the native flora and fauna that frames out the reflection pond. The temple is adorned in ornate architecture and fine hardwoods that have withstood the test of time.
Tofukuji Temple is open from 9am to 4:30pm daily from April-October, 8:30am to 4:30pm daily from November to the first half of December, and from 9am to 4pm daily from mid-December to March. Admission into the complex is 800 JPY to see the full site and 400 JPY to see select parts.
Best Time of Year to Visit Tofukuji Temple
As being one of the most popular tourist attractions in Kyoto, Tofukuji Temple is generally buzzing with tourist activity most months of the year. To experience the beautiful fall colors that take over the landscape, it is best to visit the temple during the month of November when the landscape is blanketed in a rich assortment of reds, oranges, yellows, and browns as the maple trees prepare to go into winter dormancy. During the fall season, temperatures usually hover in the mid-60ºF range.
Spring is when the cherry blossom trees throughout Tofukuji Temple are in full bloom. The landscape takes on a whimsical color palette of pink, white, and bright green. During April, the flora and fauna come alive and welcome visitors with a bright and vibrant appeal. The temperatures during this year are usually in the upper-60ºF range. The summer months are often hot and humid, and tourist areas experience large crowds; it is best to visit Tofukuji Temple during the fall and spring seasons when tourist activity is calmer.
FIND & BOOK A HOTEL IN KYOTO TODAY
More Attractions Near Tofukuji Temple
Kyoto is a major urban center for residents and tourists alike. It is always teeming with activity and appeals to visitors who want to experience the perfect mixture of the contemporary Japanese lifestyle its complex past. After spending some time at Tofukuji Temple, be sure to check out these other amazing downtown Kyoto attractions.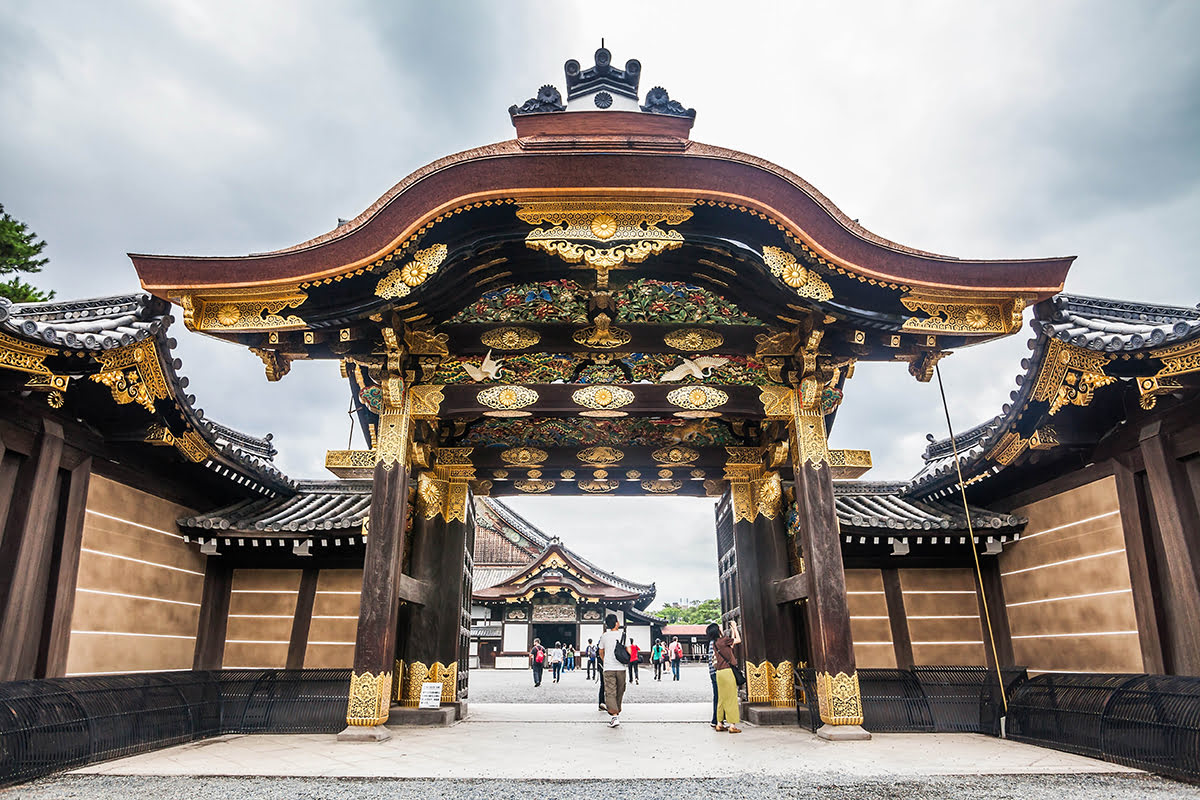 Nijo Castle
Complete with a moat and a drawbridge, Nijo Castle is one of Kyoto's best kept secrets. This ancient castle is what medieval samurai dreams are made of. Nijo Castle was designed and constructed in 1603 as home to the first shogun of the Edo Period, Tokugawa Leyasu and has a rich and historic story to tell. The castle grounds are reinforced by grand stone walls and a beautiful front gate that welcomes visitors to step inside and take a look around.
The front gate is highly decorated and fascinating to look at. Beyond the entrance, guests will be greeted by three main buildings, which are just as stunning to see. Ninomaru Palace takes center stage and is the former operating center of the shogun. Guests are invited to wander inside and take a look around. The inside is adorned in fine furnishings of the period and tatami mat floors. The property also features beautifully-landscaped gardens and an assortment of manicured trees. Within the garden, visitors will come upon a beautiful pond that is decorated with an assortment of natural stone structures. Nijo Castle hosts several ceremonies and events throughout the year, so be sure to do some research before planning a trip to the complex. The castle is open from 8:45am to 5pm in October-June, from 8am to 6pm in July and August, and from 8am to 5pm in September. Admission is 620 JPY plus an additional 410 JPY for entry into Ninomaru Palace.
Philosopher's Walk
A thought-provoking pathway that winds through the Higashiyama District, Philosopher's Walk is rich with beautiful scenery. This idyllic nature area is perfect for taking an afternoon stroll with loved ones and friends and is lined with fragrant cherry blossom trees that make it appealing to all of the senses. To get the most out of your stroll along the path, visit Philosopher's Walk during the month of April when the trees are fresh in bloom. The entire path is approximately two kilometers in length and features a paved pathway that frames out a narrow urban waterway.
Kyoto National Museum
A cultural staple in the city since 1897, Kyoto National Museum is home to art and artifacts that paint a picture of Japan's culture and traditions throughout history. The museum has been in its current location since 2014 and offers several floors of documents, costumes, and other artifacts that attract visitors from all over the world.
Kyoto National Museum has an imperial feel to it and the interior is beautifully designed to help showcase all of the exhibit pieces. Kyoto National Museum features permanent exhibits and traveling exhibits that change over time. The museum is open from 9:30am to 5pm Tuesday-Friday, from 9:30am to 8pm on Friday and Saturday, and closed on Monday. Admission to get into Kyoto National Museum is 520 JPY per person.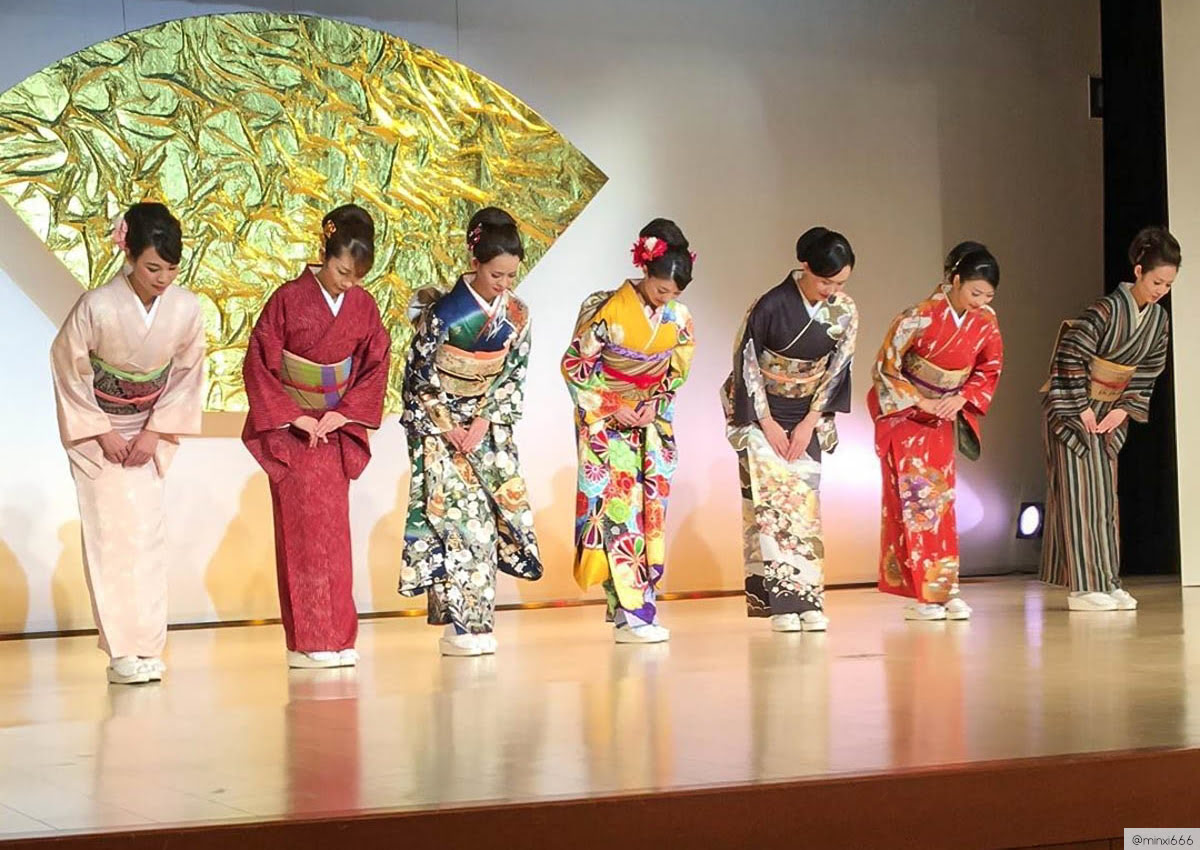 Nishijin Textile Center
Located in the heart of Kyoto, Nishijin Textile Center is a one-stop-shop for decorative Japanese kimonos, accessories, costumes, handbags, and other textile related items. Items created for the store are made from the finest fabrics. The threads are dyed prior to weaving them into textiles so that the fabrics are vibrant and will hold their colors for a long time. At Nishijin Textile Center, visitors are invited to sit down and watch daily kimono shows as well as purchase some of the fine handiwork produced here. Not only are guests able to purchase items at the center, but are also invited to attend textile-making classes and watch the professionals weave some of the vibrant traditional fabrics. Nishijin Textile Center is open from 10am to 5pm in November-February and from 10am to 6pm March-October.
FIND & BOOK A HOTEL IN KYOTO TODAY
Getting Around Kyoto
When it comes to getting around Kyoto, the developers of the public transportation system know what they are doing. This region is densely populated and is used to shuffling tourists around to all of the fine attractions it has to offer.
The city has two main subway lines, six train routes, and a variety of city buses to choose from. Depending on what activities there are on your itinerary, any one of these options can get you to where you are going. The routes for each form of transportation are color-coded so even visitors from other countries with different languages can navigate the system with ease.
Like with many other metropolitan cities around the globe, Kyoto also has an assortment of car and driver for hire services of which visitors can take advantage. The benefit of hiring a driver is that guests can get to attractions quicker and get expert advice from those who call Kyoto home. There are also rental car facilities available, but driving around Japan can be quite confusing for those who are new to the area.
FIND & BOOK A HOTEL IN KYOTO TODAY
Hotels Near Tofukuji Temple
With its prominent location near the heart of Kyoto, visitors will not be hard-pressed to find excellent lodging options near Tofukuji Temple. This area features an assortment of five-star hotels as well as budget-friendly economy rooms and shared guest houses. Guests will find the perfect lodging option to suit their needs.
Urban Hotel Kyoto
For less than 8,200 JPY per night, guests will enjoy a comfortable stay at Urban Hotel Kyoto. This mid-grade hotel is seven stories high and offers an assortment of room choices to accommodate guests. Urban Hotel Kyoto is located near many of the historic temples and shrines and is within walking distance from restaurants and shopping centers.
The rooms at Urban Hotel Kyoto feature a neutral color scheme that promotes a restful night sleep and each measures in at approximately 140 square feet. Guests can choose from standard rooms to deluxe rooms depending on how many people are in their party. Amenities included with a booking at this hotel include complimentary Wi-Fi, breakfast, a desk space, a lobby and gift shop, massage services, a coffee bar, vending machines, and a bar. The hotel is located within walking distance from Fujinomori Station providing quick access to all of the area's attractions.
Inari Ohan
Featuring award-winning service and a cozy stay for all guests, Inari Ohan is a boutique-style hotel that is perfect for those who really want to immerse themselves in the Japanese culture. Whether traveling solo or with a family or friends, there is a room here that is ideal for everyone. Rooms at Inari Ohan can be reserved for as low as 16,000 JPY per night during the non-peak travel months of the year. The hotel is located in the downtown region with quick access to two different subway stations and the community's restaurants and shopping centers.
At Inari Ohan, guests will be treated to rooms that feature tatami mat flooring, stone showers, mineral water soaking tubs, and beds that are outfitted with plush linens. The interior of Inari Ohan boasts an earthy vibe that is perfect for relaxing after a long day of sightseeing. Amenities included with a booking at this boutique hotel include a hot tub, community room, complimentary Wi-Fi in all staying rooms, a lush Japanese garden, and an electric kettle for coffee or tea.
Saka Hotel Kyoto
For those with a discerning taste for elegance and comfort, Saka Hotel Kyoto delivers. Rooms at this hotel start out at around 22,500 JPY per night and the service guests receive is beyond belief. Saka Hotel Kyoto is conveniently located near major public transportation hubs, so visitors will have quick access to all of the famous attractions in Kyoto. During the fall season, the greenbelt that surrounds this hotel turns brilliant shades of orange, yellow, brown, and red as the maple trees and other foliage begin to prepare for the long winter ahead.
All guests who choose to stay at Saka Hotel Kyoto are treated like royalty. With an assortment of floor plans that offer single or double beds, there is a room that is perfect for solo travelers, families, and couples. This boutique hotel has 38 staying rooms in total. Each room features comfortable Japanese-style bedding and matted dining room setups, a private bathroom that is stocked with toiletries, and magnificent views of the city. Guests do not need to look far to find somewhere to relax and unwind as this hotel features an onsite Japanese restaurant, a bar, and a community lounge.
Kyoto Granbell Hotel
Noted as one of the premier hotels in the region, Kyoto Granbell Hotel provides award-winning service to all of its guests. This hotel provides exceptional value with rooms starting out at just 11,000 JPY per night during the non-peak travel months of the year. Kyoto Granbell Hotel is located just minutes from Yasaka Shrine and Tofukuji Temple, as well as the major public transportation hubs of Kyoto. While staying at Kyoto Granbell Hotel, guests will be within walking distance of many tantalizing neighborhood restaurants, bars, and shopping centers.
When making a reservation at Kyoto Granbell Hotel, guests can choose between a standard, moderate, or premier room in a variety of floor plans. Rooms are approximately 194 square feet or greater and come with twin or double beds. The color scheme of each room is done in neutral colors that provide a cozy and relaxing vibe. Each room has a private bathroom that is decked out in modern utilities and comes with complimentary toiletries. While staying at this hotel, guests can take advantage of massage services, complimentary coffee and tea, a steam room, ticket services to the area attractions, a relaxing hot springs bath, and currency exchange. There is an onsite restaurant, library, and coffee shop.
FIND & BOOK A HOTEL IN KYOTO TODAY