The Xinyi District has technically only existed since 1990. Yet in that short time, it's developed a reputation for being one of Taipei's premier travel destinations. You're never too far from experiencing something cool or iconic, from the impressive TAIPEI 101 to the breathtaking Elephant Mountain. While the district is known for producing unforgettable shopping experiences at ATT-4-FUN, it's also a place of religious reverence thanks to points of interest like Songshan Fengtian Temple. Here's our list of the top 8 things to do in Xinyi to make your trip truly phenomenal.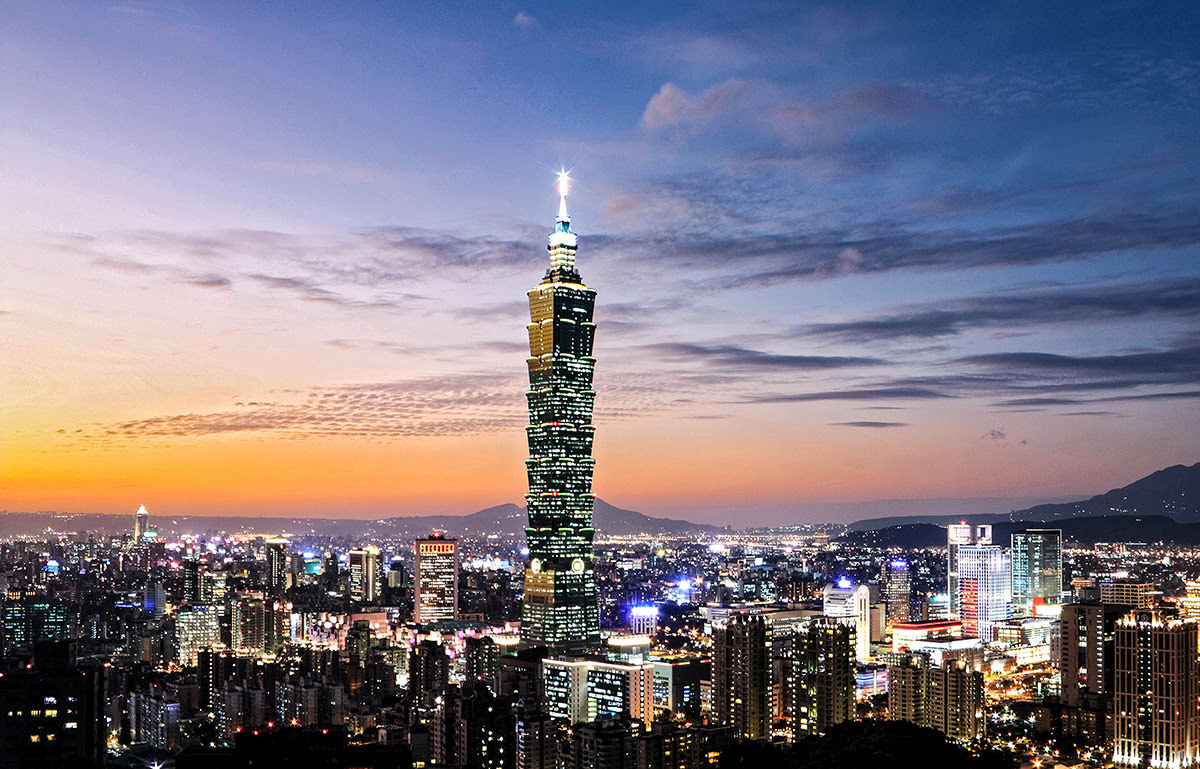 1. TAIPEI 101
TAIPEI 101 is the tallest building in the Xinyi District. It's also the 6th tallest building in Asia and the 9th tallest in the world. Completed in 2004, this impressive bamboo-like skyscraper stands 1,667 feet tall and, as its name suggests, stands 101 stories high. The TAIPEI 101 Observatory is an outdoor observation deck on the 91st floor. It's open when the weather's right and offers panoramic views of the Xinyi District and some of its most famous points of interest, such as Liberty Square, the Miramar Ferris Wheel, and the Tamsui River. If the weather isn't cooperating, you can enjoy views from indoor observation decks from the 88th or 89th floor.
There's plenty to do at TAIPEI 101 other than gazing out at the Xinyi District's landscape from the TAIPEI 101 Observatory. A sleek shopping mall occupies the tower's first four floors along with a basement level, and you'll find several upscale stores like Chanel, Dolce & Gabbana, and Gucci selling their merchandise. TAIPEI 101's elevators are also worth a ride – they can travel nine floors in only 37 seconds, at speeds approaching nearly 40 miles per hour. The tower also boasts a gigantic golden wind damper that stabilizes the structure in the event of an earthquake. Most of TAIPEI 101's floors are reserved for business, so expect to see a lot of corporate hustle and bustle if you visit during the week. The easiest way to get here by train is to disembark at the Taipei 101/World Trade Center Station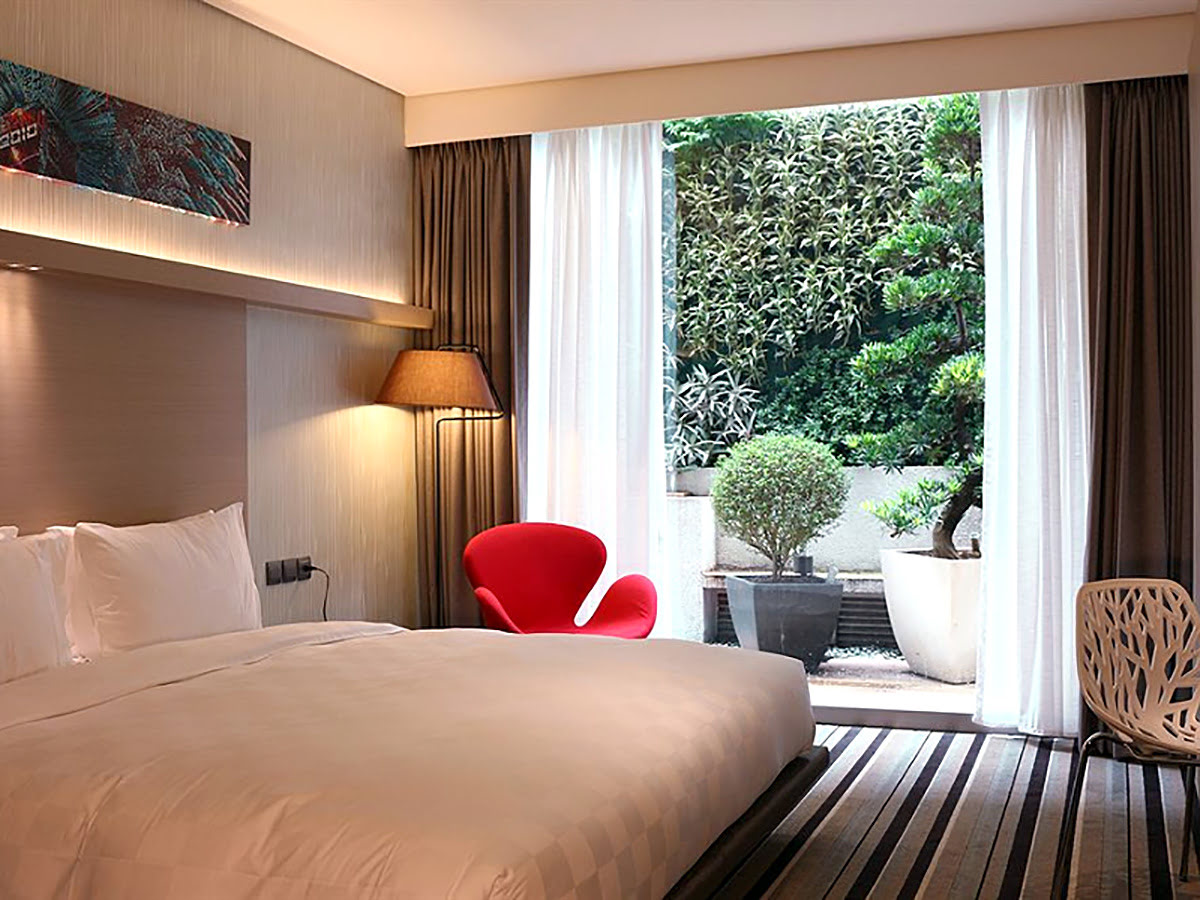 Explore more hotels and resorts near TAIPEI 101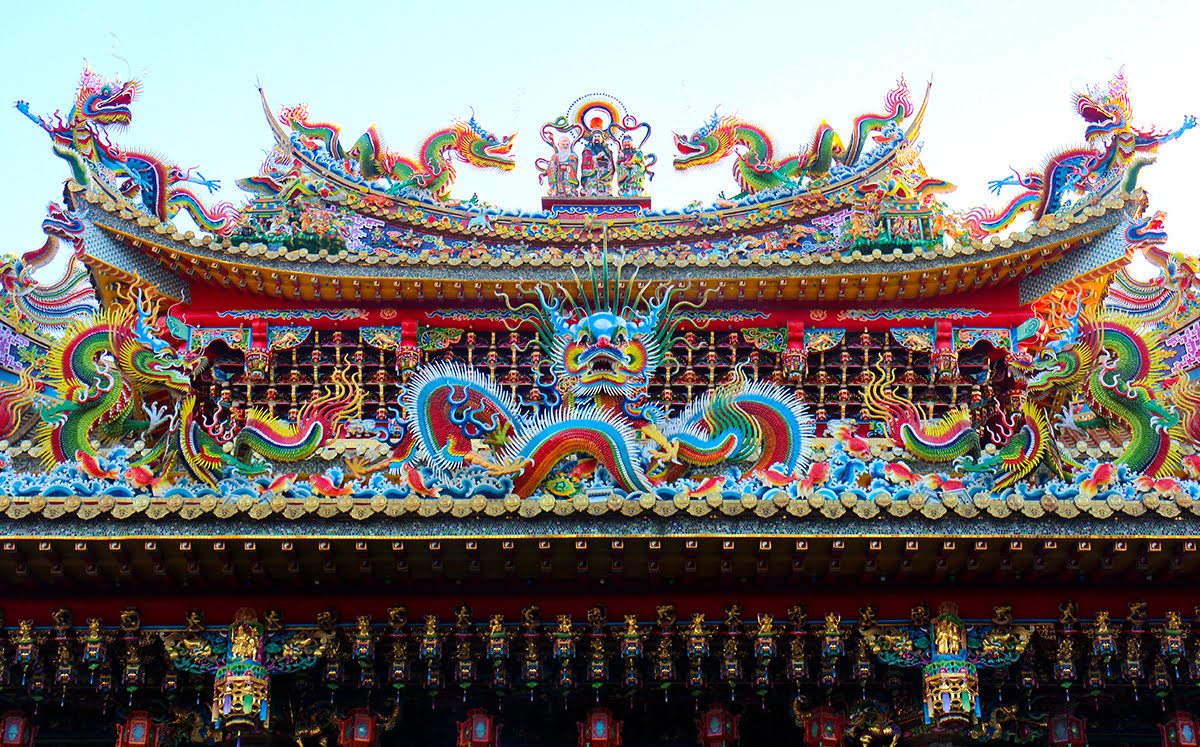 2. Songshan Fengtian Temple
Songshan Fengtian Temple is commonly known as "The Temple of Heaven," and with good reason – the temple's deity is the Heavenly Emperor. Set at the base of Tiger Mountain, this Xinyi District delight was built in 1954, although renovations in subsequent years have made it substantially larger.
Expect to see plenty of faithful worshippers on the grounds of the Songshan Fengtian Temple. As you observe the temple's colorful pagodas, carved-out ceiling lanterns, and ornate black and gold dragon carvings, be respectful of their worship. Songshan Fengtian Temple's elevated base also affords you some of the best views of the Xinyi District landscape in the area this side of TAIPEI 101. Breathtaking vistas of Dr. Sun Yat-Sen Memorial Hall, Grand Hotel Taipei, and the TWTC International Trade Building can all be enjoyed from the grounds.
3. Elephant Mountain
If you've ever seen a photo of TAIPEI 101 standing out among the city, you can bet the shot was taken from Elephant Mountain. This popular hiking spot is well-known for its network of trails, which guide you toward various observation decks that open to breathtaking viewpoints of the Xinyi District. Measuring 600 feet high, Elephant Mountain is only about a mile away from city-bound icons like TAIPEI 101 and the Xinyi Shopping District , but its jungle-like greenery and natural panoramas make it feel much further away from Xinyi District than the distance states. This proximity makes it easy to get to Elephant Mountain; you can access its base by train via the Xiangshan Metro Station.
Getting to the top of Elephant Mountain is a bit trickier. There are no technology-driven shortcuts to get to the views of TAIPEI 101. You'll face a steep staircase that takes anywhere between 10 and 20 minutes to climb. Be sure to bring plenty of water and dress appropriately as it tends to get hot and humid in the summer. Despite these daunting conditions, Elephant Mountain is an extremely popular destination for locals and tourists alike. Things particularly get crowded up here during the sunset. There are also occasional night hikes to the peak, in case you want to see TAIPEI 101 and the rest of the Xinyi District light up after sundown.
Discover more hotels and resorts near TAIPEI 101
4. Xinyi Shopping District
The Xinyi District's reputation for being a haven for shoppers is well-deserved. The sprawling Xinyi Shopping District is its epicenter. Nicknamed "The Manhattan of Taipei," the district within the The Xinyi District contains several malls, upscale department stores, and upscale retail venues like Eslite Bookstore. TAIPEI 101 and its multi-story mall serves as the district's anchor.
The numerous malls within the Xinyi Shopping District provide eclectic shopping experience. ATT-4-FUN attracts budget-friendly shoppers and young people, while the upscale shoppers flock to Shin Kong Mitsokushi Xinyi Place to purchase high-end brands. The Xinyi Shopping District features a wide range of food options from fine dining to humble ramen shops, and they typically occupy food courts or entire floors within a shopping center. The district itself stretches between Xinyi Road and Zhongxiao Road, and can be easily accessed by train via the Taipei 101/World Trade Center Station. Most stores close at 9:30 PM, but the clubs found within the district stay open late into the night.
5. Sun-Yat-Sen Memorial Hall
Part cultural center, part exhibition hall, Sun Yat-Sen Memorial Hall arguably rivals TAIPEI 101 as the Xinyi District's most impressive man-made structure. Built in 1972 to commemorate the 100th birthday of Dr. Sun Yat-sen, the 7.3-acre property anchors an open space of roughly 28 anchors in the middle of Zhongshan Park. Sun Yat-Sen Memorial Hall is designed in the style of a Chinese palace and its dramatic yellow-gold roof particularly pops on a bright, sunny day. It's one of the most versatile spaces in Xinyi District. It's home to a dramatic changing of the guard ceremony that happens at the top of every hour between 9:00 AM and 5:00 PM. It also hosts concerts and academic lectures throughout the year, and its four exhibition rooms typically feature rotating art showcases. It's wise to check the hall's schedule of events prior to visiting – you may see something that piques your interest. One thing you don't have to check is the contents of your wallet: admission to Sun Yat-Sen Memorial Hall is free.
The grounds surrounding Sun Yat-Sen Memorial Hall are a popular place for people to visit. Because it's in Zhongshan Park you can expect to see locals flying kites or roller skating on the premises. The park is also worth exploring; it's home to a sprawling garden festooned with a colorful display of flowers, and their presence is a perfect aesthetic complement to the adjacent Sun Yat-Sen Memorial Hall. The Sun Yat-sen Memorial Hall Metro Station is a block from Zhongshan Park.
Discover additional hotels and resorts conveniently located near Sun Yat-Sen Memorial Hall
6. Taipei World Trade Center
Taipei World Trade Center complex literally sits in the shadow of TAIPEI 101 – it's across the street from the massive tower. Yet it stands out on its own because it's home to several essential things to do in Xinyi District. It's home to four exhibition halls that are constantly bustling with numerous events throughout the year, from car shows to business conventions. Spending a few hours here gives you a great sense of the Xinyi District's national importance. Taipei World Trade Center directly connects to the Taipei 101/World Trade Center Station. The subterranean multi-level station features several outstanding public art pieces that are worth your time if you take the train to arrive at the building.
Visiting the Taipei World Trade Center also provides you with a handy excuse to check out Grand Hyatt Taipei. Even if you're staying in another hotel, it's worth stopping by to take in its ornate gold-tinged lobby, anchored by an exquisite marble fountain. Fans of the paranormal, take note – Grand Hyatt Taipei has a reputation for being the most haunted hotel in the Xinyi District.
Discover additional hotels and resorts conveniently located near Taipei World Trade Center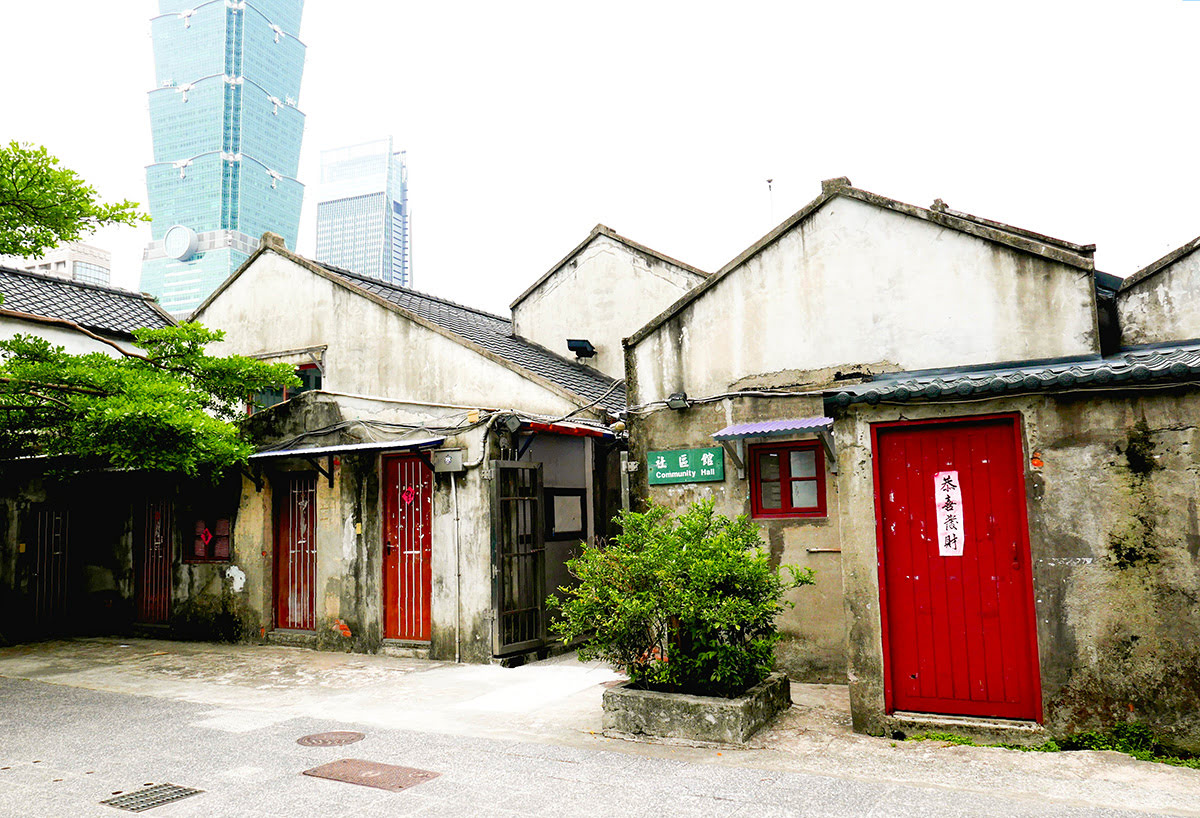 7. Xinyi Public Assembly Hall
Xinyi Public Assembly Hall provides travelers with an important glimpse of the Xinyi District's past, before it was a vital economic hub. Also known as Four-four South Village, the buildings that primarily make up this venue were originally low-rise homes where Taiwanese veterans and their families lived. Xinyi Public Assembly Hall is only a couple blocks away from the ultra-modern skyscraper TAIPEI 101's tower, a geographic feature that enhances the hall's feeling of authenticity.
Xinyi Public Assembly Hall features permanent exhibitions detailing the area's military past. There's also a daily onsite marketplace where you can get food and locally-made arts and crafts. Because it's within walking distance of TAIPEI 101, Xinyi Public Assembly Hall can be accessed by taking the train to the Taipei 101 World Trade Center Station.
Discover additional hotels and resorts conveniently located near Xinyi Public Assembly Hall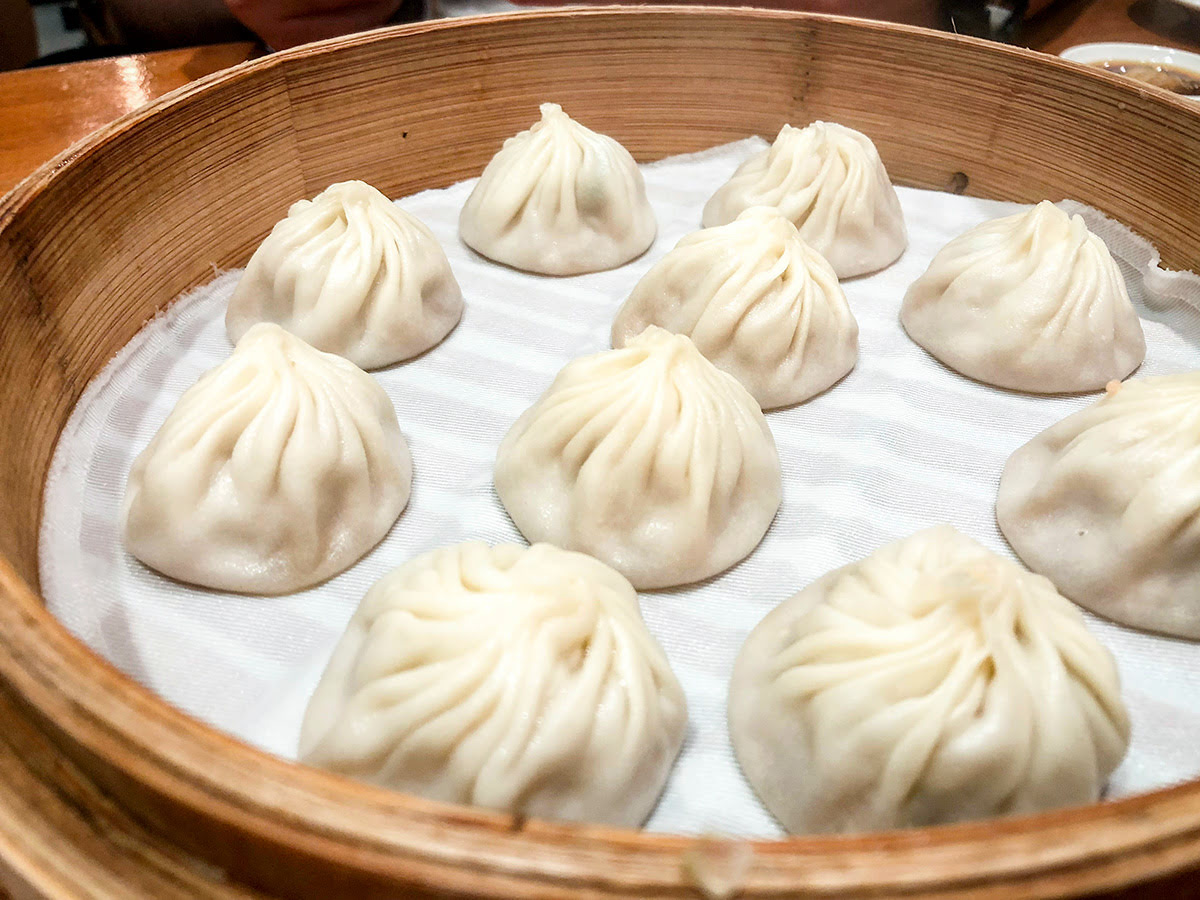 8. Din Tai Fung
The waiting times to get into Din Tai Fung are legendary. But there's a reason why so many people are willing to wait two to three hours to eat at this popular dumpling house within TAIPEI 101. The elegant xaio long bao (aka soup dumplings) are some of the most sumptuous bites of food you'll ever put in your mouth. They offer dim sum as well, but the soup dumplings are the undisputed showstopper.
If you wish to travel slightly outside of the Xinyi District, you can go to the original Din Tai Fung location in the Da'an District, which opened its doors in 1972. However, the subterranean location in TAIPEI 101 offers a few extra perks the original location doesn't, such as the ability to use your credit card. You can also sign up for pre-meal foot massages at the TAIPEI 101 location while you wait. Allow yourself plenty of time to stand in line – the queue starts forming well before the restaurant's 11:00 AM opening. The kitchen closes at 9:30 PM Sunday through Thursday and at 10:00 PM on Friday and Saturday; you should factor this in while you determine the best time for you to brave the wait.
Discover more hotels and resorts near TAIPEI 101