Sukhumvit is a vibrant and bustling area of Bangkok located along Sukhumvit Road. It is one of the main shopping, dining, and nightlife hubs of the city, home to some of the best restaurants, hottest clubs, biggest malls, and most luxurious hotels. The area represents contemporary and cosmopolitan Bangkok, with all of the conveniences of a large and modern metropolis. From shopping 'till you drop at EmQuartier to taking in the sights from Octave Rooftop Lounge & Bar, there's something to do for every traveler. No trip to Bangkok is complete without a visit to Sukhumvit.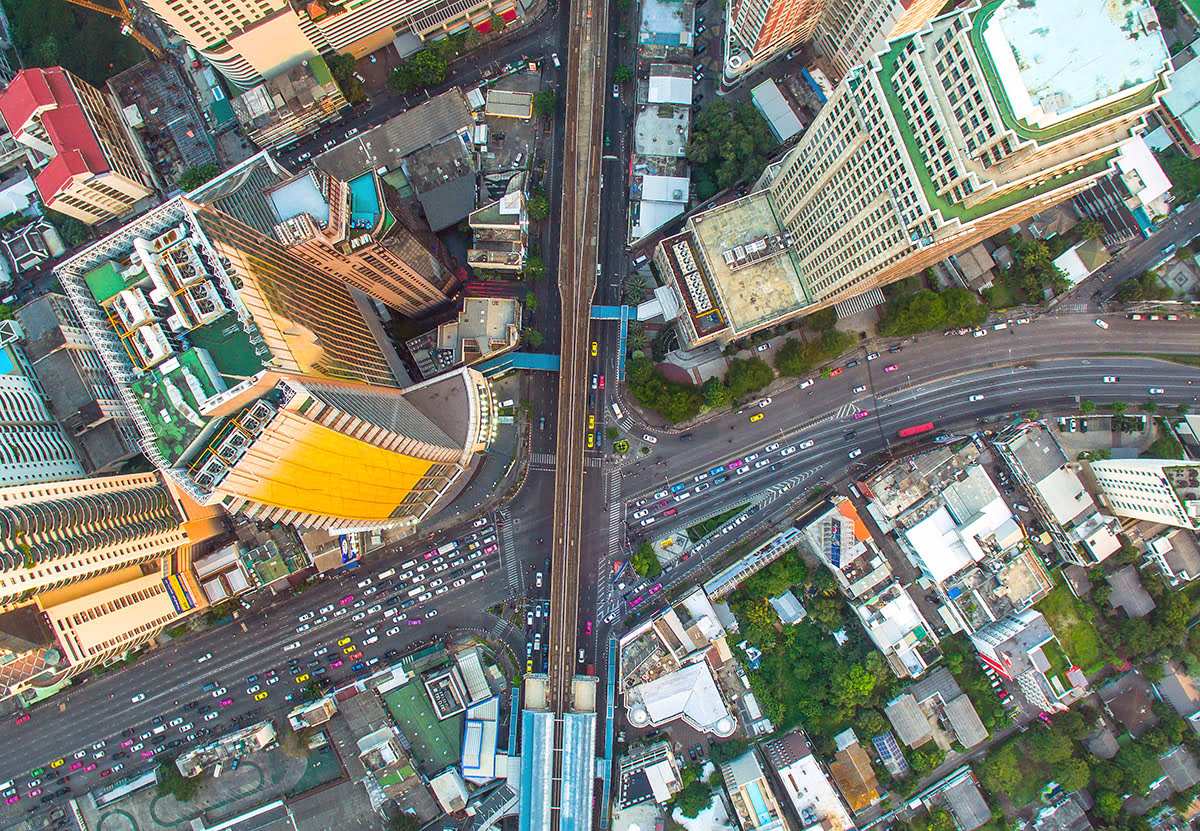 Sukhumvit Road in Bangkok & Thailand
The section of Sukhumvit Road in Bangkok is actually part of a much larger route in Thailand that runs all the way from the center of the city to the border of Cambodia, making it one of the longest roads in the country. Within Bangkok, it serves as a major commercial street lined with both high rise buildings and a variety of street stalls. The road and its adjoining sub streets are collectively referred to as Sukhumvit, an area that stretches from the downtown neighborhood of Nana to the suburban neighborhood of Bearing. It is a busy district packed with locals, expats, and tourists all through the day and night.
Transportation in Sukhumvit
One of the best things about the Sukhumvit area is that it has fantastic transportation connections via the BTS Skytrain, the Metro, and the Airport Rail Link. This makes it easy to navigate the large area that is connected by Sukhumvit Road and to make your way to other parts of the city as well.
Sukhumvit mass transit options
Skytrain: The BTS Sukhumvit line runs west to east along Sukhumvit Road. Some of the main stations on the line, each serving a neighborhood by the same name, are: Phaya Thai BTS Station, Nana BTS Station, Phloen Chit BTS Station, Asok BTS Station, Phrom Phong BTS Station, Thong Lo BTS Station, Ekkamai BTS Station, Phra Khanong BTS Station, On Nut BTS Station, Udom Suk BTS Station, Bang Na BTS Station, and Bearing BTS Station.
Metro: Sukhumvit MRT Station on the MRT blue line provides access to the center of the downtown Sukhumvit area and is located just a three-minute walk from Asok BTS Station.
Airport Rail Link: The Airport Rail Link is a commuter train from Suvarnabhumi Airport that connects passengers to Phaya Thai BTS Station on the Skytrain and Phetchaburi MRT Station on the Metro.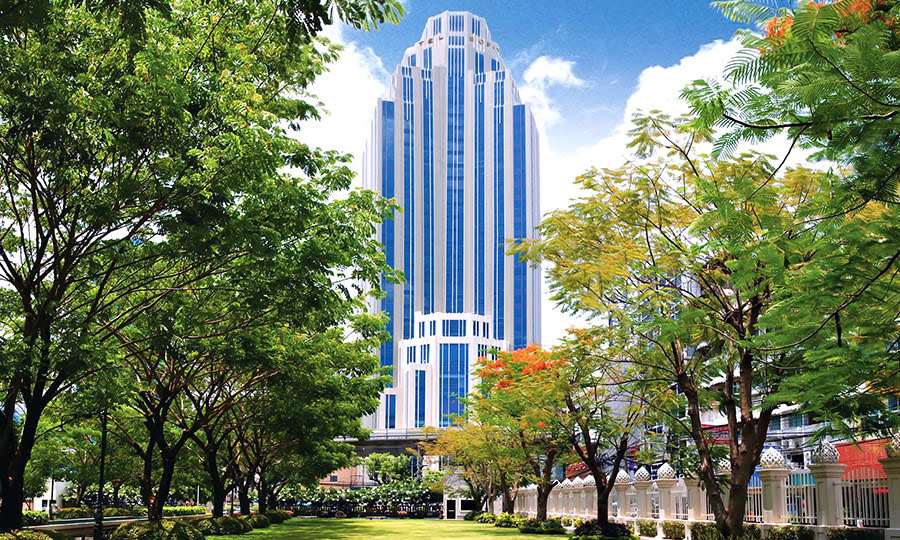 FIND & BOOK A HOTEL ON SUKHUMVIT TODAY
Things to do in Sukhumvit
Sukhumvit is always brimming with things to do, so you won't have to look very hard for a plethora of entertainment and activities to fill your itinerary. In fact, you may have to be extra selective, as there is just too much to pack into one trip. To help you decide what should be at the top of your list, here is a look at Sukhumvit's main daytime and nighttime activities, as well as some suggestions for the best places to go.
Sukhumvit shopping
Sukhumvit is known as the place to go for upscale shopping in Bangkok. The Western-style, air-conditioned shopping malls and department stores are full of all the latest clothing and accessories from the biggest brands, and they are never located too far from a Skytrain station. In addition to the large luxury shopping complexes, Sukhumvit has numerous affordable malls and street-level markets where you can find a variety of everyday goods and souvenirs for cheap.
Top shopping in Sukhumvit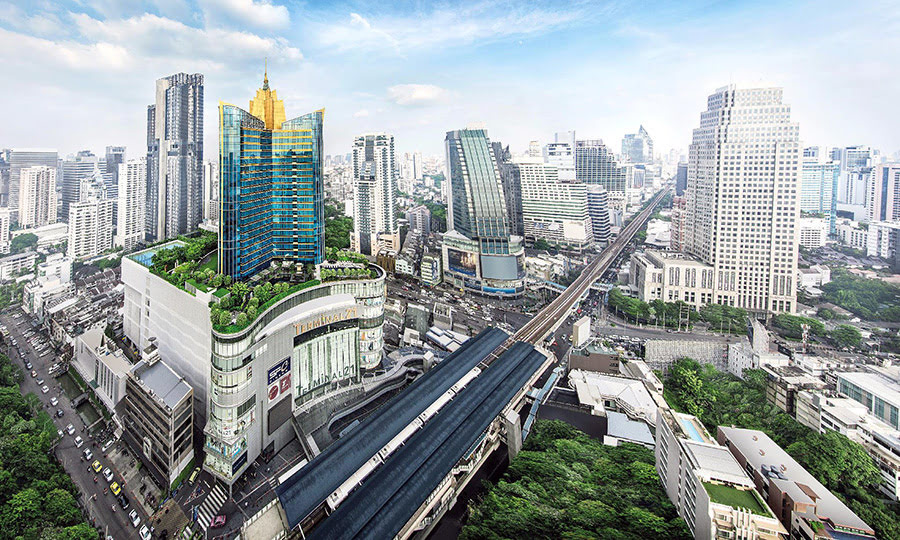 FIND & BOOK A HOTEL ON SUKHUMVIT TODAY
Sukhumvit attractions
As it is such a modern area of the city, Sukhumvit does not have many traditional tourist landmarks. Though Thailand and other areas of Bangkok are known for beautiful temples and historic palaces, you won't find them here among the skyscrapers and shopping malls. However, there are some must-see attractions that you should try to visit as you explore the area to get an even greater feel for the unique culture and history of Sukhumvit.
Top attractions in Sukhumvit
Benjasiri Park: A popular green space in the middle of all of the action, Benjasiri Park is an easy walk from Phrom Phong BTS Station. Though not an overly large area, the space is optimized for a wide array of activities. There are some great sports facilities, a running track, and even a central lake surrounded by trees. Buy some ice cream and take a stroll to find all of the modern art sculptures displayed throughout the park.
Kamthieng House Museum: A renovated traditional teak house set amidst the skyscrapers surrounding Asok BTS Station, Kamthieng House Museum offers a serene escape into Thai culture and history. Enjoy a peek at traditional Thai rural living and take the time to read the informative signs about all of the different artifacts on display. The museum can be explored in just under an hour, making it easy to add to your itinerary if you are in the area.
Flight Experience Bangkok: Located on the second floor of Gateway Ekamai Shopping Mall, Flight Experience Bangkok is a highly realistic flight simulator that can take you soaring all over the world. There are thousands of different airports you can fly from and you can even select different weather conditions for a more exciting and challenging experience. Choose between a half hour and the more popular one-hour package and enjoy a session lead by a real pilot.
FIND & BOOK A HOTEL ON SUKHUMVIT TODAY
Traditional Thai massage
Like the rest of Bangkok, the Sukhumvit area has many massage parlors where you can go for an authentic Thai massage and a number of additional spa treatments for a very affordable price. A Thai massage utilizes traditional techniques involving rhythmic compressions and assisted yoga postures to realign the body and relieve stress. When you need a break from all of the shopping, there is no better way to relax than with a Thai massage.
Best Thai massage in Sukhumvit
Sukhumvit dining & restaurants
Sukhumvit easily has the most diverse selection of dining spots in all of Bangkok, as well as the largest amount of internationally renowned restaurants serving some of the finest cuisine in the world. Whether you want to try truly authentic Thai food or see what Italian cuisine in Thailand is like, this is the place to be. The most popular restaurants are typically found on Sukhumvit's smaller side streets for a more relaxed dining experience.
Top restaurants in Sukhumvit
Bo.Lan: Featured on the Netflix series "Chef's Table," Bo.Lan has a reputation for being one of the very best authentic Thai restaurants in Bangkok, if not all of Thailand. This restaurant is credited with being among the first to bring Thai cuisine to a fine dining format. Dishes are inspired by Thai street food, Thai home cooking traditions, and palace style cuisine. Bo.Lan is located only a short distance from Thong Lo BTS Station.
Cuisine de Garden Bangkok: Serving up a tasting menu inspired by nature, Cuisine de Garden Bangkok is a playful restaurant that offers a unique dining experience. The interactive dining setup encourages guests to play with their food and there are many surprises over the course of the meal. The interior of the restaurant, which is located just off the main road, whisks diners away to a forest-like setting. Bare tree trunks and small fairy lights lend the space a whimsical feel.
Cocotte Farm Roast & Winery: Dine in a lively French bistro in the heart of Bangkok by reserving a table at Cocotte Bangkok Farm Roast & Winery. This restaurant focuses on seasonal dishes made with high-quality, local ingredients from sustainable farms. The open kitchen adds a fun and energetic vibe to the space, and the smell of grilling steaks, chicken, and lamb waft through the whole restaurant. You can also sample a fantastic selection of wine from the world's best wine regions.
Appia: For authentic Italian comfort food in Bangkok, make sure to pay a visit to Appia, which is located just a few minutes' walk from Phrom Phong BTS Station. Dine on a selection of pastas and cured meats and enjoy a dessert of delectable tiramisu. Make sure you try the Italian coffee as well. The rustic interior will make you feel like you are dining in the Italian countryside and the delicious and filling dishes are sure to leave you satisfied.
Cabbages & Condoms: Don't let the name throw you off; Cabbages & Condoms is a fun, contraceptive-themed restaurant serving up some of the best Thai cuisine in Sukhumvit. Not only will you find popular dishes like Pad Thai and Tom Yum but a variety of traditional soups and curries as well. There is also a great selection of cocktails available. Make sure to stop by the gift shop on the way out for a unique souvenir!
FIND & BOOK A HOTEL ON SUKHUMVIT TODAY
Sukhumvit nightlife
If there is one thing Sukhumvit is known for, it's the fantastic nightlife scene. Find upscale lounges where you can enjoy a swanky evening dressed your best or head to one of the many bars and pubs for a more laid-back time. Some of the best clubs that the city has to offer are also found along Sukhumvit Road, where you can dance the night away with a diverse crowd of local and visiting partygoers.
Top nightlife spots in Sukhumvit
Levels Club & Lounge: If you want the full nightlife experience all in one space, then head to Levels Club & Lounge. This venue has three zones that combine the elements of a bar, a lounge, and a club. House music is the norm here, but the club brings in a wide variety of DJs spinning all sorts of eclectic mixes. As it is located on the sixth floor, the terrace bar provides some nice views out over Sukhumvit.
Octave Rooftop Lounge & Bar: For truly panoramic and sweeping vistas of Bangkok, you'll want to go for cocktails at the Octave Rooftop Lounge & Bar. It is located high up on the 45th floor of the Bangkok Marriott Hotel Sukhumvit and spans multiple additional stories. Look down upon busy Sukhumvit Road as you sample a selection of signature cocktails and top wines. The circular bar at the very top offers a full and unobstructed 360-degree view.
Titanium Club & Ice Bar: If you want to take a break from the heat, then Titanium Club & Ice Bar will help cool you right down. Enjoy deliciously chilled drinks made from every type of vodka imaginable and served in a frozen ice bar area. The rest of the bar boasts a lavish and flashy atmosphere with an innovative lighting setup and a booming sound system that pumps out the musical stylings of celebrity DJs and popular bands.
Beam: An underground, European-style dance club with an industrial warehouse feel, Beam is all about the music and dancing. This lively club has a large dance floor and a fantastic party ambiance created with the help of a dazzling LED laser show and fog machine. The speakers blast deep techno and house music from a lineup of critically acclaimed international DJs. It is a popular choice for late-night partying in the Sukhumvit area.
Apoteka Soi 11 Gastropub: For a more relaxed atmosphere where you can chat over drinks and bar bites, Apoteka Soi 11 Gastropub is a fantastic choice. Styled after a 19th-century apothecary complete with glass bottles lining the shelves, this pub offers a fantastic selection of beer, wine, liqueurs, and signature cocktails. Sample some of the Thai fusion tapas or order a filling dish straight off the grill as you sit back and listen to a lineup of blues bands.
Demo: From the outside, Demo may look like an abandoned warehouse – with brick walls, exposed piping, and shuttered doors – but it's actually one of the most happening clubs in town. The club has two sections, the first consisting of a bar area that plays hip-hop and Top 40 music and a larger main room that blasts house and techno. There is a great cocktail menu and a large outdoor area where you can stop for a breather.
FIND & BOOK A HOTEL ON SUKHUMVIT TODAY
Sukhumvit hotels & accommodations
The Sukhumvit area is certainly not lacking for places to stay. In fact, it is home to some of the most luxurious hotels in Bangkok. The accommodations are sleek and modern, offering everything that a traveler could need to enjoy their stay. Some of the biggest hotel names are located along this road, combining their world-class facilities with true Bangkok hospitality. High-speed internet, great restaurants, pools, spas, and more all come standard at these hotels.
Okura Prestige Bangkok
Sofitel Bangkok Sukhumvit
Best hotels in Sukhumvit
Grande Centre Point Hotel Terminal 21
Bangkok Marriott Hotel Sukhumvit
Radisson Blu Plaza Bangkok
FIND & BOOK A HOTEL ON SUKHUMVIT TODAY