Surin Beach is located along the western coast of Phuket and has the benefit of feeling like a small village while still offering world-class resorts, beauty, and dining options. Surin Beach is perfect for travelers who are looking to get away from some busier areas and wish to enjoy the unspoiled, natural beauty of this beach town. While Surin Beach offers plenty of tranquility, it also has its fair share of nightlife, restaurants and beachfront hotels.

Best Nightlife Entertainment Near Surin Beach
While some travelers may stick to the resort experience while in Surin Beach, others may wish to branch out and enjoy the local nightlife scene. This cozy beach town offers some great venues where visitors can sit down and enjoy the ambiance while sipping on a drink. Here are just some top nightlife options available in Surin Beach. (Some venues may be temporarily closed during COVID-19 restrictions.)
The 9th Glass Wine Bar & Bistro Surin
Visitors who are looking for a wine bar with amazing staff, a great ambiance and a huge selection of wine should stop by The 9th Glass Wine Bar & Bistro Surin for a glass – or two! Featuring a selection of over 160 fine wines, as well as a specially curated menu by their in-house chef, there is a lot to drink and eat at this restaurant. Choose from tapas-style dishes, paired with fabulous wines, or enjoy a meal with a crisp beer or cocktail. With menu items that feature delicious aged cheeses, grilled veggies, polenta dishes, and more small bite items all served on large wooden planks, so guests can sample, sip, and enjoy!
Address: 106, 16 Soi Hat Surin 8, Choeng Thale, Thalang District
Hours: 12 p.m. to 12 a.m. Tuesday to Saturday, closed Mondays
Benny's Cocktails & Grill
Benny's Cocktails & Grill is serving up a delicious menu alongside some fantastic ambiance in Surin Beach. With both lunch and dinner menus being served, guests can count on delicious food options no matter what time of the day, or night, they stop by. Choose from seafood favorites like prawns, crab cakes, and calamari rings, before heading over to the main menu where guests can enjoy grilled cuts of beef, burgers, fish dishes, and more. This restaurant is a great value for money, so visitors who are looking to save some money without having to compromise on quality and fun should enjoy a night out at this great establishment.
Address: 5/6 Soi Had Bangtao, Cherngtalay, Thalang
Hours: Open 4 p.m. to 12 a.m. daily
Bluesiam Beach Club
Stop by Bluesiam Beach Club and sample delicious Thai dishes while guests appreciate its fabulous location that overlooks the beach. Enjoy the lounge-style atmosphere and while sipping on a handcrafted drink and eating some freshly grilled seafood and be sure to grab a seat while the sun is setting for an unforgettable view! With delicious dishes, great service, and reasonable prices, Bluesiam Beach Club is a spot visitors may find themselves returning to again and again.
Address: 99/1 Bangtao Beach Road, Choeng Thale, Thalang District
Hours: Open 10 a.m. to 10 p.m. daily
FIND & BOOK A HOTEL NEAR SURIN BEACH TODAY
Best Restaurants in Surin Beach
With world-class resorts and stunning beaches, finding a great place to eat in Surin Beach isn't hard. While the area specializes in seafood dishes, there are plenty of international style restaurants that can be visited as well. While in the area, visitors should be sure to sample some famous local dishes, like pad Thai, a stir-fried noodle dish, and pad kra pow moo, a stir-fry made with minced chicken or pork mixed with garlic, holy basil and chilies and served with rice. If visitors are ever unsure about what to eat at Surin Beach, they shouldn't be afraid to ask the locals for tips about their favorite dishes! (Some restaurants may be temporarily closed during COVID-19 restrictions.)
Bocconcino Phuket
While guests may not be expecting to find great Italian in Surin Beach, Bocconcino Phuket provides guests with delicious Italian cuisine in a tropical paradise. Popular with tourists and ex-pats, this restaurant features a fabulous array of wines and even includes a wood fire oven for handmade pizza. Stop in for breakfast and enjoy lush Italian coffee paired with gorgeous pastries, including croissants, or choose from a set menu as the restaurant prepares their best for guests. For the lunch menu, enjoy great antipasti dishes, panini, soups, and plenty of sweets. For dinner, choose from great main course dishes that can be combined with amazing starters, and don't forget to top it all off with the house-made desserts. Morning, noon, or night, the extensive menu at Bocconcino Phuket is sure to please visitors from all over the world!
Hours: 9 a.m. to 10:30 p.m. daily
Address: 8/71 Moo 3, Surin Main Road Cherngtalay
Butterfly Restaurant
Butterfly Restaurant is a great choice for delicious local dishes that are good for the whole family. Choose from delicious curries, pad Thai, creamy shakes, and a menu that's both tasty and a great value for money. With fresh Thai dishes, amazing seafood, generous portions, and a warm, inviting atmosphere that's heightened by attentive and friendly staff, travelers should love a stop at Butterfly Restaurant.
Hours: 9 a.m. to 4:30 p.m. and from 6 p.m. to 10:30 pm Monday to Saturday, closed Sundays
Address: Soi Hat Surin 4, Choeng Thale, Thalang District
Beach Restaurant by The Surin Phuket
With its gorgeous location along Pansea Surin Beach, the portion of Surin Beach that The Surin Phuket hotel occupies, Beach Restaurant by The Surin Phuket gives guests stunning views of the surf while they sit, relax, and enjoy this dining experience. Visitors can enjoy a modern Thai experience with a menu that's inspired by traditional Thai cuisine, as the restaurant encourages guests to order several dishes that can be shared among friends. Choose from only the freshest ingredients, specially chosen and combined by the restaurant's top chef. If any travelers are unsure of where to start, just ask the helpful staff to give food or drink pairing suggestions. Travelers can look forward to a feast for the senses that includes coconut-infused dishes, fresh seafood, and flavorful ingredients, including lemongrass and fresh chili, at Beach Restaurant by The Surin Phuket.
Hours: 5 p.m. to 11 p.m. daily
Address: 118 Moo 3 Soi Hat Surin 8 Choeng Thale
FIND & BOOK A HOTEL NEAR SURIN BEACH TODAY
Recommended Resorts and Hotels Near Surin Beach
Surin Beach is a stunning paradise that is known to draw in everyone from luxury travelers to celebrities and everyone in between. This amazing destination is popular for its stunning resorts and hotels but also for having a laid-back atmosphere that's missing from some other high-quality destinations, which have a tendency to be busy and overrun with people. With the gorgeous views, amazing beaches, and crystalline water, Surin Beach is a great choice when deciding where to stay near Surin Beach.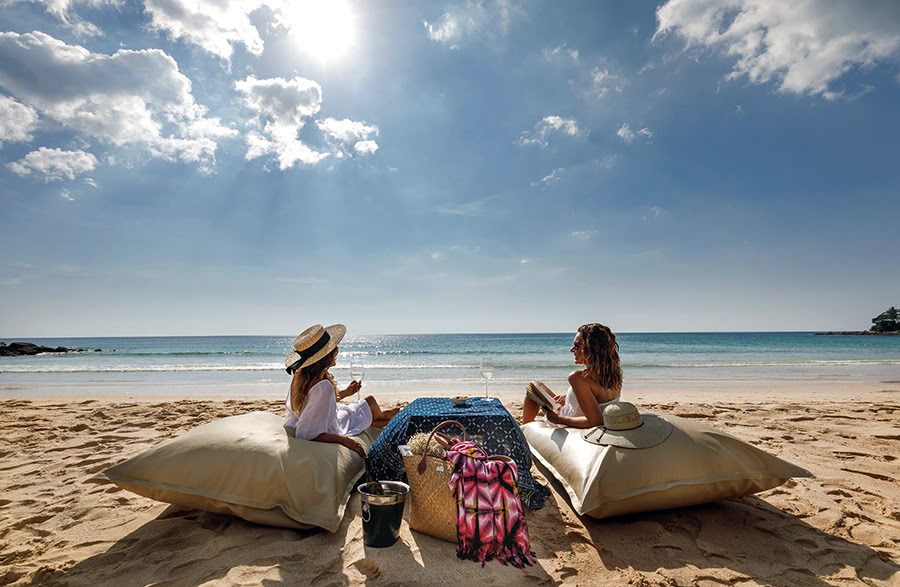 The Surin Phuket
The Surin Phuket offers guests a vacation experience like no other. Nestled along the gorgeous coast, this sanctuary-like hotel provides cottages and luxury cottages for visitors to choose from – enjoy accommodations that are located within coconut groves, or ones with beach views! With amazing beachside dining available at the hotel's featured Beach Restaurant by The Surin Phuket, as well as other BBQ and buffet dining available, there's plenty to eat onsite. Visitors can also enjoy the hotel's great amenities, including a swimming pool, library, water sports facility, spa, and more. With so many great ways to relax and experiences to have, guests may find that they have all they need already at The Surin Phuket.
Address: 118 Moo 3, Choeng Talay, Surin
Twinpalms Phuket Hotel
Twinpalms Phuket Hotel is an amazing hotel that offers boutique-style luxury, without compromising its relaxing atmosphere. With nearly 100 rooms and suites to choose from, guests can find a little piece of paradise that's all their own, whether they're looking for rooms with a pool view, or something more private. Enjoy the hotel's amazing amenities, including a gym, library, free Wi-Fi in all rooms and public areas, airport transfer services, shuttle services, and more. With beach access, plenty of onsite dining, and great attractions nearby, including a golf course, there's so much to enjoy at Twinpalms Phuket Hotel.
Address: 106/46 Moo 3, Surin Beach Road, Choeng Thale
Novotel Phuket Surin Beach Resort
Novotel Phuket Surin Beach Resort is a fabulous resort that has everything families and other travelers need to have an amazing stay. With free Wi-Fi in all rooms, 24-hour room service, and recreational facilities that include a water park, yoga room, fitness center, and more, there's always something to do at this resort. Guests can choose from great onsite dining, or even grab a drink while they swim at the poolside bar and with a kid's club, family room, and babysitting services, there's plenty for the kids to do while parents share some time together. With airport transfer and car rental services, guests can rest assured that everything they need is right at the resort.
Address: 106/27 Moo 3, Cherngtalay, Talang, Surin
FIND & BOOK A HOTEL NEAR SURIN BEACH TODAY
How to Travel to Surin Beach
There are three main methods for transportation in Phuket where Surin Beach is located, and those transportation methods are tuk-tuks, buses, and taxis/motorbike taxis. For travelers who are looking to travel to Phuket, the distance to city center from Surin Beach is about 24 kilometers and should take about 38 minutes to travel by car. While the beach area is relatively small and easy enough to walk around in, visitors may wish to opt for transportation for longer distances or to get to and from their accommodations to the beach or restaurants in the area. Many hotels and resorts can assist travelers with hiring transportation for the day, and some may even offer private shuttle services to and from the beach and other attractions. While in town, and sometimes nearby popular resorts, there should be tuk-tuks available for visitors to hire.
Renting a motor scooter
While traveling in the area, visitors may also elect to rent a scooter which can be a great value for money and a relatively easy way to get around. Travelers should be certain that they have proper travel insurance, as well as necessary licenses from their home country, prior to renting a scooter. (Often, a motorcycle license from a visitor's home country is necessary and an international driver's license is also recommended.) It is also advised that visitors be familiar with riding a scooter prior to renting one in the area; as traffic may not be too hectic in Surin Beach, driving in a foreign country is still a very different experience than what most expect.
FIND & BOOK A HOTEL NEAR SURIN BEACH TODAY