Day or night, there's always something fun to do in Phuket Town, and while many attractions are located in the capital city, there are also dozens of great places to visit in Phuket Province. Discover what to do in Phuket, an island filled with incredible tourist attractions, including beaches, religious landmarks, and natural wonders. There are also many popular shopping districts to explore, as well as casual and fine-dining restaurants that serve up some of the best Thai food in Thailand!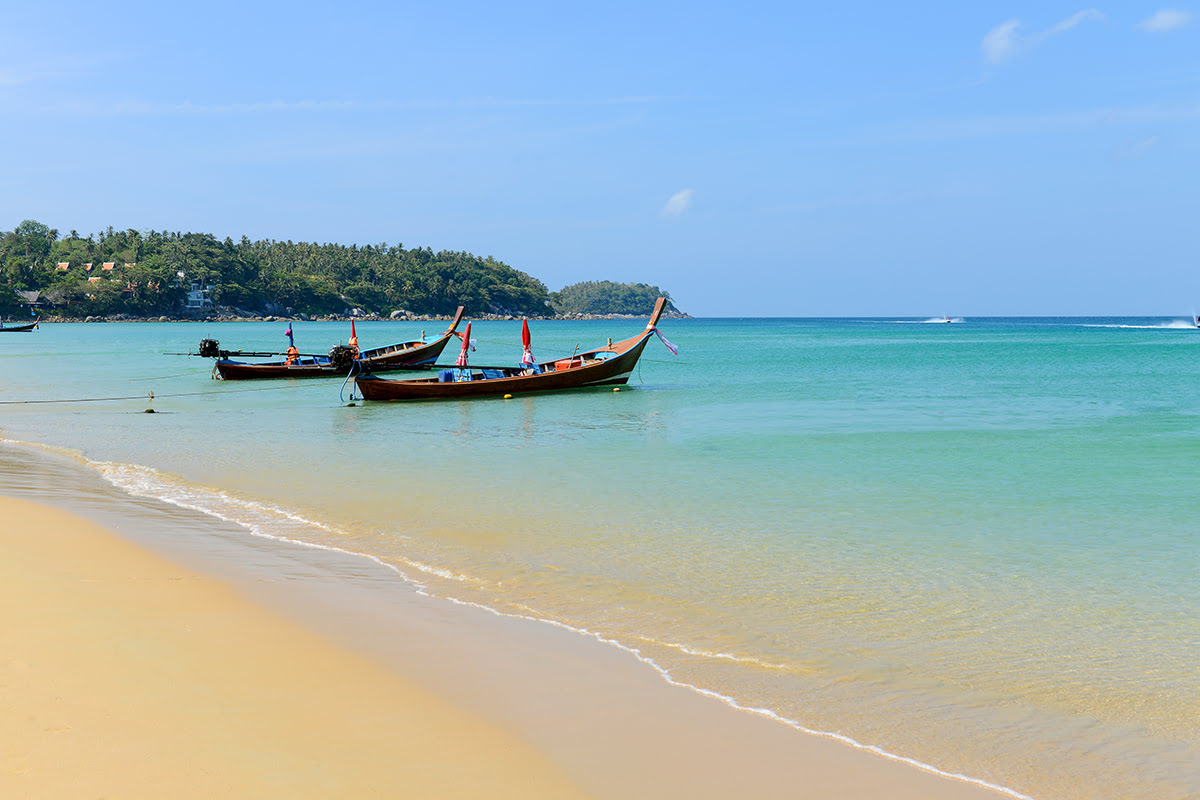 What to Do in Phuket | Top Beaches
Due to Phuket province's tropical monsoon climate, it is a top destination for sun and sand. The average temperatures throughout the year always range from mild to hot, but the best time to visit for sunny days is between November and April. Travelers who visit between May and August will likely have some rainy days during their trip, and September and October are generally the wettest months. On nice days, there are many stunning Phuket beaches to choose from.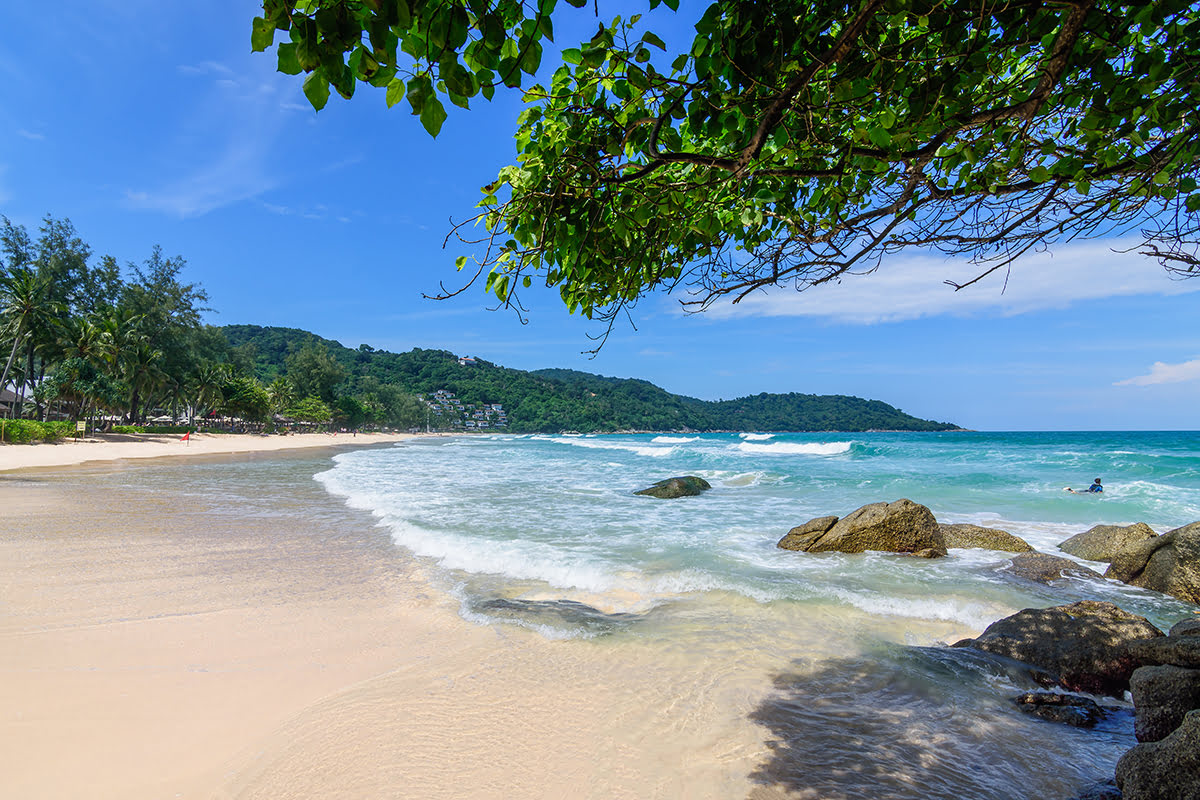 Kata Noi Beach: Located along the province's west coast, Kata Noi Beach is a beautiful, secluded spot to enjoy a little sun. From November to April, the waters are clear and perfect for swimming. During the rest of the year, it is a well-loved place for surfers to ride the waves. With white sand, turquoise waters, and cliffs adding privacy, this beach is a must-visit in Phuket. Kata Beach (also known as Hat Kata) is also nearby (about six minutes away by car), but is usually much more crowded with tourists.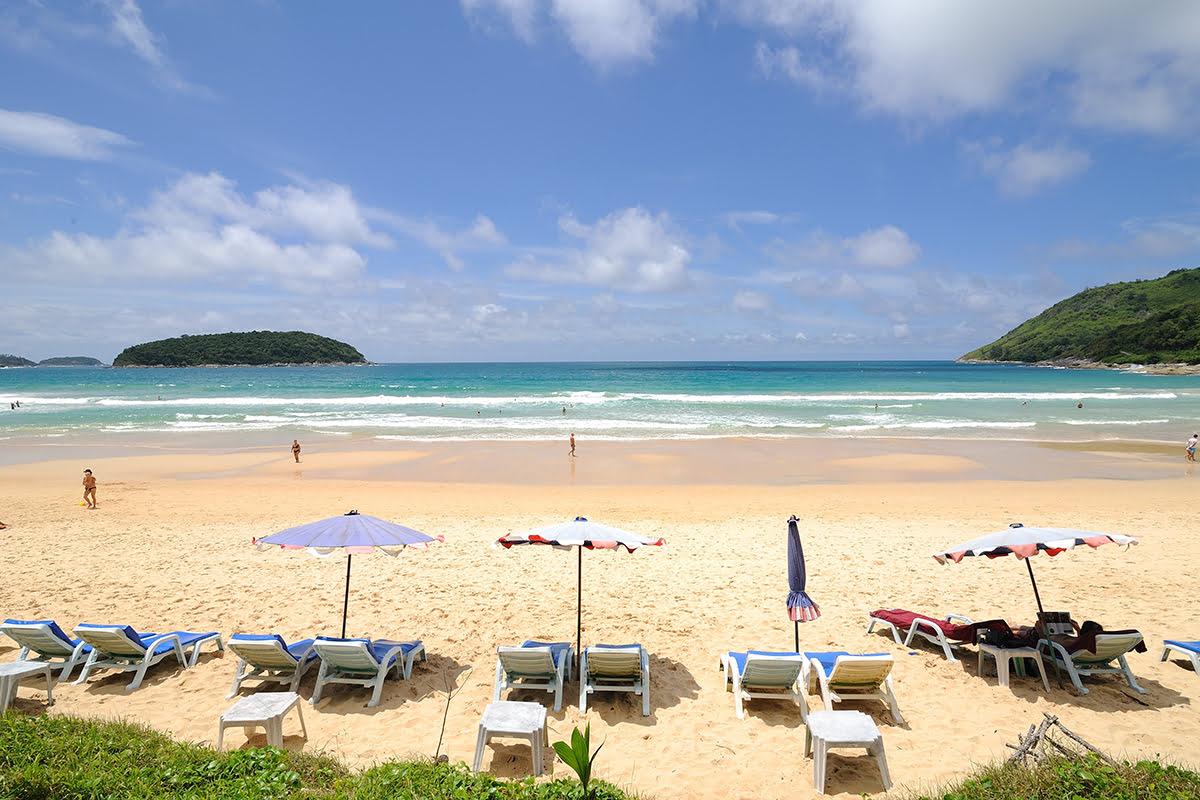 Nai Harn Beach: For soft sand, warm water, and incredible views, there's no better Phuket beach than Nai Harn Beach. When the waters are calm, it's a great spot for swimming and sunbathing. Solo travelers, couples, or families can enjoy this beach. There is also Yanui Beach located about two kilometers away (about four minutes away by car). This little sandy cove is a popular place for diving and snorkeling.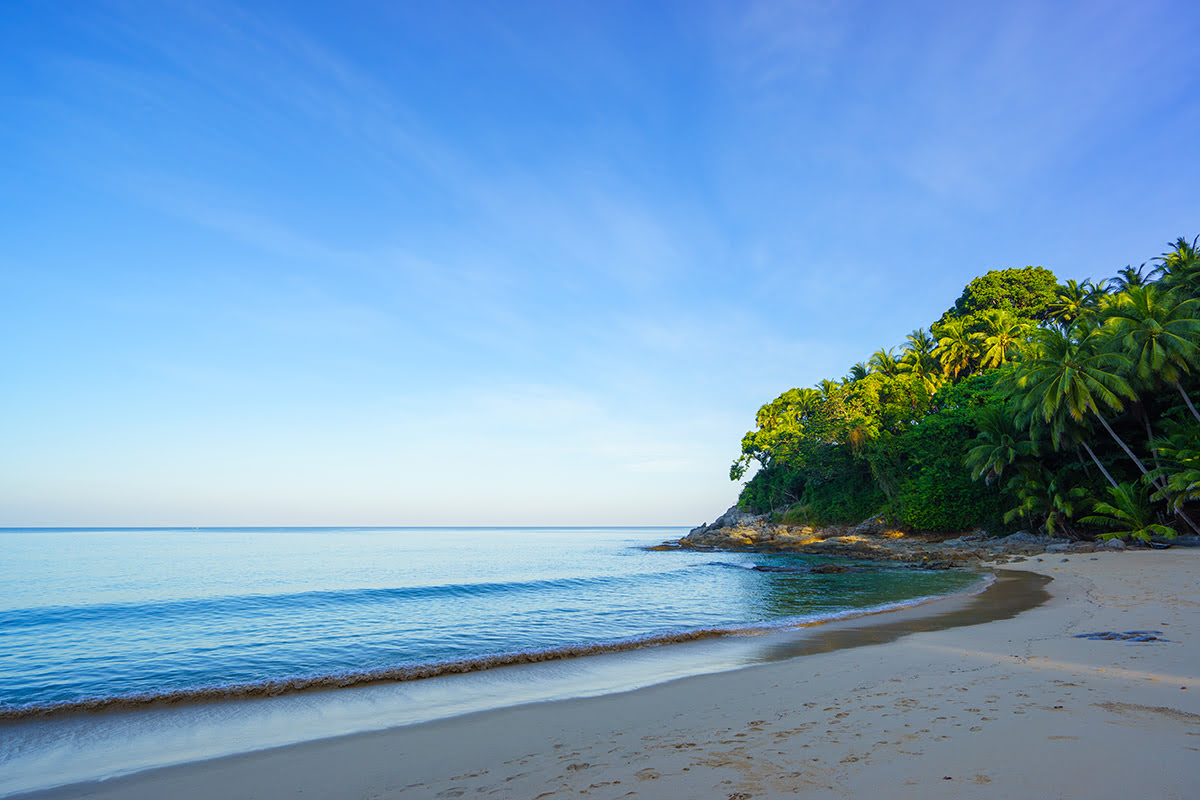 Surin Beach: For a taste of luxurious Thai living, make the trip to Surin Beach. This beach is located in the relaxing resort town of Choeng Thale, in northern Phuket. The area around the beach is filled with million-dollar homes, high-end resorts (like 6th Avenue Surin Beach), and beachfront Thai restaurants, seafood restaurants, and luxury wine bars.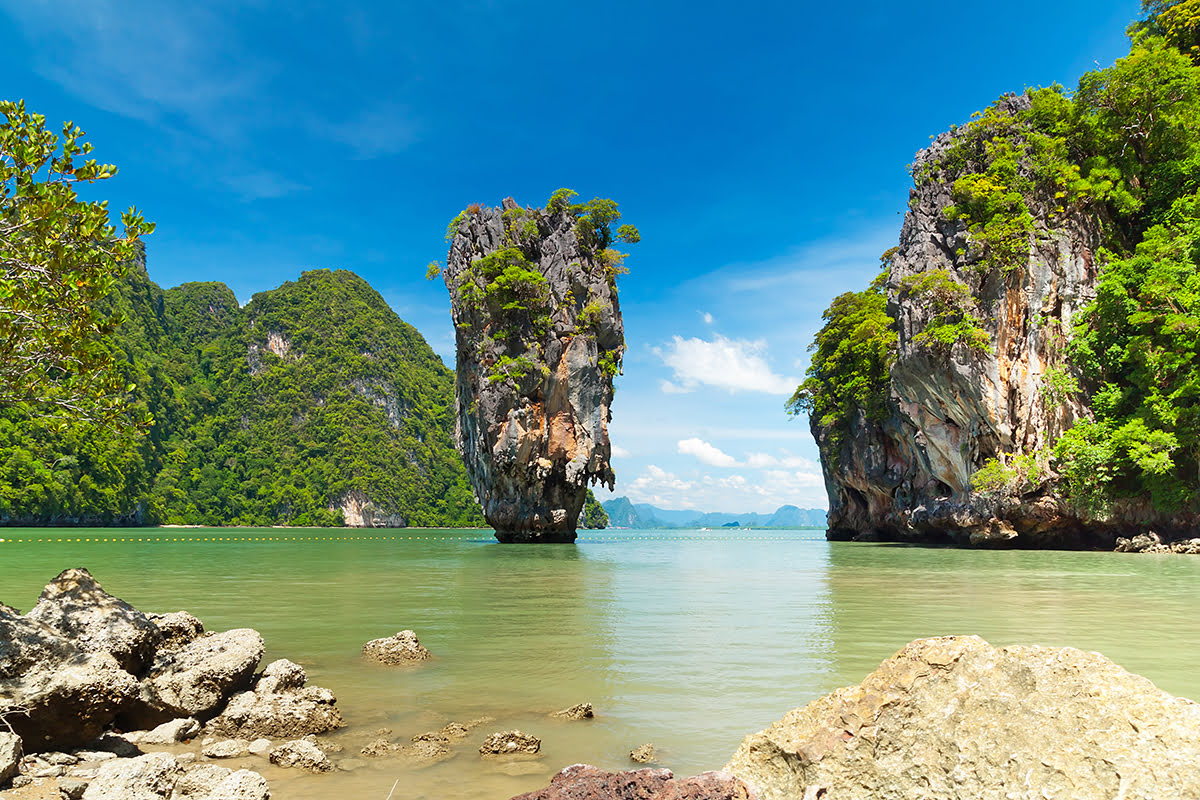 Phang Nga Bay: With its emerald green water and unbelievable limestone cliffs, Phang Nga Bay is a must-visit for first-timers and returning Phuket travelers. While the beach itself is beautiful, it is also home to two important tourist attractions: Koh Tapu and Koh Panyee. Koh Tapu (also known as Nail Island) is a vertical rock pillar that stands over 65 feet tall. It is also informally known as "James Bond Island," after being featured in the James Bond movie "The Man With the Golden Gun." Koh Panyee is a village built on the water with many restaurants and souvenir shops for tourists to visit.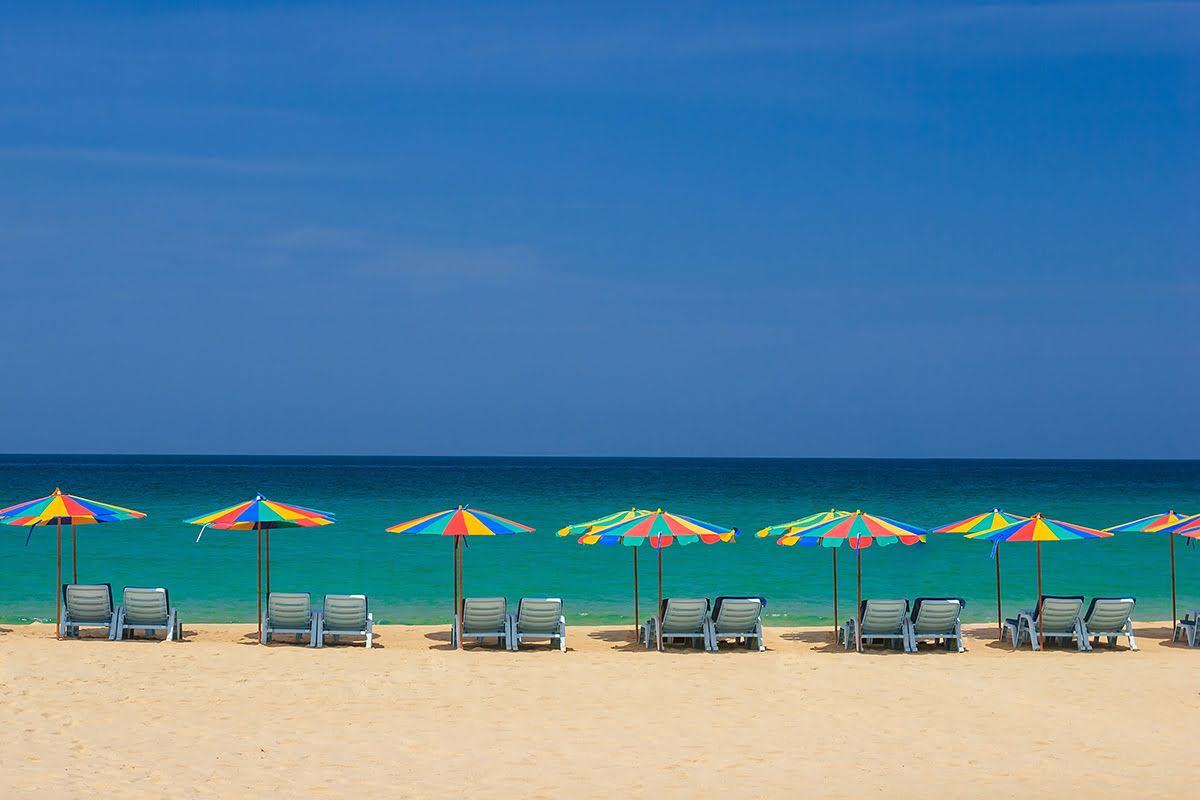 Patong Beach: As it is one of the busiest beaches in Phuket, there's always something fun to do at Patong Beach. If possible, head to the beach early to stake out a good spot before the crowds of tourists start to take over. Early birds may be able to rent sun lounge chairs and umbrellas (which can be used only in certain zones). In addition to swimming and sunbathing, this beach is a top spot for water sports, like jet skiing, kayaking, and windsurfing. Banana boats are also available to rent.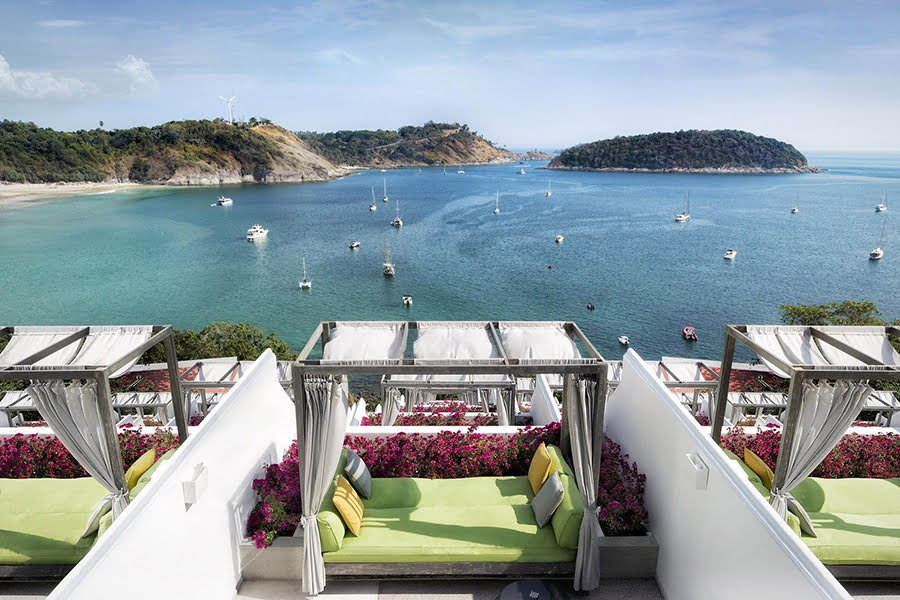 FIND & BOOK A HOTEL IN PHUKET TODAY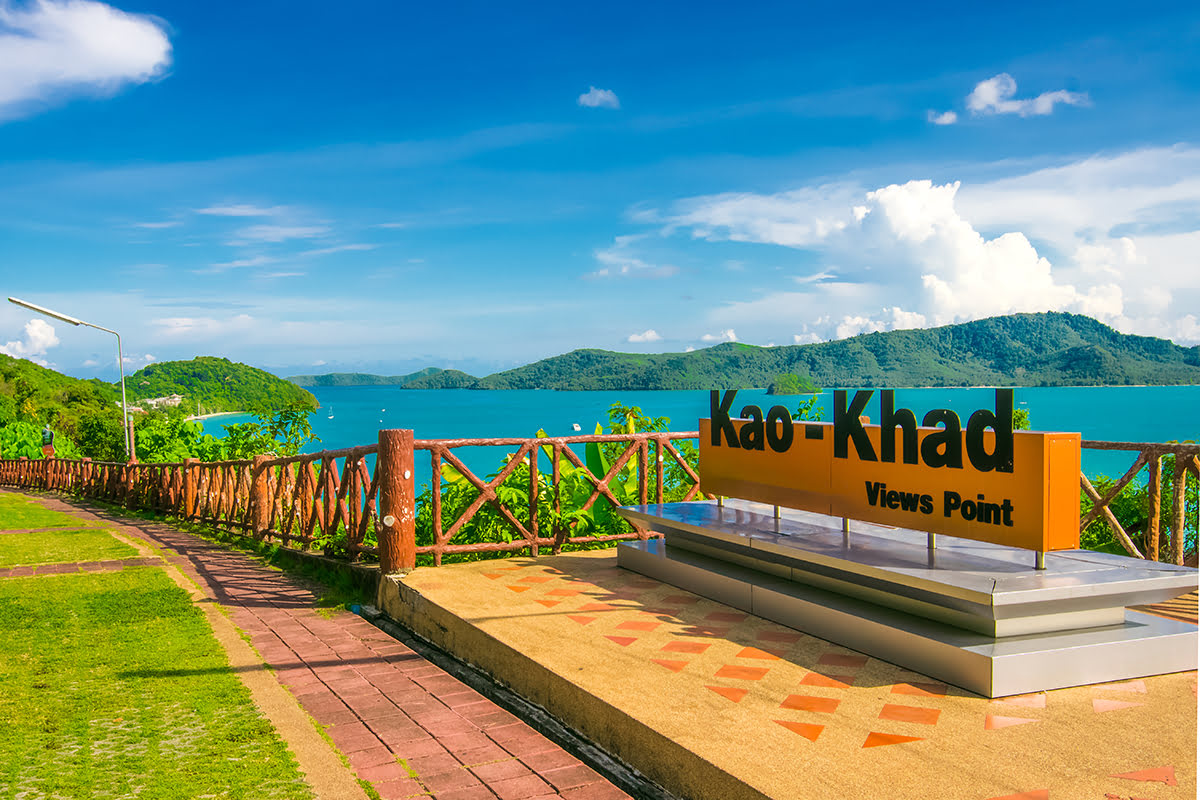 What to Do in Phuket | Top Viewpoints
Stunning beaches aren't the only natural wonders in Phuket: the province is also home to gentle hills, cliffs, rivers, waterfalls, lush forests, and much more. A great way to see all of the natural beauty the island has to offer is by visiting one of the many gorgeous lookout points. Seeing the sights from above is a truly breathtaking experience for tourists and locals alike.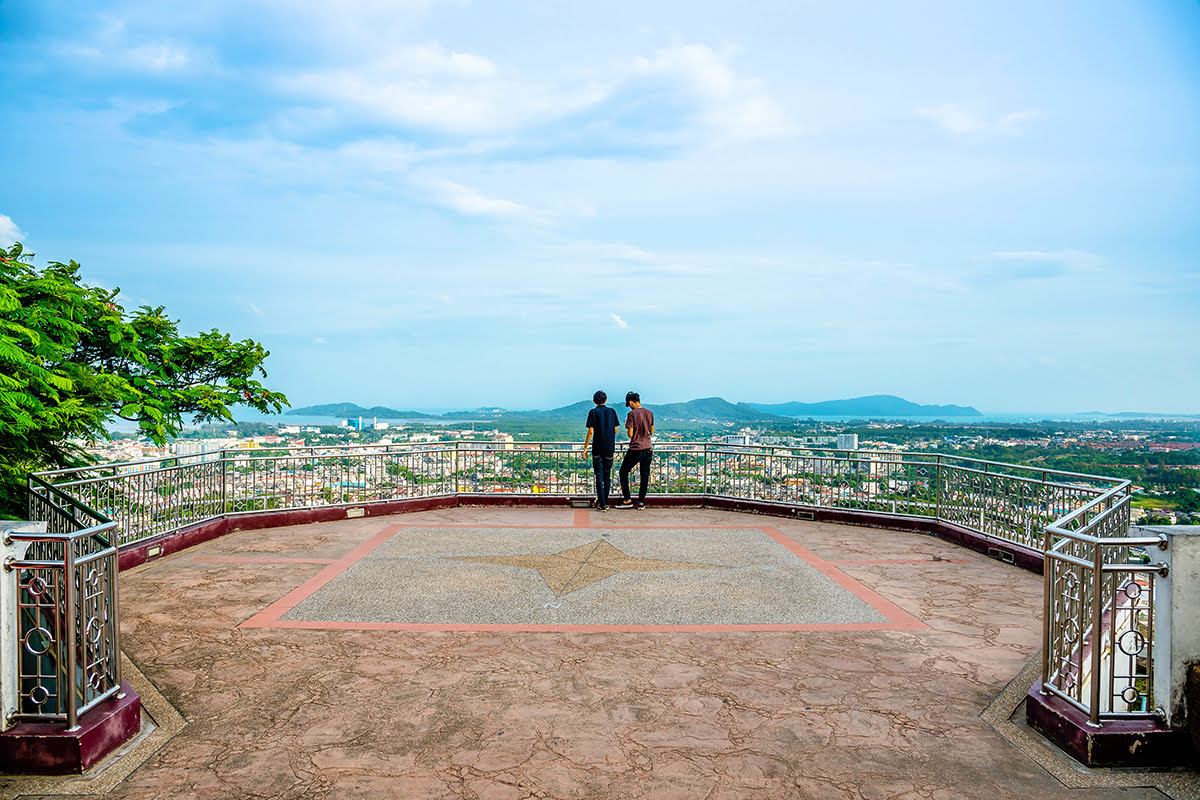 Khao Rang Viewpoint: One of the most popular lookout points in Phuket is Khao Rang Viewpoint, also known as Rang Hill Viewpoint. From Khao Rang Viewpoint, visitors can see many of Phuket Town's streets and famous landmarks. There is a peaceful open pagoda (tiered tower) on the hilltop that makes a lovely backdrop for tourist photos, and a large viewing platform with safety guardrails. Tourists can also enjoy the fresh air and great views with a snack or drink from one of the nearby cafes.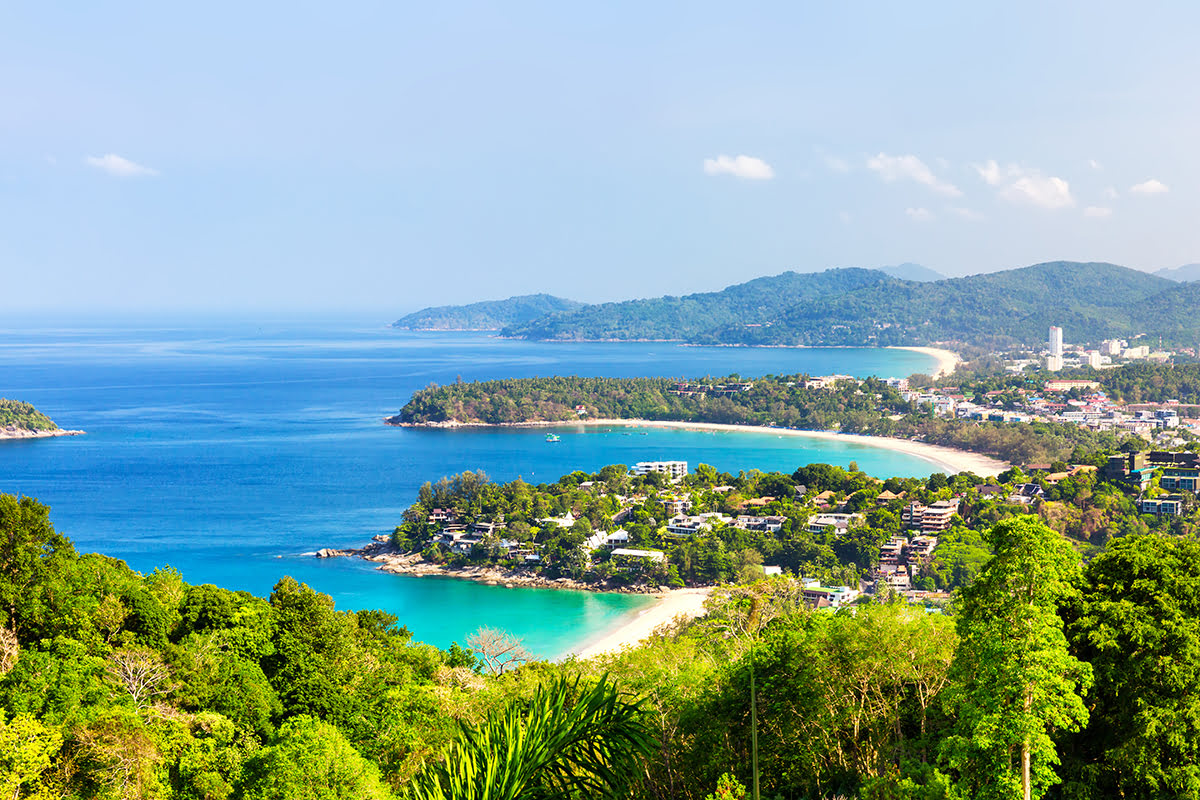 Karon Viewpoint: After visiting Kata Noi Beach up close, see it from above at Karon Viewpoint (also known as Khao Sam Haad or The Hill of the Three Beaches). From this lookout, tourists will also be able to see Kata Yai Beach and Karon Beach. Visitors will be mesmerized by the sight of the white sand and clear blue waters that stretch as far as the eye can see. It's a beautiful spot for a picnic or for artists to get a little inspiration.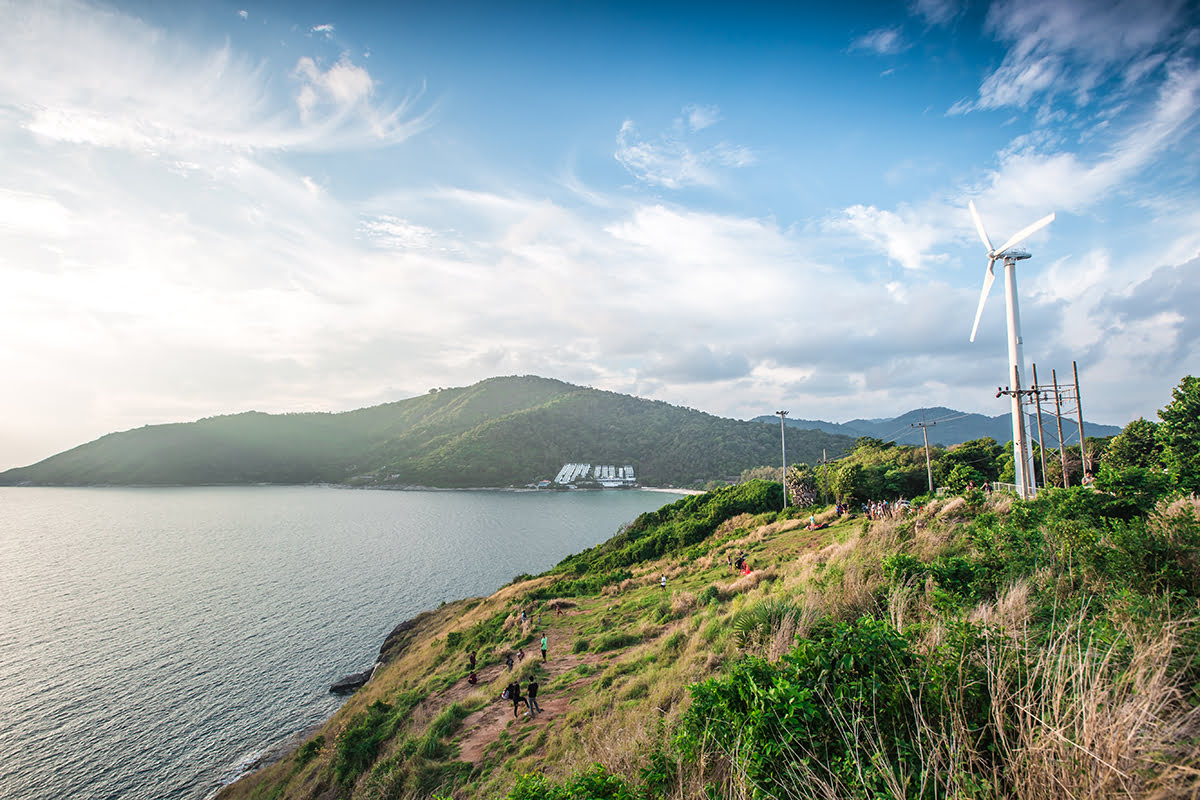 Windmill Viewpoint: Another popular scenic spot to visit is Windmill Viewpoint, located in southern Phuket. As the name suggests, there are several wind turbines on the hill that generate clean wind power. While the main lookout point itself is rather small and simple, the view of Ya Nui Beach and beyond is breathtakingly beautiful. The best times to visit are midday when the sun casts a bright glow on the sea, and just before dusk for an unforgettable view of the sun setting below the horizon.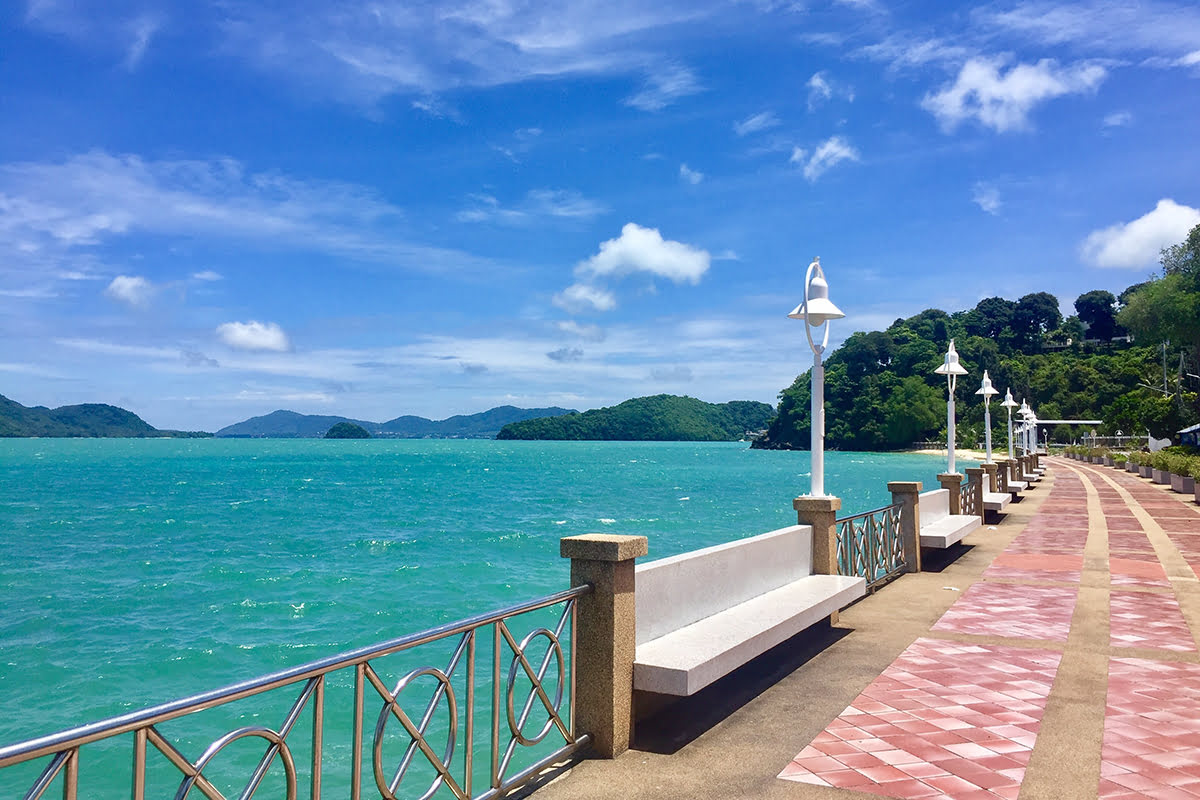 Laem Panwa Viewpoint: Also known as Khao Khad Viewpoint, Laem Panwa Viewpoint is the most private lookout point on this list. This scenic spot is located about a half-hour from Phuket Town by car and sits atop a fairly secluded hill. Tourists will need to climb a staircase to reach the Panwa Viewpoint tower, from which they will be treated to the most beautiful 360-degree view of southern and eastern Phuket.
Monkey Hill Viewpoint: The Khao Toh Sae Viewpoint (or Monkey Hill Viewpoint), located on Monkey Hill, is an attraction that both children and adults will enjoy. On the walk up the hill, tourists will encounter wild macaques that can be fed with bananas or peanuts (available from vendors for 10-20 baht). However, it's important to approach the monkeys carefully as they can be aggressive. At the top of the hill are some TV and radio stations and their satellite towers, so be sure to stop about halfway up to get the best views of Phuket Town.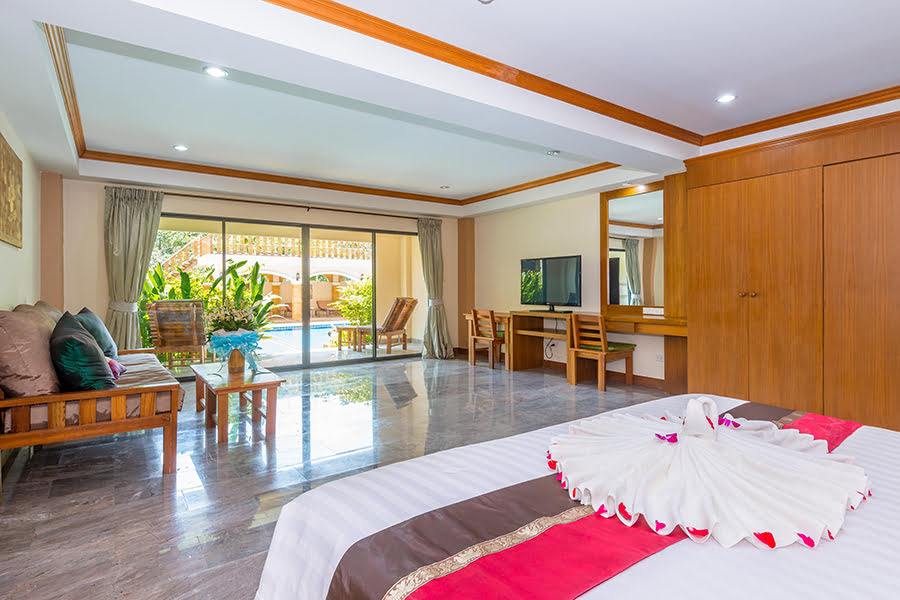 FIND & BOOK A HOTEL IN PHUKET TODAY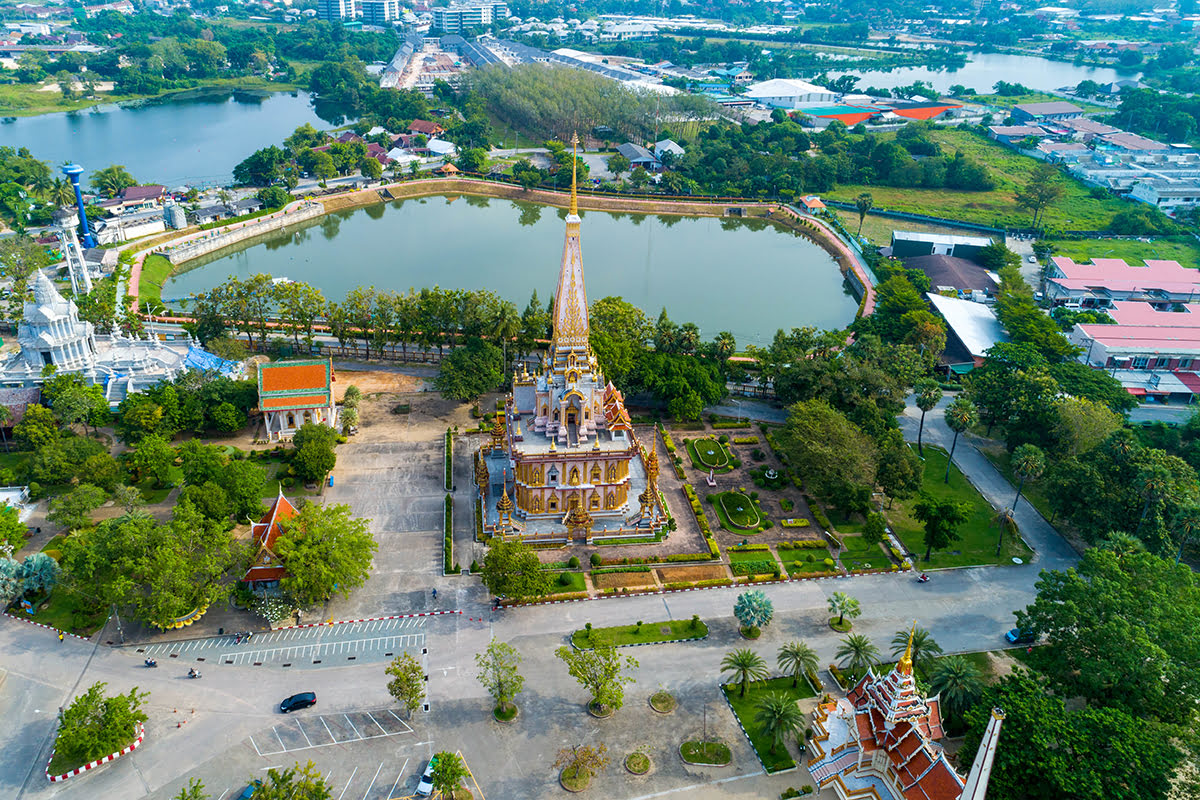 What to Do in Phuket | Top Religious Landmarks
When traveling in Asia, there will likely be many shrines and temples on the trip itinerary. Well-preserved religious landmarks are found in cities throughout the continent, displaying the architecture styles of the past. And Phuket is no exception, with many serene Buddha statues and Buddhist temples for tourists to admire. While Buddhism is the main religion that is practiced in Thailand, Phuket is also home to several stunning Chinese shrines.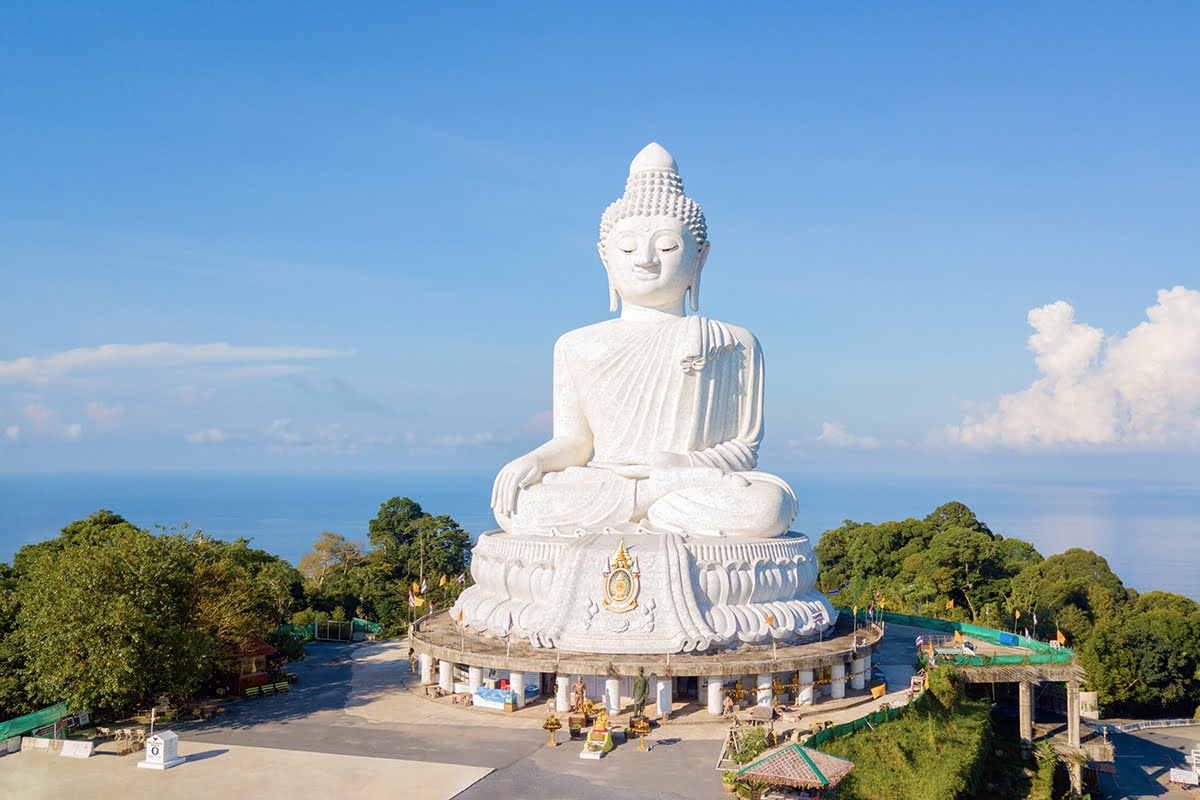 Phuket Big Buddha: As one of the province's most well-known landmarks, Phuket Big Buddha is definitely worth a visit. At 45 meters tall, this concrete and marble Buddha sculpture can be seen from quite far away. But to really get the full experience, it must be viewed up close. There is a large staircase to climb to reach this Buddha on Nakkerd Hill. From the hill, visitors will be treated to an unbeatable view of the nearby towns and beaches. While it is free to visit, there is a temple on the hill where tourists can make a small donation to the Buddha statue.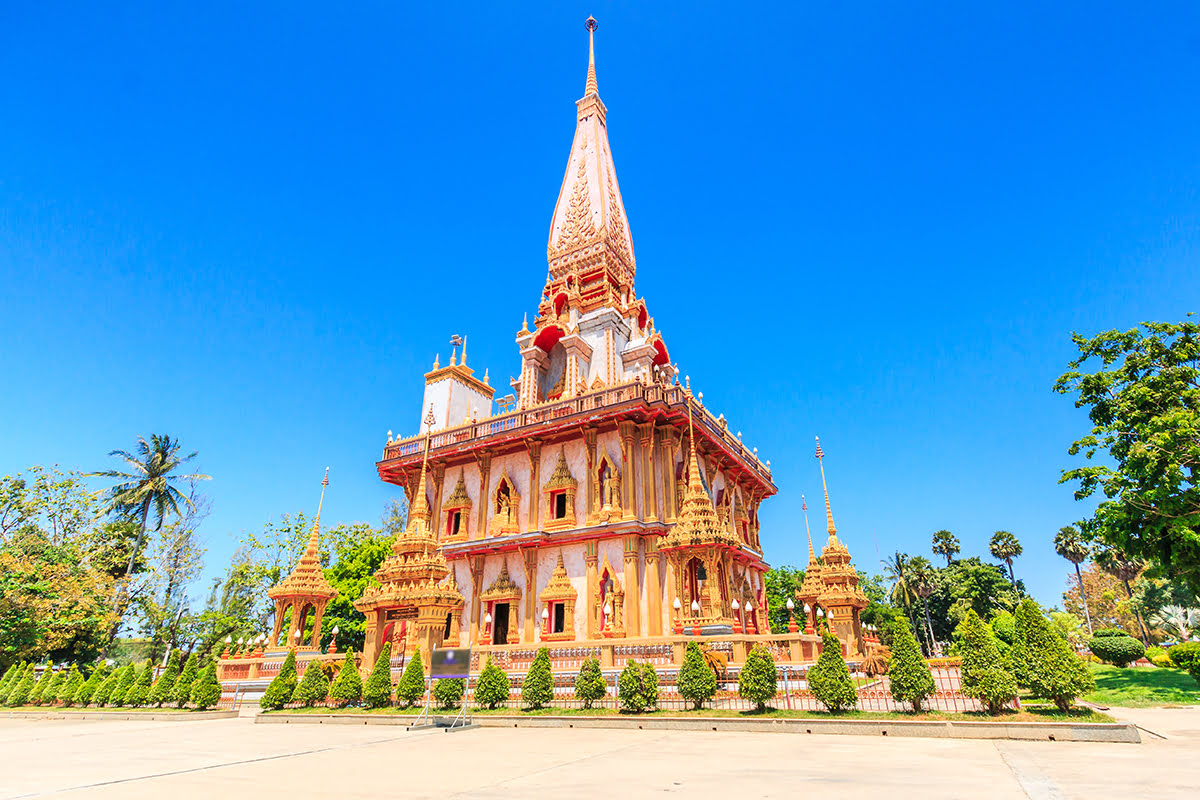 Wat Chalong: Of the 29 Buddhist temples in Phuket, the most important to visit is Wat Chalong (formally known as Chaithararam Temple). This temple was built in the 19th century and is sure to amaze with its stunning architecture and vibrant colors. Visitors are welcome to enter this peaceful temple for free to pray, make offerings, and view the golden Buddha statues. The temple is open daily from 7:00 AM to 5:00 PM, and the grounds can be visited anytime.
Jui Tui Shrine: Located in Phuket Town, Jui Tui Shrine is a colorful and beautiful Chinese shrine that's free to visit. The shrine is open daily from 8:00 AM to 8:30 PM, making it the perfect spot to start or end a busy sightseeing day. It is a place where locals and tourists come to celebrate good news, ask for guidance, and learn their fortune using the shrine's fortune sticks. Jui Tui Shrine also participates in the Phuket Vegetarian Festival, which occurs yearly over nine days in September or October.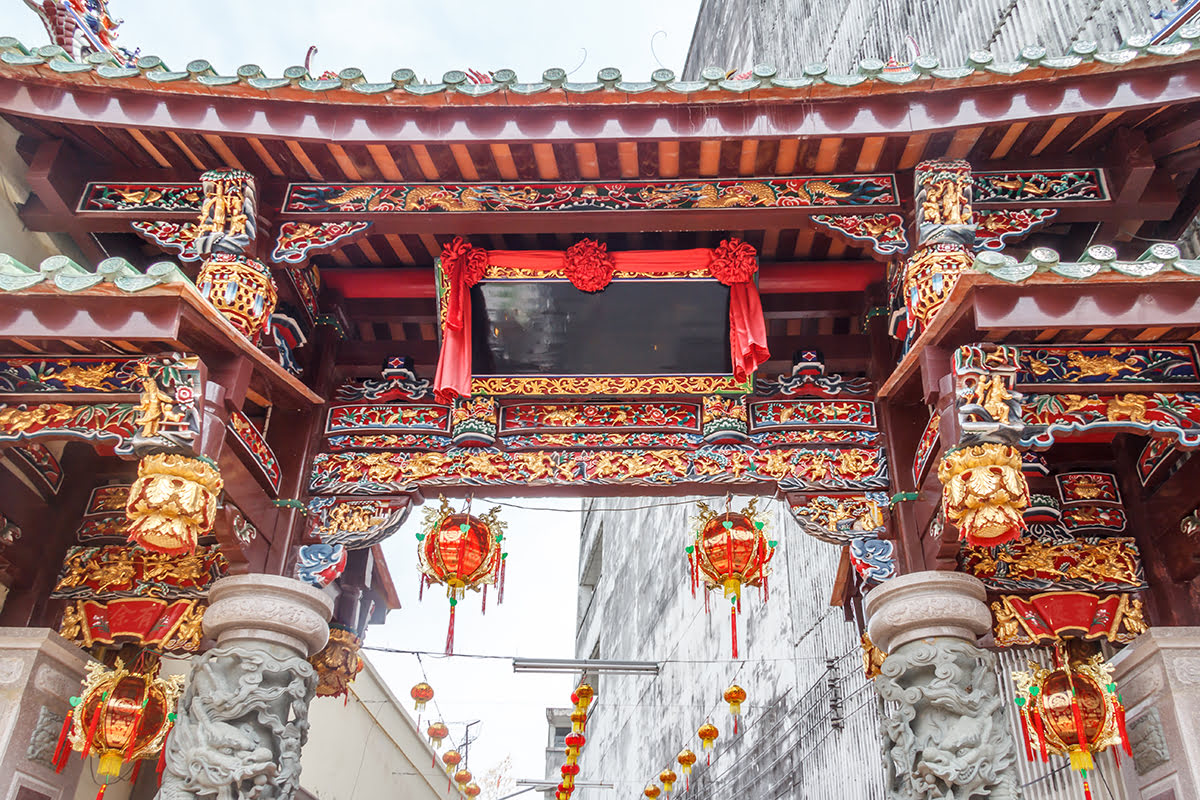 Shrine of the Serene Light: Visitors who are looking for a little peace and serenity will find it at Shrine of the Serene Light, a beautiful Chinese shrine in Mueang Phuket District. The shrine features a grand entryway, complete with a terracotta roof, Chinese dragons, and two stone lions standing guard. Inside, there is a beautiful altar with flickering candles and fresh flowers. The shrine is free to visit, but many tourists choose to leave a small donation.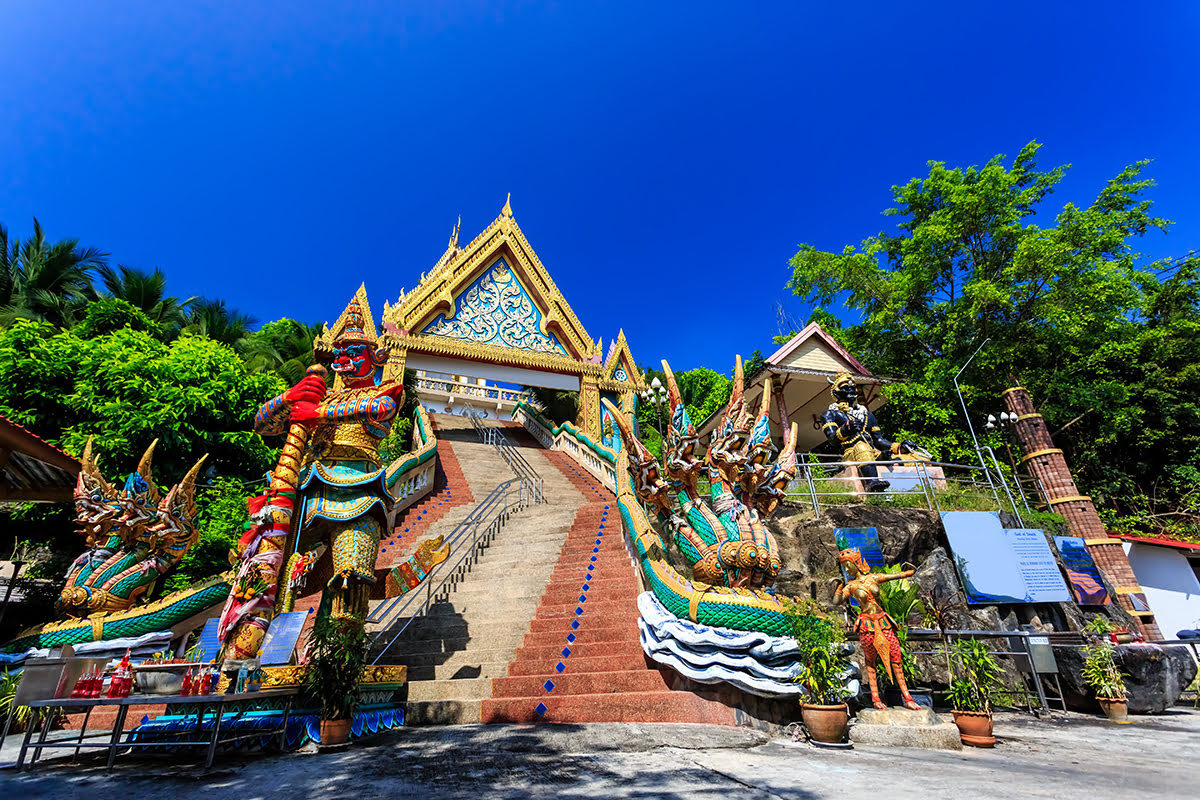 Wat Khao Rang Samakkhitham: Located on Khao Rang Hill in Phuket Town, Wat Khao Rang is a beautiful Buddhist temple that's definitely worth a visit. This religious building features vivid colors and intricate details that are even more beautiful up close than in photographs. The main attraction at Wat Khao Rang is the giant golden Buddha that looks incredibly stunning against the green hillside. After a stop at the temple, visitors may choose to continue up the hill to Khao Rang Viewpoint.
FIND & BOOK A HOTEL IN PHUKET TODAY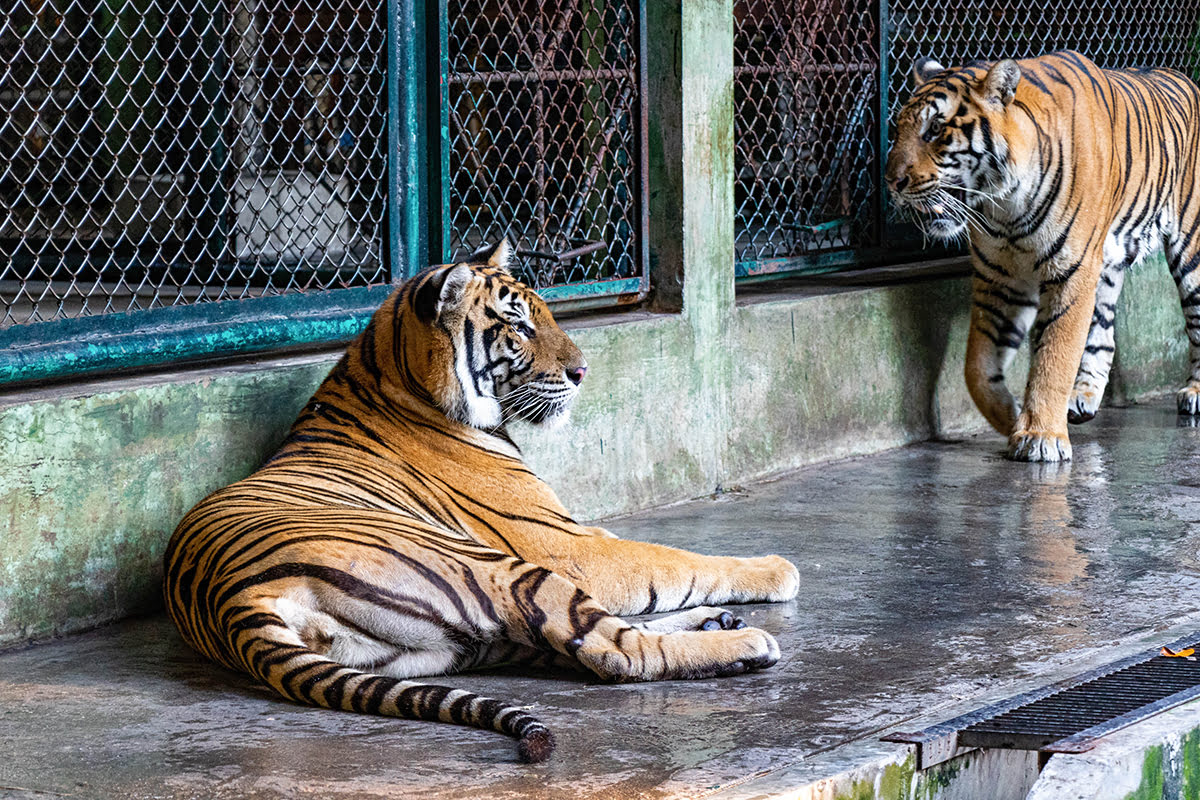 What to Do in Phuket | Top Family-Friendly Activities
In addition to beach days and temple visits, a well-rounded Phuket itinerary should also include a range of fun and unique activities, like touring the area's best museums or visiting a theme park. All of the activities on this list are appropriate for travelers of all ages, including couples, families, and solo travelers. Many of the spots on this list also provide the perfect backdrop for Instagram-worthy tourist pictures. (Some Phuket attractions may be closed during COVID-19 restrictions. Please check with venues before planning your itinerary.)
Tiger Kingdom: Phuket's "wildest" attraction is Tiger Kingdom, an animal park with tigers and cheetahs. It costs between 900 baht and 2,300 baht to visit one of the animal enclosures up close, but value package deals are available for those who want to experience them all. Photography packages are also available and include professional tourist photos with the animals. There is also one restaurant on-site called Bengal Restaurant, which serves Thai and western cuisine. Tiger Kingdom is open every day of the year from 9:00 AM to 6:00 PM (last entry at 5:30 PM).

Phuket Trickeye Museum: Spend a fun morning or afternoon at one of Thailand's top interactive museums, Phuket Trickeye Museum. Located in Phuket Town, this family-friendly attraction features a variety of interactive exhibits and 3D paintings meant to trick the mind and encourage creativity and imaginative play. Children and adults alike can enter the exhibits and create unique tourist pictures. The museum is open daily from 10:00 AM to 7:00 PM (last entry at 6:00 PM), and admission is 400 baht.

Phuket Elephant Sanctuary: At Phuket Elephant Sanctuary, tourists can watch elephants living their natural, carefree lives – no cages, no shows, and no elephant rides. Since there are real elephants roaming free throughout the sanctuary, tourists must register in advance, then meet at the sanctuary office in Paklok to be transported safely into the park. There are six pickups per day – three in the morning and three in the afternoon. Upon arrival, visitors will meet with a guide for a half-day of elephant viewing and education. Phuket Elephant Sanctuary is open every day of the year, except April 13th (Songkran Day).

Blue Tree Water Park: Located in Cherngtalay, Blue Tree Water Park is Phuket's largest water park. With water slides, splash zones, rock climbing, zip lines, and more, there's something for everyone at Blue Tree. There's also an outdoor stage where families can enjoy live musical performances and other entertainment for free. Children under eight years old will enjoy the Kids Planet area, where they can participate in supervised group activities and crafts daily from 4:30 PM to 6:00 PM. The water park itself is open daily from 10:00 AM to 10:00 PM.

Soi Dog Foundation: The largest dog and cat rescue in Asia is Soi Dog Foundation, a non-profit organization that has been helping stray animals for well over a decade. The sanctuary offers several free guided tours in English and Thai throughout the day but is closed to the public on Saturday afternoons and Sundays. During the tour, visitors will learn about the work that the organization does in Phuket and around the world, and have the chance to pet and play with the stray dogs and cats.
FIND & BOOK A HOTEL IN PHUKET TODAY
What to Do in Phuket | Top Adults-Only Activities
While most of Phuket's best activities are family-friendly and educational, there are also several adults-only nightlife activities and things to do that involve alcohol. These special activities take any Phuket trip to the next level and give travelers plenty of stories to share after returning home. While Phuket is an excellent place to party, adult tourists should learn and respect the laws and customs of Thailand to stay safe and have fun on a night out. (Some Phuket bars and clubs may be closed during COVID-19 restrictions. Please check with nightlife spots before planning your itinerary.)
Chalong Bay Rum Distillery: A visit to Chalong Bay Rum Distillery is a must for travelers who have reached the legal drinking age (which, in Thailand, is 20 years old). Chalong Bay rum is made with natural and sustainably-sourced ingredients and comes in pure, tropical, or spiced varieties. Visitors can take a tour of the distillery to learn about every step of the rum-making process. There are also cocktail workshops available daily where guests will take a tour, then learn to make three cocktails. The workshop costs 1,700 baht and must be booked in advance.

Bangla Road: The best place to experience Thai nightlife is Bangla Road, located in Patong (one of Thailand's most famous beach resort towns). At night, the street is blocked off to cars and becomes a lively walking street, lined with various bars and clubs. Some feature live music or live shows, while others have D.J.s playing loud dance music. There's also a street food market open well into the night for a little snack after a night of affordable drinks on Bangla Road.

Phuket FantaSea: One of Thailand's most popular nighttime shows is held at Phuket FantaSea, a theme park with games, shopping, a buffet restaurant, and a giant theater. The magical theater show includes everything from acrobatics and special effects to real elephants and other animal performers. Shows start at 9:00 PM daily and run for about 70 minutes.

Phuket Simon Cabaret: Phuket Simon Cabaret is another of Phuket's top nightlife entertainment experiences, with shows beginning at 7:30 PM or 9:00 PM daily. This creative, musical show features talented dancers in glamorous costumes and lasts about 75 minutes. While both shows are family-friendly, they take place fairly late at night and might be too loud and overwhelming for young travelers.

360° Bar & Lounge Phuket: What could be better than enjoying a tropical drink while watching the sunset? Located near The Pavilions Phuket, a luxury boutique hotel, 360° Bar & Lounge Phuket is one of the most recommended spots to spend a relaxing evening in Thailand. This outdoor bar is beautifully decorated with plants, soft lighting, and cozy chairs, and offers an incredible 360-degree view of Phuket. Stop by just before dusk to enjoy tapas and drinks as the sun is setting. There are also dozens of other popular sunset bars throughout the province.
FIND & BOOK A HOTEL IN PHUKET TODAY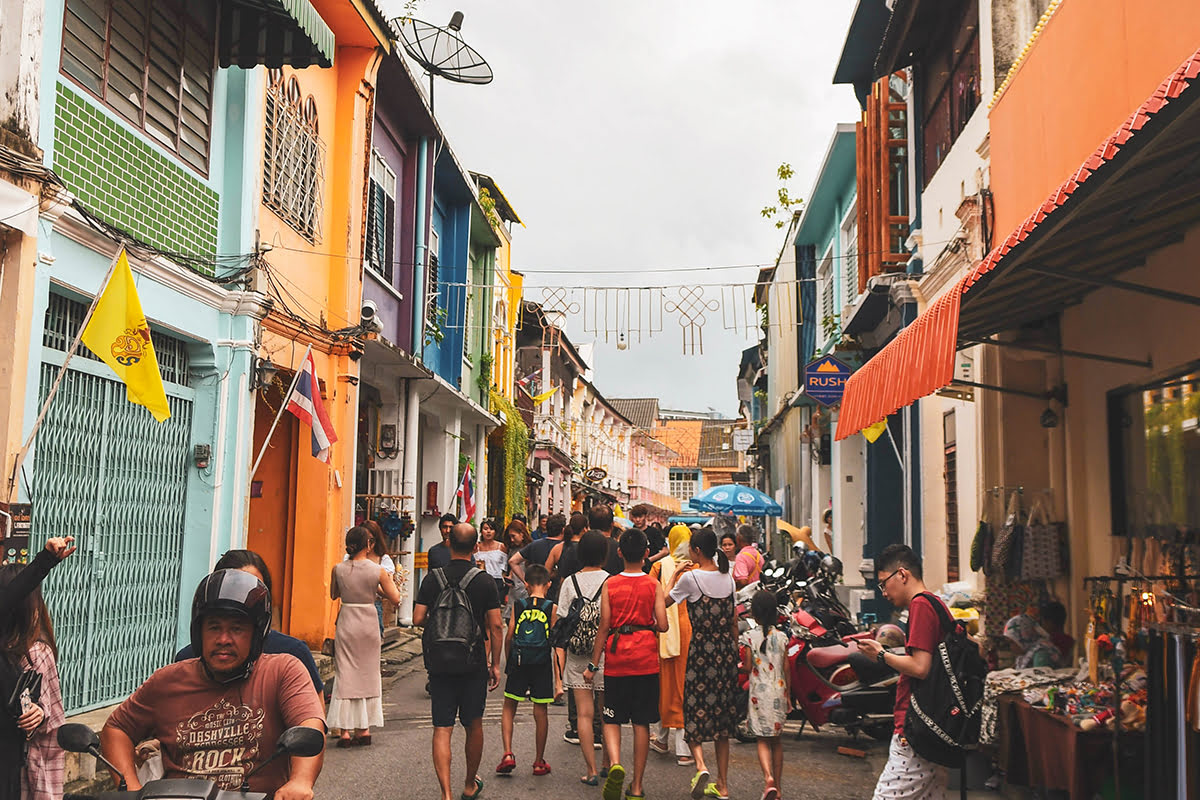 What to Do in Phuket | Top Shopping Malls & Districts
Bringing home unique Thailand souvenirs is a fun way to capture the magic and memories of a trip to Phuket. Many travelers also like to bring home souvenirs to give to friends and family. Even for travelers on a tight budget, exploring the province's best shopping spots is still a fun activity. Phuket is home to everything from luxury shopping malls filled with brand-name stores to busy marketplaces selling handcrafted items.
Phuket Town Weekend Night Market: A visit to Phuket Town Weekend Night Market easily ranks in the 10 best things to do in Phuket. It is the province's largest night market, with hundreds of vendors selling new and secondhand goods. Some items on sale include clothing, jewelry, handicrafts, and electronics. There are also several food vendors selling cold drinks and traditional Thai street food for a little snack while browsing the stands. The market is open from 4:00 PM to 11:00 PM every Saturday and Sunday.

Phuket Walking Street: Every Sunday from 4:00 PM to 10:00 PM, Thalang Road in Phuket Old Town transforms into Phuket Walking Street, a lively market that specializes in food and handicrafts. As it occupies a relatively small area, the market can get quite crowded with tourists and locals as the night goes on. But it is definitely worth a visit as it's one of the best places to pick up authentic handmade Phuket souvenirs. Kids are welcome and will love browsing the toy stalls and enjoying a sweet treat from one of the many snack vendors.

Jungceylon Shopping Mall: One of the most popular shopping complexes in the province is Jungceylon Shopping Mall, located just minutes from Bangla Road and Patong Beach. This mall features over 200 shops, including Robinson Ocean Jungceylon, a giant department store. In addition to shops and restaurants, the mall is also home to a movie theater, bowling alley, virtual arcade, health spa, trampoline park, and more. Before shopping, tourists should stop by the Tourist Privilege Booth to pick up a Tourist Privilege Card, which can be used to receive 5-70% sales discounts at participating stores.

Premium Outlet Phuket: For brand-name clothing and sports equipment at discount prices, there's no better place to shop than Premium Outlet Phuket. This collection of outlet stores includes many well-known international and Thai brands selling men's and women's clothing, shoes, kid's toys, and sporting gear for all ages. The outlet is also located in a beautiful area, surrounded by tropical trees and close to the eastern coast. It is open Monday through Sunday from 10:00 AM to 9:00 PM.

Central Festival Phuket: Another of Phuket's top malls is Central Festival Phuket, located just minutes from Phuket Town. This mall is open daily from 10:30 AM to 11:00 PM and features over 400 stores and restaurants. Many of the stores also offer discounts to tourists for budget-friendly shopping. While many of the stores sell men's or women's clothing and accessories, there are also several places that sell home decor, electronics, books, and various items for kids and teens.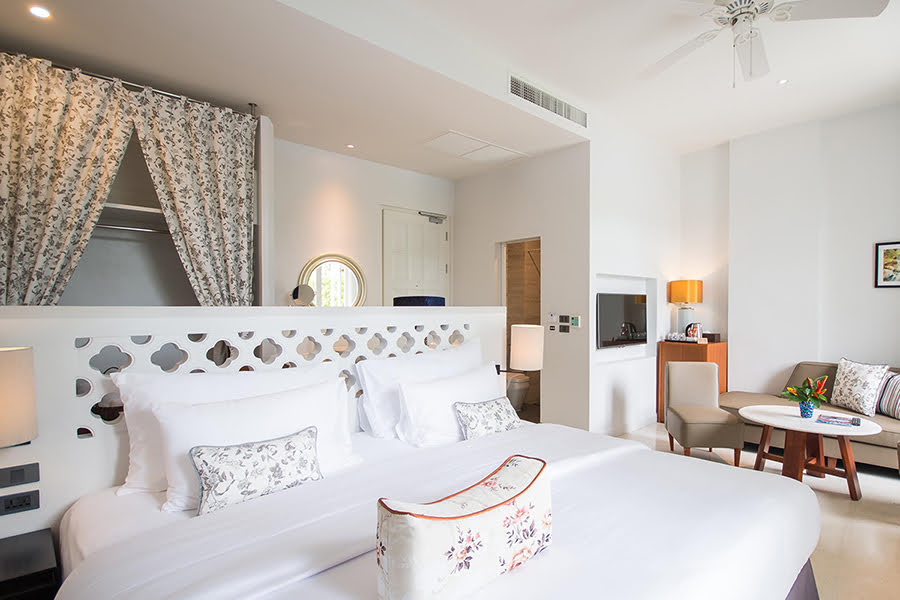 FIND & BOOK A HOTEL IN PHUKET TODAY
What to Do in Phuket | Top Restaurants
No trip to Phuket is complete without sampling some of the province's best food options. As it is surrounded by water, it's easy to find fresh, flavorful seafood day or night. Many of Phuket island's best restaurants not only serve incredible food but also have special features, like waterfront views and cozy, friendly ambiance. Visitors may also consider taking a Thai cooking class to learn techniques and recipes from professional chefs that they can recreate at home. (Some Phuket restaurants may be closed during COVID-19 restrictions. Please check with locations before planning your itinerary.)
Mom Tri's Kitchen: After a day of sun and sand at Kata Noi Beach, walk about 10 minutes over to Mom Tri's Kitchen for a heavenly meal. This restaurant is located in the luxurious Mom Tri's Villa Royale Hotel and offers stunning views of the Andaman Sea and white sandy beaches. Aside from the views, the restaurant is known for its menu of Thai and international fusion food made with fresh ingredients and its incredible wine selection.

Siam Supper Club: One of the best restaurants in Choeng Thale is Siam Supper Club, a wonderfully chic spot with intimate ambiance. The menu has something for everyone, including grilled steak, various pasta dishes, homemade pizza, and a variety of fresh seafood options. For dessert, choose from a selection of sweet treats, including their signature SSC cheesecake. The dark wooden accents, dim lighting, and soft jazz music in the background make this restaurant the perfect spot for a romantic night out.

Blue Elephant Phuket Restaurant: For southern Thai cuisine, there's no better restaurant than Blue Elephant Phuket in Phuket Town. With a menu that blends authentic Thai dishes with modern ingredients and flavors, tourists can expect an unforgettable dining experience. The restaurant also offers half-day cooking classes, where visitors can learn to cook a four- or five-course Thai meal. Classes at Blue Elephant Cooking School start at 2,800 baht and are available seven days a week.

Rock Salt: Located right on the water, Rock Salt is the perfect spot for lunch or dinner after relaxing on Nai Harn Beach. The restaurant is also open from 7:30 AM to 10:00 AM for breakfast by the sea. While there is plenty of freshly-caught seafood on the lunch and dinner menus, there are also several flavorful vegan and vegetarian options with a Mediterranean-Thai twist. Rock Salt is part of The Nai Harn Resort but is open to hotel guests and non-guests.

One Chun Restaurant: For authentic Phuket cuisine in a fun retro setting, One Chun Restaurant is the place to be. This Phuket Town restaurant is well-deserving of its Michelin Bib Gourmand rating, a rating given to places with good quality and good value menus. While there are dozens of spicy, flavorful dishes on the menu to choose from, two must-try items are the pork belly and the crab curry.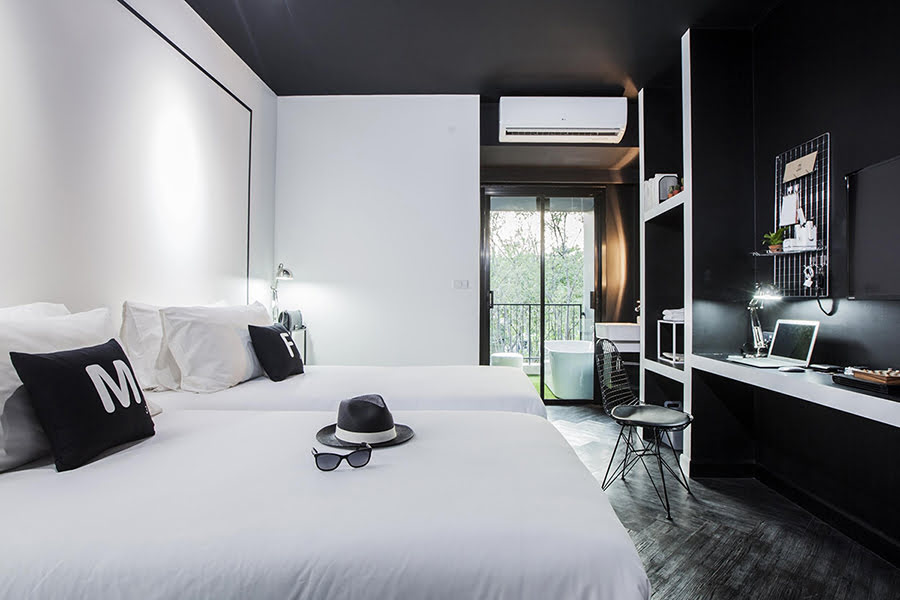 FIND & BOOK A HOTEL IN PHUKET TODAY