Bali is a place that offers countless exclusive resorts offered at reasonable prices. Travelers can splurge on luxury 5-star hotel accommodations that are close to the beaches, ancient temples, nature attractions, gourmet restaurants, and special events going on at any point during the year. With so many phenomenal resorts to choose from, the hardest part about planning a vacation in Bali is trying to decide on where to stay. Here is a complete guide to some of the top-rated luxury resorts and hotels on the island.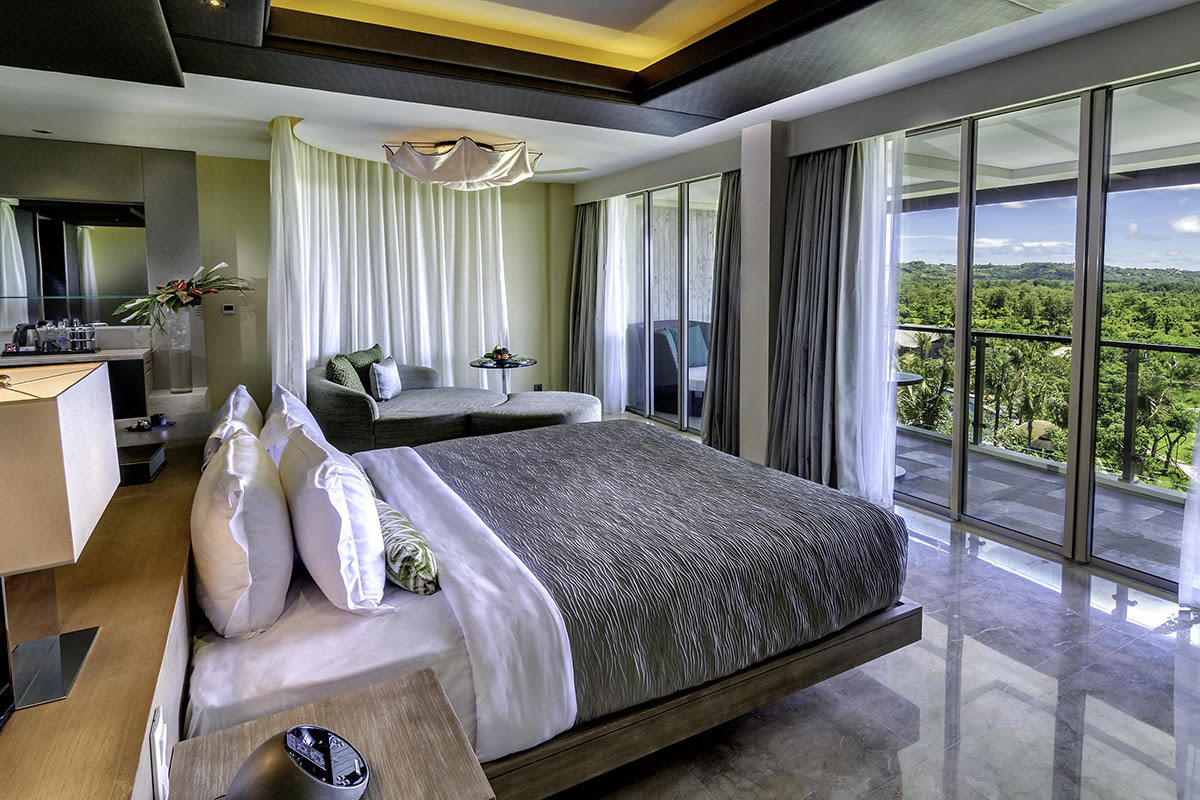 1. RIMBA Jimbaran BALI by AYANA
An exotic hideaway for those who are looking for a lodging experience that is unique and luxurious, RIMBA Jimbaran BALI by AYANA delivers! This property is a 5-star hotel that features a contemporary design, an abundance of amenities, and award-winning service.
This hotel is located within the 90-hectare property of AYANA Resort right along the shore of Jimbaran Beach and is less than 10 minutes away from Ngurah Rai International Airport, making it a convenient resort option for travelers.
RIMBA Jimbaran BALI by AYANA was designed with nature in mind. It offers over eight hectares of lush gardens to explore, quick access to the beach, plenty of outdoor lounging areas, and several outdoor swimming pools – all boasting beautiful views. There are water slides for those who are feeling a little wild and semi-private poolside suites for guests who would like to relax and enjoy the warm weather and tropical ambiance this resort offers. RIMBA Jimbaran BALI by AYANA offers a sauna, free airport transfer services, a kids club, a fitness center, and a day spa.
2. INAYA Putri Bali
Situated near the southern shoreline of the island in the Nusa Dua neighborhood is where guests will find one of the best hotels Bali has to offer. INAYA Putri Bali is a prestigious 5-star property that is decked out in traditional Balinese style and architecture with a modern twist. Guests receive the royal treatment when they book their stay at this fabulous hotel.
Guests staying in INAYA Putri Bali can choose between several room styles such as deluxe suites with and without a swimming pool view, or a multiple room suite with a view. Each room at INAYA Putri Bali is adorned in contemporary tropical decor that promotes rest and relaxation.
While staying at INAYA Putri Bali, guests have access to an indoor/outdoor bar and lounge, complimentary coffee and tea, a day spa with massages and specialty mineral treatments, a private beach area, gardens to wander, complimentary airport transfer, and a variety of fine restaurants such as:
Ja Jan By the Sea – Casual outdoor restaurant where comfort foods are presented to visitors on carts that roll from table to table.
Homaya Restaurant – A unique social dining experience where visitors share a large communal table while dining on traditional Indonesian cuisine.
INAYA Deli – Satisfy a serious sweet tooth at the only dining spot at the resort dedicated to just desserts!
Gading Restaurant – Boasting beautiful views of the garden and palm trees beyond from floor to ceiling picture windows, Gading Restaurant is a fine dining establishment that serves up artistically crafted dishes from all over the world.
INAYA Bar & Lounge – Ideal for a nightcap to unwind from a long day at the beach, INAYA Bar & Lounge is a contemporary indoor/outdoor relaxation spot that serves up delicious cocktails and intriguing conversations.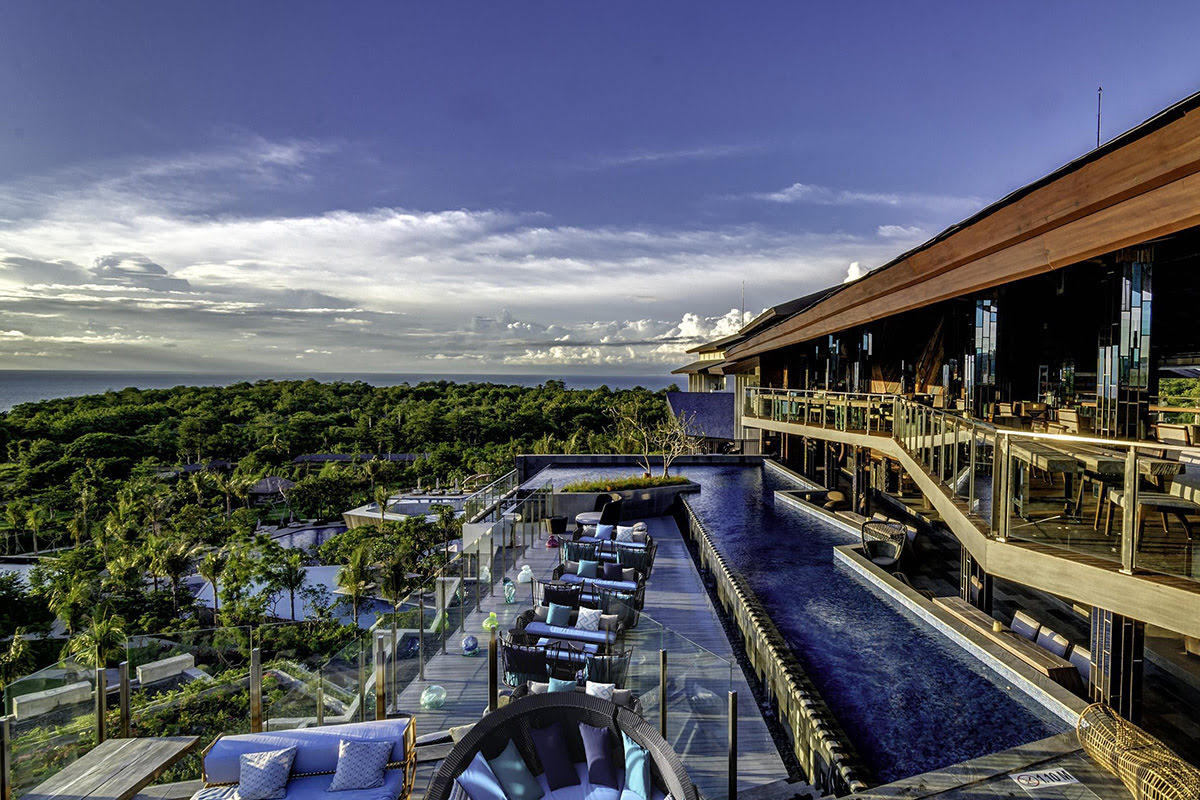 3. AYANA Resort and Spa, Bali
A true treasure of the tropics, AYANA Resort and Spa, Bali is located just minutes from Ngurah Rai International Airport and is one of the top luxury resorts in Bali. This 5-star resort sits on over 90 hectares of property that includes cascading rock cliffs, a private stretch of beach, picturesque gardens, and perfectly manicured lawns. Guests have several room options to choose from including the following:
Resort View Room
Deluxe Ocean View Room
Jimbaran Bay Room
Terrace Suite
Ocean View Suite
Each room and suite at AYANA Resort and Spa, Bali offers an elegant ambiance that ties in traditional Balinese culture with modern luxuries that make guests feel like they are lodging in absolute paradise. Along with spacious rooms with gorgeous views, AYANA Resort and Spa, Bali also features warm outdoor pools with garden and cabana islands, a toy and game filled kids club room, an 18-hole golf course, private beach access, several upscale restaurants and bistros, a relaxing day spa with a calming ocean view, a fitness center, and much more.
4. Kuta Paradiso Hotel
Kuta Paradiso Hotel is an urban oasis located in the middle of the Kuta neighborhood. It is a 5-star hotel that has over 200 rooms and provides a tropical escape from all of the activities going on in the city. Not only does Kuta Paradiso Hotel offer plenty of amenities to keep guests relaxed and happy, but it is also located approximately five minutes from Kuta Beach so you can lay out on the sandy shore or partake in some exciting water sports activities during the day. For those who wish to do some shopping and experience the true Indonesian culture, Kuta Square and Kuta Art Market are right down the road from the hotel.
When booking a room at Kuta Paradiso Hotel, guests have several different options to choose from including standard rooms, deluxe rooms, ocean view rooms, and suites – all providing a unique experience and relaxed atmosphere. Whether you are traveling solo or with family or friends, there is a luxury lodging option that is right for your needs. To save some money, consider allowing the hotel staff to assign you a room when you arrive as these bookings are always provided at a discounted price.
At Kuta Paradiso Hotel, all hotel rooms and suites are adorned in neutral colors and contemporary furnishings that celebrate the culture of Bali. Guests get to take advantage of amenities such as complimentary coffee, tea, Wi-Fi, and toiletries, as well as a kid's fun center, an outdoor pool with poolside seating and cabanas, a full fitness center, a lush tropical courtyard, a day spa, and onsite dining options.
FIND & BOOK A HOTEL IN BALI TODAY
5. The Kayon Jungle Resort by Pramana
A tranquil retreat for travelers in search of rest and relaxation, The Kayon Jungle Resort by Pramana is a hidden gem tucked away into jungle hillside of the Ubud region. The Kayon Jungle Resort by Pramana celebrates the true essence of nature in every way possible. The rainforest is incorporated into the landscaping, the architecture, and even the decor of this fine hotel resort.
At The Kayon Jungle Resort by Pramana, you can choose between a jungle view room or a river view room with a selection of upgrades available. Each hotel room and suite is adorned in natural furnishings, relaxing neutral colors, and plush linens with a private terrace or balcony. Each resort guest is treated to complimentary coffee, water, airport transportation, and Wi-Fi around the property. There is also a scenic outdoor swimming pool, a classy lounge and sitting room, a contemporary business center, gardens to stroll around in, a hilltop deck, and a coffee shop. For those in need of some extra pampering, visit the onsite beauty salon and spa for a mineral bath, hot stone massage, foot treatments, and more.
The Kayon Jungle Resort by Pramana is located within close proximity to some of the most popular attractions on the island; here are some activities to add to your itinerary:
6. Hard Rock Hotel Bali
Indulge in a luxury lodging experience while celebrating music legends of the world when staying at Hard Rock Hotel Bali. This hotel is located just minutes from Kuta Beach and offers rooms that will rock anyone's world. Hard Rock Hotel Bali has over 400 rooms ranging from deluxe rooms that comfortably accommodate solo travelers and families alike to premier deluxe rooms that accommodate larger parties.
All hotel rooms and suites at Hard Rock Hotel Bali are adorned in fun rock and roll themed decor. When staying at this hotel, guests have quick access to all of the fun activities, shopping centers, and international dining hotspots of the Kuta neighborhood of Bali. After a long day of exploring the island, head back to the hotel to take advantage of these exciting music-inspired amenities:
Outdoor Swimming Pool
Reception Hall and Museum
Rock Spa
Body Rock Gym
Tabu Night Club
Roxity Kid's Club
Sound Body
Rock Om
Rock Shop
At Hard Rock Hotel Bali, guests are invited to take part in music events that occur throughout the week; be sure to check their website to see who is performing while you are in town. Along with live music concerts held at Center Stage, the hotel hosts a wild and crazy foam part of Friday and Saturday nights, karaoke sessions each night of the week, and music-themed movies in the relaxing bean bag room.
7. Kanvaz Village Resort Seminyak
Located near the heart of Seminyak, Kanvaz Village Resort Seminyak provides visitors with a restful lodging experience that is close to all of the action going on in the city. This beautiful resort welcomes guests with a complimentary drink and slippers, and exceptional customer service.
Kanvaz Village Resort Seminyak offers a relaxing outdoor swimming pool that is located within the center court of the hotel. It features lush tropical vegetation and serene blue lights that glow in the night. There is also a full service fitness center, a spa and wellness center, a rooftop bar, and restaurants that serve up international comfort foods. Each guest is also provided with a lifestyle ambassador and complimentary shuttle service to the hotel and surrounding attractions.
The interior of the hotel features a warm and natural ambiance that is perfect for rest and relaxation. Suites come with a variety of bed options to suit the needs of guests and each is adorned with neutral linens that are plush and comforting.
8. Visesa Ubud Resort
Rated as one of the top hotels in Bali, Visesa Ubud Resort is tropical oasis tucked away in the lush greenery of the Ubud countryside. This fabulous hotel and resort is decked out in ornate Balinese architecture and really immerses guests in the traditions and culture of the region. Experience why Bali is called "The Island of the Gods" when booking a reservation at this fine resort.
Visesa Ubud Resort is more than just a 5-star luxury resort, it is a place where visitors can escape and enjoy a true vacation while being surrounded in natural beauty. During the day, guests can roam the meadows and check out native birds and wildlife, go for a swim in the warm mineral waters of the resort, and meet locals who practice ancient traditions and spiritual rituals in the area. Visesa Ubud Resort is a popular wedding venue and offers a whole list of events during the year.
Visesa Ubud Resort offers everything from premier suites to multiple bedroom family suites, making it the ideal vacation spot for large parties. Each room is adorned in light furnishings and luxurious decor, flower-filled relaxation tubs, private balconies and terraces, and more. While staying here, guests are invited to spend some quite time in the spacious lobby, lounge by the pool with a cocktail in hand, stroll the water gardens, or get treated to a massage and beauty treatment at the spa.
For those who would like to learn what life is like on the island, reserve a spot for one of the cultural activities offered by the hotel. Guests can partake in events such as daily life rituals, daily duck feeding events, and even herb making lessons. Be sure to check out the hotel website to see what is going on while you are there. Visesa Ubud Resort has four onsite restaurants including Padi Fine Dining, Lumburg Restaurant, D'Kampoeng Ubud, and Lesung Restaurant that dole out regional dishes as well as menu options from all over the globe.
FIND & BOOK A HOTEL IN BALI TODAY
9. The Anvaya Beach Resort – Bali
Enjoy the 5-star elegance of a true urban paradise when booking a hotel room or suite at The Anvaya Beach Resort – Bali located on the shoreline of Kuta Beach. Upon entering into the lobby of this resort, guests are welcomed with traditional Balinese architecture that promotes relaxation. The suites and villas are adorned in modern furnishings that boast clean lines and neutral tones. The beds are dressed with fine plush linens, and the staff cater to every guest's needs.
The Anvaya Beach Resort – Bali offers free Wi-Fi, an airport transfer service, complimentary breakfast, 24-hour room service, and daily housekeeping. Guests are also welcome to indulge in other amenities such as private beach access, the fitness center, the outdoor swimming pool and lounging area, the day spa, a kid's club, and yoga room.
Thanks to its premier location, visitors have quick access to popular local attractions such as Waterbom Park, Discovery Shopping Mall, and Kuta Art Market. The resort also has two onsite restaurants guests can dine at during their stay.
10. Komaneka at Rasa Sayang Ubud Hotel
Relax amid the tropical rainforest of Ubud when reserving a luxury 5-star stay at Komaneka at Rasa Sayang Ubud Hotel. This scenic resort hideaway offers guests an award-winning lodging experience. Ideal for honeymooners, couples, families, and solo travelers, Komaneka at Rasa Sayang Ubud Hotel is a place where guests are serenaded by the sweet sounds of nature while all of the worries and stress of everyday life melts away. The hotel is located near the heart of Ubud, but far enough away to make it a real vacation hotspot.
Upon checking into this hotel, guests can choose from many floor plan options including premier suites and deluxe villas – all offering something that is just a little different from other hotels in the area. The suites are dressed up in neutral colors that compliment that natural beauty that is abundant just outside the windows. The ceilings are adorned in traditional Balinese thatching, which makes the whole lodging experience just a little more exotic. At Komaneka at Rasa Sayang Ubud Hotel, each guest is treated to a plush white robe, free Wi-Fi throughout the property, complimentary airport transport service, a balcony or terrace, access to the outdoor swimming pool, and an abundance of natural surroundings to admire.
Guests staying at Komaneka at Rasa Sayang Ubud Hotel are invited to take part in one of the many cultural activities offered daily including traditional Balinese dance lessons, wood carving classes, make offerings events, cycling through Monkey Forest Ubud, a tree top picnic, an appetizer class, special dinner services, and sightseeing tours. There is a health and wellness spa available to visitors who are in need of some fine Indonesian pampering. Komaneka at Rasa Sayang Ubud Hotel is home to the fine Madu Manis Restaurant, which specializes in clean and healthy Balinese cuisine made with fresh and local ingredients.
11. Alaya Resort Ubud
Showcasing a warm and romantic ambiance, Alaya Resort Ubud is a vacation retreat that dreams are made of! This fabulous 5-star Bali hotel provides guests with top-rated service and a relaxing getaway from everyday life. This boutique resort offers an assortment of suite options including deluxe rooms and multi-room suites with spa therapy packages. There are 106 rooms in total to choose from and each is decked out in traditional dark wood furnishings and architecture that promote rest and relaxation.
Alaya Resort Ubud is located near the heart of downtown Ubud, putting guests in close proximity to popular attractions such as Ubud Palace, Pura Taman Ayun, and Bali Zoo. The resort also offers a variety of onsite activities and events like Yoga at Bale, Experience Ubud, Cooking Class, Romantic Dinner, and Jamu Class at DaLa Spa. Guests are also welcome to participate in health and wellness programs, get some exercise at the gym, or go for a relaxing swim at the mineral pool.
Traveling with a group or are you in the area to celebrate a special event? Be sure to ask about the event venue located at the resort. Alaya Resort Ubud is the perfect place to host a business trip or a wedding. It also offers two unique fine dining restaurants – Manisan, which is located near the rice field and serves up traditional Indonesian food with modern flare as well as Petani, which offers gourmet coffee, casual food, and snacks in a relaxed setting with live music.
12. Bintang Bali Resort
Classy and elegant, Bintang Bali Resort provides top-notch customer service to all who visit. Featuring a grand lobby and free airport transportation, Bintang Bali Resort rolls out the red carpet for all guests and has over 400 spacious suites. Lodging choices at Bintang Bali Resort range from standard deluxe rooms to romantic suites and connecting suites. This resort has a floor plan that caters to just about any party size. All suites are decorated in natural furnishings, hardwood floors, and muted linens that provide for a restful stay.
Bintang Bali Resort has a warm and relaxing hot tub, outdoor swimming pool, a fitness room, an elegant public sitting area, a poolside recreation yard, an open view lobby and reception area, a day spa, an outdoor garden, a swim-up bar, and private access to Kuta Beach. The property encompasses six hectares of space that guests are free to wander while soaking in the beautiful tropical sunshine.
FIND & BOOK A HOTEL IN BALI TODAY