Located near the heart of Gion, with a beautiful mountain as its backdrop, Heian Shrine in Kyoto offers visitors a glimpse into the history of the region. While not as dated as some of the other shrines in Japan, Heian Shrine is celebrated as a memorial that symbolizes the triumphs at Gion's foundation.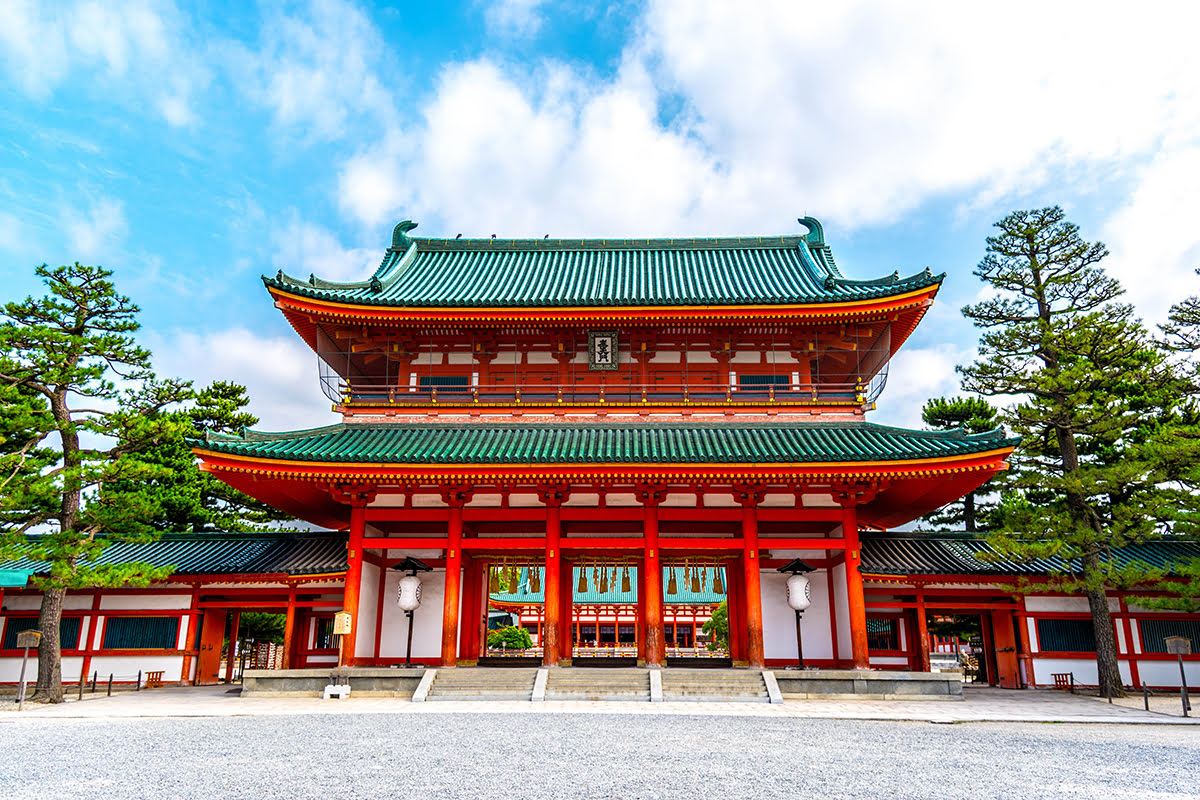 A Closer Look at Heian Shrine
For those who have a passion for history or would like to explore the complex culture of Japan in more depth, Heian Shrine celebrates the famous emperors who laid the foundation for Kyoto to become the thriving region it is today. It is a place that hosts annual celebrations each year and where visitors can relax and unwind while taking in all of its beauty. Be sure to keep Heian Shrine on your radar while visiting the area.
Attracting visitors from all over the world, Heian Shrine is a beautiful historical relic that was designed to mimic the likeness of the Imperial Palace. While the original version of the shrine burnt down in 1976, a new and improved shrine was constructed a couple of years later to keep the memory of Emperor Komei, Emperor Meiji, and Emperor Kammu alive.
The facade of Heian Jingu Shrine is decked out in traditional bamboo architecture, curved roofs, and native animal sculptures. Beyond the main shrine, guests can check out the White Tiger and Blue Dragon towers that enhance the personality of this property even more. Heian Jingu Shrine is a stunning attraction that is adorned in cherry blossom trees and has a scenic pond out back. Guests are welcome to cross over the foot bridge and relax among the gardens. Each year, the shrine hosts an annual festival to celebrate the foundation of Kyoto.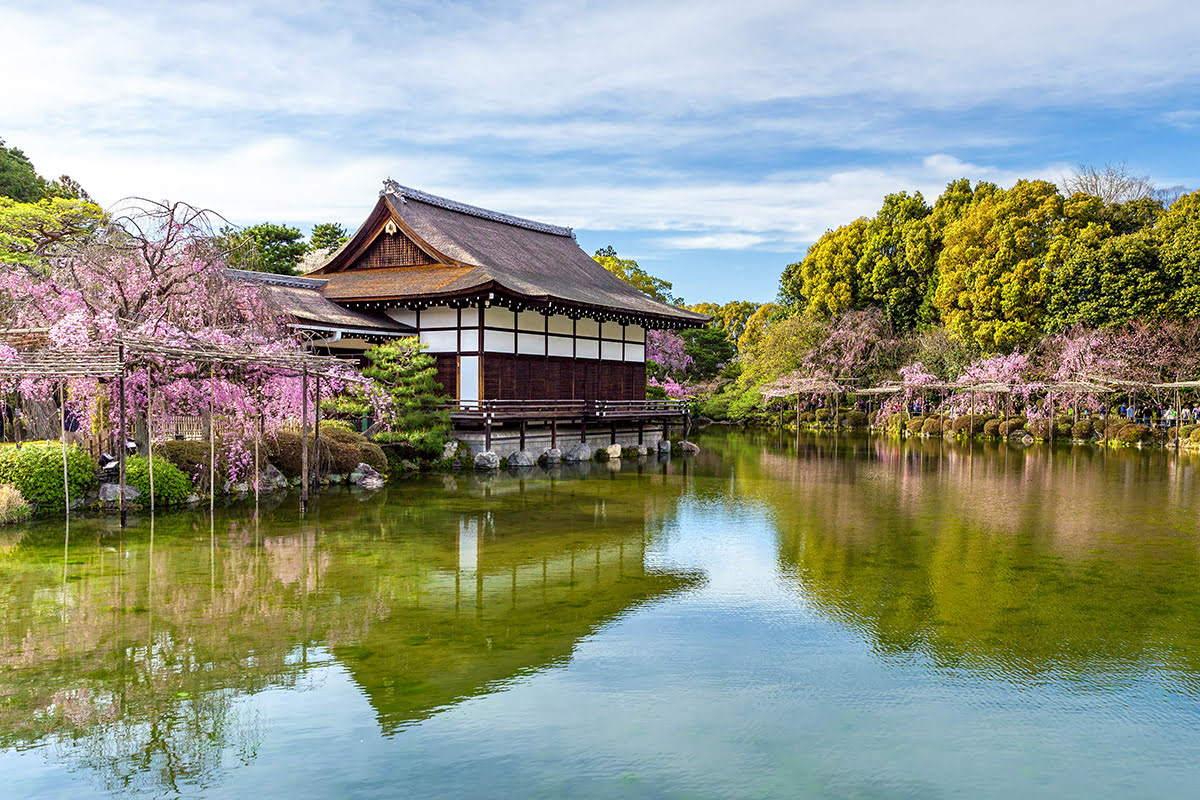 Attractions Near Heian Jingu Shrine
After exploring Heian Shrine, visitors to the city are invited to check out the other attractions. From museums to ancient shrines and temples, Gion is home to a diverse assortment of fascinating attractions that appeal to guests of all ages.
National Museum of Modern Art
The National Museum of Modern Art, also known as MoMAK, is home to a vast collection of fine art pieces created by local Japanese artists as well as artists from all over the world. The museum focuses mostly on modern art that was created in the 20th century to present. At the National Museum of Modern Art, visitors will find paintings, textiles work, sculptures, drawings, and art in other mediums.
National Museum of Modern Art is located in downtown Gion and is housed in a modern art-deco building that spans over several floors. The museum features several permanent collections hosts around five traveling exhibits throughout the year. Guests are invited to stop inside and discover their new favorite artist. National Museum of Modern Art is open Sunday-Thursday from 9:30am to 5pm and on Friday and Saturday from 9:30am to 8pm. Admission fees vary depending on the exhibition
Kyōto Minami-za
Constructed in 1929 as a prime entertainment venue in Kyoto, Kyōto Minami-za is a stunning performing arts theater where visitors are invited to step inside and watch traditional Japanese productions. The theater has a capacity for more than 1,000 guests, and the auditorium is spacious and elegant. Inside the theater, guests will find an assortment of concessions like beverages, meals, and snacks. The theater's opening hours are dependent on the performances it is hosting, so be sure to check the website to see what is playing while you are in town.
Kyoto Museum of Traditional Crafts
For those who have a passion for arts and crafts, or just want to experience the handiwork of the Japanese people, add Kyoto Museum of Traditional Crafts to your itinerary. Located in the heart of the city, visitors can explore all of the fine arts and crafts projects on display. This fun and interactive museum is housed in a stunning red building that showcases the ornate details of Japanese architecture. For those who plan to visit on Sunday, stop into the Kyoto International Exhibition Hall for a geisha or maiko dance performance. Not only can visitors check out an assortment of local crafts like textile prints and decorative bamboo items, but they can also purchase craft projects for the museum's gift shop. Kyoto Museum of Traditional Crafts is open from 9am to 5pm daily and admission is free.
Yasaka Shrine
Noted by its bright red facade, Yasaka Shrine is one of the most iconic tourist attractions in all of Gion. It is located near the heart of the city and is host to many celebrations throughout the year. Yasaka Shrine is an ancient marvel dating back nearly 1400 years. The main building features a main sanctuary as well as an offering hall that guests are welcome to go into and explore. The interior of the shrine is adorned in simple art and minimal furnishings – perfect for reflecting on life and doing some meditation.
Each year in July, Yasaka Shrine puts on the annual Gion Matsuri celebration, which is said to be one of the most popular festivals in all of Japan. In April, guests will be welcomed with the fragrant aroma of hundreds of cherry blossom trees that are in full bloom around the shrine. Visit the shrine at night to take part in the lantern release ceremony. Local business can make donations to have paper lanterns marked with their company name. Yasaka Shrine is open 24 hours a day and admission is free.
FIND & BOOK A HOTEL IN KYOTO TODAY
Hotels Near Heian Shrine
Get the most out of your trip to Heian Shrine by booking a fabulous hotel right near this iconic landmark. Not only will you get to experience all of the events and activities happening on the property, but you will also be in quick proximity to the other area attractions, restaurants, and shopping centers. From 5-star hotels with luxury accommodations to budget-friendly hostels for lone travelers, Gion has an excellent selection of rooms to offer all guests. Here are some of the most popular hotels near Heian Shrine.
Gion Hatanaka
Boasting traditional Japanese design with a modern twist, Gion Hatanaka is an elegant hotel where the staff roll out the red carpet for all of their guests – in a hospitality sense at least. Rooms at this ambient hotel can be reserved for as little as 42,000 JPY per night during the non-peak travel months of the year. This hotel is located near the heart of Gion and is located less than a mile from Gion Shijo Subway Station and Higashiyama Subway Station, making it easy to get around the city or all of Japan.
Gion Hatanaka features all of the amenities needed for a restful vacation. This hotel has 21 rooms featuring an assortment of different floor plans. Each room is adorned in traditional Japanese décor, complete with tatami mats, floor mat dining sets, and futon beds. The rooms come with private bathrooms that are stocked with fragrant toiletries. Gion Hatanaka has a tranquil tropical garden that guests can stroll through and do some bird watching. Amenities guests can take advantage of when booking a room include a family room, a community lounge, a mineral hot spring bath, room service, and a gift shop.
Historic Machiya near Kiyomizu, Birodo-an
For around 30,000 JPY per night, visitors can reserve the Historic Machiya near Kiyomizu, Birodo-an and be close to all of the action going on in downtown Gion. Guests get an exceptional deal as a booking is for the entire house. Historic Machiya near Kiyomizu, Birodo-an is a historic home that is within walking distance of Gion Shijo Subway Station and Higashiyama Subway Station as well as local restaurants, boutique stores, historical landmarks, and other fun attractions.
When staying at Historic Machiya near Kiyomizu, Birodo-an, travelers will get to experience what it was like to live in Japan decades ago. The furnishings throughout the house are all antiques and the architecture is classic. This home is approximately 657 square feet and comes with two bedrooms, each featuring single beds and futons. It features a single bathroom that is filled with fresh linens and toiletries as well as a kitchenette where guests can prepare meals and beverages. Experience the ambiance of traditional Japanese living at Historic Machiya near Kiyomizu, Birodo-an.
Kyoto Granbell Hotel
Located less than a mile from the city center, Kyoto Granbell Hotel is a beautiful and contemporary lodging option that guests can reserve for less than 11,400 JPY during the non-peak travel months of the year. This astounding hotel is located in downtown with close proximity to an assortment of fine international restaurants, tea houses, boutique stores, shopping centers, and historical attractions. Staying at Kyoto Granbell Hotel is a luxury experience that travelers will not soon forget. They have rooms to accommodate solo travelers, groups, and families.
This hotel offers everything from a standard room with double beds to a premier king room with king-size beds and extra futons. The interior of each room is warm and charming adding to the ambiance of the whole experience. From hardwood floors to plush white bedding, Kyoto Granbell Hotel does not hold back when it comes to ensuring guests get a restful experience. Along with Japanese-style furnishings and private bathrooms that are stocked with complimentary toiletries, guests can also take advantage of an assortment of amenities offered by this hotel including complimentary Wi-Fi, a game room, massage services, and a steam room.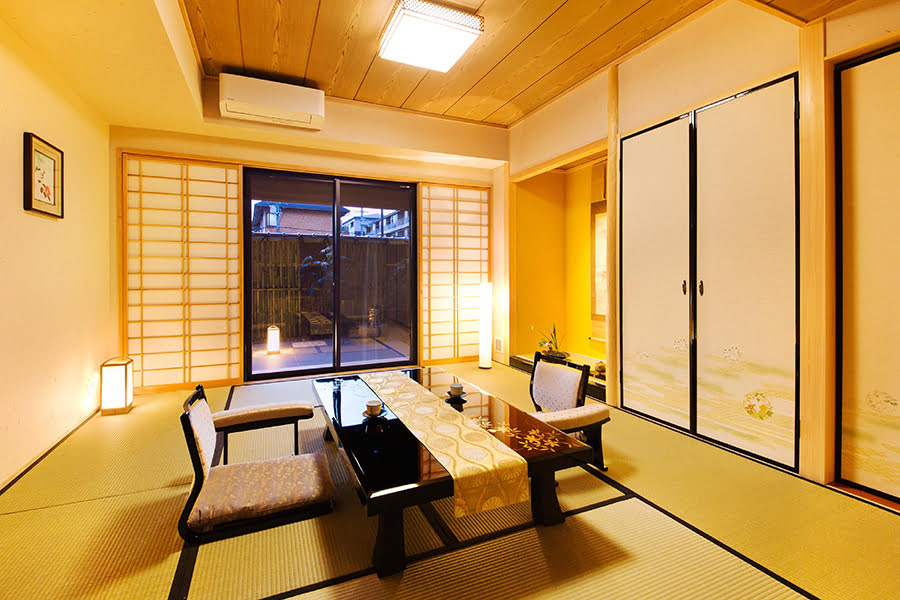 Ryokan KANADE
For around 29,600 JPY per night, guests can have an extraordinary experience in a hotel that is privately owned and operated. Ryokan KANDADE is a beautiful boutique hotel that features 20 charming staying rooms and hosts a variety of daily activities to ensure guests are entertained while visiting. Ryokan KANDADE is located near all of the hottest attractions that Gion has to offer. This fabulous boutique hotel has 20 rooms to choose from and the owners go out of their way to make each guest feel welcome. It is located within walking distance to Keage Subway Station and Higashiyama Subway Station, providing visitors with quick access to all of the attractions on the island.
While staying at Ryokan KANDADE, visitors can relax and unwind amid beautiful scenery and stroll through the authentic Japanese zen garden. Each staying room is decked out in traditional Japanese décor, which adds to the overall ambiance of the experience. Complete with futons and matted dining tables, these rooms provide all of the comforts of home. This hotel features a variety of amenities and services such as onsite restaurants, a community dining room, a hot tub, access to the garden, a family room, complimentary water and toiletries, and an electric tea kettle.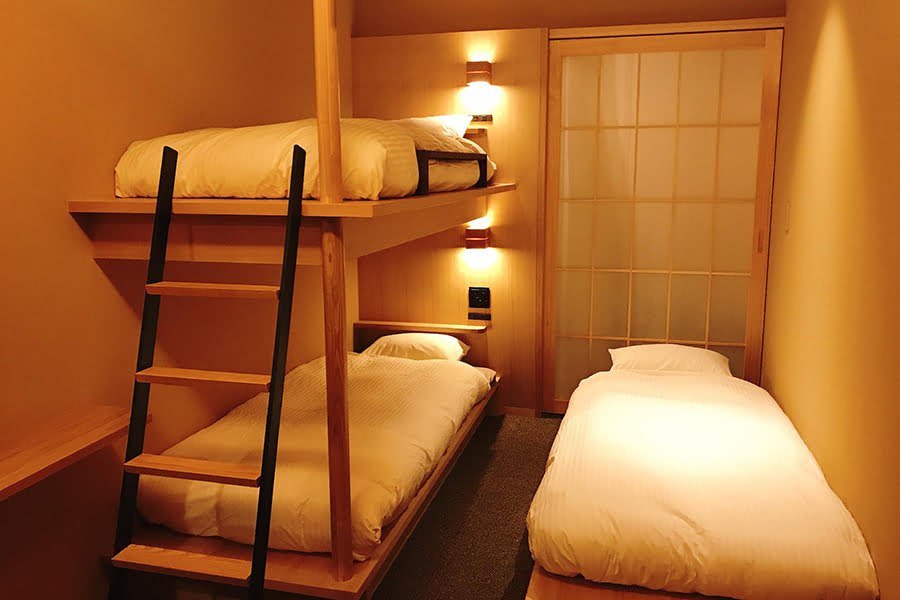 Shikishiki Higashiyama
Elegant and charming, Shikishiki Higashiyama is a traditional Japanese-style boutique hotel where visitors can reserve rooms for as little as 58,000 JPY per night. This hotel is located near the heart of Gion and is within walking distance of several of the public transportation hubs located in the neighborhood. Shikishiki Higashiyama features a clean and contemporary minimalist design that appeals to visitors who are traveling as part of a group, with family, or on a solo vacation. Experience excellent customer service while saving money on your lodging expenses.
Shikishiki Higashiyama features eight guest rooms, each boasting their own unique floor plan. Depending on the room reserved, guests can sleep on bunk beds, futons, or Western beds. Each room at this boutique hotel is decked out in contemporary Japanese-style furnishings and has natural wood accent walls and flooring. The rooms come with small kitchenettes with microwaves, a sink, and an electric tea kettle. Amenities included with a room booking consist of complimentary toiletries, breakfast, Wi-Fi, TV, dishes, and a community room. There is an outdoor balcony where guests can get fresh air and take in views of the city.
FIND & BOOK A HOTEL IN KYOTO TODAY