Fun for all ages, Sentosa Island is home to some of Singapore's most popular attractions, including Universal Studios Singapore and S.E.A. Aquarium. Adults find escapes at Resorts World Sentosa Casino and Crockfords Tower, while adventurous teenagers head straight for Skyline Luge and Sentosa Tanjong Beach!

Top Attractions on Sentosa Island
One of the highlights of Sentosa Island is Resorts World Sentosa. This resort is home to many of the island's main attractions and distinct hotels, including Hard Rock Hotel Singapore.
Visitors should plan on a trip to Universal Studios Singapore where they can enjoy rides, shows, and many other attractions. Conveniently located within Resorts World Sentosa, Universal Studios Singapore has 24 attractions and seven themed areas, including Hollywood, New York, Sci-Fi City and Ancient Egypt.
Non-resident tickets to Universal Studios Singapore cost 59 SGD for children, 79 SGD for adults, and 41 SGD for seniors. For residents of Singapore, tickets to USS are 56 SGD for children, 75 SGD for adults, and 41 SGD for seniors.

Annual and season passes also are available for varying prices. Annual passes allow visitors unlimited access to the park all year, and season passes are good for a six-month period from the time of purchase. Residents will need to present valid identification to receive local ticket prices.
This huge aquarium on Sentosa Island feature more than 100,000 marine animals, across 1,000 different species. Adventurers can choose to go on a self-guided tour or opt for a VIP experience. Visitors can even take a PADI Open Water diving excursion to earn an official scuba diving certification!
Tickets for S.E.A. Aquarium cost 29 SGD for children and seniors and 40 SGD for adults.
Skyline Luge on Sentosa Island has been in operation since 2005 and since then has been used by visitors from all over the world. The luge takes guests through its huge tracks, allowing visitors to control their ride, going as fast (or as slow) as they'd like. With four tracks, including Jungle Trail, Dragon Trail, Kupu Kupu, and Expedition, the park is a great option for thrill-seekers.
Visitors looking for a lovely view without the adrenaline rush can take a ride on the Skyride at Skyline Luge. This chairlift attraction gives visitors a bird's eye view of Sentosa Island and a great look at the Singapore skyline. For a romantic evening, couples can take a night trip on the Skyride for a star-watching experience they won't soon forget!
Ticket prices for Skyline Luge range from 24 SGD to 29 SGD per person (depending on the number of luge rides) and include the Skyride.
How to get to Skyline Luge: Skyline Luge is located near Imbiah Lookout and Siloso Beach (each location has an entrance) and is easily accessible by MRT or the Sentosa Express Monorail.
Sentosa Beaches
There are three great beaches on Sentosa Island, and all of them are accessible by the Sentosa Express Monorail. Travelers can choose from Siloso Beach, Palawan Beach, and Tanjong Beach, depending on the kind of experience they are looking for.
Siloso Beach is situated near Beach Station and offers many activities like rollerblading, kayaking, and skimboarding.
Palawan Beach is considered a more family-friendly beach, and travelers should plan for it to be busy on weekends and holidays. Palawan Beach features Palawan Pirate Ship, a fun waterpark for kids of all ages.
Tanjong Beach is a good choice for visitors who are looking for a more laid-back and subdued vibe. Though it is the furthest beach from Beach Station, Tanjong Beach makes up for its location by offering beautiful views and a serene atmosphere.
Trick Eye Museum Singapore
For travelers with children – or just looking to get out of the heat and have a fun time – a visit to Trick Eye Museum Singapore is a great option. This museum features 3D artwork and various displays that actually are optical illusions. The interactive murals allow visitors to feel as if they are a part of the picture! The museum is located inside Resorts World Sentosa.
Admission to the museum is 20 SGD for children and seniors and 25 SGD for adults. Visitors to Trick Eye Museum Singapore can save up to 20 percent by purchasing tickets online before arriving.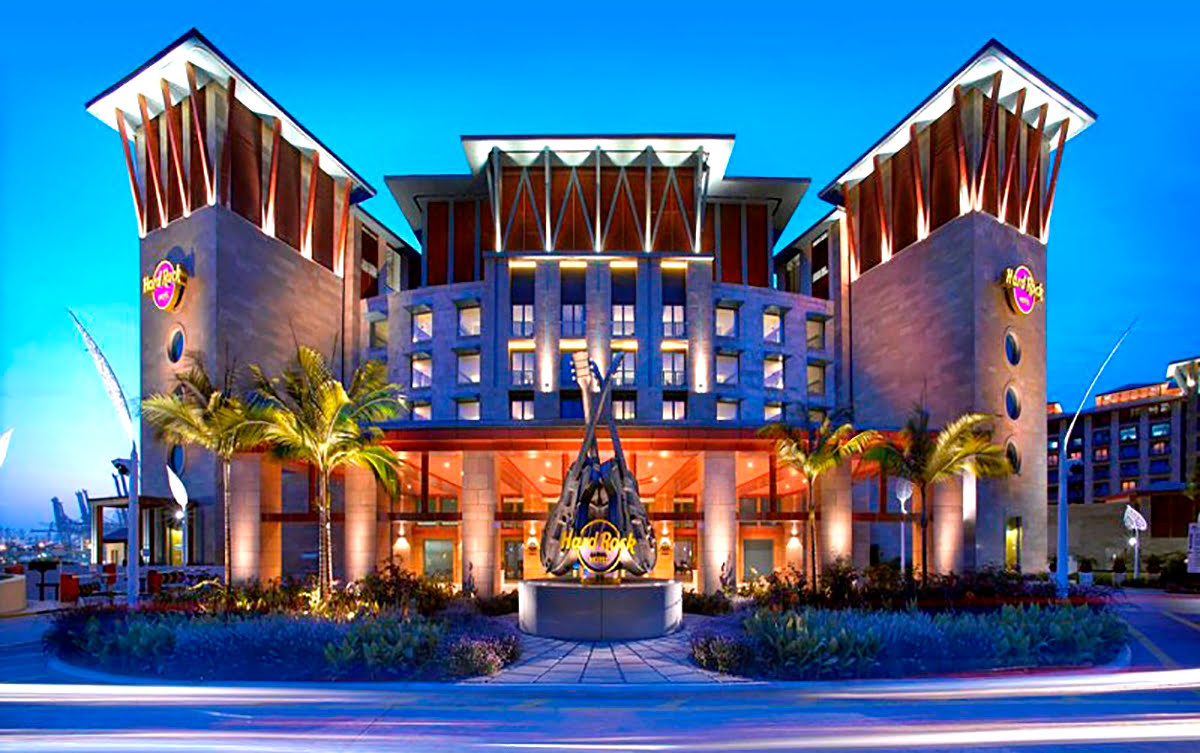 Where to Stay in Sentosa | More Accommodations & Resorts
While Resorts World Sentosa and Hard Rock Hotel Singapore are great places to stay, Sentosa Island offers several great choices for accommodations.
Located near Festive Walk, which is an amazing shopping center located within Resorts World Sentosa, Resorts World Sentosa – Festive Hotel is a good choice for travelers who love to shop. The hotel is near many of the island's main attractions, including Universal Studios Singapore and S.E.A. Aquarium. Resorts World Sentosa – Festive Hotel features an outdoor swimming pool, a kids pool, and offers access to loft beds for families.
ONE°15 Marina Sentosa Cove Singapore
Known for its beautiful views and fabulous dining options, ONE°15 Marina Sentosa Cove Singapore is an option for travelers looking to experience some sophistication during their trip. Located a five-minute walk from Sentosa Cove Village and Quayside Isle, ONE°15 Marina Sentosa Cove Singapore offers free Wi-Fi in all rooms and public areas, an outdoor swimming pool, spa services, and a tennis court.
How To Travel to Sentosa Island
Travelers have lots of options for how to reach Sentosa Island, and local transportation services make travel in the area easy.
From Changi Airport, travelers can opt to rent a taxi, one of the fastest options. A taxi ride from the airport to Sentosa costs about 25 SGD and takes about 20 minutes, depending on traffic and the time of day.
Additionally, travelers can take the MRT from the airport to Sentosa Island. Visitors can board the MRT at Changi Airport MRT Station and travel to Tanah Merah MRT Station, where they should change to the East West MRT Line (Green). From there, travelers can take the MRT to Outram Park MRT Station and switch over to the North East MRT Line (Purple) which will take them to HarbourFront MRT Station. Once visitors have arrived at HarbourFront MRT Station, they can opt to walk to Sentosa Island via Sentosa Gateway Bridge or take the Sentosa Express Monorail. The monorail travels throughout Sentosa Island and is free for all passengers.
Travelers wanting to experience an aerial view of Sentosa Island should consider a trip on the Singapore Cable Car. The Singapore Cable Car offers panoramic views of Keppel Harbour while it runs between Mount Faber in Singapore, all the way to Sentosa Island.
Roundtrip tickets for Singapore Cable Car are 21 SGD for children and 29.50 SGD for adults.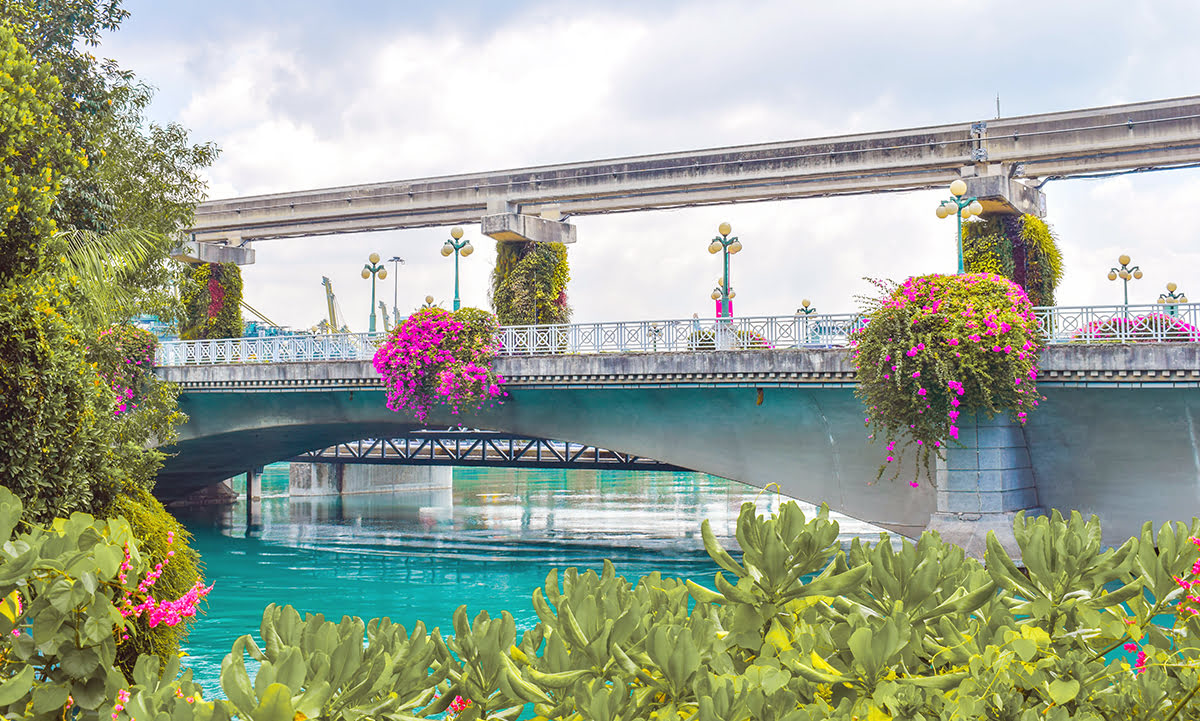 Sentosa Travel Tips
Singapore is a great choice for any traveler as it is considered one of the safest countries in the world and has lots of attractions to visit. The following tips can help visitors ensure that they have the best time possible in Sentosa and Singapore.
If visitors use a taxi or rental car to reach the island, there is an additional fee that ranges in price depending on the time of day. (Sentosa Island ticket prices range from 2 SGD to 6 SGD per car).
Visitors who walk onto the island or arrive by bike do not have to pay for Sentosa Island tickets.
If visitors arrive by bus, there is no entrance fee to the island. However, regular bus fares still apply.
Explorers to the island should consider the Sentosa FUN pass which can be used to access many of the island's attractions. Passes can be purchased online or at Sentosa ticketing counters across the island.
Travelers should download a map of Sentosa Island and its attractions to their smart phones prior to arrival or they can ask at their hotel or resort for a Sentosa map to use throughout the day.
Wear weather appropriate clothing. In the summer, Sentosa weather is known for being hot and humid, so visitors should dress appropriately and head out earlier (or later) in the day to avoid the sun when it's the strongest.
Pack an umbrella. The weather in Singapore can switch from sunny to rainy very quickly, so travelers should be prepared and pack an umbrella just in case.