Thailand is famous for providing relaxing and rejuvenating massages, and getting a rubdown in a Phuket massage parlor should be at the top of every to-do list for visits to Thailand. While there are many types of massages offered in Thailand, travelers should make a point to get a traditional Thai massage at least once, as it may be different from what many are expecting when it comes to massage. One of the wonderful things about getting a massage while visiting Phuket is that massages are readily available – and super affordable!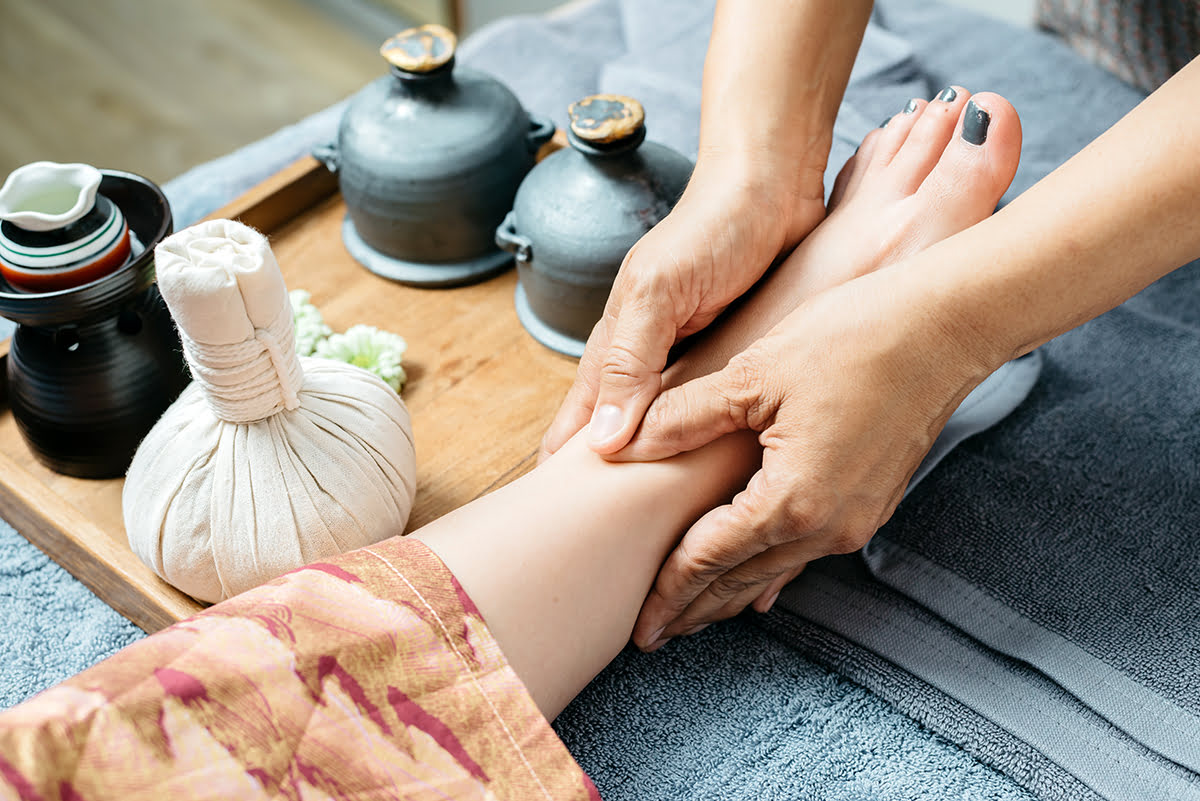 Phuket Massage Parlors | Thai Massage 101
There are many types of massages available in Phuket, and visitors should feel free to try as many as they like. From foot to traditional Thai, to spa experiences, each type will have its own benefits. Another bonus to getting a massage in Thailand is that, compared to many other areas in the world, Thai massages are very reasonably priced, meaning that travelers can appreciate an amazing massage for a fraction of what they'd pay back in their home country. Spending an afternoon in a Phuket massage parlor is a great way to relax and escape the afternoon heat.
Thai foot massage
Foot massages in Phuket have developed from the art of reflexology, where massage professionals massage specific parts of the foot in an effort to help encourage overall wellness in customers. Some believe that this reflexology can detox the body and that specific points on the feet correspond to certain body parts. These massages are a great way for visitors to relax and can help alleviate foot pain and strain after a day of hardcore sightseeing. During a foot massage, the feet and lower legs are rubbed, and firm pressure is placed on the feet and legs in an effort to help alleviate discomfort in the body.
Traditional Thai massage
Traditional Thai massage is an experience that travelers shouldn't miss. Traditional Thai massages are a little different from western-style massages as, generally, customers keep their clothes on and there is generally no oil used by the masseur. (Thai oil massages are available, however, but are generally offered for additional fees.) Thai massages can be booked at most parlors for one to two hours, but some spas offer extended packages where patrons can spend an entire day getting pampered.
Traditional Thai massage is a centuries-old art form that is said to have originated in India. The practice is considered alternative medicine and is often used in conjunction with other holistic treatments. These massages are deeply relaxing and can help alleviate muscle tension. Guests can expect a traditional Thai massage to have some movements and poses that are similar to yoga stretches, which may have guests moving from their backs, onto their sides, and into sitting positions.
What to expect during a Thai massage session
Generally, at the appointment, customers will be given clothes to change into (a shirt and pants), which are to be kept on during the massage. Once guests have changed, they should be led into a massage room and placed on a padded bed which is generally located on the floor alongside other massage mats. Here, the masseur will utilize a variety of techniques which may, at first, seem a bit different for individuals who aren't used to traditional Thai massage. These massages don't generally make use of kneading and, instead, the masseurs will stretch, pull, and press firmly into the body–sometimes with points of their bodies, including the bottoms of feet, elbows, thumbs, and knees.
The massage will often start at the feet and the masseur will work his way up the body, ending with the head. Sometimes, during a traditional massage, the masseur will walk on the customer's back as this is one of the customary acts of a traditional massage, though this isn't as common as it used to be. Guests should confirm prior to getting a massage what kind of experience they should look forward to so they know what to expect. Guests should also be certain to communicate with their masseur if the pressure feels painful, as these massages can be quite intense.
Other types of massages available
Most Phuket massage parlors that offer Thai massage will offer other types of massage as well. Many massage "menus" include hot stone massages, head and neck massages, face massages, oil massages, and even hand and wrist massages meant to ease tension for clients who work on computers all day.
Tipping for a Thai massage
Tipping is appreciated at Phuket massage parlors (and in any massage parlor in Thailand), and many masseurs rely on tips as a significant part of their wages. The rates for tipping vary depending on the length of the service, but 50 baht for a 30-minute massage and 100 baht for an hour wouldn't be out of place. For hotel experiences and spa services, 15 to 20 percent of the total bill is appropriate.
FIND & BOOK A HOTEL IN PHUKET TODAY
Best Phuket Massage Parlors & Spas
Travelers should find that there is an excess of Phuket massage parlor options that range from casual massages on the beach to small parlors in towns and tourist areas. For a special treat, some visitors may prefer to have a spa-like experience to go along with their massage, and Phuket has plenty of top spas in which to do just that.
The Raintree Spa
Visitors to Phuket Town will love the lush, relaxing atmosphere of The Raintree Spa, a day spa that is surrounded by a rain forest garden. Slip into relaxation and choose from a variety of spa services including traditional Thai massage, body treatments, facials, a variety of oil massages, and more. Guests who are looking to spend the day at the spa can also opt for a package treatment or, for people who are looking for a way to freshen up the look of their skin, they can opt for The Raintree Spa's Secret Package, a secret recipe of ingredients made from fresh fruits that's said to leave the skin looking smooth and beautiful. Stop by for a treatment or several as guests enjoy their day at The Raintree Spa.
Address: 1 Montri Road, Talat Yai, Mueang Phuket District
Hours: 10 a.m. to 10 p.m. daily
Siladon Spa Phuket
Siladon Spa Phuket offers a holistic experience at their spa, and with more locations all around Thailand, including Bangkok, Pattaya, and Chiang Mai, travelers can enjoy their services all over the country. Choose from a variety of spa packages that offer experiences for two, three, four, and five hours. Treatments depend on the packages chosen, with the most basic offering foot and aroma massages, or body scrubs and aroma massages, all the way up to five hour experiences that will leave guests feeling taken care of from head to toe. Set some time aside and let the stress melt away for a few hours at Siladon Spa Phuket.
Address: The Marina Hotel Phuket, 240/9 Phangmuang Sai Kor Pa Tong, Kathu District
Hours: 10 a.m. to 10 p.m. daily
Kim's Massage & Spa 5 Phuket Old Town
Stop in for a massage session at Kim's Massage & Spa 5 Phuket Old Town, which is located in Phuket Town. Guests can choose from a variety of treatment options including body scrubs, foot reflexology, traditional Thai massage, and more. Visitors can also opt for spa packages if they are looking to experience more than one service or can contact the spa directly and see what options are available specifically for their needs. With clean facilities and professional staff, Kim's Massage & Spa 5 Phuket Old Town is ready to welcome guests from all over and treat them to an amazing massage experience.
Address: 131 Phangnga Rd, Mueang Phuket District
Hours: 10:30 a.m. to 10:30 p.m. daily
Check In to DARA Hotel, Step Out to a Phuket massage
FIND & BOOK A HOTEL IN PHUKET TODAY
Best Resorts & Hotels for a Phuket Massage Experience
Phuket has many great hotels and resorts, and as these are often world-class accommodations, they also offer guests access to the spa and massage services. While traveling through Phuket, visitors may wish to maximize their massage time by choosing to stay at a hotel that also provides these services.
JW Marriott Phuket Resort & Spa
Enjoy a luxury stay at the award-winning JW Marriott Phuket Resort & Spa, which offers unparalleled views of the Andaman Sea and access to a private beach. Enjoy spectacular onsite dining, with 11 options to choose from, and let the resort be an immersive retreat as visitors settle in for some amazing dining options. Guests should also be sure to step over to the sea turtle shelter, which is located on the hotel premises as well. With gorgeous rooms, free Wi-Fi, pools, a fitness center and more, a stay at this hotel will only heighten the amazing spa experience.
The award-winning Mandara Spa at JW Marriott Phuket Resort & Spa provides a variety of treatments, including body treatments, facials, and massages. For a romantic treat, book a couple's massage or settle into a therapy bath and lets the stress melt away. With scrubs, massage lessons, a steam room, and more amenities available, Mandara Spa is ready to offer guests an exceptional spa and Phuket massage experience.
Spa Hours: 10 a.m. to 10 p.m. daily
Address: 231 Moo 3, Mai Khao
Hilton Phuket Arcadia Resort & Spa
Hilton Phuket Arcadia Resort & Spa is nestled within 75 acres of gorgeous, tropical nature and also is conveniently nearby activities in town. Enjoy onsite dining, a poolside bar, a coffee shop, and room service for when guests wish to stay in. With beach access, pools, spacious rooms, a fitness center, and other great sports centers, guests should have everything they need to enjoy a stay at this wonderful resort.
Step into Eforea Spa and step away from it all in this gorgeous spa sanctuary. Choose from silent treatment experiences, or book a couple's suite for a shared massage. Eforea Spa offers treatment options for the entire body and utilizes healing techniques from all over the world as they pamper their guests. With face, body, and massage treatments to look forward to, visitors are sure to enjoy the options at this spa. Afterward, guests can enjoy the sights of the Japanese garden, or slip into the sauna or steam rooms to relax.
Spa Hours: 10 a.m. to 8 p.m. daily
Address: 333 Patak Road, Muang, Karon
Novotel Phuket Phokeethra
Novotel Phuket Phokeethra, situated in Old Town in Phuket Town, is a modern facility that offers exceptional access to nearby attractions and makes a great home base for visitors staying in Phuket. With free Wi-Fi in all rooms, 24 hour room service, gym, onsite dining, an outdoor pool, and more, there is plenty for guests to enjoy at Novotel Phuket Phokeethra.
Leticia Spa at Novotel Phuket Phokeethra offers a great selection of spa and massage treatments, including traditional Thai massage and a variety of sports and foot massages, as well as body wraps, body rubs, and scrubs for guests who are looking for a whole-body experience. With private treatment rooms and reasonable prices, guests can expect a relaxing, professional experience that will help them let go of stress as they enjoy their stay.
Spa Hours: 10 a.m. to 10 p.m. daily
Address: 40/5 Chanajaroen Road Tambol Talad Yai Amphur Muang, Phuket Town
FIND & BOOK A HOTEL IN PHUKET TODAY