Home to an exceptional variety of local, regional, and international cuisines, Tokyo is a must-visit city for food lovers everywhere. Local varieties of Tokyo food like sushi, ramen, and tempura can be found just about anywhere, but exploring these five Tokyo neighborhoods is a must for any food tourism trip.

Top Japanese Dishes in Tokyo
No matter which districts you find yourself in when visiting Tokyo, there are certain traditional dishes you should always look for on the menu. These beloved Japanese dishes earn top marks for flavor and presentation.
Sushi and Sashimi
Ramen
Okonomiyaki
Sushi and Sashimi
Though both sushi and sashimi traditionally feature fresh uncooked seafood, they are very different dishes. Sushi rolls generally consist of seafood, vinegared rice, and other toppings rolled using nori (seaweed wrappers). Sashimi consists of thin slices of raw fish, usually eaten with soy sauce and a side of rice. Each of these seafood dishes is equally delicious and are some of the most eaten food in Tokyo.
Ramen
Another best-selling dish in Tokyo is ramen, a classic noodle soup served hot. Ramen dishes always feature strong, savory broths and wheat noodles but the toppings vary from recipe to recipe. Some ramen restaurants keep it simple while others offer loaded bowls filled with toppings like chunks of meat, bean sprouts and other vegetables, seaweed, and boiled eggs.
Okonomiyaki
Sometimes known as a "Japanese pancake", Okonomiyaki is an incredibly delicious dish made using flour, egg, shredded cabbage, and a few other ingredients. The batter is mixed and poured into a round pancake shape, then fried until crispy. Okonomiyaki can be served with a variety of toppings, including fried meat slices, Japanese mayonnaise, pickled ginger, and seaweed flakes.
Soba Noodles
Yakiniku
Onigiri
Soba Noodles
Thin buckwheat soba noodles are a staple in many Japanese diets. These noodles can be cooked and served in a variety of hot and cold dishes. Hot noodle soups with soba noodles are usually served with a protein like meat, tofu, eggs, or fish cakes and topped with sliced onion and other vegetables. Cold soba noodles can be enjoyed on their own or with a dipping sauce made of a mixture of sweetened soy sauce and dashi.
Yakiniku
Similar to "barbecue" in the Western world, Yakiniku is a Japanese term that refers to the act of grilling meat over charcoal or on an electric grill. Premium cuts of beef are the most common type of meat that is served yakiniku-style alongside grilled vegetables like mushrooms, bell peppers, and corn. Restaurants that specialize in yakiniku usually have do-it-yourself grilling stations at each table. Guests receive raw meat and vegetable ingredients that they then grill themselves to the desired doneness.
Onigiri
Though rice is used as a side dish for many Japanese meals, there is no presentation quite as cute as onigiri. Onigiri refers to triangular or cylindrical rice balls made from steamed white rice, often wrapped in nori sheets or rolled in sesame seeds. Some onigiri is left plain while others have a special filling, like salted salmon, tuna and mayonnaise, soybean paste, or pickled plums. These cute rice balls can be found all over Tokyo.
Top Japanese Drinks in Tokyo
It's important to choose the right drink to properly compliment your breakfast, lunch, or dinner in Tokyo. Tokyo's top drinks do not fall into one category: some are hot while others are served cold; some are alcoholic and others are suitable for people of all ages. What they do have in common, though, is that they're all delicious!
Matcha
Sake
Amazake
Matcha
Made from finely ground green tea leaves, matcha powder is used in all sorts of food and drinks in Japan. Traditionally, the powder is combined with hot water to create matcha tea. Depending on the amount of powder used, the tea may be mild or bitter. Matcha lattes are another popular drink option. These lattes can be served hot or cold and usually use milk and honey to sweeten the flavor.
Sake
Rice is used in more than just food in Japan. Using a unique fermenting and brewing process, carefully polished grains of rice are used to create sake, a delicious alcoholic beverage. Sake is generally served chilled and poured from a small flask into ceramic, wood, or glass sake cups. It is usually served straight but can be mixed into special cocktails as well. Old or low-quality sake may be served hot instead of cold to enhance the flavor.
Amazake
Like sake, the traditional Japanese drink amazake is also made from fermented grains of rice. However, it is much sweeter than sake and has a delicious, creamy texture. Most amazake is non-alcoholic but there are some versions with a low alcohol content. Though amazake is mostly consumed on its own as a beverage (chilled or warm), it is also used to make smoothies and lemonades. It is even used as an ingredient in some snacks, desserts, and salad dressings.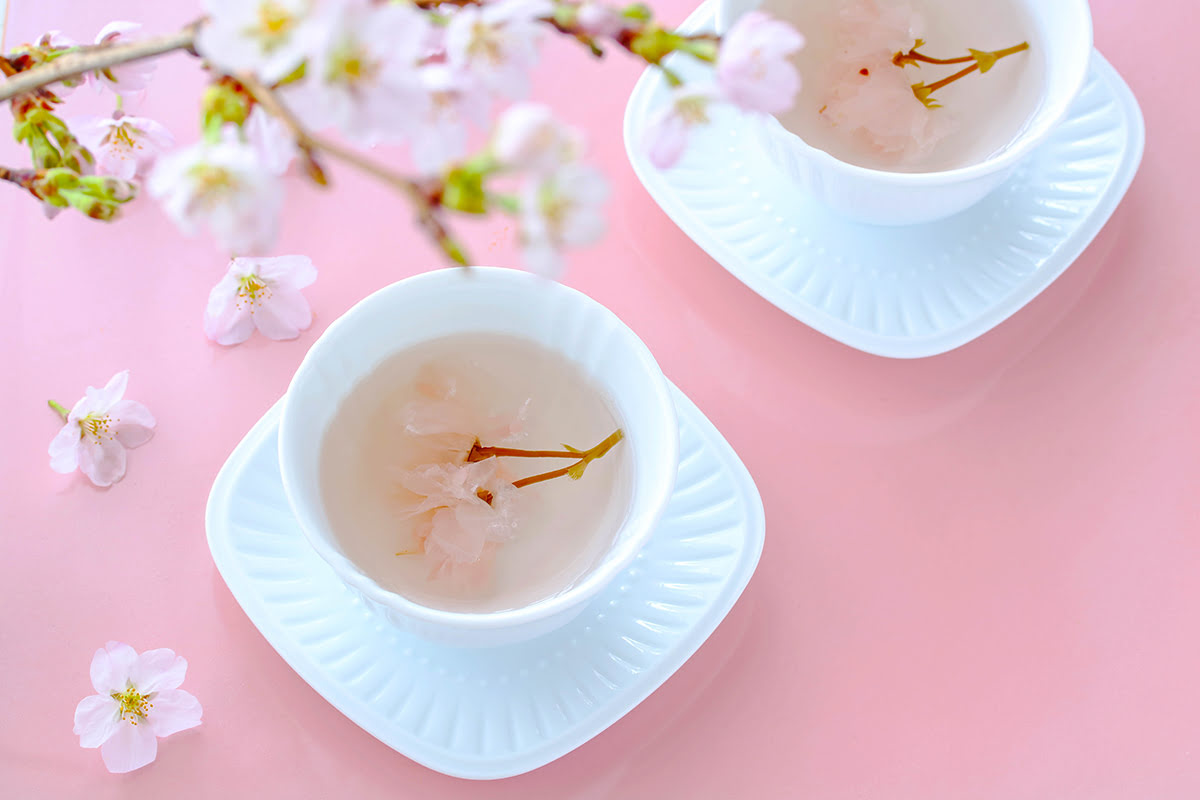 Sakura Tea
Japanese Whiskey
Umeshu Plum Wine
Sakura Tea
Made from pickled cherry blossoms, sakura tea is another popular tea beverage in Tokyo. This herbal tea is as beautiful as it is fragrant and is commonly consumed at weddings or special occasions. The fresh cherry blossoms are pickled then dried and stored in tea bags. To serve, hot water is poured over these dried blossoms, which unfurl and release their flavor. Visit Tokyo between March and April to enjoy sakura tea while the cherry blossom trees are in bloom.
Japanese Whiskey
Though whiskey has been made for centuries, many countries have put their own spin on the spirit. Japanese whiskey has a taste similar to Scotch whiskey. This spirit is often consumed straight on the rocks but can also be blended into many delicious cocktails. If you visit Tokyo in the warmer months, it is common to drink the refreshing drink of Japanese whiskey mixed with cold water. In the winter, the whiskey is mixed with hot water instead to create a drink that's sure to warm you up.
Umeshu Plum Wine
For those who don't like the strong taste of traditional spirits, umeshu plum wine is worth a taste. This Japanese liqueur has a unique sweet and sour taste that's less strong than most alcohols. Umeshu is made by combining alcohol, sugar, and ume, the fruit of the Prunus Mume tree (sometimes known as Chinese plums or Japanese apricots). Umeshu can be served on the rocks or served as a cocktail with tonic water, carbonated water, or green tea.
1. Tokyo Food Tour | Savor Vibrant Energy & Great Food in Shinjuku
One of the most popular tourist neighborhoods in Tokyo is Shinjuku, a bustling ward with high-rise buildings, nightclubs, shops, bars, and restaurants. With everything from izakayas to upscale Michelin star-rated restaurants, the ward caters to every budget. After enjoying a great meal, head to the observation deck in the Tokyo Metropolitan Government Offices for a bird's-eye view of the city.
Robot Restaurant
Address: 1-7-1 Kabukicho, B2f, Kabukicho, Shinjuku 160-0021, Tokyo
The bento box meals served at the Robot Restaurant may be delicious, but the restaurant's real draw is their live entertainment. Their fun shows feature music, lasers, and robots.
Isomaru Suisan Shinjuku
Address: 3-17-13, Suzume-No-Ojisan Bldg. 1-4F, Shinjuku 160-0022, Tokyo
Fresh grilled seafood is the specialty at the Isomaru Suisan Shinjuku. Guests can even grill their own food right at their table. Since it's usually filled with locals, tourists can sit back and experience the authentic Japanese vibe.
Nakajima
Address: 3 32-5 Shinjuku, Nichihara Bldg. B1, Shinjuku 160-0022, Tokyo
Sardines are the specialty at Nakajima, a popular restaurant hidden in the basement of an ordinary building. Stop by at lunchtime to enjoy the most affordable Michelin-star meal in Tokyo.
2. Tokyo Food Tour | Sample the Freshest Sashimi in Tsukiji
As the world's largest fish market, the Tsukiji Fish Market is a major tourist attraction in Tokyo. Unsurprisingly, the restaurants in the surrounding area all specialize in fresh, tasty seafood purchased from the market's many vendors.
*Tsukiji Fish Market was relocated in 2018 to Toyosu Fish Market, just 2 kilometers away. Plan a Tokyo food tour at Toyosu Fish Market with Agoda Travel Guides.
Itadori Uogashi Senryo
Address: 4-10-14 Tsukiji, Chuo 104-0045, Tokyo
Due to its prime location within the Market, Itadori Uogashi Senryo can get quite busy. Their specialty is a fresh fish and rice bowl complete with creamy sea urchin.
Sushi Dai
Address: 5-2-1 Tsukiji, Tsukiji Fish Market 6th Bldg., Tsukiji, Chuo 104-0045, Tokyo
Queues for the small Sushi Dai within the Market start in the very early hours of the morning. Early risers will be rewarded with melt-in-your-mouth, Michelin-star rated sushi.
Sushisei Honten
Address: 4-13-9 Tsukiji, Chuo 104-0045, Tokyo
Located outside of the busy inner market, Sushisei Honten is perfect for a casual and delicious sushi lunch or dinner. As it is a fairly small space, there may still be a wait to be seated.
Discover more great Tokyo food and hotels in Tsukiji
3. Tokyo Food Tour | Indulge in Tokyo's Upscale Ginza
It may not be the most budget-friendly area in Tokyo, but Ginza is definitely worth a visit. The district is loaded with designer boutiques, department stores, art galleries, and fancy restaurants. After indulging in a delicious meal, head to Ginza Six shopping complex to shop and explore.
Sushi Ya
Address: 6-3-17, 1F Yugen Bldg., Ginza, Chuo 104-0061, Tokyo
Great sushi can be found throughout Tokyo, but the sushi at Sushi Ya is really something special. The talented chefs use high-quality ingredients to create sashimi and rolls that look and taste incredible.
Bulgari Tokyo Restaurant
Address: 2-7-12 Ginza, Tokyo Restaurants Ginza Tower, Bulgari Hotels & Resorts, Ginza, Tokyo
For a change of pace from traditional Japanese cuisine, try the delicious Italian dishes at the Bulgari Tokyo Restaurant. With sophisticated furnishings and floor-to-ceiling windows, this restaurant is the perfect setting for a romantic date night.
Bird Land Ginza
Address: 4-2-15 Ginza, Ginza, Chuo 104-0061, Tokyo
Upscale grilled chicken skewers (yakitori) are on the menu at Bird Land Ginza, a popular restaurant with a friendly atmosphere. Guests are invited to watch the chefs cook their meals at the large center grill.
Discover more upscale Tokyo food and hotels in Ginza
4. Tokyo Food Tour | Blend Culture & Cuisine in Asakusa
With roots going back to the Edo Period, Asakusa is a historically and culturally significant district in Tokyo. Many decade- and even century-old shops and restaurants continue to thrive in Asakusa today. The district is also home to important landmarks like Sensoji Temple.
Nakasei
Address: 1-39-13 Asakusa, Taito 111-0032, Tokyo
Established in 1870, the popular tempura restaurant Nakasei is a must-visit in Asakusa. Not only is the food great, but the traditional Japanese architecture and decor are simply breathtaking.
Daikokuya Tempura
Address: 1-38-10 Asakusa, Asakusa, Taito 111-0032, Tokyo
Like Nakasei, the beloved Daikokuya Tempura also specializes in tempura and has a long history. Their secret recipe sweet tempura dipping sauce perfectly enhances the battered fish and prawns.
Asakusa Mugitoro
Address: 2-2-4 Kaminarimon, Taito 111-0034, Tokyo
The signature dish at the long-standing Asakusa Mugitoro is tororo, a sticky dish made from grated yams. Other traditional Japanese favorites are also on the menu.
5. Tokyo Food Tour | Enjoy Affordable Eats in Shibuya
Known for the always-busy Shibuya Crossing, it's no surprise that Shibuya is a fast-paced neighborhood. Young locals and tourists are especially drawn to the area for the diverse shopping options and vibrant nightlife. Though there are fancy, sit-down restaurants in Shibuya, most eateries focus on simple, traditional Tokyo fare that is delicious and affordable.
Ramen Nagi
Address: 3-7-2 Shibuya, 1f, Shibuya 150-0002, Tokyo
The popular ramen chain Ramen Nagi may have a laid-back atmosphere, but the talented chefs take every dish seriously. Enjoy a bowl made with their flavorful broth and loaded with toppings.
Kinnotorikara Tokyo Shibuya Center Street
Address: 25-3 Udagawacho, Shibuya, Tokyo
Fresh crispy chicken from Kinnotorikara Tokyo Shibuya Center Street makes a delicious on-the-go snack or light lunch while exploring the streets of Shibuya.
Genki Sushi
Address: 24-8 Udagawacho, Shibuya 150-0042, Tokyo
At Genki Sushi, mouthwatering, affordable sushi and sashimi favorites are ordered on a tablet, then delivered straight to guest tables via a computerized conveyer belt.
6. Tokyo Food Tour | Try the Trendiest Restaurants in Tokyo in Harajuku
A must-visit Tokyo area, Harajuku is a hub for the latest and greatest in teenage culture. This is not only reflected in the fashion boutiques of Takeshita Dori, but also in the many youthful and trendy restaurants. The area is also home to a few historic sites and some low-key cafes and restaurants.
Marion Crepes
Address: 1-6-15 Jingumae, 1f-2f, Shibuya Harajuku 150-0001, Tokyo Prefecture
Surprisingly, one of the most popular Tokyo food items to enjoy in Harajuku is the dessert crepes at Marion Crepes. Founded in the 70s, this trendy shop serves sweet treats topped with fruit, nuts, ice cream and much more.
Kawaii Monster Cafe
Address: 4-31-10 Jingumae, 4F, YM Square Bldg, Shibuya Harajuku 150-0001, Tokyo Prefecture
Like Robot Restaurant in Shinjuku, Kawaii Monster Cafe offers delicious Japanese food in a space with an incredibly fun atmosphere. Kids will enjoy the quirky decor during the day but at night the restaurant's show is adults-only.
Gonpachi Nori-Temaki Harajuku
Address: 6-35-3 Jingumae, Co-op Olympia 1F, Shibuya Harajuku 150-0001, Tokyo Prefecture
Tarantino fans can't leave Tokyo without a visit to Gonpachi Nori-Temaki Harajuku, the restaurant whose layout and decor inspired a famous scene from the movie "Kill Bill". Aside from its ties to Hollywood, the trendy Gonpachi delivers fresh and delicious hand-rolled sushi and gourmet cocktails.
7. Tokyo Food Tour | Relax and Recharge in Yurakucho
Though it sits very close to upscale Ginza and the Imperial Palace, the Yurakucho district has a much more casual atmosphere for shoppers and diners. There are some fancier dining options in this neighborhood but the majority are laid-back Japanese restaurants and bars with casual eats.
Andy's Shin-Hinomoto
Address: 2-4-4 Yurakucho, Chiyoda 100-0006, Tokyo Prefecture
It's best to make a reservation if you want a spot at Andy's Shin-Hinomoto. This busy seafood restaurant serves up classic dishes like crabs legs and sashimi platters. Andy's caters to tourists and locals with a restaurant so welcoming you'll feel like you're dining in the comfort of your own home.
Kitakata Ramen Bannai Yurakucho
Address: 2-4-4 Yurakucho, Yurakucho, Chiyoda 100-0006, Tokyo Prefecture
Ramen shops like Kitakata Ramen Bannai Yurakucho expertly establish a casual atmosphere with their decor, staff, and no-fuss menus. The ramen bowls at this relaxed eaterie are made with delicious homemade broths and fresh ingredients, all available at an affordable price.
Gado-shita District
Address: 1 Shinbashi, Minato-ku; 1 Uchisaiwaicho, Chiyoda-ku; 2 Yurakucho, Chiyoda-ku Tokyo and area
To really experience the Yurakucho way of life, be sure to take a trip to the Gado-shita district located below the rail tracks. Numerous bars and restaurants have set up shop under the tracks to take advantage of this otherwise unused space. These restaurants serve up casual eats and classic Japanese alcoholic beverages.