The games might be over, but winter magic and Seoul travel adventures never end! With the city snow-capped and prices – as well as crowds – at all-time lows, any winter is a fitting time to team up with Agoda and plan a winning holiday!

1. EAT, EAT, EAT AND EAT!
Whether you like to eat it with your hands, on a stick or in a bowl, Korean food is designed to warm you up from the inside out. Experts agree that any of these street food staples are stick-to-your-ribs satisfying and completely "Seoul-warming." Judge for yourself at Tongin Market or Gwangjang Market, where the competition never ends.
Stand-outs in street food categories:
Hand-held: Chi-maek (Korean fried chicken), Tokkebi (fried corn dog), Hotteok (pancake filled with syrup), Gyeran Bbang (egg muffin)

On a stick: Odeng (fish cake served with dipping broth), Dakkochi (marinated grilled chicken), Tteokgalbi meatballs (sweet and sour beef rib meatballs)

In a bowl: Samgyetang (ginseng chicken soup), Tteok-mandu guk (rice cake dumpling soup), Tteokbokki (rice cakes in spicy sauce)
Check In to Nuri Hanok Guesthouse, Step Out to Tongin Market
Discover more guest houses and hostels in Gwangjang
2. SKINNY DIPPING AT A JJIMJILBANG
All athletes need time to recoup, and visiting one of Seoul's jjimjilbangs is considered a team event. With sleeping facilities, wide-screen TVs and exercise rooms, Korea's steaming hot public baths and saunas are the perfect place to rekindle your fire. If you're not much of a team player, go on a weekday because families fill up these hot spots every weekend.
Competing for the gold:
Dragon Hill Spa & Resort, 40-712 Hangangno 3(sam)-ga, Yongsan-gu

Spa Lei, 8-22, Jamwon-dong, Seocho-gu

Siloam Spa, 49 Jungnim-ro, Jungnim-dong, Jung-gu
Check In to Hotel the Designers Seoul Station, Step Out to Yongsan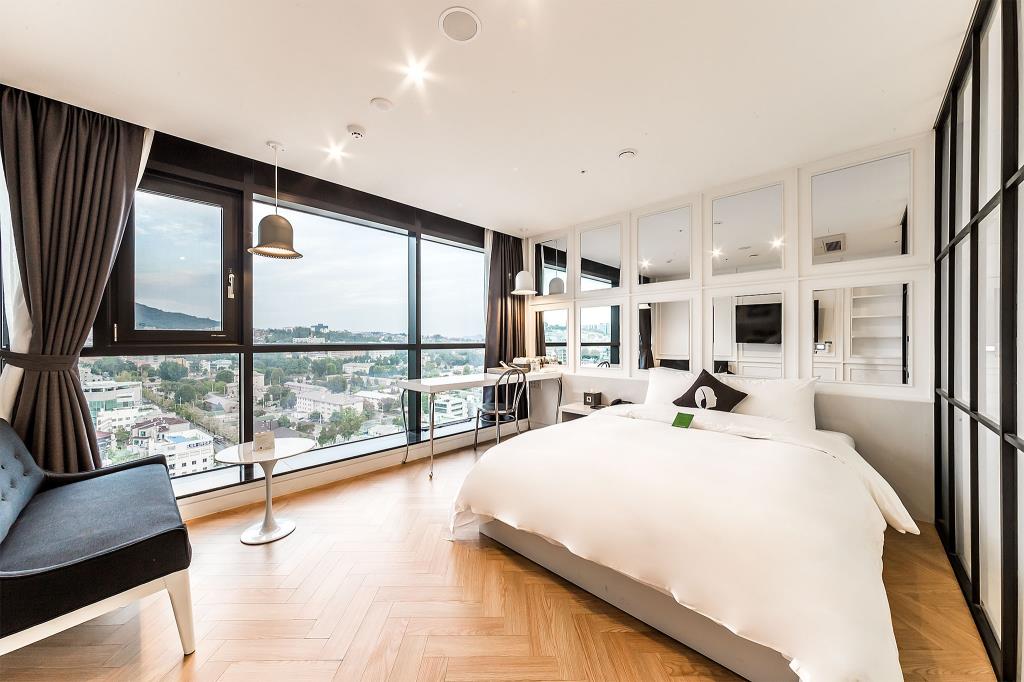 Discover more guest houses and serviced apartments near Central City shopping mall
Source: @star_light_festival
3. SEE WINTER ILLUMINATION
Rather be a judge than a participant? See if you can find a perfect 10 during a trip outside of Seoul, where you can march through some of the most fascinating light shows in the nation.
Competing for the gold:
Lighting Festival at The Garden of Morning Calm, Gapyeong

Boseong Green Tea Plantation Light Festival, Korea Tea Culture Park near Yulpo Beach

E-World Starlight Festival, Daegu

Animal & Heart Village Light Festival at Ansan Starlight Village Photo Land, Ansan
Check In to Hotel Square, Step Out to Ansan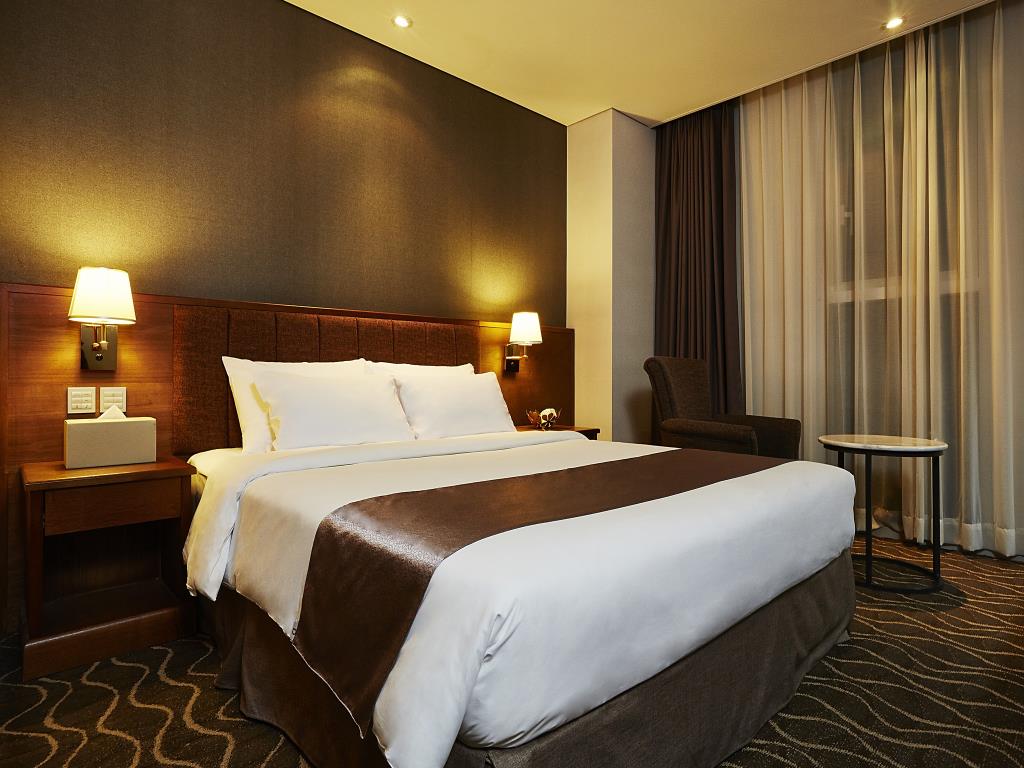 Discover more motels and guest houses in Daegu
4. GET ON YOUR FEET
Pull up your long socks, and generate your own heat during a winter walking expedition through the city. Whether you participate as a speed-walker or a chilled-out spectator, you'll be hard-pressed to find a finish line at any of Seoul's most popular venues.
Stand-outs in sightseeing categories:
Art and historical districts: Garosu-gil Road; Bukchon Hanok Village

Markets and shopping: Samseong-dong; Insadong Ssamjigil

Sightseeing: Gyeongbokgung Palace; Cheonggyecheon Stream
Check In to Hotel Aventree Jongo, Step Out to Bukchon Hanok Village
Discover more hotels and guest houses near Gyeongbokgung Palace
Source: Kang Jenny
5. HIT THE HILLS AND ICE-SKATING RINKS
Ice-skating is both an indoor and outdoor sport in South Korea, and rinks fill up fast during winter months. Likewise, with dozens of freshly-packed, snow-covered hills to conquer, sledding is a national winter pastime as well!
Stand-outs in winter recreation categories:
Indoor skating rinks: Lotte World Indoor Ice Skating Rink

Outdoor skating rinks: Seoul Plaza Skating Rink; Seoul Arts Center
Sledding and winter activities: Everland Resort; Seoulland Character Park
Check In to Signiel Seoul, Step Out to Lotte World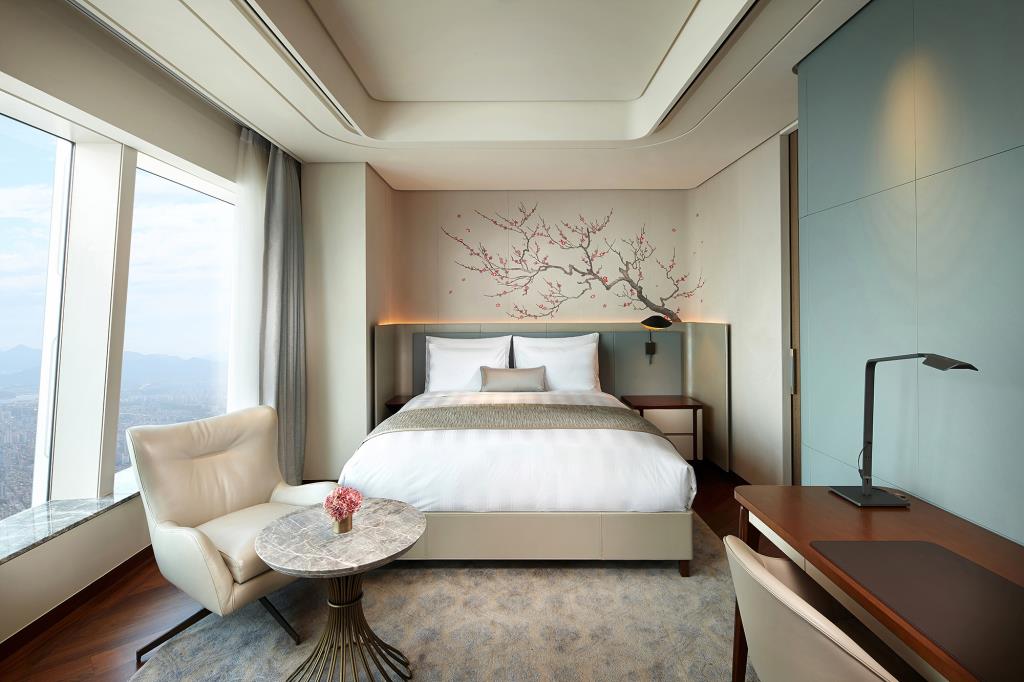 Discover more hotels and resorts near Seoul Arts Center
6. DANCE THE COLD AWAY, GANGNAM STYLE!
If dancing were a winter sport, South Koreans would definitely receive a medal. These K-pop fanatics know how to heat up an entire stadium! Dress for success, and bring your A-game if you join a competition because Gangnam Style invites some stiff competition.
Stand-outs in nightlife categories:
Younger crowds: NB2; Cocoon; Brown

Gangnam: Octagon Club; Club Arena; Monkey Beach; Glad Live; Club Avenue 535

Cultural vibe: Cakeshop Seoul; Boombar; Monkey Museum
Check In to Glad Live Gangnam, Step Out to Gangnam
Discover more hotels and guest houses in Mapo
7. PLOW DOWN THE SLOPES
There are a thousand reasons why winter is the perfect time to visit Seoul, but the first-class slopes you'll find outside the city may be the best one of all! Snowboard or ski down snow-packed trails, designed for rookies and pros alike, and give yourself a medal because Olympiads competed on the exact same mountains!
Competing for the gold:
Yongpyong Resort

Alpensia Resort

High1 Ski Resort

Konjiam Resort

Vivaldi Park

Muju Deogyusan Resort

Phoenix Snow Park
Check In to Phoenix Pyeongchang Resort, Step Out to Phoenix Snow Park
Discover more resorts and motels in Pyeongchang
8. SOAK UP WINTER SCENES
At the top is where you'll find trophy views while the city is blanketed in snow. Savor Seoul's beauty in an atmosphere that might require a winter hat but is guaranteed to generate loads of warm, fuzzy feelings.
Stand-outs in scenic view categories:
Towers: Seoullo 7017; Gwanghwamun Square; Fortress Wall of Seoul; 63 Building; Lotte World Tower

Natural viewpoints: Nam Mountain (Namsan); Bugaksan Mountain; Maebongsan Mountain; Seokchonhosu Lake; Haneul Park

Bridges: Banpo Bridge; Seonyudo Park Rainbow Bridge
Check In to Kensington Hotel Yoido (Yeouido), Step Out to Yeouido
Discover more hotels and guest houses in Banpo
Source: @thekoreandreamfr
9. ESCAPE THE CHILLS WHILE CHERISHING THE ARTS
Warm up to Seoul's rich history and culture by indulging in the vast selection of museums that feature everything from ancient history to life in the future, and even … kimchi! Take several victory laps inside each location, not just because viewing Seoul's exhibits will make you feel like an award-winner, but also because, baby, it's cold outside!
Stand-outs in museum categories:
History: National Palace Museum of Korea; National Folk Museum of Korea; Ewha Womans University Museum

Art: Dongdaemun Design Plaza (DDP); Seoul Arts Center; National Museum of Modern and Contemporary Art; ARA Modern Art Museum

Weird and wacky: T.um – SK Telecom; Kimchi Field Museum (Museum Kimchikan);; LEEUM, Samsung Museum of Art
Check In to Somerset Palace Seoul, Step Out to Jongno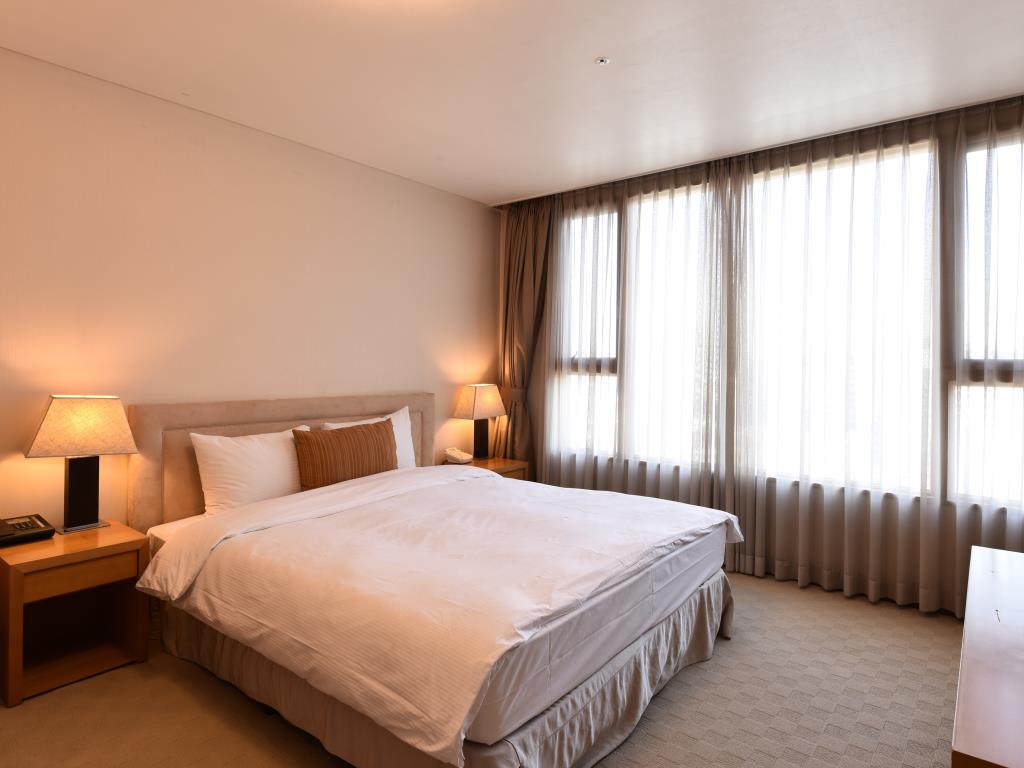 Discover more hotels and hostels near Kimchi Field Museum (Museum Kimchikan)
10. TAKE COVER IN A COZY BED
The sport of curling might not be on your winter games playlist, but curling UP during winter in Seoul is a serious pastime! Cozy up with the entire family in a traditional, yet luxuriously modern, Korean home, or go for the gold in a premium suite with a private onsen, sauna and even a heated toilet!
Stand-outs in accommodations categories:
For the whole team: Dormy Inn Premium Seoul Garosugil

Individual participant: Hotel La Casa Garosugil

Traditional: Ihwa Hanok Stay
Check In to Ihwa Hanok Stay, Step Out to Bukchon Hanok Village
Discover more guest houses and serviced apartments in Gangnam
11. SHOP LIKE A CHAMP
Shopping in South Korea is so popular that the country's tourism committee made it a national event! Experience the Korea Grand Sale each January in shopping districts across Seoul and in municipalities throughout the country. Every major retailer participates by offering free gifts, discounts on products and services, cultural experiences, and best of all, warm surroundings.
Stand-outs in shopping categories:
Shopping districts: Ewha Womans University Fashion Street; Dongdaemun Market; Myeong-dong;Hongdae; Gangnam Underground Shopping Center; Insa-dong

Shopping malls: Starfield COEX Mall; Parnas Mall; Famille Station; IFC; Times Square; AK Plaza, Suwon
Check In to Hotel Skypark Dongdaemun I, Step Out to Dongdaemun Market
Discover more guest houses and apartments in Myeong-dong
12. BOTTOMS UP!
Sip it or shoot it like locals, but don't leave without tasting Korea's national drink, soju. Described as a sweet and mild spirit akin to vodka, soju is so much a part of Korean culture that some locals perform a ceremony while partaking and only drink it with specific foods. You don't have to follow all the rules, but sampling is a must. Warm up your insides with a pub crawl to discover dozens of varieties of soju as well as Seoul's other most famous beverage, makgeolli.
Stand-outs in nightlife categories:
Makgeolli bars: Mui Mui; Wolhyang; Chin Chin

Soju bars: Vinga; Vinyl; The Timber House; The Flower Shop that Sells Alcohol

Jeontong-ju (traditional Korean alcohol): De Chou; Mingles; Saebal Jajeongeo (Tricycle); Soobul

Unlimited drinks: 401 Lounge; Makgeolli Salon; Hanguk Galbi; Cactus; The A Lounge

Craft beer: Bonny's Pizza Pub; Magpie Brewing Co.; Craftworks Taphouse; The Springs Tap House
Check In to Glad Mapo, Step Out to Yeouido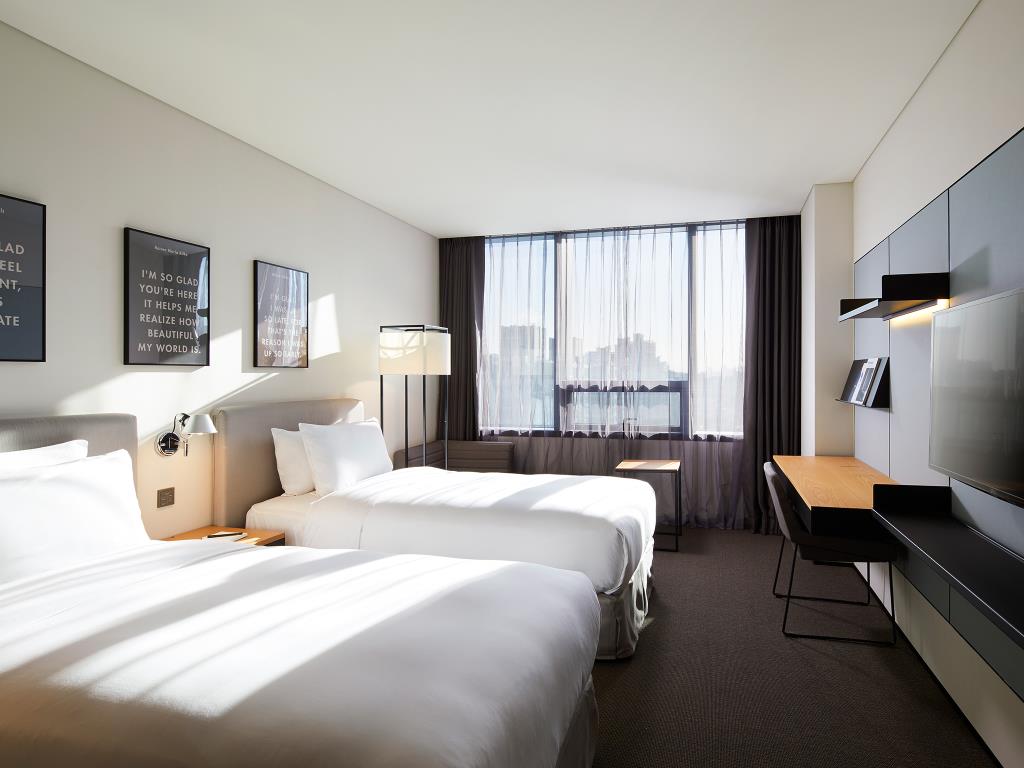 FIND & BOOK A HOTEL IN SEOUL TODAY