Make the most of your time by deciding what you'd like to do and where to stay in Bali before you get there, and then plan your days around where the fun is! If you're more apt to spend your time snorkeling and beach-bumming, head south. If hiking and nature are more your cup of tea, point your compass north and northeast.
AGODA EXTRA: Bali is famous for its stunning white sand beaches, but did you know that many of the island's coastal regions are actually covered in black sand? The peculiar attractions were formed from the cooled lava of Mount Agung, giving Bali's famous beachfront sunsets a whole new appeal!
---
1. MAIN SOUTH BALI – Kuta, Seminyak, Canggu, Nusa Dua, Jimbaran
Bali's southernmost region supplies enough beaches, luxury resorts and mega shopping centers for anyone to get their groove on. Mix it up by surfing in the afternoon and watching traditional fire dancers at night. Each region is unique, and you'll never run out of things to do in southern Bali.
Kuta: Close to the airport, Kuta is the party epicenter of Bali. The district is packed with nightclubs and bars, night markets, theme parks, shopping malls and spectacular beaches.
Check In to The Anvaya Beach Resort – Bali, Step Out to Kuta
Discover more hotels and guest houses near:
Kuta Beach | Discovery Shopping Mall | The Seven Rooftop Bar
Check In to IZE Hotel Seminyak, Step Out to Seminyak
Seminyak: Slightly more relaxed and a bit more upscale, Seminyak's vibe attracts travelers looking for five-star resorts, designer boutiques and exquisite coastal scenery. Stroll down Kayu Aya for the finest dining in Bali, and hit Camplung Tanduk for upscale and gay-friendly nightlife.
Explore more hostels and hotels near:
Seminyak Beach | Seminyak Square | Kayu Aya Market
Check In to The Slow, Step Out to Canggu
Canggu: For surfing, diving and a good mix of backpackers and beach bums, head to Canggu. Explore rice terraces at sunrise, and blog about it from a hip coffee shop in the afternoon.
Discover more hostels and apartments near:
Batu Bolong Temple | Echo Beach Club | Taman Segara Madu Water Park
Check In to Ulu Segara Luxury Suites & Villas, Step Out to Nusa Dua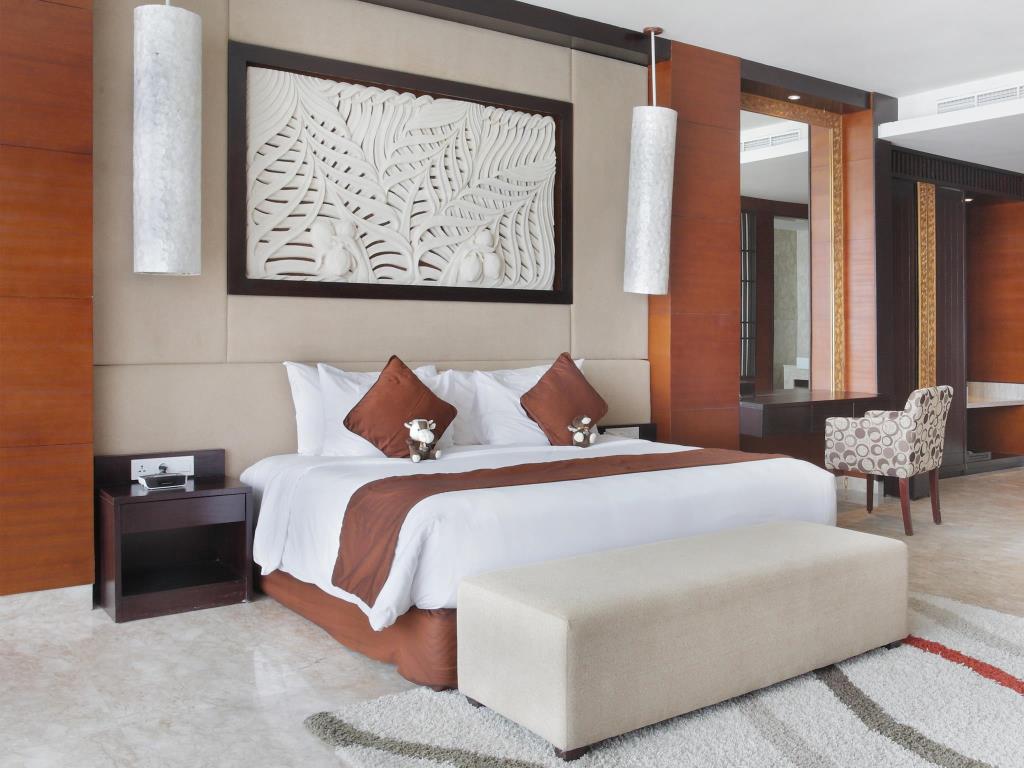 Nusa Dua: White sand beaches, high-end resorts and exquisite rooftop bars line the streets of Bali's southeastern coastal region. Stroll through manicured flower gardens in posh neighborhoods while feeling safe under 24-hour tourist police protection.
BTDC: This gated, luxury community within Nusa Dua features upscale beach dining and romantic getaways. Prices are steep, but romance tops the charts in this hotspot for honeymooners.
Discover more hostels and guest houses near:
Nusa Dua Beach | Waterblow (Benoa Beach) | Bali National Golf Club
Check In to Grand Mirage Resort & Thalasso Bali, Step Out to Benoa Beach
Benoa: Popular for water sports and a totally cool atmosphere, Benoa's peninsular coast makes it a popular destination for younger crowds and adventurous families looking for island thrills on a budget.
Discover more hotels and guest houses near:
Tanjung Benoa Watersports | Museum Pasifika | Puja Mandala Worship Complex
Check In to AYANA Resort and Spa, BALI, Step Out to Jimbaran
Jimbaran: A quick jaunt from the airport, Jimbaran is the foodie's choice for fresh seafood restaurants and markets. The region is not famous for its nightlife but rather for its local charm, picture-perfect sunsets and safe swimming areas.
Discover more hotels and guest houses near:
Jimbaran Gardens | Jimbaran Bay Seafood Club | Jimbaran Beach
Check In to Anantara Uluwati Bali Resort, Step Out to Uluwatu
Uluwatu: About as far south as you can go in Bali is where you'll find Uluwatu, known best for its seaside temple with kecak fire dances, monkey forests and private beach clubs.
Discover more hotels and guest houses near:
Uluwatu Beach | Uluwatu Temple | Tirtha Uluwatu Ocean Wedding Chapel
2. CENTRAL BALI – Ubud, Kintamani, Tegallalang
Trade in the buzz of southern Bali for serene treks through rice terraces, Indonesian cooking schools and yoga sessions overlooking the jungle.
Ubud: Bulk up on Indonesian culture by joining a traditional art class or learning to make authentic Bali cuisine. A natural paradise, Ubud is the best place on the island to watch traditional dances and see lots of monkeying around – literally!
Check In to Kupu Kupu Barong Villas & Spa by L'Occitane, Step Out to Ubud
Discover more hotels and guest houses near:
Sacred Monkey Forest Sanctuary | Ubud Traditional Market | The Yoga Barn
Check In to Sandat Glamping Tents, Step Out to Kintamani
Tegallalang and Kintamani: Spend some time camping on the northern side of Central Bali, where rice terraces are aplenty, and sunset views from atop Mount Batur are priceless.
Discover more hotels and guest houses near:
Tegallalang Rice Terrace | Mount Batur | Ulun Danu Beratan Temple
3. EAST BALI – Sanur, Amed, Karangasem
You'll find fewer crowds and lots of locals on Bali's east side. Learn to dive, or explore an active volcano!
Sanur: A favorite for families, Sanur offers protected swimming areas, pristine market areas and easy day tours to Penida, Lembongan and Ceningan islands.
Check In to ARTOTEL Sanur – Bali, Check Out to Sanur
Discover more hotels and apartments near:
Sanur Beach | Turtle Conservation and Education Centre | Turtle Island Cookery School
Check In to Eco Tree House Amed, Step Out to Amed
Amed: Quaint, quiet and a great location to delve into nature, Amed offers black sand beaches, small huts and tons of privacy. Learn to dive in a more intimate setting than what you'll find on the west coast, and plan on spending plenty of time lazing in a hammock on a black sand beach.
Discover more hostels and resort hotels near:
Amed Beach | Warung Jemeluk | Wawa Wewe Beach
Check In to Villa Sidemen, Step Out to Karangasem
Karangasem: A trip to Bali would not be complete without at least one look at Mount Agung, the island's famous active volcano and highest point in Bali. Residents living within 12 kilometers of the volcano were evacuated in late 2017, but danger levels have been reduced since that time. Regardless of what you hear, though, travelers are advised to check the official status of the mountain before visiting.
Discover more hostels and resort hotels near:
Mount Agung | Tulamben U.S. Liberty Wreck Ship | Besakih Temple
4. NORTHWEST BALI – Lovina, Medewi, Negara, Gilimanuk, Menjangan Island
Don't forget about the allure of the northwest when planning an expedition through Bali. Coastal regions in the north are popular for dolphin viewing and black sand beaches, and waterfalls in the area are almost infinite.
Lovina – Even if you're not a morning person, getting up before sunrise to view dolphins off the coast of Lovina Beach is worth the extra effort.
Check In to The Lovina, Step Out to Lovina Beach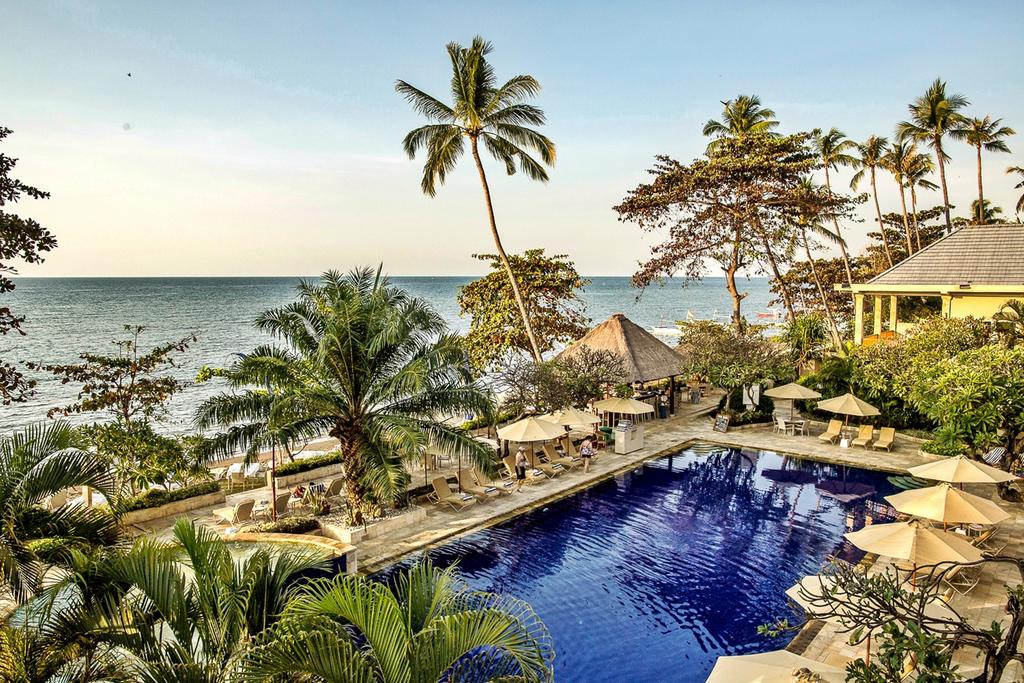 Discover more hostels and resort hotels near:
Lovina Beach | Lovina Dolphin Statue | Spice Beach Club Bali
Check In to Bali Taman Sari Villas & Restaurant, Step Out to Menjangan Island
Medewi, Negara, Gilimanuk: Hire a driver to take a long drive up the east coast where long stretches of quiet road and majestic coastal views put a relaxed spin on island sightseeing.
Menjangan Island: Named after the native deer that inhabit the island, Menjangan Island is part of Bali Barat National Park and features pristine diving and uninhibited views of natural wildlife.
Discover more hostels and resort hotels near:
Gilimanuk Harbour – Ferry Port | West Bali National Park | Negara