When creating a Kyoto travel itinerary, travelers should always leave some free time open for shopping. Kyoto shopping includes malls, shops, markets, and shopping streets that are filled with unique items that make great souvenirs. Take home a beautiful handicraft, luxury clothing item, traditional Kyoto snack, or other Japanese souvenirs from these incredible Kyoto shopping spots.

1. Shop at the historic NISHIKI MARKET
With over 400 years of history, Nishiki Market is a must-visit tourist destination for every Kyoto traveler. This covered shopping street features more than one hundred different stalls and shops, many of which are family-owned and operated. While walking the market street, visitors can expect to see dozens of stalls selling locally grown fruits and vegetables, fresh fish, and other Kyoto produce. Other shops sell prepared foods like dumplings, fish cakes, and senbei (Japanese rice crackers), perfect for a quick snack or light lunch. Finish with a handmade sweet mochi ball or wagashi (Japanese confections).
Nishiki Market is free to visit, and most stores open around 10:00 AM and close around 6:00 PM daily. Some stores are closed one day of the week, usually Wednesday or Sunday. Since it is covered by a rainbow-colored roof, the street can be visited in any weather. Before leaving, be sure to stop by Aritsugu, a store that's famous for its high-quality Japanese knives and cooking utensils.
How to get to Nishiki Market
Nishiki Market is very close to several public transportation stops. Karasuma Station and Kawaramachi Station are only about five minutes away on foot, and Shijo Station is about 10 minutes away.
FIND & BOOK A HOTEL IN KYOTO TODAY
2. Shop and play games at TERAMACHI STREET shopping arcade
With an interesting mix of traditional and modern shops, Teramachi Street is a great little shopping spot to visit. Vintage clothing stores and bookstores are mixed in with modern arcades, complete with games for tourists of all ages. Most retailers open at 10:00 AM and close at 6:00 PM daily. Teramachi Street is also known as "Temple Town," and many of the shops sell religious items like prayer beads, religious books, Buddha statues, and incense. For lunch or a quick snack, be sure to stop by Kani Doraku, a popular Japanese restaurant chain that serves fresh crab and other seafood dishes. It's an easy place to spot – just look for the giant red crab above the door.
Younger travelers may also enjoy taking a trip to the nearby Shinkyogoku Shopping Arcade, another covered shopping street and arcade that is a hotspot for young Japanese students. Shinkyogoku Street runs parallel to Teramachi Street. This district caters to a youthful demographic, with various shops selling inexpensive clothing and souvenirs. There are also several arcade games to play, and many stores that specialize in anime, games, and comic books.
How to get to Teramachi Street
Kawaramachi Station, on the Hankyu Kyoto Main Line, is the closest rail station to Teramachi Street. It is about two minutes away on foot. Shijo Station and Karasuma Station are also located within about a 10-minute walk.
FIND & BOOK A HOTEL IN KYOTO TODAY
3. Head underground to shop at KYOTO STATION
As one of the city's busiest transportation hubs, it's no surprise that there's plenty to see and do around Kyoto Station. In fact, there is an entire shopping mall located beneath Kyoto Bus Station and connected to Kyoto Subway Station. Porta underground shopping mall is open daily from 10:00 AM to 9:00 PM and is home to dozens of shops, restaurants, and services. The mall's east side mostly features souvenir shops, including Hashikoubou Oshita, a store that sells decorative chopsticks, and Fukujuen Tea, a Japanese tea shop with various green tea blends on sale. Porta underground shopping mall is just one of many luxurious Kyoto shopping spots in and around Kyoto Station. It could take a whole trip to explore them all!
The Cube: This mall takes up three floors of Kyoto Station and includes Kyoto confectionery shops, cosmetic and skincare stores, a flower market, and several places to buy souvenirs. There is also a bar and many cafes.
Isetan Department Store: This giant department store spans 13 floors on the northwest side of Kyoto Station. Levels one to five are dedicated to women's fashion and accessories, and floor six features casual and formal clothing for men. The higher floors offer items like arts and crafts, ceramic goods, and housewares. There is also a stunning art gallery on floor seven.
Asty Square: With its prime location near the ticketing booths, Atsy Square is the perfect spot to grab a quick meal before boarding a train. Bento boxes are a popular menu option here. It's also a great place to pick up a few souvenirs while waiting to depart.
Asty Road: This indoor Kyoto shopping street includes a mix of modern clothing retailers and traditional handicraft shops, plus gift shops and restaurants. It is also home to Sushi no Musashi Hachijoguchi, a fun little spot for fresh and affordable conveyor belt sushi.
Bic Camera Kyoto: Located beside the main Kyoto Station building, Bic Camera is one of the top spots in Kyoto to shop for electronics. This seven-floor store sells everything from computers, smartphones, and televisions to household electronics, like rice cookers and vacuum cleaners. Some floors also hold miscellaneous items such as toys, sporting goods, and beauty tools.
Yodobashi Camera: Kyoto City's other top spot for electronics is also located within walking distance of the station. This building sits just north of Kyoto Tower, about five minutes away on foot. There are four floors of electronics to explore. Some items available for sale include cameras, computer equipment, musical instruments, and kitchen appliances.
Kyoto Avanti: Directly across from the station sits Kyoto Avanti, a six-floor shopping mall that's popular amongst young Japanese locals. The basement features an extensive food court, and the upper floors feature bookstores, clothing stores, souvenir shops, and manga and anime stores. The mall is open from 10:00 AM to 9:00 PM.
Aeon Mall Kyoto: Located just a five-minute walk from the station, Aeon Mall is the perfect spot to spend an afternoon shopping or window shopping. In addition to dozens of retail stores, this mall also includes a grocery store, arcade, and a movie theater that shows Japanese and international movies.
How to get to Kyoto Station
As Kyoto Station is served by half a dozen rail lines, it is easily accessible from anywhere in the city. If traveling in the morning on a weekday, there are likely to be several express and limited express trains running to accommodate locals and their workday.
FIND & BOOK A HOTEL IN KYOTO TODAY
4. Experience the magic of old Kyoto in HIGASHIYAMA DISTRICT
One of the most beautiful places to spend an afternoon shopping is Higashiyama District, a historic district so well preserved, visitors will feel like they've stepped out of a time machine. The winding, stone-paved streets feature shops, cafes, and restaurants that sell a variety of traditional Kyoto goods. These shops all retain their traditional architecture style and decor style. Tourists are encouraged to walk the picturesque streets and stop at any shopping spots that catch their eye. Some of the items available for sale in Higashiyama District include pottery, Japanese confections, pickles, and Kyoto crafts. In addition to the many shops and cafes, this district is also home to significant Kyoto landmarks, like temples and shrines. Before or after a Kyoto shopping trip, be sure to explore the rest of the district to experience some or all of these sightseeing destinations.
How to get to Higashiyama District
There are four stations within walking distance of Higashiyama District. The closest is Gion-Shijo Station, located about a 15-minute walk from the district. Walking from Kiyomizu-Gojo Station, Kawaramachi Station, or Higashiyama Station will take around 18-20 minutes.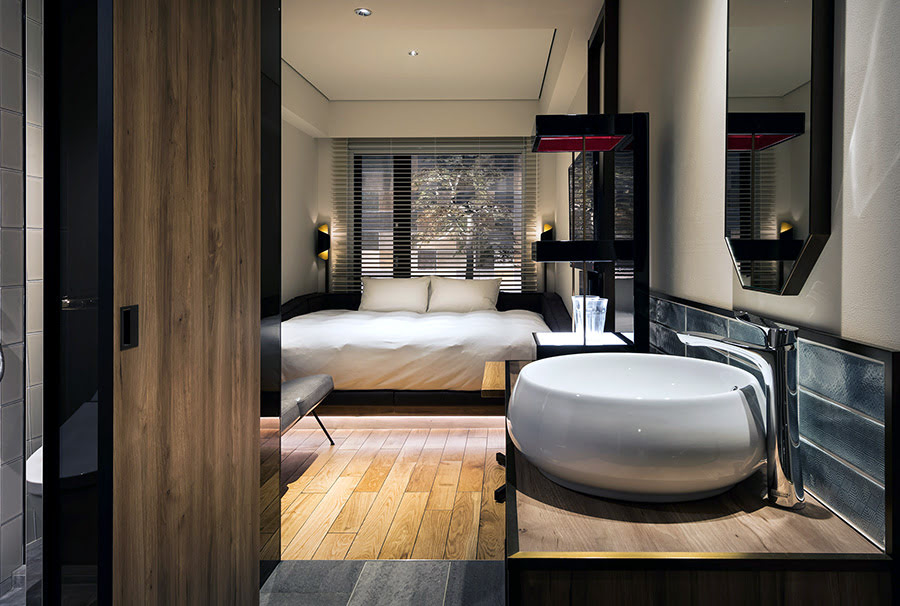 FIND & BOOK A HOTEL IN KYOTO TODAY
5. Find unique gifts at KYOTO HANDICRAFT CENTER
For Japanese arts and crafts, there's no better place to shop than Kyoto Handicraft Center. Opened in 1967, the center gives local artisans a chance to sell their handcrafted goods. The dozens of shops specialize in different types of arts and crafts, so there's something for everyone to enjoy. Some of the products for sale include pottery, jewelry, postcards, cosmetics, wooden puzzles, dolls, and clothing. The craft center is open every day of the year, except for January 1st and 2nd. From December 16th to March 15th, the opening hours are 11:00 AM to 7:00 PM. During the rest of the year, it opens one hour earlier, at 10:00 AM.
There are also several crafting workshops offered on-site at various times throughout the day, where visitors can create their own Japanese handicrafts. Some of the workshops offered include fan painting, woodblock printing, and incense bag making. Workshops take anywhere between 40 minutes to 70 minutes, depending on the craft, and cost 1,800 to 4,000 yen. Tourists must register in advance by phone or e-mail to secure a spot in the workshop. These classes are a great way to learn a new skill and bring home a unique Kyoto souvenir.
How to get to Kyoto Handicraft Center
Jingu-Marutamachi Station, on the Keihan Oto Line, is about 10 minutes away from the Handicraft Center on foot. The next-closest rail stations are Higashiyama Station, about 15 minutes away on foot, and Marutamachi Station, about 20 minutes away on foot. Marutamachi Station is also near Kyoto Imperial Palace and Sento Imperial Palace, two important sightseeing destinations. If traveling by bus, Kumano-Jinja-Mae bus stop is about a three-minute walk away.
FIND & BOOK A HOTEL IN KYOTO TODAY
6. Find great deals and enjoy good food on busy SHIJO-DORI STREET
Located in the heart of Kyoto, Shijo-dori street is another of the city's top tourist destinations. Walking this busy street is a great way to experience the Kyoto way of life as an outsider. The street is lined with small coffee shops, restaurants, and many Japanese retail shops. There are two large department stores located at the intersection of Shijo street and Kawaramachi street – Kyoto Takashimaya and Kyoto MARUI.
Kyoto Takashimaya department store opened in Kyoto in 1950 and features hundreds of stores filled with luxury goods and souvenirs. Visitors of all ages can find new clothing items or gifts to bring home to friends and family. There's also a dining garden on the seventh floor full of restaurants, plus a basement food court. Kyoto Takashimaya is open daily from 10:00 AM to 8:00 PM.
Kyoto MARUI is the other major department store in the area. The first floor is dedicated to food, with various Japanese delicacies on sale to try or take home as a souvenir. The second and third floors are filled with trendy clothing retailers, shoe stores, and accessory shops for men and women's fashion. On the higher floors are home electronics, art, books, and much more. There are also several serene areas throughout the mall where visitors can take a shopping break. These areas feature beautiful benches crafted of Japanese cedar wood.
How to get to Shijo-dori Street
The closest public transportation stop to Shijo-dori street and Kawaramachi Street, where the two department stores are located, is Kyoto-Kawaramachi Station. This station is on the Hankyu Kyoto Line and is about a minute away from both stores. Keihan Gion Shijo Station is also about five minutes away on foot.
FIND & BOOK A HOTEL IN KYOTO TODAY
7. Indulge in a luxury shopping experience at KYOTO BAL
With over 40 years of history, the Kyoto BAL building is a well-loved spot for locals to visit on Kawaramachi Street. Since reopening in 2015 as a luxury shopping center, it has only grown in popularity. The center was designed with large windows and skylights, soft, neutral colors, and plenty of greenery to give it a relaxing, elegant vibe. Though the building is quite large, it houses only around 30 retailers. This gives each company a large shop area to work with, so each store feels comfortably spacious and aesthetically pleasing.
The impressive Kyoto BAL is filled with high-end clothing, cosmetics, and lifestyle brands. There is a large and beautifully organized Muji store in the building, filled with minimalist household goods, stationery, and other products. For English or Japanese books, there is a giant Maruzen bookstore that takes up two entire floors. The shopping center is open daily from 11:00 AM to 8:00 PM.
How to get to Kyoto BAL
The closest rail station to Kyoto BAL is Kyoto-Kawaramachi Station, which is about five minutes away on foot. Gion Shijo Station is also located within about a 10-minute walk. It will take about six minutes to walk to Kyoto Shiyakusho-mae Station on the Tozai Line.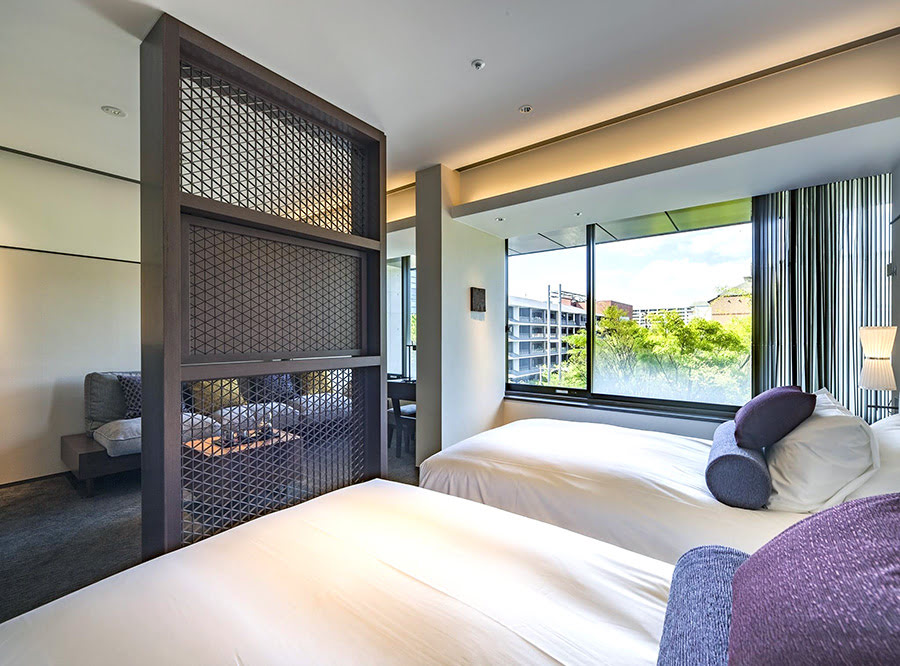 FIND & BOOK A HOTEL IN KYOTO TODAY
8. Browse for antiques at KITANO TENMANGU SHRINE
In addition to being an important Northern Kyoto landmark, Kitano Tenmangu Shrine also becomes a fun place to shop 12 times a year. Once a month on the 25th, the shrine area is transformed into a flea market with over one hundred participating vendors. This pop-up market is a great place to search for antiques or handmade crafts to bring home as souvenirs. There are also fresh foods and flowers available for purchase, plus several food vendors selling traditional Kyoto street food dishes for a quick lunch or snack. The flea market runs from 6:00 AM to 9:00 PM, but early birds are more likely to find the best deals and hidden gems. Afterward, be sure to visit Kitano Tenmangu Shrine (free admission).
Another place to find a Kyoto flea market is Toji Temple, located in Southern Kyoto. The market is held monthly on the 21st, from around 7:00 AM to about 5:30 PM. Various vendors come each month to sell their crafts, food, antique goods, and much more. Bargain shoppers will be delighted by the wide selection of clothing, crafts, and other items available, and may even be able to haggle a lower price. The Toji Temple flea market is busiest around lunchtime, so come early for the best selection.
How to get to Kitano Tenmangu Shrine
It will take about eight minutes to walk to Kitano Tenmangu Shrine from Kitanohakubaicho Station. Kitano Tenmangu Mae bus stop is also located within walking distance of the shrine and can be reached from Kyoto Station via bus number 50 or 101. It will take only a few minutes to walk from this stop to the flea market.
FIND & BOOK A HOTEL IN KYOTO TODAY