If you're looking for bars and clubs in Seoul, you won't have to look very far! Seoul is the place to be for some of the country's most incredible nightlife areas, like Gangnam and Itaewon. Throughout the city's many districts, tourists can expect to find everything from casual bars and pubs to nightclubs with all-night dance parties. With many bars, nightclubs, tourist attractions and family-friendly spots open late, there's something for everyone at night in Seoul.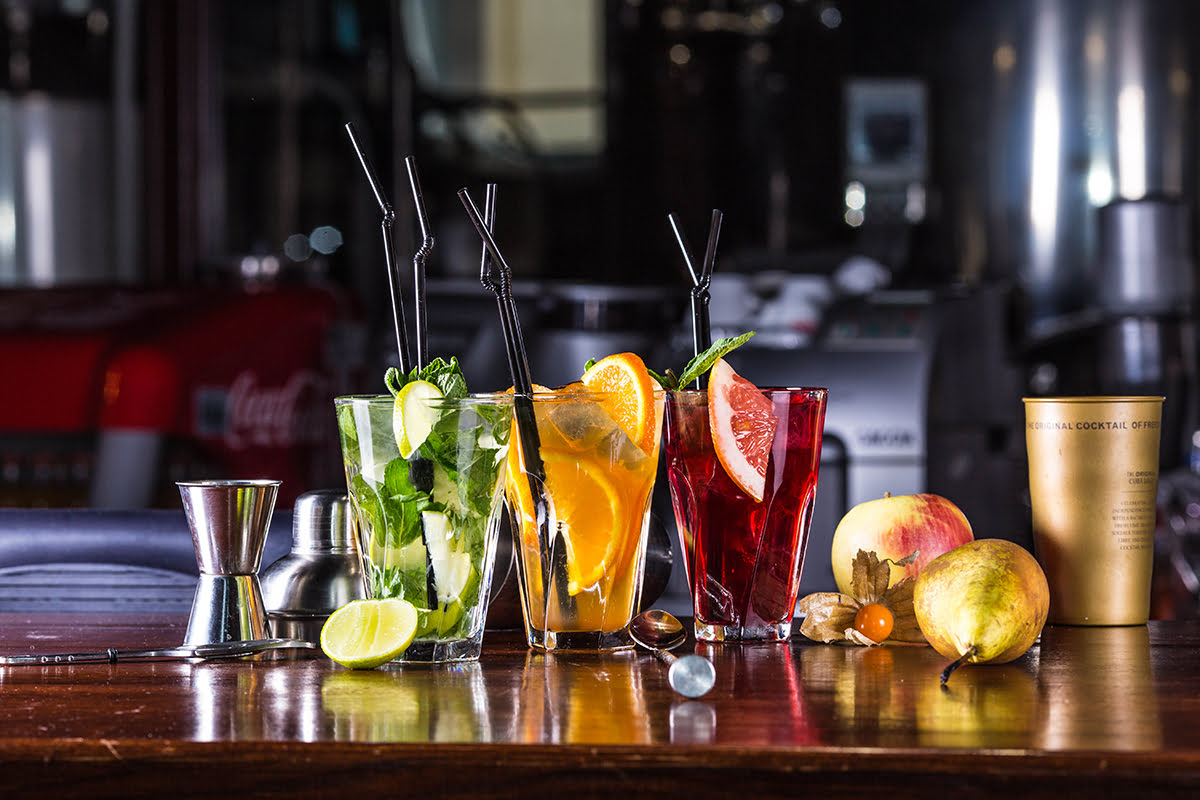 Bars and Clubs in Seoul: An Overview
No matter when you visit Seoul, you'll always be able to find a great party to attend. While the weekends are generally the busiest times, most bars and nightclubs in South Korea are open every day of the week and fill up with locals looking to blow off some steam after work.
Nights out in Seoul often turn into big events, even on a regular day. Locals will start the night at a restaurant, then travel to a bar, then finish the night at a nightclub. For special events, the night may extend to include two or more additional stops.
Since there are no open container laws in South Korea, nights out may also start or end at a convenience store. Seoul's convenience stores not only feature cheap food and drinks but also often have outdoor patio furniture set up where you can linger and enjoy your wine, beer, or liquor on the sidewalk.
Check In to a hotel or apartment in Seoul
Hotel Gracery Seoul
Shilla Stay Guro
Hotel Skypark Myeongdong II
Step Out to Seoul
Where to Find the Best Nightlife in Seoul
While there is always something to do in Seoul at night, certain districts offer better bars and parties than others. The right area for you to visit on your trip will depend on the party vibe you're after. Some districts feature nightlife options that are more casual and inexpensive while others are upscale and always bustling with people.
The Most Popular Seoul Nightlife Districts
Gangnam: Gangnam is known worldwide for its upscale shopping and incredible nightlife. Many of South Korea's best nightclubs are located in this district. Cover charges and drinks in Gangnam are on the expensive side but you may see a few celebrities when you party here.
Hongdae: Due to its proximity to Hongik University, the bars in Hongdae generally attract a younger crowd. The district is known for its trendy restaurants and its fun and casual bar scene.
Itaewon: The foreigner-friendly Itaewon district is the most popular spot for tourists to hang out. The area features sports bars, Irish pubs, and many other international venues and restaurants.
Haebangchon: Located close to Itaewon, Haebangchon has a similar vibe with many international visitors. The bars and restaurants here are generally smaller and more casual than those in Itaewon.
Check In to a hotel or apartment in Itaewon
Grand Hyatt Seoul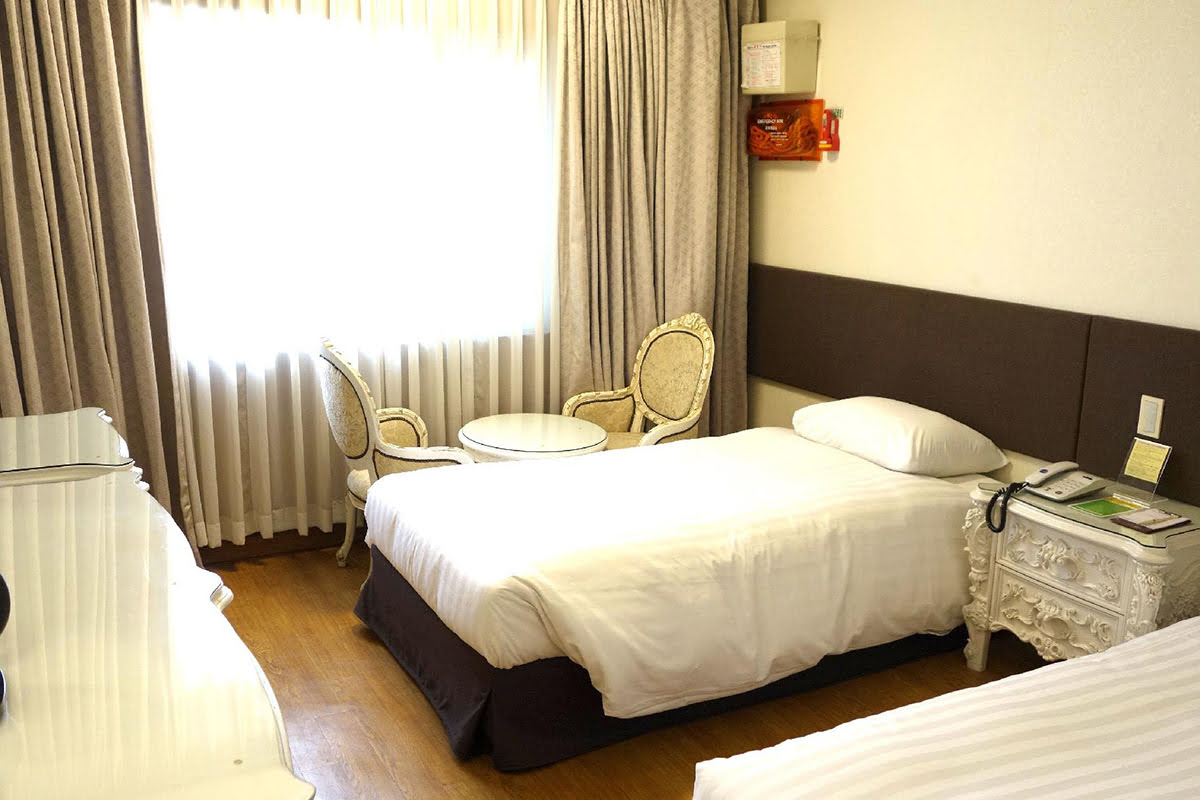 Itaewon Crown Hotel
Hamilton Hotel Itaewon
The Best Nightclubs in Seoul
Though South Korea's most notorious nightclubs are located in Gangnam, there are many other dance clubs and fun party spots located throughout Seoul. The city's nightclubs generally do not start to fill up after midnight and stay open until the early hours of the morning.
Octagon
Address: 645 Nonhyeon-ro, Nonhyeon-dong, Gangnam-gu, Seoul, South Korea
As one of the country's most renowned clubs, Octagon is a great place to experience South Korean nightlife. This all-night party venue is quite expensive but offers great music, dancing, and a chance to mingle with Korean celebrities and socialites.
Club Mass
Address: 415, Gangnam-daero, Seocho-gu, Seoul 06614, South Korea
Another popular club in Gangnam is Club Mass, a dance club that is open 365 days a year. This fun and busy nightclub specializes in EDM and techno music.
B One Lounge Club
Address: 123-15 Itaewon-dong, Yongsan-gu, Seoul, South Korea
Open Wednesday through Sunday, B One Lounge Club is a great dance spot which plays a wide variety of music genres. The club features fun lighting and luxurious decor.
NB2
Address: 72 Wausan-ro, Mapo-gu, Seoul 04067, South Korea
The popular hip hop club NB2, located in Hongdae, is a great place to mingle with a younger crowd. If you visit on the weekend, you may have to wait to enter the club as it can get very busy.
Cakeshop
Address: 134 Itaewon-ro, Itaewon 1 il-dong, Yongsan-gu, Seoul, South Korea
Although it is a smaller venue than other Seoul nightclubs, Cakeshop is a can't-miss party spot for music lovers. Popular local and international DJs play a wide variety of music and love to support up and coming artists.
Check In to a hotel or apartment in Gangnam
Dormy Inn SEOUL Gangnam
L7 Gangnam by LOTTE
Ocloud Hotel Gangnam
Casual Bars, Pubs, and Cafes
Seoul's nightclubs are always exciting but a casual night out with friends can also be a nice change of pace. The city is home to hundreds of low key bars and pubs where you can enjoy great drinks and great company. Many casual drinking spots in South Korea are known as "self bars." Instead of waiting to be served at a self bar, you simply take what you want out of the refrigerators and pay for your drinks once you leave.
Playground Rooftop Cafe and Bar
Address: 14 Wausan-ro 21-gil, Seogyo-dong, Mapo-gu, Seoul, South Korea
Enjoy the casual atmosphere and great city views at the Playground Rooftop Cafe and Bar. This spacious bar serves delicious food and drinks and has plenty of bar games available to keep you entertained all night.
Mike's Cabin Hongdae
Address: 94-13, Eoulmadang-ro, Mapo-gu, Seoul 04040, South Korea
If you want a taste of the Seoul nightclub life without braving busy Gangnam, Mike's Cabin is a great choice. This bar has a busy dance floor and experienced DJs but exudes a casual and cozy vibe overall.
Magpie Brewing Co.
Address: 244-1 Noksapyeong-daero, Itaewon 2 i-dong, Yongsan-gu, Seoul, South Korea
Relax with a delicious cold drink at Magpie Brewing Co., an intimate brewery with a rotating selection of craft beers. The brewery also serves comfort foods like pizza and grilled cheese sandwiches.
Y1975
Address: Cheongdam-dong, Gangnam-gu, Seoul, South Korea
Though the bar looks quite fancy, Y1975 has plenty of seating where you can enjoy a cold drink and a great conversation with friends. This lounge bar is best known for its selection of fancy cocktails which feature special garnishes like fresh fruit, cotton candy, and flowers.
RetroGameBar
Address: 7, Jandari-ro, Mapo-gu, 3f, Seoul 04049, South Korea
Embrace your inner child at RetroGameBar, a relaxed gaming bar with great drinks, affordable food, and fun gaming decor. Customers can choose a booth and play the free console games and board games or head to the back of the bar to try out some old-school arcade games.
Check In to a hotel or apartment in Mapo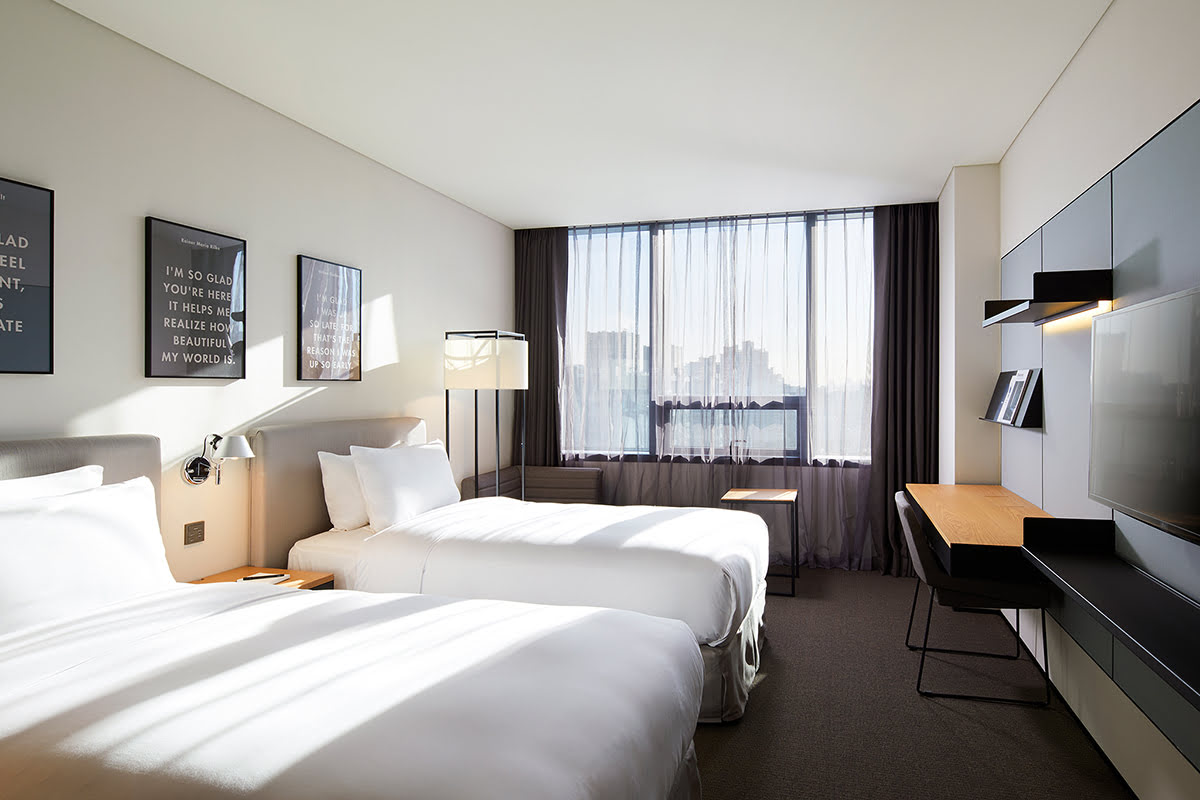 GLAD MAPO
Shilla Stay Mapo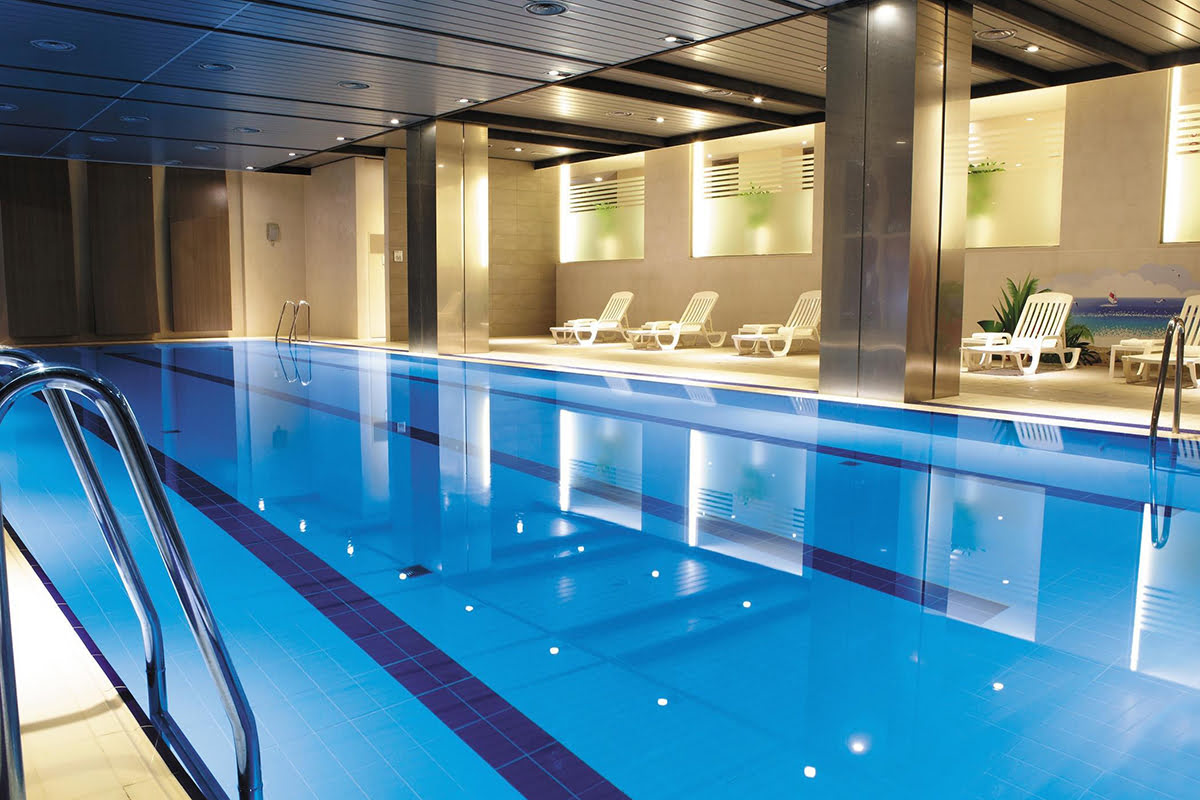 Lotte City Hotel Mapo
Karaoke Rooms (Noraebang)
Karaoke is a popular nightlife activity throughout South Korea. In Seoul, karaoke rooms (known as "noraebang") can be found in abundance in every popular nightlife district. Since most do not require a reservation, you can enjoy a spontaneous night of karaoke singing at any point during your Seoul vacation.
Some karaoke venues in Seoul also offer other activities, like board games, movie rooms, video game rooms, and much more. These venues, known as "multibang," are often open 24 hours a day for some late night fun and games.
Check In to a hotel or apartment in Hongdae
FunFunStay Guesthouse
Nine Brick Hotel
Step Out to more hotels near clubs in Seoul
Evening Tourist Attractions in Seoul
In a city of well over nine million people, it's no surprise that Seoul is bursting with incredible tourist attractions fit for any travel bucket list. Though some attractions cannot be visited at night, there are many amazing sights in Seoul that get even better when the sun goes down.
The Dongdaemun Night Market
Address: Jung-gu, Seoul, South Korea
With over one hundred years of history, the Dongdaemun Night Market is a can't-miss attraction in Seoul. Along the market streets, you'll find stalls selling everything from clothing and shoes to delicious Korean snacks and drinks.
Cheonggyecheon Stream
Address: Cheonggyecheon-ro, Yongsin-dong, Jongno-gu, Seoul, South Korea
Before or after exploring the night market, be sure to take a trip to the nearby Cheonggyecheon Stream. With extensive walking paths, gorgeous natural scenery, and beautiful artwork, the stream is a romantic place for a stroll day or night.
The Banpo Bridge
Address: Banpo 2 i-dong, Seoul, South Korea
Located over the Han River, the Banpo Bridge is home to the world's largest bridge fountain. At night, the bridge lights up with rainbow LED lights and the fountain turns on to create a beautiful water show. Along the river, there are also many late-night cafes with incredible scenic views.
N Seoul Tower
Address: 105 Namsangongwon-gil, Yongsan 2 iga-dong, Yongsan-gu, Seoul, South Korea
Also known as the YTN Seoul Tower, the Namsan Tower, and the Seoul Tower, the N Seoul Tower is one of the city's highest lookout points. From the observatory, you'll experience an incredible 360-degree view of the city skyline. The tower also features a digital history of Korea via LCD screens and a French restaurant.
Lotte World
Address: 240 Olympic-ro, Jamsil-dong, Songpa-gu, Seoul, South Korea
Open late six days a week, Lotte World is a fun, family-friendly spot to spend an evening in Seoul. This large recreation complex features amusement park rides, live shows, movie theatres, a museum, and more.
Check In to a hotel or apartment in Dongdaemun
Seoul N Hotel Dongdaemun
Hotel Skypark Kingstown Dongdaemun
E7 Place Dongdaemun
Evening Theatres, Music Venues, and Live Performances in Seoul
No trip to Seoul is complete without experiencing authentic Korean performance art. Seeing an evening concert or theatre show is a great way to connect with South Korean culture. As performance schedules at these types of venues are subject to change depending on the season's shows, be sure to plan out your visit before you arrive in Seoul.
Myeongdong Nanta Theatre
Address: 26, Myeongdong-gil, Jung-gu, UNESCO Hall 3F, Seoul 04536, South Korea
Watching the quirky kitchen show at the Myeongdong Nanta Theatre is a fun and exciting way to start a night out in Seoul. The theatre offers two to four different showings per day and tickets can be purchased in advance online.
Myungbo Art Hall Theatre
Address: 3F Myungbo Art Hall, 18-5 Cho-dong, Jung-gu, Seoul, South Korea
You won't believe your eyes as you watch the amazing performers at the Myungbo Art Hall Theatre. These talent artists mix acting with acrobatics and Korean martial arts in their 80-minute show.
The Seoul Arts Center
Address: 2406 Nambusunhwan-ro, Seocho-dong, Seocho-gu, Seoul, South Korea
Complete with an opera house, a music hall, and three art museums, the Seoul Arts Center is a fantastic place to soak up South Korean culture. Depending on when you visit, you may be able to see a classical music performance, a play, or a musical.
Check In to a hotel or apartment in Jung-gu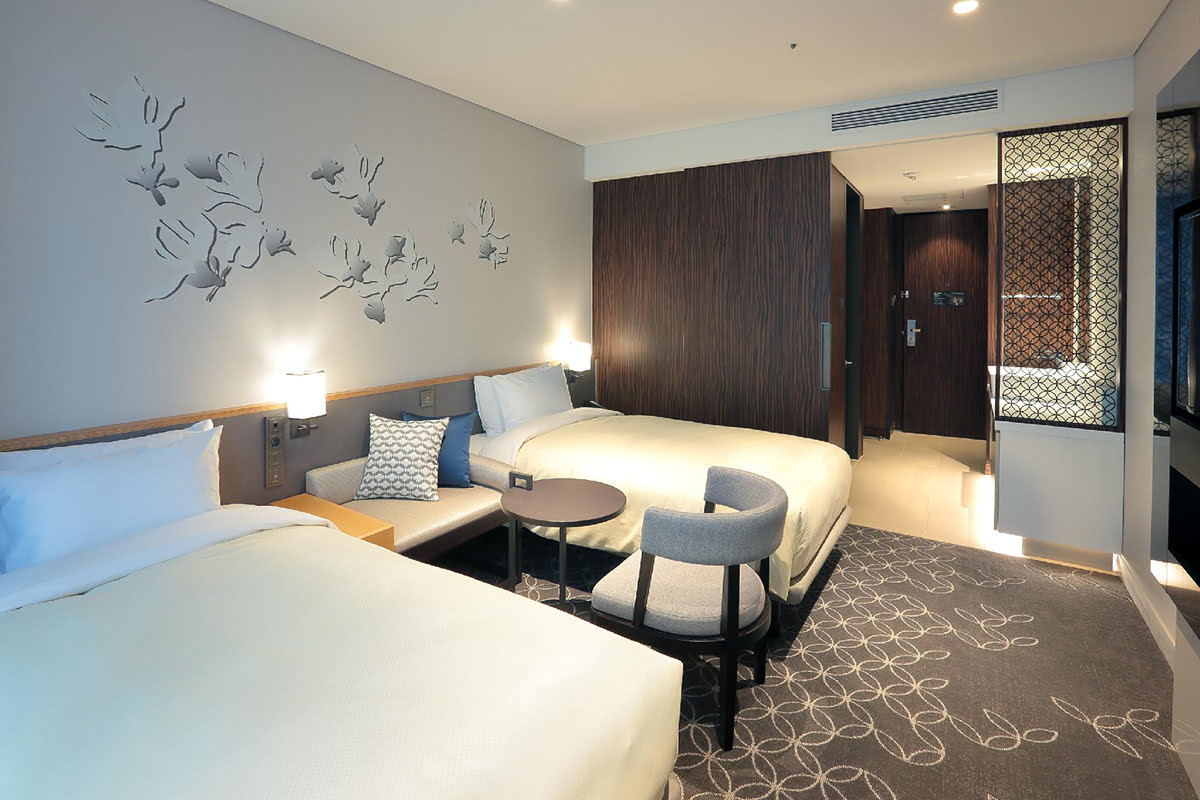 Hotel Gracery Seoul
Hotel Skypark Myeongdong II
Hotel Agora
Seoul Drinking Customs and Tips for Tourists
As Seoul is a popular spot for international tourists to visit, local bartenders and restaurant owners will generally understand if you do not know all of South Korea's customs. However, being prepared and learning the city's drinking culture before your trip is certainly a good idea.
Respect is the dominant virtue in South Korean culture, especially respect of your elders. The youngest member of your group should serve drinks whenever possible.
Similarly, if you are offered a drink by an elder, it is considered rude to refuse. However, use your best judgment and never drink more than you can handle.
Always accept drinks with two hands.
While alcohol and tobacco are legal in South Korea, it is important to note that other drugs are strictly prohibited and subject to jail time.
The creation of hangover cures is a giant business in South Korea, so don't be afraid to ask the locals about their favorite hangover drink or recovery food. Another popular way to recover from a night of drinking is to spend the morning at a Jjimjilbang (a Korean spa and sauna), like the popular Dragon Hill Spa in the Yongsan District.
Check In to a hotel or apartment near Dragon Hill Spa
SS Guesthouse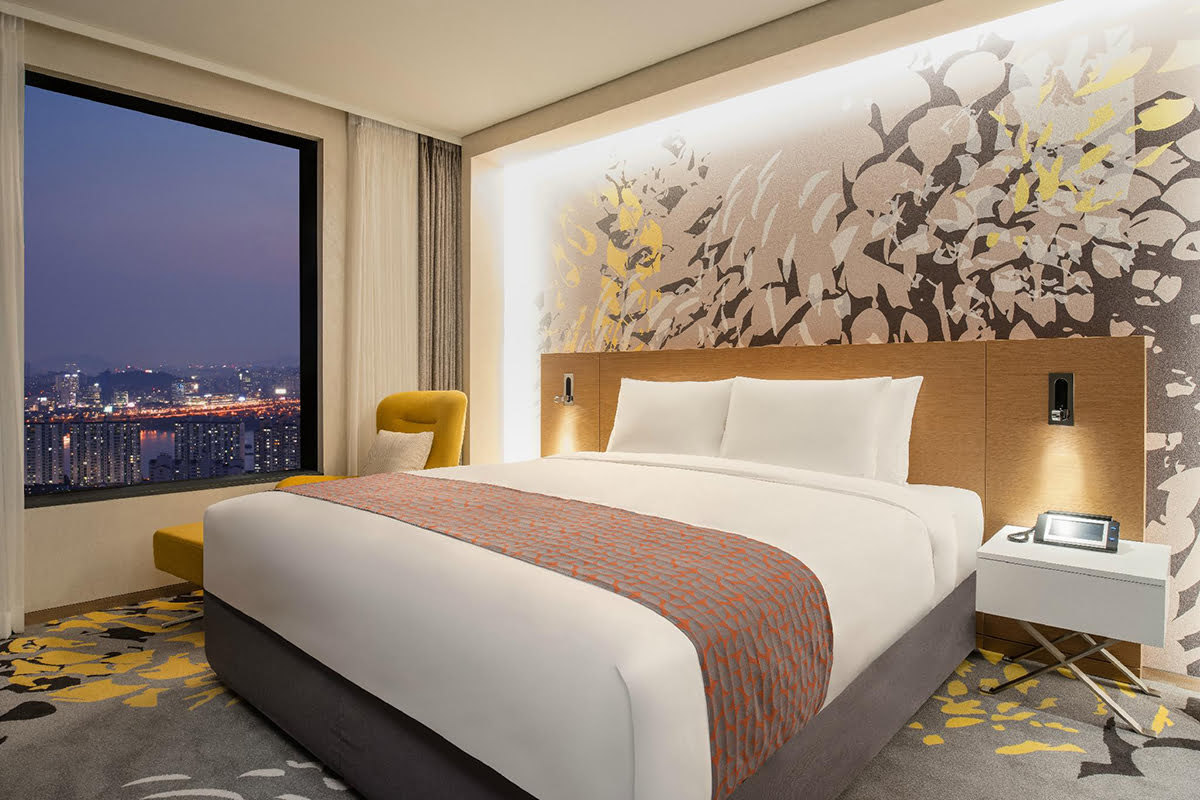 Novotel Suites Ambassador Seoul Yongsan
Grand Mercure Ambassador Hotel and Residences Seoul Yongsan
Step Out to other Jjimjilbang in Seoul