In Dubai, visitors can simultaneously experience the rich history and the modern luxury of the area. Dubai attractions range from historic neighborhoods and traditional markets to record-breaking structures and unique experiences. Here are 25 of the best activities, landmarks, and sights you won't want to miss when you're in Dubai.

Dubai Attractions | 1. Visit Burj Al Arab
Standing on its own man-made island, the Burj Al Arab is a 280m (919ft) building, easily recognized by its glass facade in a sail shape. The Burj Al Arab Jumeirah is the only hotel in the entire world that is referred to as being a "seven-star" hotel and has one of the most expensive suites, running upwards of an extravagant $18,000 UED. On the 28th floor, there is a helipad for VIPs to use. Experience sublime relaxation at the spa with a gold facial, complete with diamond dust.
Take a ride in the gold elevator up to Skyview Bar for an incredible view. Children 8 years old and up are allowed in the bar for afternoon tea, which costs AED 635 per person. An additional fee of AED 100 per table is charged for window seats. Enjoy delicate sandwiches, fresh pastries, and a selection of teas and coffee. First seatings for afternoon tea begin at 13:00-15:00 and 13:15-15:15. Second seatings take place at 16:00-18:00 and 16:15-18:15. For evening drinks, guests must be 16 or older, and the minimum spend per person is AED 300.

Stop by the gold-themed bar, Gold on 27, for a drink. The extensive menu at Gold on 27 is split into sections "Old Dubai," "New Dubai," and "Future Dubai," offering an incredible variety of flavors for all palates.

To get near the entrance of the hotel, you'll need to be staying at Burj Al Arab Jumeirah or have a reservation at one of the many restaurants.
FIND & BOOK A HOTEL IN DUBAI TODAY
Dubai Attractions | 2. Learn About UAE History at Etihad Museum
Sitting on the exact spot where the United Arab Emirates was born in 1971, Etihad Museum teaches visitors about how the UAE was founded. The interactive and educational exhibits help guests understand the time period when the seven Emirates became the UAE. An interactive timeline shows important historical events before the union, and the UAE Constitution itself can be found inside the Etihad Museum. Etihad Museum is open every day from 10am to 8pm. Admission and a tour starts at AED 35, and you'll need to book a time slot for your visit.
Etihad Museum is located in the Al Mina district, next to Pearl Jumeirah, a scenic island and another great place to visit in Dubai.
FIND & BOOK A HOTEL IN DUBAI TODAY
Dubai Attractions | 3. Shop Until You Drop at The Dubai Mall
Next to the Burj Khalifa in Downtown Dubai is the largest mall in the world, at a size of 1,124,000 square meters. The Dubai Mall has more than 1,300 stores and is open from 10am to midnight every day. Though walking around the mall itself is free, some of the attractions do charge admission.
In addition to the shops, some of the attractions inside The Dubai Mall include:
An ice rink
A waterfall
A cinema
A hotel
A haunted house
A virtual reality park
Sleeping pods
150 restaurants
FIND & BOOK A HOTEL IN DUBAI TODAY
Dubai Attractions | 4. Ski or Snowboard at Ski Dubai
Spend a day on the slopes skiing or snowboarding at Ski Dubai, the indoor ski center located inside Mall of the Emirates. All necessary equipment and clothing is provided for guests, so you don't need to worry about bringing all of your winter gear to Dubai. There are five ski runs, the longest being over 1,300ft. There is also a zone for freestyle snowboarding and an area for snowball fights and tobogganing.
After spending some time in the snow, warm up with a cup of hot chocolate at the cafe Apres Dubai and hang out with the penguins at the penguin colony. The Penguin March occurs every day at 2pm, 4pm, 6pm, and 8pm, so you'll want to catch at least one of these shows.
Ski Dubai is open every day. From Sunday to Wednesday, hours are from 10am to 11pm. On Thursday, Ski Dubai is open from 10am to midnight. Friday and Saturday, the hours are 9am to 11pm.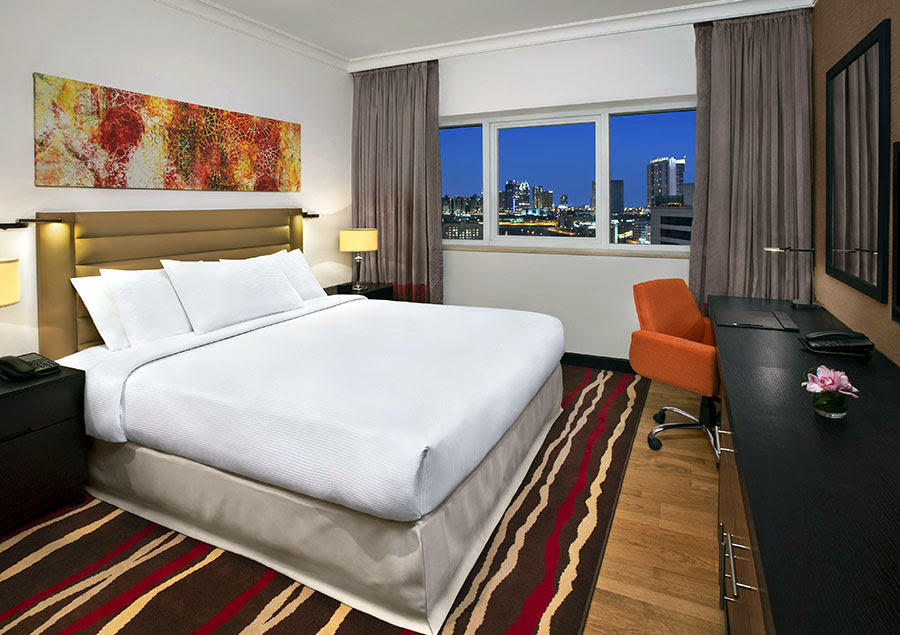 FIND & BOOK A HOTEL IN DUBAI TODAY
Dubai Attractions | 5. Visit Burj Park by Emaar
Burj Park by Emaar is a 5km (3.1m) stretch of land through Downtown Dubai, located in the middle of Burj Lake. It's the perfect place for a picnic, offering an incredible view of the Burj Khalifa. From here you will also be able to see the "Win, Victory, Love" sign, also called the Three Fingers Statue, of High Highness Sheikh Mohammed Bin Rashid Al Maktoum. The leader of Dubai is depicted giving a three-finger salute, which he created to be a logo for the UAE. This statue is often in the midst of many of the festivals and events that are hosted in Burj Park by Emaar.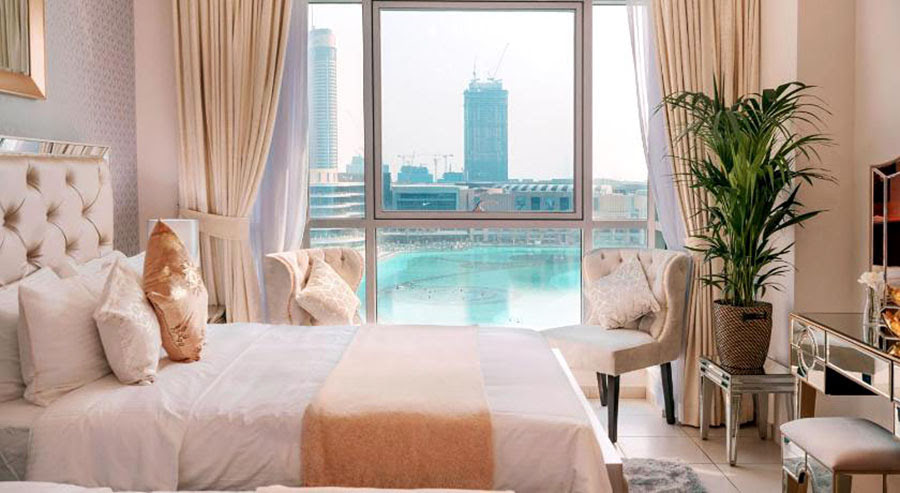 FIND & BOOK A HOTEL IN DUBAI TODAY
Dubai Attractions | 6. View the City from Burj Khalifa
A visit to Dubai isn't complete without stopping at Burj Khalifa – the tallest building in the world. Standing at an incredible 828m (2,717ft) high in Downtown Dubai, the building has 160 stories and three separate outdoor observation decks. It has also broken a number of other world records, such as "highest outdoor observation deck," "elevator with the longest travel distance," and "tallest free-standing structure in the world."
At.Mosphere, the restaurant way up on the 122nd floor of Burj Khalifa, has floor to ceiling windows that give you a unique view of Dubai. The restaurant serves a decadent dinner and a more budget-friendly breakfast. On the 152nd floor, you'll find the world's highest lounge, The Lounge at Burj Khalifa.

At The Top observation decks span the 124th, 125th, and 148th floors. On the observation deck on the 124th floor, visitors can use high-powered telescopes to look at the city. Level 148 allows you to walk on the world's highest outdoor observation deck at 555m (1,820ft) and enjoy refreshments from SKY Lounge. The best views from the Burj Khalifa observation decks are seen as the sun sets over Dubai. Admission prices for At The Top will vary depending on the time of day you go and whether you choose to head up to the observation deck on the 148th floor as well.
FIND & BOOK A HOTEL IN DUBAI TODAY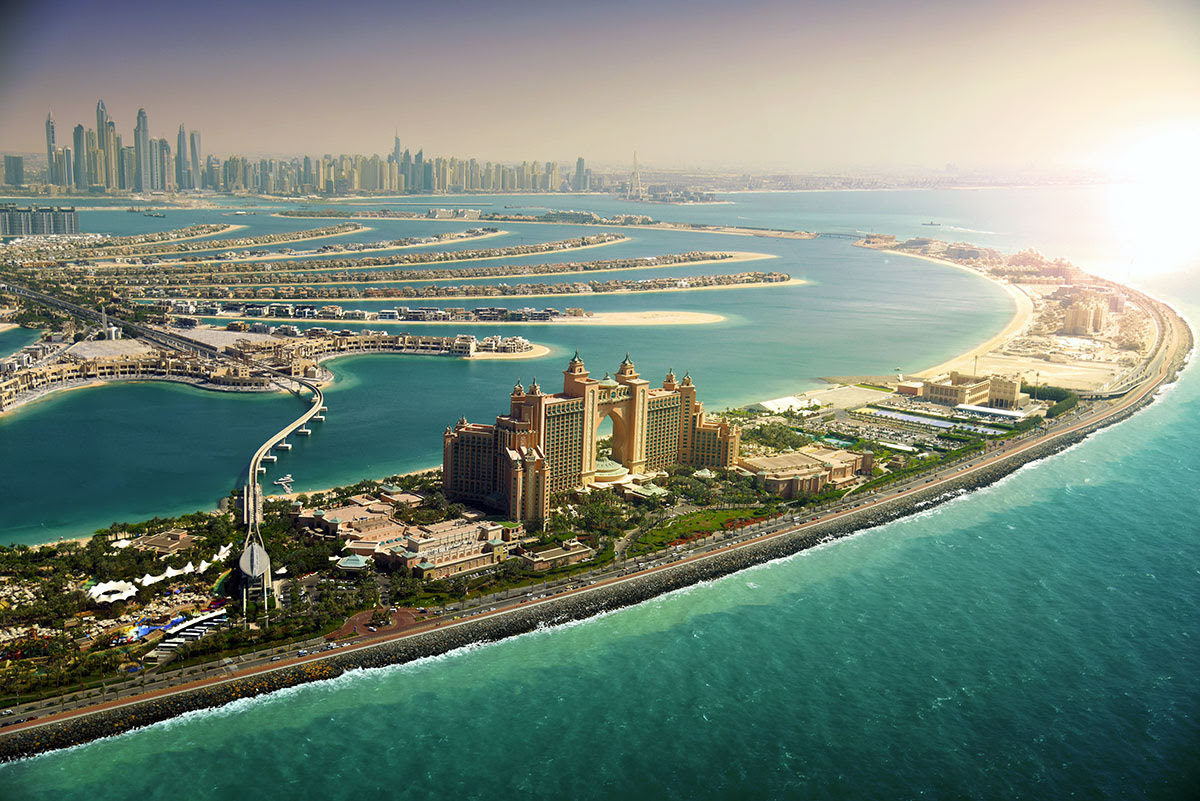 Dubai Attractions | 7. Check Out Atlantis, The Palm
One of the most photographed hotels in Dubai is Atlantis, The Palm, a beautiful resort based on the man-made island of Palm Jumeirah. Try one of the celebrity restaurants such as Nobu or Gordon Ramsay's Bread Street Kitchen & Bar, or dine at the underwater bar and restaurant Ossiano.
Visitors can explore Atlantis, The Palm's huge aquarium, The Lost Chambers Aquarium, featuring 65,000 marine animals. Put on a high-tech helmet and walk along the aquarium floor among sharks, stingrays, and fish. Guests also are able to scuba dive inside The Lost Chambers Aquarium or do yoga there. The resort offers helicopter tours as well.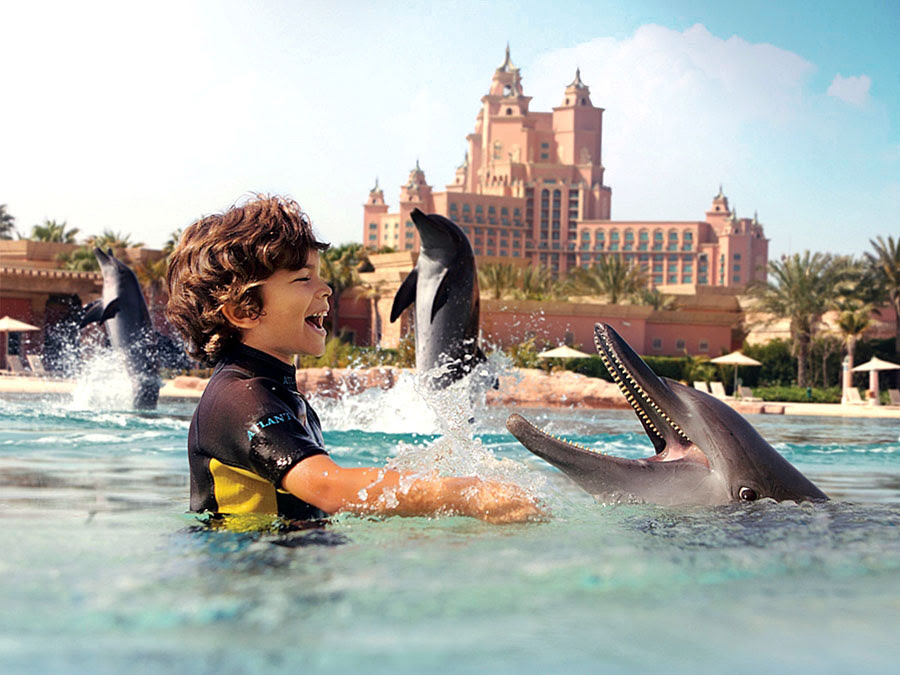 FIND & BOOK A HOTEL IN DUBAI TODAY
Dubai Attractions | 8. Cool Off at Aquaventure Waterpark
Aquaventure Waterpark is found at Atlantis, The Palm, where visitors can ride the Leap of Faith slide that drops you from nine stories and speeds you through a glass tunnel that is surrounded by sharks and stingrays. Daredevils will love stepping into the capsule of Poseidon's Revenge as the floor drops out from beneath them and sends them plummeting at a speed of 60km/h before doing an upside-down loop. Ride the world's largest tube waterslide, the Aquaconda, or race a friend down Slitherine, the twin-racing tube slide.
Close up animal encounters offered at Aquaventure Waterpark include swimming with dolphins, feeding stingrays, and hugging it out with sea lions. There is also a private, 500-meter-long beach – Aquaventure Beach – for guests of Aquaventure Waterpark.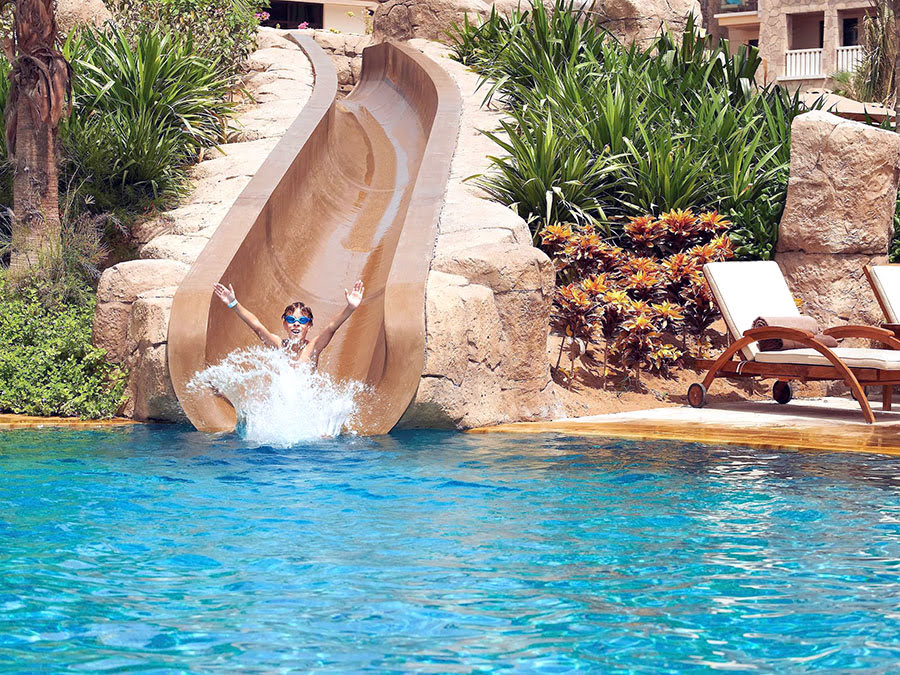 FIND & BOOK A HOTEL IN DUBAI TODAY
Dubai Attractions | 9. Watch a Show at Dubai Garden Glow
Dubai Garden Glow in Zabeel Park opens in the evening, allowing guests to watch the lights as the sun goes down. This park is full of colorful, whimsical displays of lights that visitors can view. An extension to the glow park is Dinosaur Park, full of animatronic dinosaurs that move and roar. Also in Zabeel Park are two more Dubai attractions – Dubai Frame and Dubai World Trade Center.
Admission to Dubai Garden Glow is AED 65, with children under three admitted free. Dubai Garden Glow is open from Saturday to Thursday from 4pm to 11pm, and Fridays from 4pm until midnight.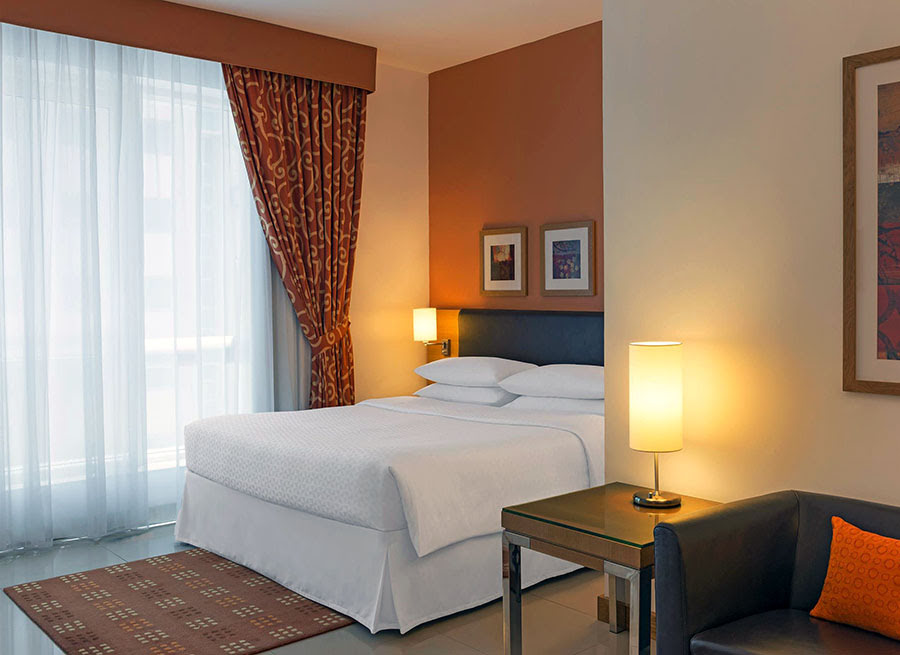 FIND & BOOK A HOTEL IN DUBAI TODAY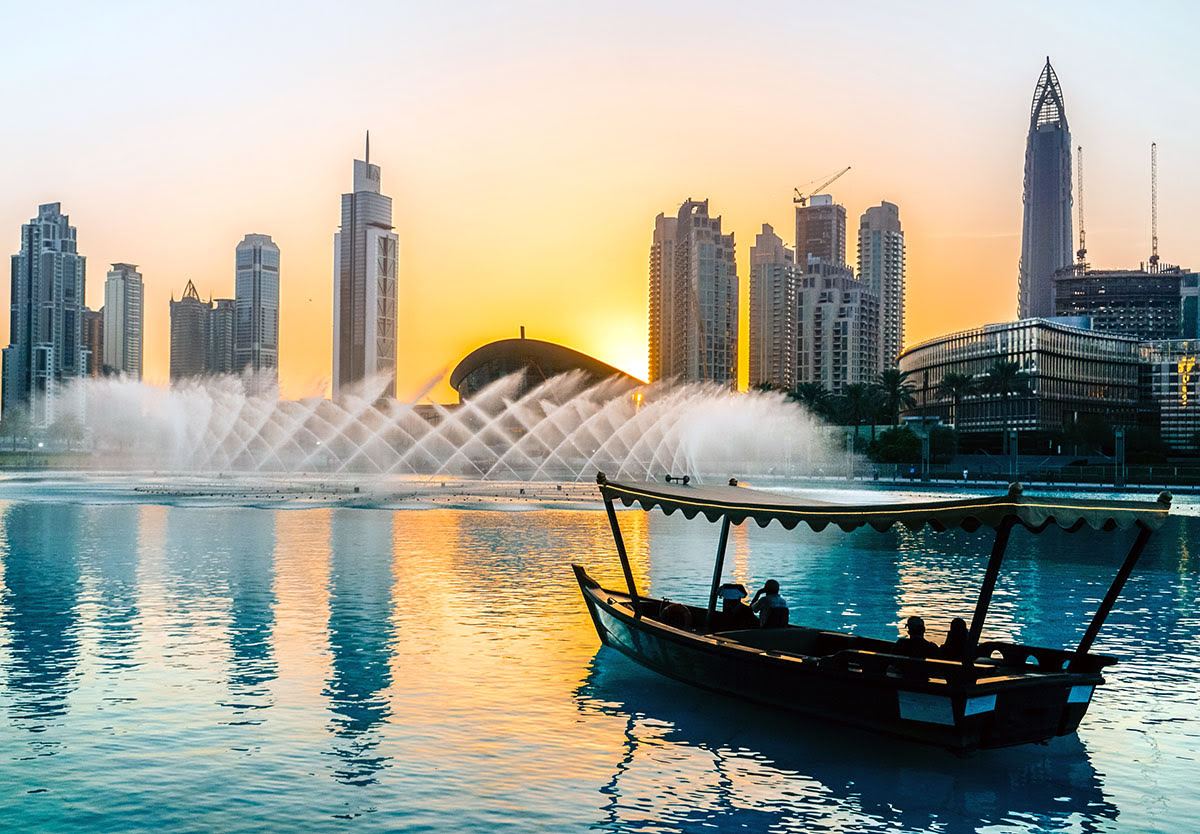 Dubai Attractions | 10. See The Dubai Fountain
The world's largest choreographed fountain is The Dubai Fountain. It was created by the same people who made the Fountains of Bellagio in Las Vegas. Spraying water at heights up to 140m (450ft), The Dubai Fountain performs a show every 30 minutes, from 6 to 11 p.m., and twice daily, at 1 p.m. and 1:30 p.m. On Fridays, the daytime shows take place at 1:30 p.m. and 2 p.m. At night, an amazing 6,600 lights and 25 projectors create a beautiful display of color, and the beam of light that shines upward from the fountain is visible from space. The Dubai Fountain performs to a variety of songs, ranging from classical music, well-known pop, and popular Arabian songs.
Visitors can walk along the boardwalk for a fee of AED 20 to get closer to the fountain, or there are boats available to take you around Burj Lake, on which the fountain is built.
FIND & BOOK A HOTEL IN DUBAI TODAY
Dubai Attractions | 11. Stay Cool at Wild Wadi Waterpark
Centered on the Arabic story of Juha and his donkey, Wild Wadi Waterpark is a unique experience located next to Burj Al Arab. There are 30 rides for children and adults to enjoy, though the main attraction is Jumeirah Sceirah tower. For this ride, two 32m-high slides sit next to each other and send sliders plummeting at 80km/h. Visitors who prefer something more relaxing might like the Lazy River that is 360m long. Guests can also learn to surf in a pool that mimics the feeling of real waves, one of only four in the world.
During the summer, Wild Wadi Waterpark has ladies' nights for women who are uncomfortable with wearing swimsuits in public.
FIND & BOOK A HOTEL IN DUBAI TODAY
Dubai Attractions | 12. Haggle like a Local at a Souk
Though there is a myriad of stores and shops in Dubai, for a more traditional experience, visitors should head to one of the many souks along Dubai Creek.
Frequented by both tourists and locals alike, the Dubai Gold Souk is one of the oldest attractions in Dubai. Located on the south bank of Dubai Creek in the Deira district, the souk contains over 379 shops selling necklaces, rings, bracelets, diamonds, precious stones, platinum, silver, and other jewelry. It is estimated that 20% of the world's gold passes through here. The items here are heavily monitored so don't worry about whether an item is authentic.

Another popular stop is the Spice Souk, offering cinnamon, ginger, saffron, chili, and many other spices from around the world.
Travel tip: Know how to haggle! Spending some time negotiating prices can get you better deals, and offering to pay in cash also may earn you a discounted rate.
FIND & BOOK A HOTEL IN DUBAI TODAY
Dubai Attractions | 13. Check Out the Theme Parks at Dubai Parks & Resorts
Dubai Parks & Resorts is the biggest theme park in the world, encompassing 25 million square feet, and it actually combines five smaller theme parks:
Legoland Dubai
Legoland Waterpark
Motiongate Dubai
Bollywood Parks Dubai
Riverland Dubai
Guests can buy tickets to each park individually, or can purchase one ticket to access all of the parks. A four-park pass for entry to Legoland Dubai, Legoland Waterpark, Motiongate Dubai, and Bollywood Parks Dubai costs AED 495 per person. Children under three are free. Riverland Dubai has no entrance fee, so guests who don't have tickets to the other areas can still experience the themed characters who wander the parks.
FIND & BOOK A HOTEL IN DUBAI TODAY
Dubai Attractions | 14. Take in the Views of Dubai Marina
Dubai Marina is entirely man-made, spans 8km (5m) long, and is a popular route for runners. The residential buildings along the marina make up part of the iconic Dubai skyline. Dubai Marina has a variety of bars and restaurants to choose from, and offers boat trips from which you can get a better view of the buildings. See Dubai Marina from above by riding the exhilarating zipline that goes across the marina.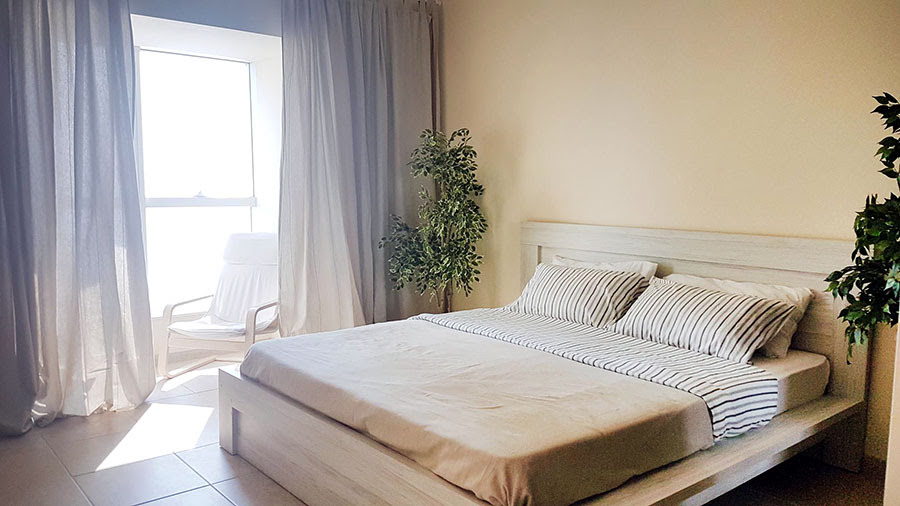 FIND & BOOK A HOTEL IN DUBAI TODAY
Dubai Attractions | 15. Spend a Night at Dubai Opera
Right next to Burj Khalifa and The Dubai Mall, located in Downtown Dubai, you'll find the Dubai Opera. Since opening in 2016, the opera house has hosted many well-known musicals, singing performances, dance companies, and many other events. The unique design of Dubai Opera allows it to easily transform from a theater into a concert hall or into an event or banquet hall. The Dubai Opera has seats for 2,000 people but guests should book tickets in advance to ensure they won't miss a performance.
Four tours of the Dubai Opera are available:
Architecture tour: Admire the design and architecture of the Dubai Opera, from the 3-story chandelier to the sculptures and artwork found around the opera house. Tours last 45 minutes. This tour costs AED 75 per adult and AED 40 per child between 3 and 16 years old.
Backstage tour: Explore the auditorium, dressing rooms, backstage areas, sound room, piano and trap room, and the seat storage area. Tours last 45 minutes. The price is AED 95 per adult and AED 65 per child between 3 and 16 years old.
Grand tour: See everything the Dubai Opera has to offer and experience it all. Tours last 60 minutes. The price is AED 125 per adult and AED 75 per child between the ages of 3 and 16.
Grand tour with breakfast at At.Mosphere: Finish off your Grand tour with a decadent breakfast at At.Mosphere, the restaurant on Level 122 of the Burj Khalifa. Tours last 60 minutes; breakfast is up to 1.5 hours. The price is AED 450 per adult and AED 250 per child between the ages of 3 and 16.
A popular past-time for visitors is to dress up for an event at Dubai Opera and then take photos in front of the Dubai Opera letters outside the building alongside the illuminated water feature. This opera house is the first in Dubai and offers a rooftop restaurant and sky garden with incredible views of The Dubai Fountain and Burj Khalifa.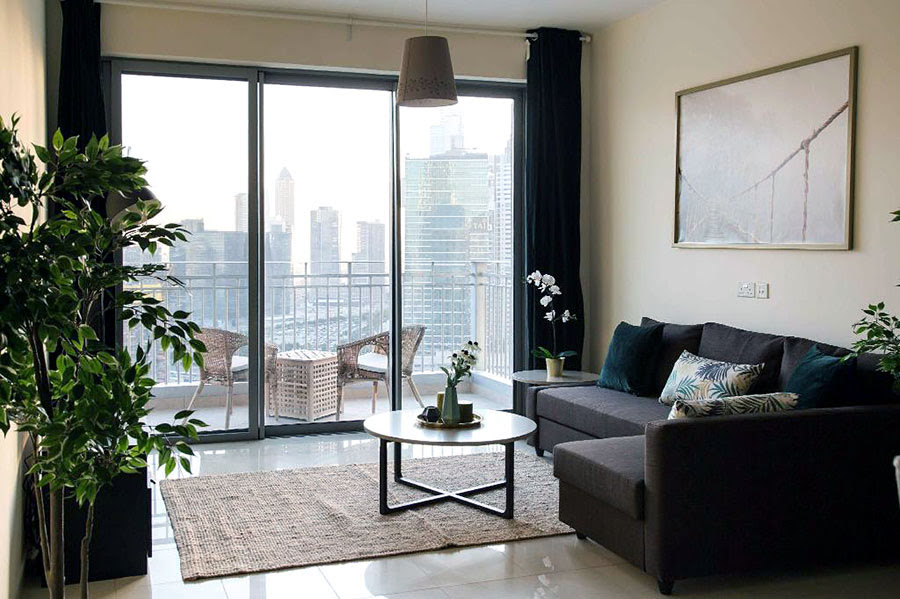 FIND & BOOK A HOTEL IN DUBAI TODAY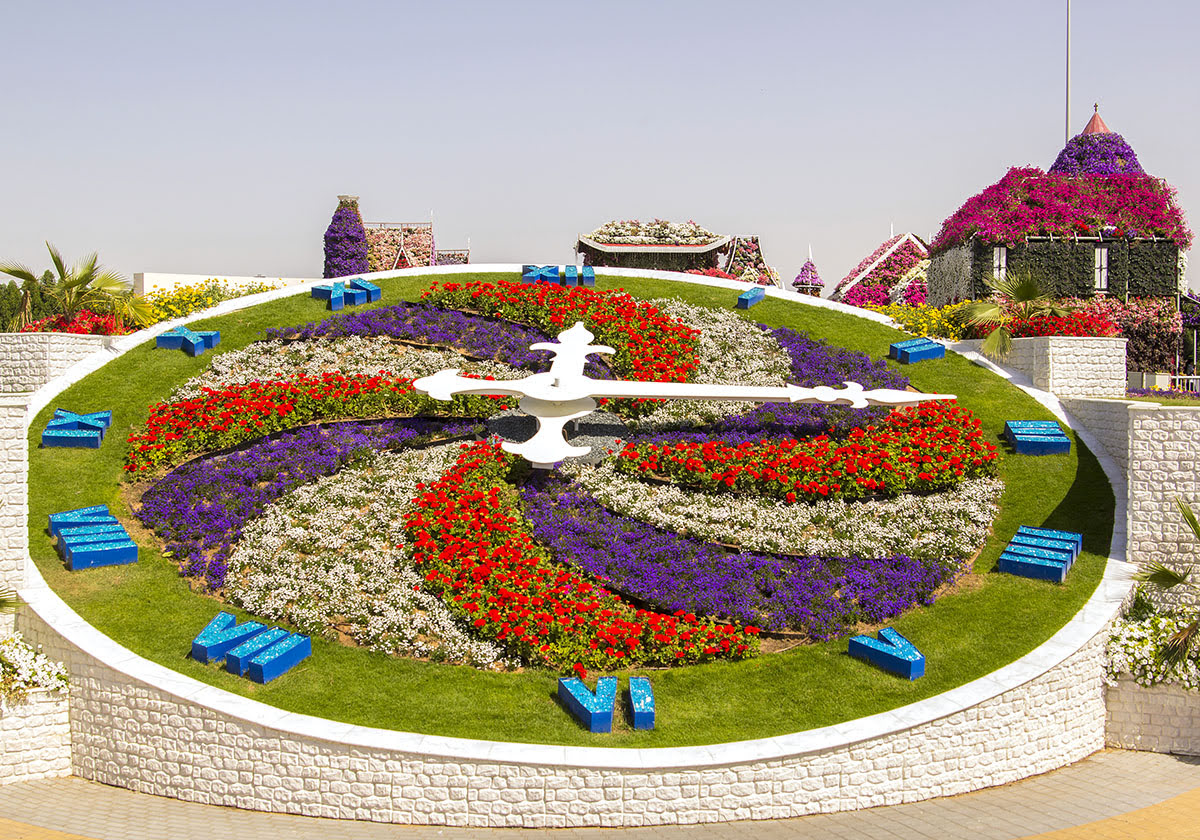 Dubai Attractions | 16. Stroll Through Dubai Miracle Garden
Another world record-breaker located in Dubai is Dubai Miracle Garden, where visitors will find the world's largest floral installation – an Emirates A380 plane made of 5 million flowers. There are 109 million blooms in Dubai Miracle Garden, 100,000 of which make up a 5m (18ft)-tall Mickey Mouse figure. Other installations in the garden include a floral clock, a floral castle, and the extremely popular and often photographed Hearts Passage.
Dubai Miracle Garden is open from October to April. Adult admission is AED 55, and children pay AED 40.
FIND & BOOK A HOTEL IN DUBAI TODAY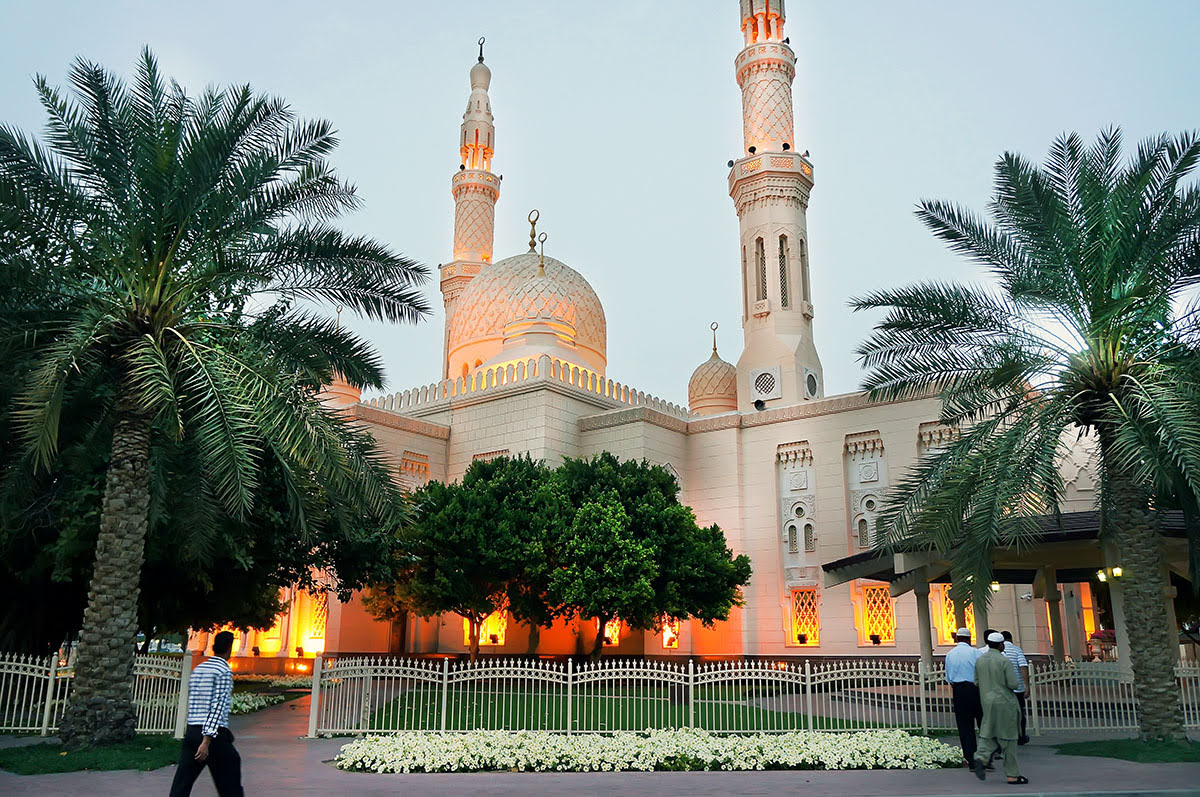 Dubai Attractions | 17. Visit Jumeirah Mosque
Jumeirah Mosque is one of the most popular religious attractions in Dubai and sits north of Dubai Marina. Jumeirah Mosque is one of the two mosques in Dubai where visitors of all faiths are welcome, except on Fridays. Friday is a day of worship for those of the Islamic faith. The mosque has two tall minarets that frame the large dome of the building and make for beautiful photos.
Visitors should dress modestly to enter the mosque; this means wearing long pants or skirts and long sleeves. Women who want to visit Jumeirah Mosque will need to cover their heads with a scarf. If you happen to come unprepared, the mosque has traditional clothing they can provide you with. There is space for up to 1,500 people inside the Jumeirah Mosque.

There are guided tours on the architecture of Jumeirah Mosque and the religion of Islam that are given in English and last approximately 75 minutes, and you will be able to try some local snacks such as dates and Arabic coffee. Tours are provided by Sheikh Mohammed Center for Cultural Understanding. These guided tours take place Saturday to Thursday at 10am. It's recommended that visitors be in line 15 minutes early. The tour costs 25 dirhams, but children under 12 are given free admission.
FIND & BOOK A HOTEL IN DUBAI TODAY
Dubai Attractions | 18. Get a Good View of Palm Jumeirah
Palm Jumeirah is a frequent stop by tourists and locals, and it is home to arguably some of the best hotels and resorts that Dubai has to offer. Palm Jumeirah is a man-made island designed in a palm tree shape which is best seen from up high. Skydiving over Palm Jumeirah is one way to get a good look, but visitors can also purchase a helicopter ride from Atlantis, The Palm, or have reservations at one of the sky-high towers in Dubai Marina. Palm Jumeirah has been called the Eighth Wonder of the World, so it is a must-see area of Dubai.
FIND & BOOK A HOTEL IN DUBAI TODAY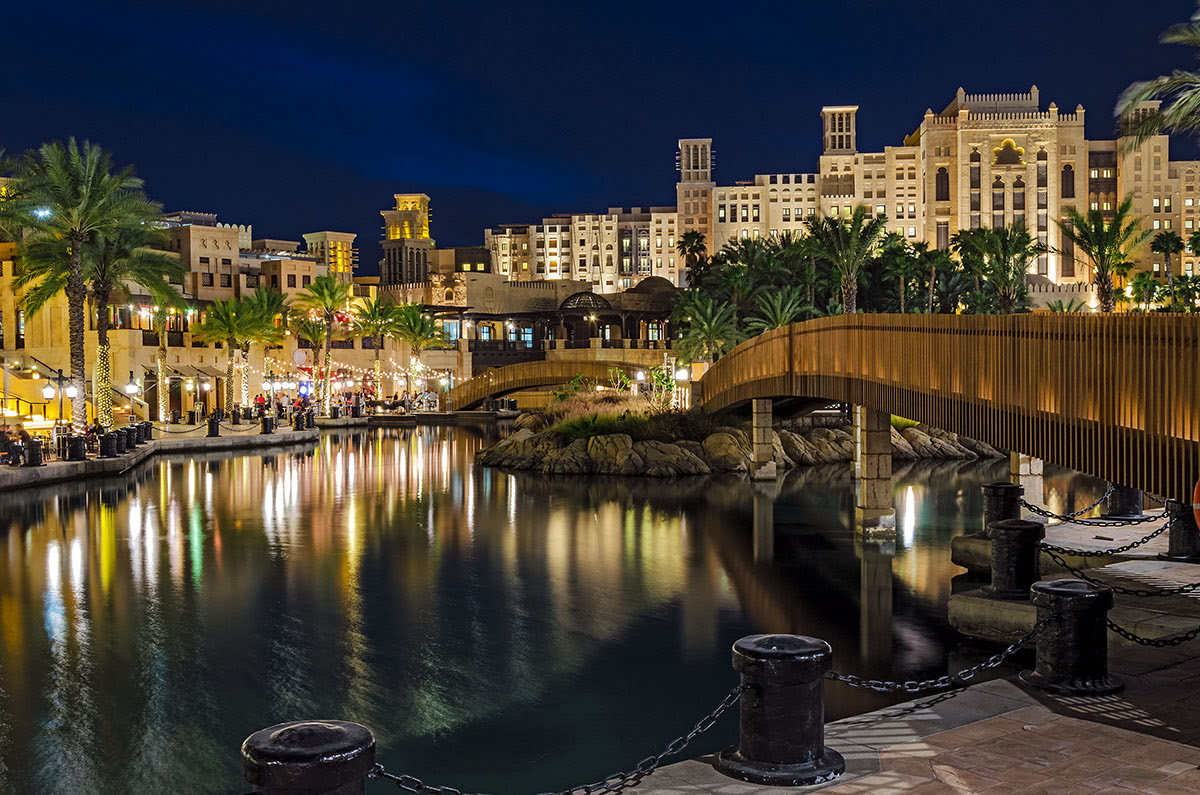 Dubai Attractions | 19. Spend Time at Souk Madinat Jumeirah
Experience ancient Arabia at Souk Madinat Jumeirah. This resort uses 3km (2m) of waterways to connect visitors to all of the resort's facilities via abra, the traditional wooden boat. The area is surrounded by beautiful, lush gardens and decorated in traditional style. There are 50 upscale restaurants and bars inside Souk Madinat Jumeirah, and even a traditional Arabian souk, which is an open-air marketplace.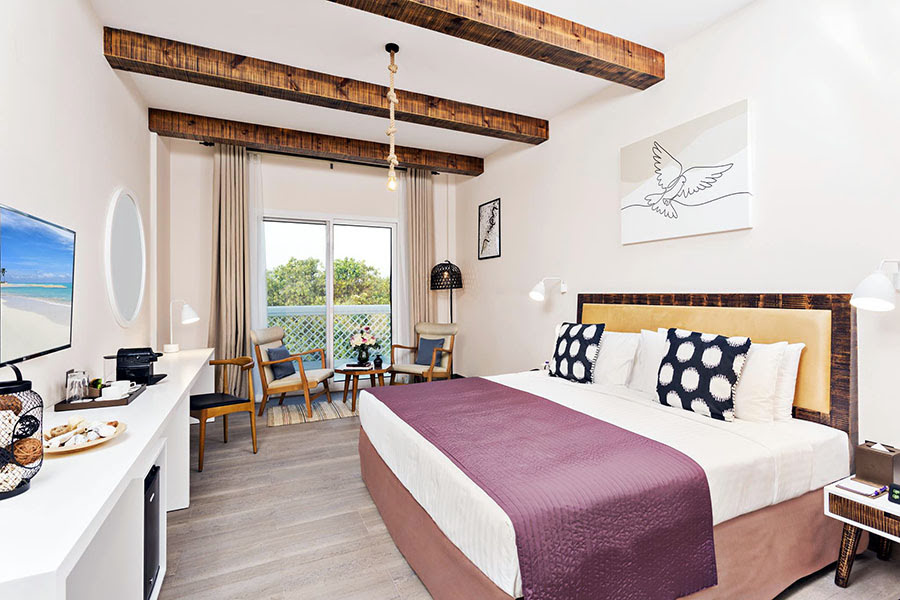 FIND & BOOK A HOTEL IN DUBAI TODAY
Dubai Attractions | 20. Sail Across Dubai Creek
Sail across Dubai Creek on an abra and explore Old Dubai. The boats cross the water nearly every minute, and the short trip will cost you just Dhs 1. From Dubai Creek you can get a better view of the incredible skyline of Dubai, with its tall buildings and domed mosques. Dubai Creek actually divides Dubai into two sections; to the west is the modern metropolis section of Dubai in the Bur Dubai district, and to the east is the "Old Dubai" district of Deira with traditional mosques and markets.
FIND & BOOK A HOTEL IN DUBAI TODAY
Dubai Attractions | 21. Make Friends With Sharks At Dubai Aquarium and Underwater Zoo
Dubai Aquarium and Underwater Zoo has a 10 million-liter aquarium tank and is found on the ground floor of The Dubai Mall.
The Shark Encounter at the Dubai Aquarium and Underwater Zoo lets visitors get up close to sharks from the safety of a diving cage as the sharks are fed. Afterward, guests can go behind the scenes to feed baby sharks and learn more about these often misunderstood animals. The Shark Encounter is AED 630 per person.

Children between the ages of 5 and 15 who are interested in marine animals can join the Junior Aquarist program at the Dubai Aquarium and Underwater Zoo for AED 157.50. Meet an aquarist, assist with feeding the animals, watch a shark feeding, go on a special behind-the-scenes tour, and ride a glass-bottom boat. Booking in advance for this special marine biologist program is required.

Sharks are fed daily at 2pm, and the rays are fed every day at 10:30am, both of which you can watch. King Croc, one of the largest reptiles in the world, is fed each day at 4pm.
FIND & BOOK A HOTEL IN DUBAI TODAY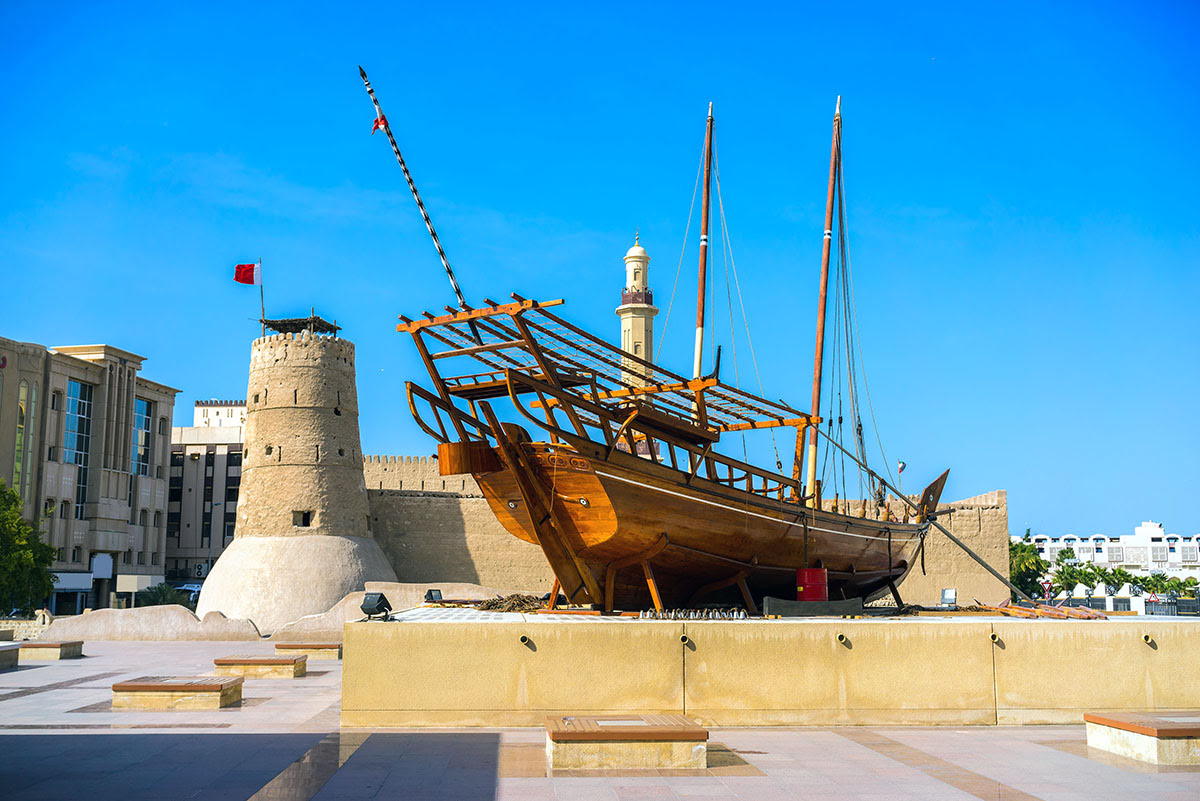 Dubai Attractions | 22. Step Back in Time at Dubai Museum in Al Fahidi Fort
Located in Old Dubai in the Bastakiya Quarter (also called Al Fahidi Historical District) is a historic building filled with life-size displays showcasing Emirati life. Tour the mosques, souks, and Arab households. Dubai Museum is inside Al Fahidi Fort, the oldest building in Dubai. The fort, which is made from coral and shells, once served as a military fortress. There are multiple wings in the museum that are dedicated to different things; for example, market goods from the '50s are found in the markets wing. There is even a folklore wing.
Dubai Museum in Al Fahidi Fort is open from 8:30am to 8:30pm Saturday to Thursday and 2:30pm to 8:30pm on Friday. Admission is just 3 dirhams for adults and 1 dirham for children.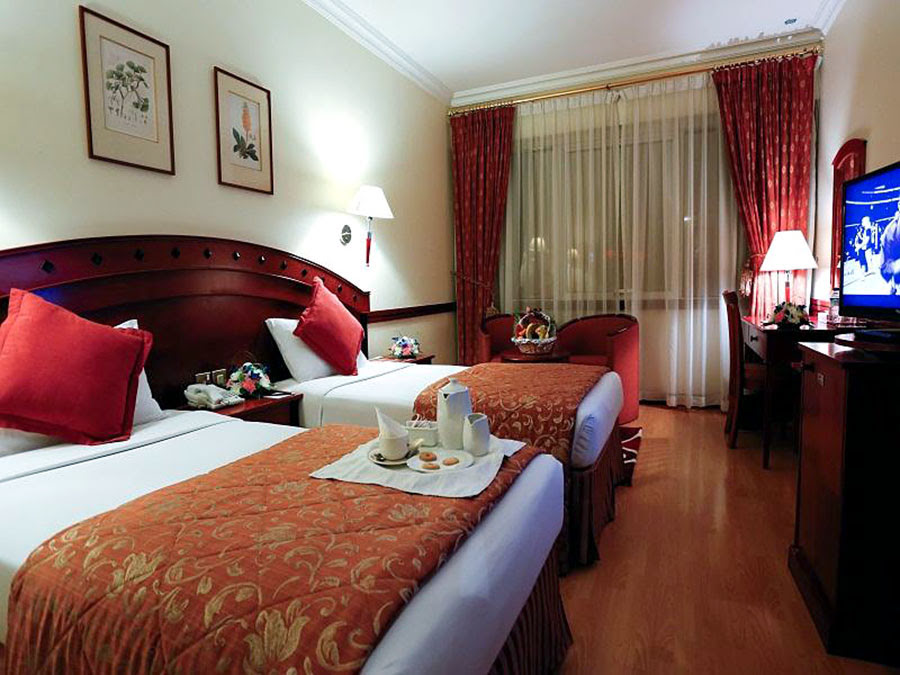 FIND & BOOK A HOTEL IN DUBAI TODAY
Dubai Attractions | 23. Explore Dubai's Global Village
Dubai's Global Village has two main entrances, the Global Gate and the Cultural Gate. Here you'll find themed stalls, presentations, and attractions that represent over 70 countries. In the UAE pavilion, you'll find incense burners, perfumes, and handmade oils. The Turkey pavilion prominently features brightly colored ceramics and glassware. The Palestine and Jordan pavilion has lots of traditional foods to serve guests, and now has a new cultural experiences zone where visitors can learn about the cultures of the two countries.
Be sure to arrive hungry, as there are lots of new flavors and old favorites you can try. Visitors can taste traditional food from all around the world at more than 100 kiosks, cafes, restaurants, and food trolleys around Dubai's Global Village. Whatever kind of cuisine you're craving, whether it's Uzbeck, Bosnian, Italian, or simple fast food, Global Village has something to satiate every palate.

Travel all over the world and visit each country's pavilion for authentic products, foods, and performances from each region. Every weekend the main stage hosts performances, and there are kids shows as well as many street performers.
From November to April, Global Village is open from 4pm to midnight Sunday-Thursday, and 4pm to 1am on Friday and Saturday. Admission is AED 15.
FIND & BOOK A HOTEL IN DUBAI TODAY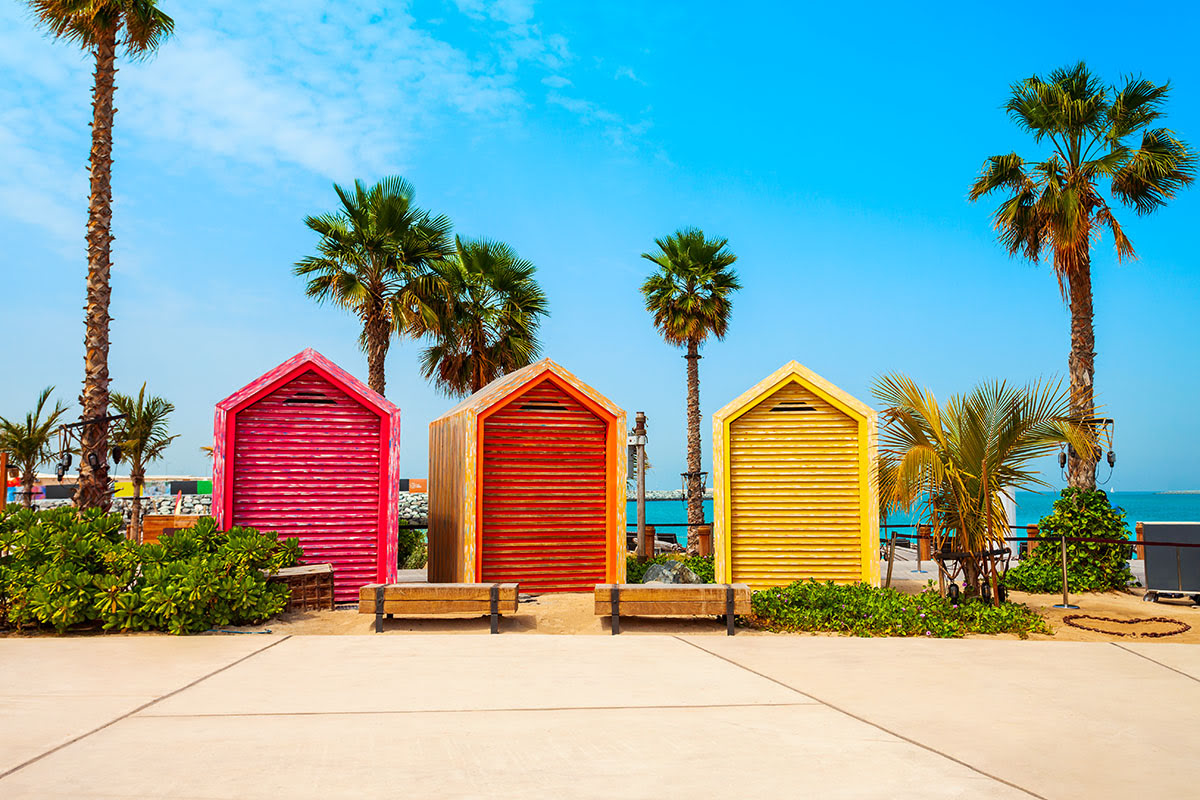 Dubai Attractions | 24. Relax on Jumeirah Public Beach
Within walking distance from Burj Al Arab travelers will find what may be the best shoreline in Dubai – Jumeirah Public Beach. The white sand beach is a great spot to relax and soak in the sun's rays, and the calm water is perfect for water sports. There are lots of areas for picnics and barbecues, and there is a children's playground as well. Jumeirah Public Beach is open from 7 am to 11 or 11:30pm depending on the day, and beach access won't cost anything. Aside from private beaches available to some hotels, Jumeirah Public Beach is the only place in Dubai where visitors can publicly wear swimsuits.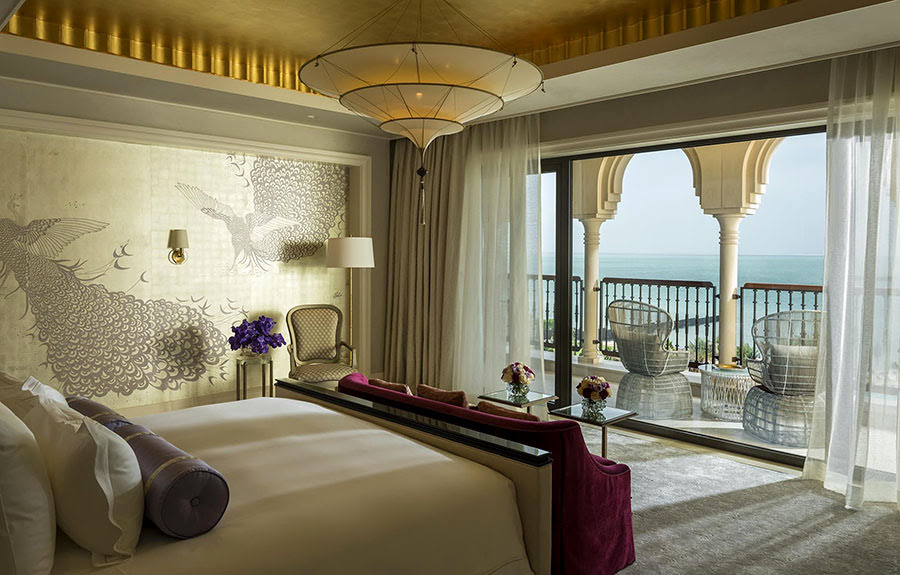 FIND & BOOK A HOTEL IN DUBAI TODAY
Dubai Attractions | 25. Explore Bastakiya Quarter (Al Fahidi Historical District)
Bastakiya Quarter (Al Fahidi Historical District) is part of the historic district of Dubai. Formerly a fishing village, Bastakiya Quarter is named after the Iranian ("Bastak") traders that settled in the area in the 19th century. This is the oldest residential neighbourhood of Dubai that is still standing. The buildings are made from coral, palm wood, mud, and gypsum.
In this neighborhood there are many art galleries that house art from local and international artists. One of the more prominent art galleries here is XVA. Leave time to stop for breakfast or refreshments at the popular outdoor cafe called Arabian Tea House. You can also stop at Sheikh Mohammed Center for Cultural Understanding to learn more about the heritage, religion, and culture of the area. They serve traditional bedouin and Emirati meals throughout the day, so if you have time, stay for an afternoon feast.

Wind towers, an early form of air conditioning, have been restored and can be seen on top of many of the buildings. Dubai Museum in Al Fahidi Fort is found in this area as well. Take an abra across Dubai Creek to Deira, where you can try some ice cream from one of the street vendors or just enjoy walking among the old buildings and traditional souks.
The Bastakiya Quarter is free to explore at any time of day, but temperatures are highest in the afternoon.
FIND & BOOK A HOTEL IN DUBAI TODAY