Kyoto is a diverse city with many unique neighborhoods, each offering something different for travelers. Deciding where to stay in Kyoto should depend on what you want to see and do. From historic sites like Yasaka Shrine and Nanzenji Temple to modern landmarks like Kyoto Tower, the city is brimming with sightseeing opportunities. It is also surrounded by mountains and forests that provide a relaxing escape!
Where to Stay in Kyoto | Downtown Kyoto
A central hub of activity in the city, Downtown Kyoto is the best shopping and dining area. Find restaurants serving up an array of different types of cuisine, as well as numerous department stores carrying all of the latest fashion. One of the best parts of staying in Downtown Kyoto is that the area is relatively easy to navigate on foot. Many of the shopping arcades are also covered, which means that you can still head out on a rainy day.
The focal point for upscale department store shopping in Downtown Kyoto is Shijo Kawaramachi, located at the intersection of Shijo and Kawaramachi streets close to Kawaramachi Station. Kawaramachi Street is additionally known for its Japanese boutique stores, while Shijo Street is home to numerous international brand names. Along Shijo Street, you will also find the famous Nishiki Food Market. The market covers five blocks and consists of over 100 shops, each serving up their own specialty food. At the end of the market is a small but busy Shinto shrine known as Nishiki-Tenmangu Shrine.
Another spot you don't want to miss in Downtown Kyoto is the Pontocho district. This narrow, cobbled alley that runs from Shijo Street is known for its traditional architecture and exclusive restaurants.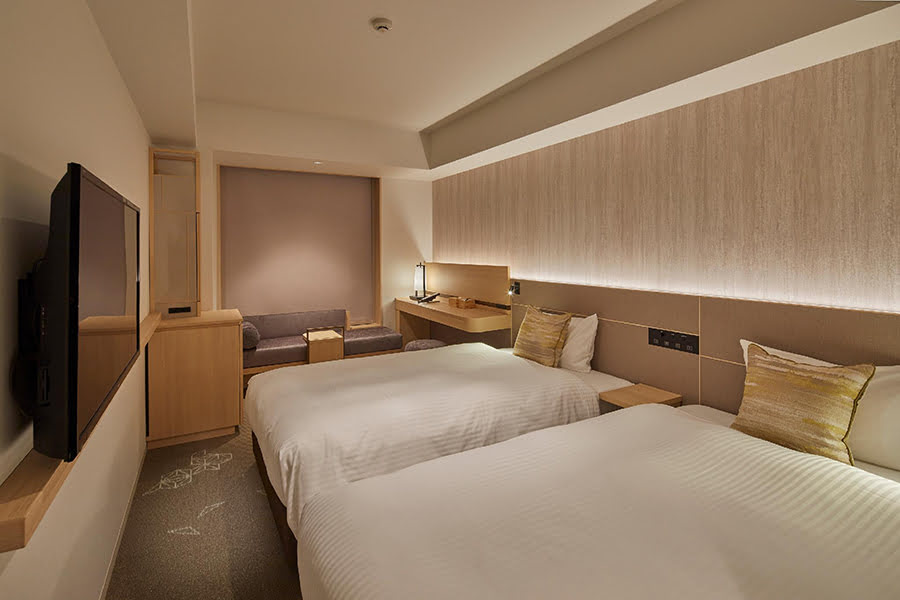 1. Keio Prelia Hotel Kyoto Karasuma Gojo
Keio Prelia Hotel Kyoto Karasuma Gojo is a modern hotel in the heart of the Downtown Kyoto neighborhood. It is a quick walk to Nishiki Food Market and only a four-minute walk to the nearby train station. Guests can enjoy a hot tub, massage services, and a spa. Each comfortable room comes with a minifridge, a flat-screen TV, and free WiFi. There is a restaurant on-site and many dining options nearby as well. You can also choose to include breakfast with your booking.
Address: 396, Gojokarasumacho, Shimogyo-ku, Kawaramachi
2. The Royal Park Hotel Kyoto Shijo
Stay close to all of the action at The Royal Park Hotel Kyoto Shijo. You'll be situated only a minute's walk from the train and within a short distance of fantastic shopping at Shijo Kawaramachi. The well-stocked rooms come with tea and coffee makers, a minifridge, a TV, and free WiFi. For an extra fee, guests can also treat themselves to a buffet breakfast before setting off on their adventures for the day. The street right outside is lined with plenty of good eateries as well.
Address: 668 Nijohanjikicho, Shimogyo, Kawaramachi
3. Kyoto Hana Hotel
Kyoto Hana Hotel is in a convenient location just west of Downtown Kyoto. It is a quick walk both to the train and to great shopping and dining in Pontocho Alley. This hotel also comes with amenities that make it a top choice for families, including bicycle rentals and a family room. For a small fee, you can start your day with a buffet breakfast that is sure to have something for everyone. Rooms come with bright and relaxed decor for a comfortable stay.
Address: 2-53-1 Ohashi-Higashi, Sanjo-dori, Higashiyama-ku, Gion, Kyoto, Japan, 3
FIND & BOOK A HOTEL IN KYOTO TODAY
Where to Stay in Kyoto | Kyoto Station Area
If you want easy access to everything that Kyoto has to offer, then you should stay in the vicinity of Kyoto Station. The main transportation hub in the city, it has grown into a vibrant shopping, dining, and entertainment area. In fact, Kyoto Station itself is the second-biggest station building in Japan and one of the largest buildings in the entire country. It's also one of the best examples of modern architecture in Kyoto. The large glass building contains a shopping mall, a department store, a movie theater, and more. Travelers coming in from elsewhere in Japan via train will likely arrive in Kyoto Station, as it has high-speed rail links to the country's other major cities. You can then catch a train or a bus to most other sights in Kyoto.
You don't have to go far to see another one of the area's major landmarks, as Kyoto Tower is located right across the street from the station. Reaching a height of 430 feet, it is the tallest structure in Kyoto. The tower features an observation deck with panoramic views, and the building underneath houses a shopping complex, multiple restaurants, a tourist center, and even a public bathhouse. Other must-visit attractions in the Kyoto Station area include the Kyoto Aquarium, the Kyoto Railway Museum, and the Costume Museum.
1. Mitsui Garden Hotel Kyoto Station
If you want to stay near Kyoto Station, then it doesn't get any closer than Mitsui Garden Hotel Kyoto Station. Since one of the country's largest train stations is just a hop away, planning your itinerary will be easy. The well-appointed rooms come with a tea and coffee maker, WiFi, a flat-screen TV, and an air purifier. There is also a dining area that serves complimentary hot drinks and a buffet breakfast for a small extra fee, which past guests say is very tasty.
Address: 848 Higashi-Shiokojicho
2. Kyoto Tower Hotel
Stay right underneath the iconic Kyoto Tower by booking a room at the Kyoto Tower Hotel. Take advantage of discounted tickets to the observation deck and discounted entry to the bathhouse. The Kyoto Tower Building is home to numerous restaurants and a Food Hall with 19 different vendors as well. The hotel is within walking distance of many nearby attractions and right across the street from Kyoto Station. It also offers full-service laundry and themed rooms that kids will love, so it is a top choice for families.
Address: 721-1, Higashi-Shiokouji, Karasuma-dori, Shimogyo-ku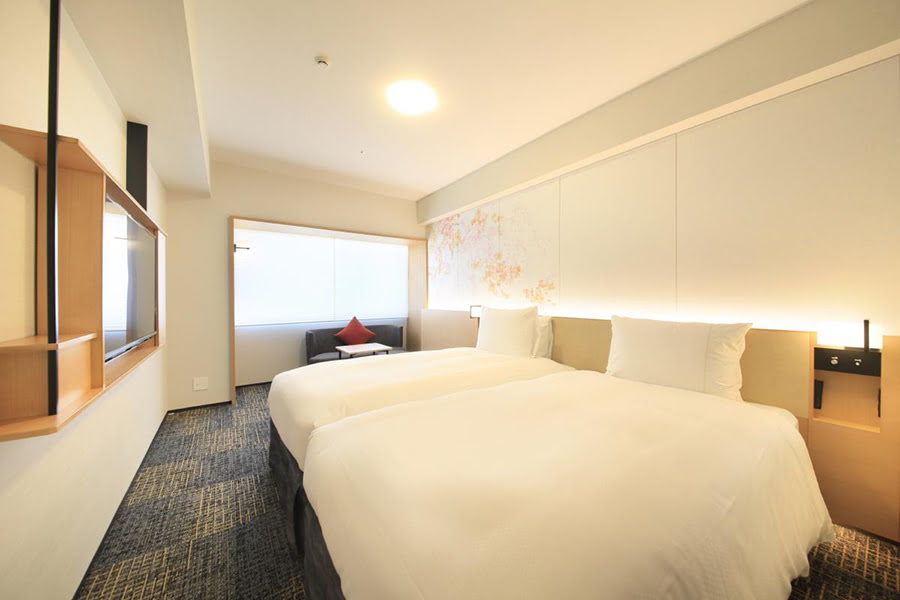 3. Richmond Hotel Premier Kyoto Ekimae
Richmond Hotel Premier Kyoto Ekimae sits just south of Kyoto Station, on a lively road with plenty of eateries where you can grab a bite to eat. It is an excellent choice for both business and leisure travel and comes with numerous amenities for hotel guests. Free WiFi, on-site laundry facilities, a 24-hour front desk, and smartphone chargers make for a convenient stay. The rooms are compact but come with everything you could need, including a minifridge, tea and coffee makers, and a TV.
Address: Shimogyo-ku, KitaFudodo-cho563-3
FIND & BOOK A HOTEL IN KYOTO TODAY
Where to Stay in Kyoto | Southern Higashiyama
Higashiyama is a sprawling area encompassing the eastern portion of Kyoto, situated alongside the Higashiyama mountain range. There is a wide array of sightseeing opportunities here, including most of Kyoto's significant shrines and temples, as well as traditional streets that you can easily spend a whole day exploring. Fantastic dining and shopping spots abound, making this a great place to stay in Kyoto if you are looking for a little bit of everything.
Due to its size, Higashiyama is divided into a southern and a northern section. Southern Higashiyama is located directly east of Downtown Kyoto and the Kyoto Station area. One of the main attractions in Southern Higashiyama, and, in fact, in all of Kyoto, is the Kiyomizu-dera Temple. Founded in 778, it is most famous for the large veranda that overhangs the hillside and offers spectacular views of the city below.
The traditional streets surrounding Kiyomizu-dera Temple are important landmarks in and of themselves. Winding its way up to the temple, Chawanzaka Street is lined with shops selling lovely pottery and other types of souvenirs. Two more famous streets near the temple, Sanneizaka (Sannenzaka) and Nineizaka (Ninenzaka), are among the most popular shopping streets in the city. You'll find all manner of goods here, including traditional crafts, incense, figurines, tea, and local sweets.
Sannenzaka and Ninenzaka connect to Nene-no-michi, a major pedestrian thoroughfare flanked by more traditional shops, homes, temples, and teahouses. Nene-no-michi connects to many of the area's other major attractions, including Kodaiji Temple, Kenninji Temple, and Yasaka Shrine.
1. THE MACHIYA Kamiumeya
THE MACHIYA Kamiumeya is centrally located in Southern Higashiyama and just down the road from Kiyomizu-dera Temple. It's also a short walk to the train for access to the areas other major sightseeing spots. WiFi in all rooms and public areas will keep you connected, and other convenient services like luggage storage and 24-hour check-in make it easy to plan your travels. This is a kid-friendly hotel with comfortable, clean, and tastefully appointed rooms where you can relax after a long day of exploring.
Address: 161-2, Kamiumeyacho, Higashiyama-ku
2. Kyoto Granbell Hotel
Staying a Kyoto Granbell Hotel means you will be able to make your way over to the top-notch shopping and sightseeing along Nene-no-michi within minutes. It's just a three-minute walk to the train station as well. While relaxing at the hotel, you will also be able to enjoy complimentary coffee and a dip in the public bathhouse. Other highlights include a laundry facility, an on-site restaurant and bar, and breakfast available for a small additional fee. WiFi and a TV come standard in every room.
Address: 27 Yamatocho, Higashiyama, Gion
3. GOOD NATURE HOTEL KYOTO
True to its name, GOOD NATURE HOTEL KYOTO offers a comfortable stay. A central location provides convenient access to the area's main sites, including Yasaka Shrine, and the hotel is just a two-minute walk from the nearest train station. There is a bar and a restaurant on-site, and free WiFi is provided to all guests. Children under 13 can even stay for free if they do not require an additional bed.
Address: 318-6 Inaricho, Shijo-Ku, Shijokyo -ku, Shimogyo Ward
FIND & BOOK A HOTEL IN KYOTO TODAY
Where to Stay in Kyoto | Northern Higashiyama
Like its southern counterpart, Northern Higashiyama is an area teeming with shrines, temples, and other great sightseeing spots. It is a very well preserved neighborhood that will have you feeling like you've stepped back in time. Pick a picturesque street to take a stroll, and you'll quickly come across many shops, restaurants, and attractions. This is also an excellent place to stay if you are interested in Japanese culture and history because it has some fantastic museums as well.
The most popular pedestrian walkway in the area is the Philosopher's Walk. It is a scenic route lined with restaurants and cherry trees (making it all the more lovely in the spring) that takes about 30-minutes to walk from end to end. The Philosopher's Walk also connects two of the most famous temples in Northern Higashiyama. On the north end of the street, you'll find Ginkakuji Temple, a simple but beautiful temple constructed in 1482 that provides a nice spot to relax. At its southern end, the path leads to Nanzenji Temple, a Zen Buddhist temple set amidst the mountains that also happens to be one of the best spots to view the autumn leaves in Kyoto.
1. Ryokan Inn Yoshida-sanso
Ryokan Inn Yoshida-sanso is a traditional style building that once served as a royal residence, helping you immerse yourself in the atmosphere of Higashiyama. The rooms feature classic tatami mats and offer either garden or mountain views. Bookings include breakfast, and free WiFi is offered in all rooms and public areas. A great location provides access to many of the area's must-see landmarks as well.
Address: Sakyo-ku Yoshida Shimooji-cho 59-1
2. Rokuroku
Rokuroku is a top option for travelers on a budget. This clean, charming, and convenient hostel offers single-sex dorms and privacy curtains on each bed, or you can choose to book a private room instead. Guests can use the free WiFi and complimentary computers to stay connected online and take out a loner bike to explore the surrounding area as well. It is just an easy walk (or bike ride) from the property to Ginkakuji Temple and many other important landmarks in Northern Higashiyama.
Address: 28-1, Shishigatani Nishiteranomaecho, Sakyo-ku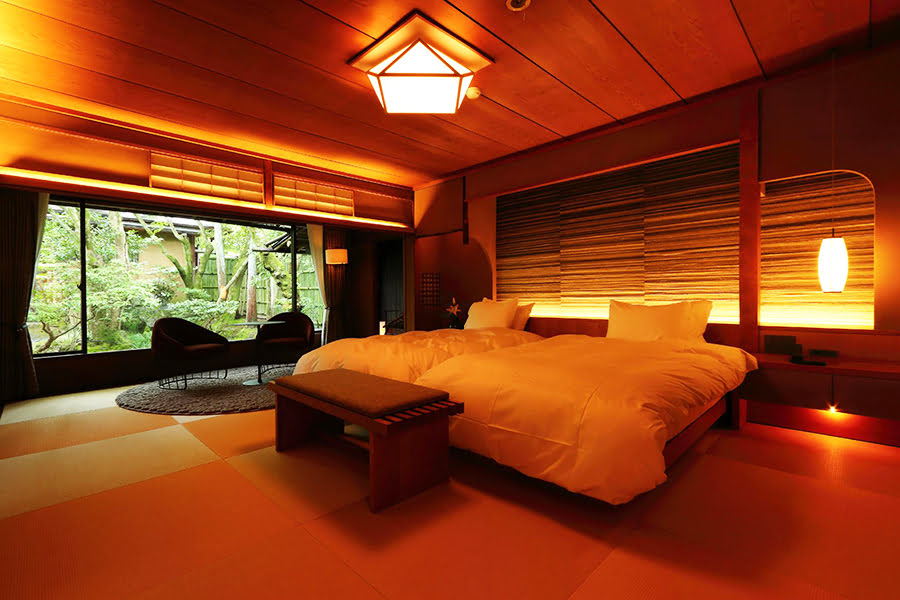 3. Nanzenji sando KIKUSUI
You won't be able to find closer accommodations to Nanzenji Temple than Nanzenji sando KIKUSUI. The hotel is also just an eight-minute walk to the train, making it a breeze to get around. The serene rooms feature views of the garden, and some even come with their own terrace. Guests are treated to numerous free amenities, including WiFi, parking, and breakfast. The property also has a hot tub and restaurant so you can enjoy a relaxing evening.
Address: 31 Fukuchi-cho Nanzenji Sakyo-ku, Gion
FIND & BOOK A HOTEL IN KYOTO TODAY
Where to Stay in Kyoto | Arashiyama
The Arashiyama neighborhood lies to the west of Downtown Kyoto and is centered on the Katsura River as it flows through the surrounding mountains. It is a lively tourist spot with plenty of cultural sights to see. The area is particularly well-loved for its ample natural charms, and it has been nationally designated as a Place of Scenic Beauty. The most iconic feature of Arashiyama is the Togetsukyo Bridge, which spans the river and offers an incredible view of the surrounding scenery that changes drastically with the seasons.
Another must-see sight in Arashiyama is the Bamboo Forest, a natural gem on the edge of the city and one of the most photographed spots in Kyoto. Take a stroll underneath the tall stalks of bamboo towards Tenryuji Temple, a Zen Buddhist temple known for its landscaped garden. At the other end of the paths that lead through the Bamboo Forest lies the Okochi Sanso Villa. Formerly the residence of Japanese actor Okochi Denjiro, the villa is now open to the public and provides wonderful views of the city. Its expertly planned and cultivated garden is a treat as well.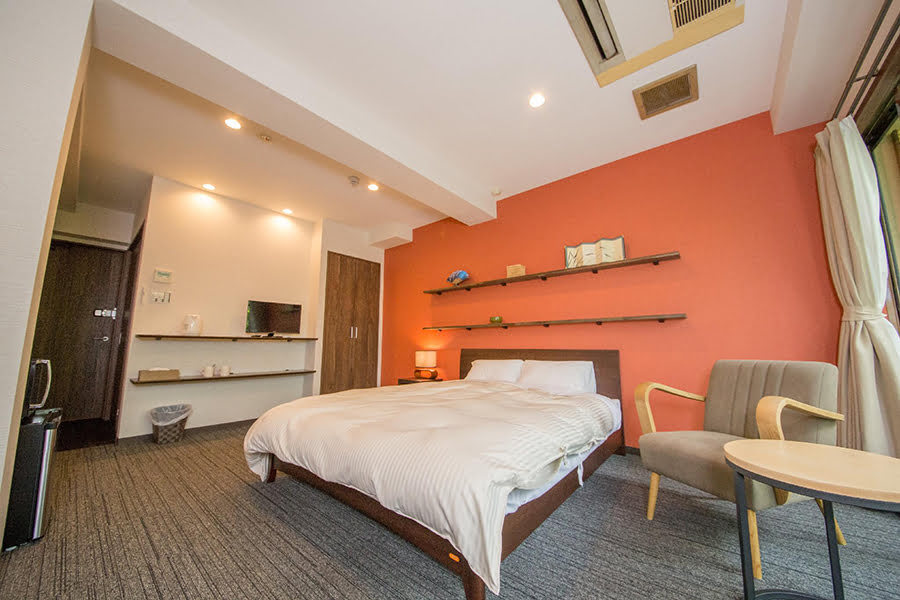 1. Japaning Hotel LiV Ranroukaku
Japaning Hotel LiV Ranroukaku is located right on the river, on the south end of the Togetsukyo Bridge. If you want to stay close to beautiful parks and walking paths, this is the hotel for you. Plus, it's just a five-minute walk from the train station for convenient travels. Elegant rooms come with everything you need, including WiFi, a minifridge and tea. Upgraded rooms also come with a whirlpool tub and a separate living area. Room bookings include a free breakfast.
Address: 54-2 Arashiyama Nakaoshita-cho, Nishikyo-ku, Arashiyama
2. Hanaikada
Hanaikada is another excellent option for staying on the river. It is mere steps away from the Togetsukyo Bridge and a ten-minute walk from Tenryuji Temple. Rooms feature traditional touches and decor, and some can sleep as many as 12 guests. Choose an upgraded room to enjoy a private open-air soaking tub filled with natural spring water. Indoor and outdoor communal baths are available for all guests, as is an area shuttle that can take you to all of the top landmarks in Arashiyama.
Address: Nishikyo-ku Arashiyama Nakaoshitacho 57, Arashiyama
3. YADO ARASHIYAMA
YADO ARASHIYAMA is a nicely appointed hotel close to the river and just a few minutes away from the train. The simple but delightfully cozy rooms provide free WiFi and a minifridge, and the hotel offers full laundry service as well. The on-site restaurant is also a great spot to grab a meal and relax, as it features a bar and a fire pit area. Children under six are welcome to stay for free as long as they do not require an additional bed.
Address: 45 Arashiyama Nakaoshitacho, Nishikyo-ku, Arashiyama
FIND & BOOK A HOTEL IN KYOTO TODAY
Where to Stay in Kyoto | Kurama & Kibune
For an escape into nature, go north of Kyoto to the villages of Kurama and Kibune. Located only half an hour away from the city center, the two villages seem to be a world away. While most travelers make a day trip out to this area, it is also a very relaxing place to stay and unwind for a few days. There are some lovely hiking trails and landmarks to visit at your leisure.
The village of Kurama is located on the west side of Mount Kurama. The main point of interest to see here is the Kurama Temple, which is about a one-hour hike or a cable-car ride from the village up the mountain. Constructed in 770, the temple is surrounded by thick forests, and the main hall offers breathtaking views. Behind the temple is a hiking trail that you can follow to Kibune, which is located in a valley on the east side of the mountain. In Kibune, make sure you visit the tranquil Kifune Shrine and take in the seasonal blooms along the river. If you are hiking back to Kurama (as well, then you can head to the Kurama Onsen Spa when you are done to rest your feet and muscles.
1. Ohara OnsenYumoto Kyo No Minshuku Ohara No Sato
Ohara OnsenYumoto Kyo No Minshuku Ohara No Sato provides a serene setting amidst forests where guests can feel like they've truly gotten away from it all. The rooms are simple but comfortable and outfitted with traditional features like a chabudai dining table and tatami mats. Take in the view over the gardens from your screened-in balcony or make use of modern amenities like a TV and WiFi. The hotel is also an established hot spring, so you can go for a soak in the mineral waters as well.
Address: 41, Kusao-Cho, Oohara, Sakyo-Ku, Kyoto-shi, Ohara
2. Ryoso Chatani
Ryoso Chatani offers gorgeous mountain views and outdoor activities like hiking, fishing, and cycling. Guests are even provided with a complimentary bike if they would like to head out and explore. Rooms have a shared bathroom and come with all other amenities you will need for your stay, including free WiFi and a flat-screen TV. Larger rooms also come with a seating area and are a good choice for families. An on-site restaurant and hot spring bath help complete your northern Kyoto getaway.
Address: Sakyo-ku Ohara Kusaocho 160, Ohara
3. Kurama Onsen
The popular Kurama Onsen Spa is located on the property of the Kurama Onsen hotel. It is the perfect place to book your stay if you want to be able to step right out to Kurama village. Traditional rooms provide relaxing woodland views as well as free WiFi and TV. The property is also only a ten-minute walk from the train station, making it simple to get to and from Kyoto. Best of all, dinner and breakfast are both included with your booking.
Address: 520 Kurama-honmachi, Sakyo-ku
FIND & BOOK A HOTEL IN KYOTO TODAY