Located on the west coast of the island, Patong Beach is the most popular beach in all of Phuket. The name of the beach is also synonymous with the town of Patong, and together the two make up the largest tourist resort on the island. You can start your days by soaking in the sun and enjoying the water at Patong Beach and make your way to Bangla Road after sunset for a wide range of nightlife opportunities. There are endless shopping and dining options in Patong as well, offering everything you need for a complete vacation experience. With so much to see and do, it can help to have a handy guide to tackling this tropical getaway.
About Patong Beach
Patong Beach is often referred to as the party capital of Asia, so expect a lot of excitement and throngs of lively tourists. It is bright, bold, loud, and rambunctious, and this makes it quite popular among groups of younger singles and friends. However, Patong is also a welcoming locale that sees many different types of visitors. It is popular among couples looking to have a romantic time and even among families with younger children. There are plenty of activities for people of all ages and all interests in this eclectic beach resort. If you do like to party, then you will be spoiled for choice. But, if the party scene isn't your style, you can spend time relaxing at one of the many upscale spas or shopping at the high-end boutique stores.
The hustle and bustle of Patong Beach can feel a little overwhelming for first-time visitors, but you will have an amazing vacation if you approach your stay with the right strategy and attitude. It might seem like you need to run around and take in as much of Patong as you can, but the trick is to pace yourself, stay hydrated, and focus on the activities that most interest you. If you want to stay in a quieter area, then look for accommodations in the north or south of Patong. You'll still be able to walk to the beach, but you won't have to contend with as many crowds.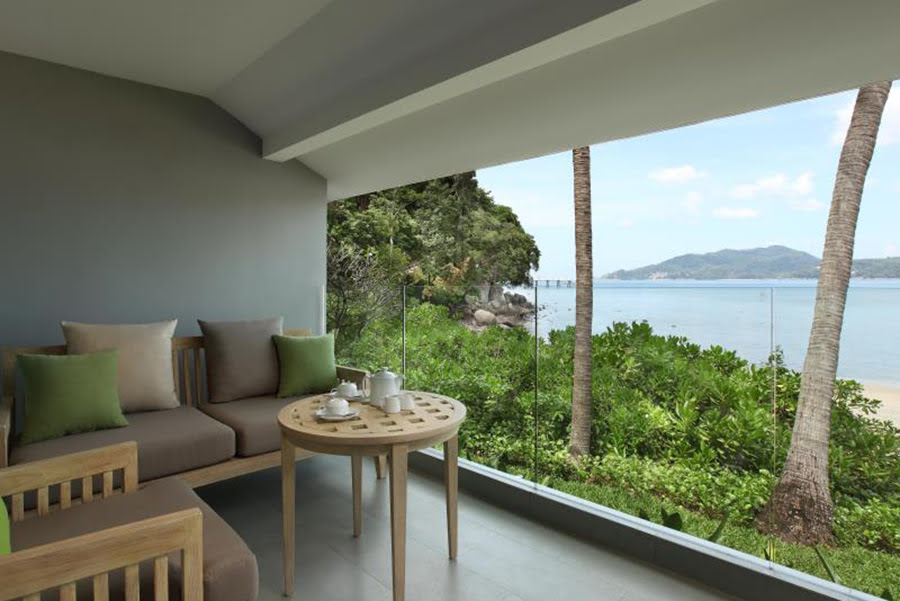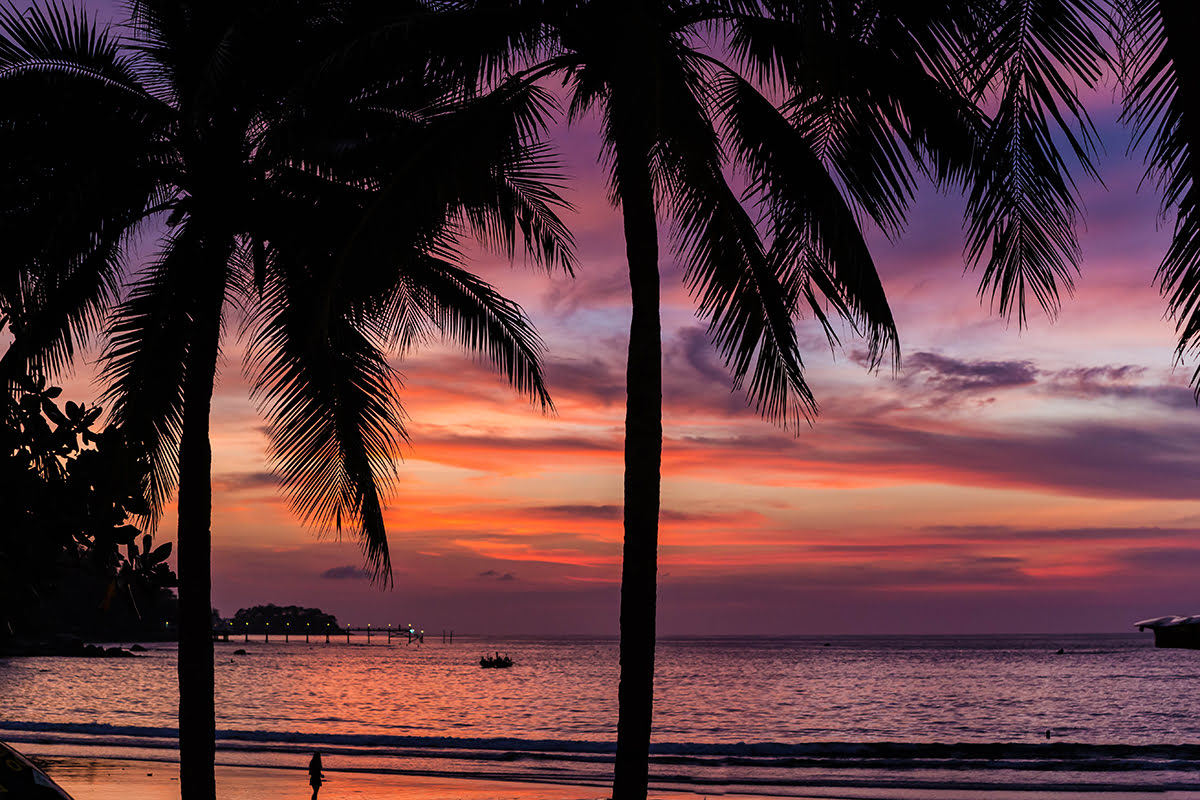 Best Time to Visit Patong Beach
If you want the ideal weather for your Phuket beach vacation, then the best time to visit Patong Beach is between mid-December and the end of February. Temperatures in Patong stay fairly steady throughout the year, but the precipitation and humidity do change. The winter season sees the fewest amount of rainy days, making it the safest time to enjoy the beach and the outdoors. Precipitation increases during the spring (March to May), and humidity makes these months feel the hottest. Moderate precipitation continues during the summer (June to August), but temperatures feel more comfortable. Fall (September to November) sees the most precipitation, but high humidity and slightly lower temperatures combine for a pleasant feel when it is not raining.
Aside from the weather, another factor you'll want to take into account when visiting Patong Beach is the crowds. The peak month for tourism is January, as that is when the weather is best. The crowds spike again in July and August when most travelers take their vacations. May tends to see the fewest visitors relative to peak times, and the fall season is slower as well, but, of course, the popular resort town still sees plenty of activity year-round.
FIND & BOOK A HOTEL IN PATONG, PHUKET
How to Get to Patong Beach
The main point of entry for most tourists to Patong Beach or to elsewhere in Phuket is through Phuket International Airport. Though the airport is located in the north of the island, it is only about 25 miles away from town by road, and the drive takes roughly an hour. There are several different options for getting from the airport to your hotel in Patong, depending on your budget and travel preferences.
Transportation options from Phuket International Airport
Taxi: One of the most common and convenient options for getting to Patong, taxis are available right outside of the domestic and international terminals. The cost of a ride from the airport to Patong Beach is about 700 baht (including the airport surcharge).
Limousine: For a more comfortable journey from the airport, you can choose to hire a newer and more luxurious airport limousine, which is typically a larger sedan. A limousine is only slightly more expensive than a taxi and definitely a good choice after a long flight.
Shared minibus: Catching a ride on a shared minibus is easily the best value for your money. Tickets cost around 200 baht per person, and the buses are very comfortable. However, the bus will wait to fill with passengers and other passengers may be dropped off before you, making the journey slightly longer.
Phuket Smart Bus: The Phuket Smart Bus is the most affordable option for getting from the airport to Patong Beach. It comes to both the domestic and international terminals and then heads down the west coast of the island, stopping at major destinations along the way. It costs around 150 baht and takes about an hour and a half to reach Patong.
Getting around Patong Beach
Once you are in Patong Beach, you will likely be getting around town on foot. All of the major tourist spots such as the beach, restaurants, shopping areas, nightlife, and accommodations are within walking distance to one another. If you need to go a further distance, there are always plenty of tuk-tuks and taxis around. When taking an unmetered tuk-tuk, make sure you negotiate the price ahead of time. A short trip should cost about 100 to 200 baht. Motorbike taxis are a cheap and convenient option for short distances as well. Metered taxis, on the other hand, are generally a more comfortable and more affordable choice for longer journeys.
FIND & BOOK A HOTEL IN PATONG, PHUKET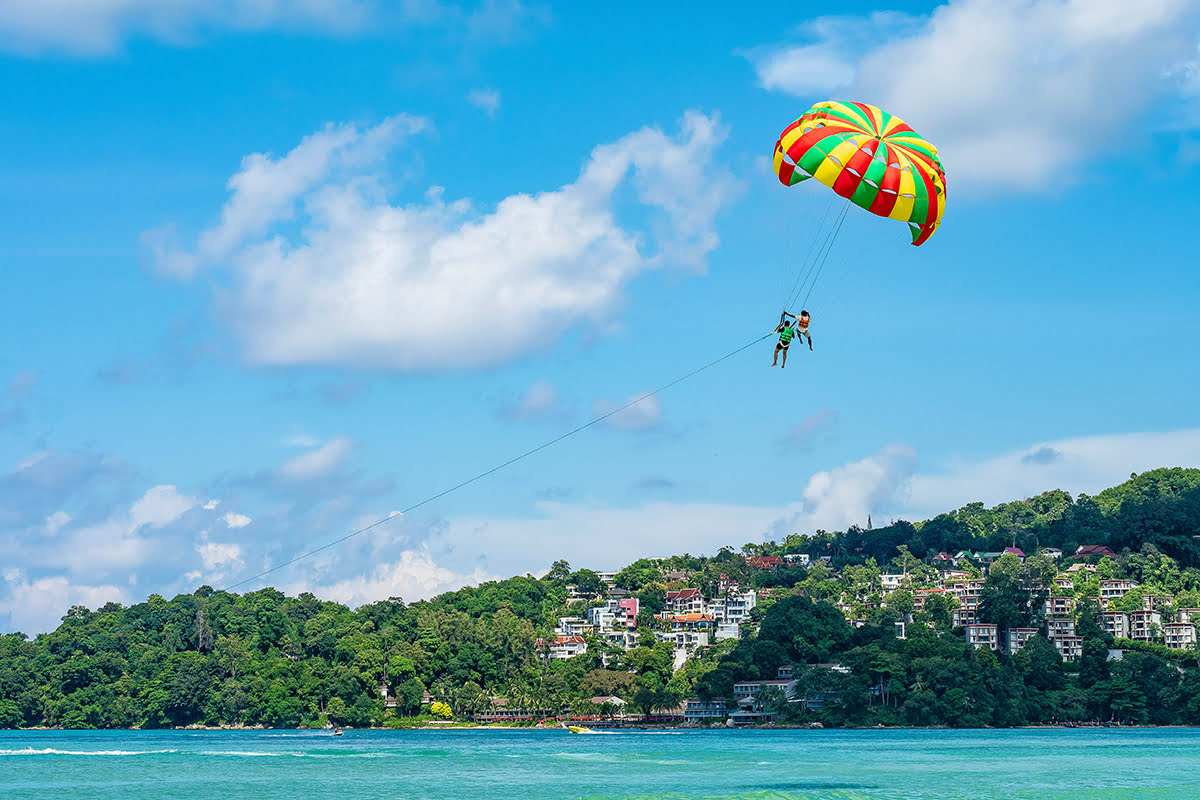 Top Activities on Patong Beach
With a wide array of available activities, it is easy to spend an entire day on Patong Beach. There is something for everyone to do, from the vacationer looking to maximize their relaxation time to the thrillseeker looking for an adrenaline rush, to any type of traveler in between. Here is a look at the most popular activities on Patong Beach. (Some activities may be temporarily unavailable during quarantine periods.)
Swimming and sunbathing
Like any top-rate tropical beach, Patong Beach is a fantastic place for typical beach activities like swimming, sunbathing, and building sandcastles. Stake your place in the sand by putting down your towel or renting a sun lounger and go for a dip in the water. The water temperature is pleasant and perfect for wading or for enjoying a swim. The sun shines more often than not, and even rainier days will have several sunny spells where you can enjoy some suntanning. Make sure that you always put on sunscreen and that you take breaks in the shade from time to time.
Beach massage
Travelers who really want to unwind can choose to get a beach massage. There are plenty of vendors located on the beach offering massage services, and chances are that wandering masseurs will also come and ask if you are interested in their services. They typically offer foot massage, head massage, or a full-body massage using traditional Thai techniques. Sit back and listen to the sound of the waves as your worries are massaged away. Another upside of getting a beach massage is that it is usually much more affordable than at a spa.
Water sports
Patong Beach is a popular spot for watersports, namely parasailing, windsurfing, and jetskiing. Licensed operators are easy to find in Patong, especially near the end of Bangla Road. You can expect to pay around 1,000 to 1,500 baht per person for a watersport experience. Though most operators are legitimate and committed to providing a safe and fun time for their customers, it is always best to exercise some caution. When it comes to jetskiing, in particular, make sure you check that the jet ski is licensed and insured, which should be displayed on prominent stickers on the sides of the machine.
Snorkeling
If you're interested in seeing what lies under the water at Patong Beach, then head to the north end of the beach to find some stellar snorkeling spots. Here, you will also find many vendors renting snorkeling equipment, so you don't have to worry about bringing your own. You can also sign up for one of the many snorkeling tours to different caves, reefs, and islands in the area.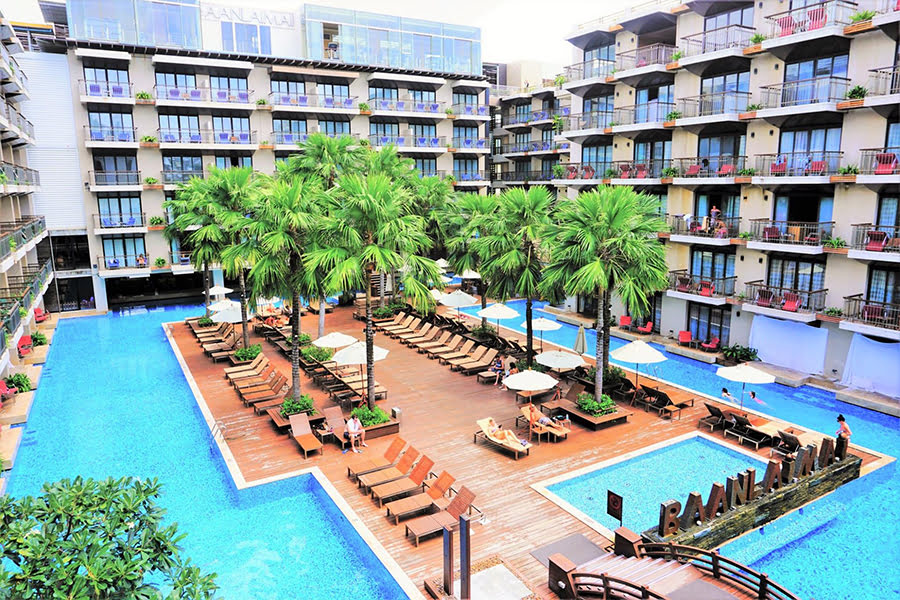 FIND & BOOK A HOTEL IN PATONG, PHUKET
Patong Beach Nightlife
Aside from the famous beach, many travelers come to Patong for the legendary nightlife. After the sun goes down, swaths of tourists head into town and party until the early morning hours. The activity is mostly centered on Bangla Road, a one-stop destination for every type of nightlife experience you could want. The road comes alive with neon lights and music playing from every direction. It is lined with all manner of beer bars, pubs, lounges, and dance clubs. (Some bars and clubs may be temporarily closed during 2021.) The hundreds of establishments in the area spill out onto the side streets branching out from Bangla Road as well, with the most popular streets being Soi Sea Dragon, Soi Crocodile, Soi Vegas, Soi Gonzo, and Soi Freedom. With the sheer variety of nightlife opportunities available, it can be difficult to know where to begin. Here are some recommendations to help you get started.
Top nightlife spots in Patong Beach
Seduction Nightclub Phuket – Located right on Bangla Road, Seduction Nightclub Phuket is one of the most renowned entertainment venues on the island. It has hosted some of the most famous DJs in the world, including Calvin Harris, Skrillex, and Steve Aoki. A state-of-the-art sound and lighting system keeps the young and energetic audience dancing all night long.
Red Hot Club – Another top spot on Bangla Road, Red Hot Club is the number one live music bar in Patong. The talented bands play mostly western rock and pop songs, and they always welcome song requests from patrons. Happy Hour before the bands take to the stage is a great time to come and get deals on drinks.
Tiger Night Club – Tiger Night Club boasts a tiger-themed ambiance and a fantastic lineup of bands and resident DJs that get the crowd moving. There are several bars and plenty of seating available if you need a break. The club is part of a larger entertainment complex where you can enjoy a complete night out, all at one venue.
Aussie Bar Phuket – If you're looking for a more laid-back atmosphere, then Aussie Bar Phuket is a perfect place to spend the evening. The big-screen TVs are always showing a wide range of international sports, the beer is cold, there are several pool tables, and the delicious bar food is a blend of Australian and Thai favorites.
New York Bar Phuket – New York Bar Phuket is a large and popular venue on Bangla Road that is almost always packed to the brim. Come by on any night of the week to see the live bands play an assortment of rock and Hip Hop hits. The bar also happily welcomes hen and buck parties.
Heroes Bar – A popular daytime venue, Heroes Bar is also a fun nighttime party spot. There is always an excellent lineup of live bands and DJs and a wide range of comfortable seating options. It's an awesome place to grab a drink while you sit back and watch all of the excitement passing by on Bangla Road.
Hard Rock Cafe Phuket – The Phuket branch of the famous chain, Hard Rock Cafe Phuket is one of the premier dining and entertainment nightlife spots in Patong. The split-level venue contains a bar area, a 300-seater restaurant, and patio seating. Located on Rat-U-Thit Road in the center of town, it provides a home away from home for many travelers.
FIND & BOOK A HOTEL IN PATONG, PHUKET
Patong Beach Dining
Patong Beach is a perfect spot for foodies and for tourists who simply appreciate a good variety of food. You can find almost every type of major world cuisine represented here, including Indian, Japanese, Chinese, Korean, Russian, German, Scandinavian, and more. There are also some truly authentic Thai restaurants scattered amidst all of the international fair that you don't want to pass up. As with everything else in Patong Beach, prices here tend to be higher than elsewhere in Phuket. In general, the price for a basic meal in Patong is 200 baht, though this can vary depending on where you go. Here are some recommendations for where to get the best value for your money. (Some restaurants may be temporarily closed or available for take-away orders only during COVID-19 restrictions.)
Best restaurants in Patong Beach
Kaab Gluay – If authentic Thai cuisine is what you are after, then Kaab Gluay should be at the top of your list. This established restaurant at the north end of Patong Beach has a friendly atmosphere and affordable prices. The menu consists mainly of fish and other seafood, but the stir-fried chicken is a top choice as well.
Saffron Spice Restaurant & Bar – When you're craving Indian food during your stay in Patong, it doesn't get any better than Saffron Spice Restaurant & Bar. Classical flavors and spices represent India's culinary diversity, and fresh ingredients ensure the quality of every dish. The restaurant is also known for its warm and relaxed atmosphere.
Sam's Steaks and Grill – Consistently one of the highest-rated restaurants in Patong, Sam's Steaks and Grill is known for its excellent service and even more excellent steaks, seafood dishes, and unique take on surf and turf. The restaurant is located just steps from the beach and has a stylish atmosphere, so resort casual dress is recommended.
La Gritta – Serving up contemporary Italian fair, La Gritta is one of the top choices for a romantic dinner in Patong. The furnishings and interior decor are very elegant, and guests get to enjoy views out over the bay. Choose from a menu of handmade pastas, gourmet pizzas, and an extensive list of fine wines.
EuroThai Restaurant – EuroThai Restaurant gives you a choice of the best in Thai and European cuisine. The Thai menu offers authentic local ingredients and flavors, while the western options include delicious steak, pizza, and pasta. Make sure you call for a reservation in advance, as this is a very popular spot with only 10 tables!
FIND & BOOK A HOTEL IN PATONG, PHUKET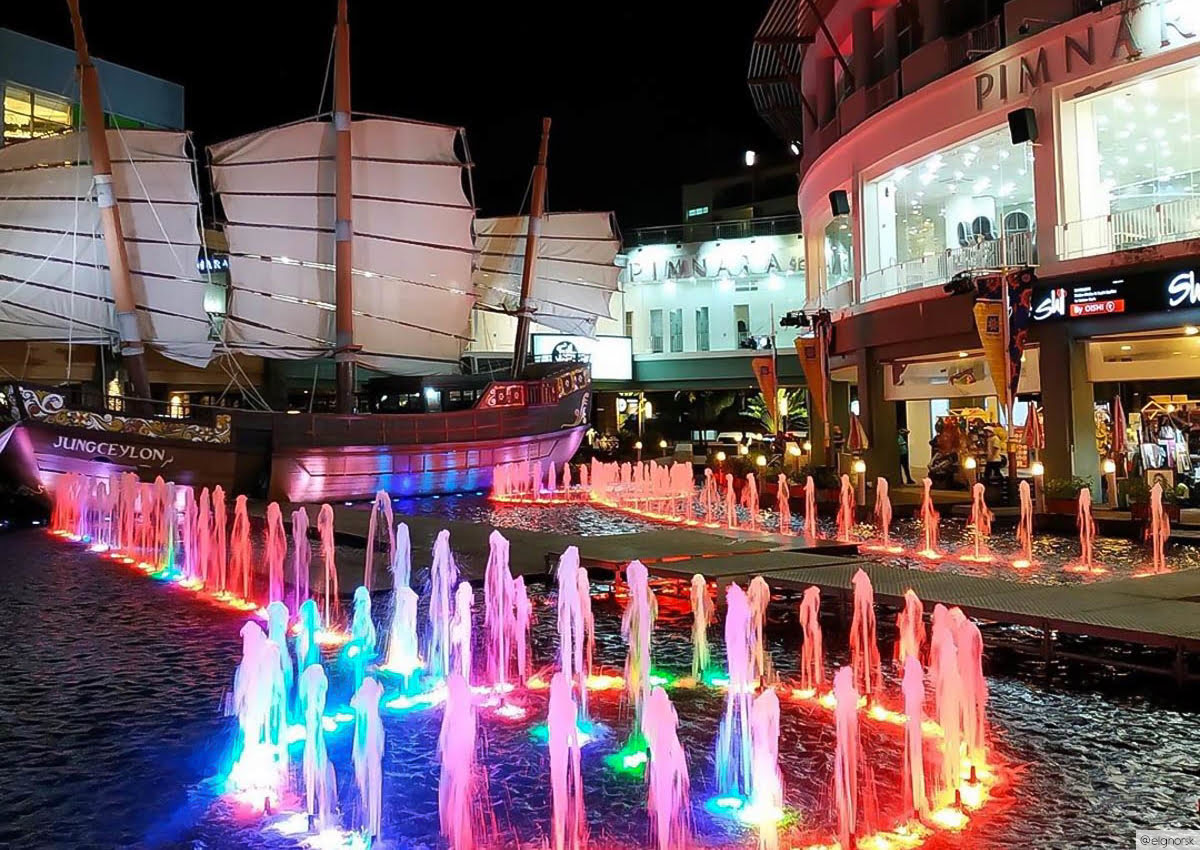 Patong Beach Shopping
Shopping is another main draw of Patong Beach, and visitors are often surprised at the number of shopping venues and the sheer amount of products available for sale. Every night, the whole town transforms into a giant marketplace. All of the main roads become crowded with stalls selling clothing, accessories, jewelry, beachwear, and more. Starting prices tend to be high, but you can definitely negotiate your way down to a better deal. Patong also has the most shopping malls of anywhere else on the island, and the malls carry all manner of brand name goods at very fair prices. When you head out to go souvenir shopping, here are some of the top malls and markets to visit.
Best shopping spots in Patong Beach
Jungceylon Shopping Center – One of Patong's major shopping malls, Jungceylon Shopping Center is located right off Bangla Road. The mall is home to a high-end department store, a supermarket, and 200 additional smaller store selling items like brand-name clothing, cosmetics, perfume, accessories, mobile phone accessories, and more. There's even a cinema and a bowling alley!
Banana Walk Shopping Mall – Right across from the beach, Banana Walk Shopping Mall is a three-floor shopping complex with a modern and minimalist feel. There is a large selection of brand-name stores, as well as some of the most well-known food and beverage chains in Thailand. After you're done eating and shopping, you can get pampered at a spa or salon.
Malin Plaza Patong – If you're looking for affordable souvenirs to bring back to friends and family, then Malin Plaza Patong is one of the best places to check out. The market has a hip and trendy atmosphere, and many of the permanent shops are housed in former shipping containers. You can find everything from clothing to spa products in the extensive selection here.
Royal Paradise Night Market – Royal Paradise Night Market is a quintessential, open-air Thai night market with around 100 stalls selling all manner of typical souvenirs and accessories. Some unique items that can be bought here include sandalwood ornaments and soothing essential oils. This is a great place to try your haggling skills.
OTOP Patong Market Phuket – Located on Rat-U-Thit Road, OTOP Patong Market Phuket is a unique shopping spot that focuses on locally crafted products sourced from Thailand's village communities. You will find a wide variety of traditional handicrafts, pottery, clothing, accessories, silk garments, and even regional foods. More typical souvenirs can be found here as well.
Banzaan Fresh Market – Banzaan Fresh Market is a hidden gem located just behind the Jungceylon Shopping Center. The main draw of the market is its wide selection of meat, seafood, fruits, and vegetables, but you'll find stalls selling other products as well. There is also a good food court where you can buy a filling meal for around 150 baht.
Future Plaza – Located near the south end of Patong Beach, Future Plaza is a higher-end shopping and entertainment venue. There are some unique products available here, including locally made wine and all sorts of herbal treatments. Quality salons and massage parlors offer a place to relax, and you can dine at the selection of restaurants as well.
FIND & BOOK A HOTEL IN PATONG, PHUKET
Top Hotels in Patong Beach
As it is the main tourist destination in Phuket, there is no shortage of excellent accommodations in Patong. Prices do tend to be higher here than in Phuket city, but there is also a wider selection of affordable accommodations as well. No matter your budget or travel style, you're sure to find a hotel or apartment suited to your needs that will ensure a comfortable and enjoyable stay. To help you narrow down your options, here is a look at the 10 best hotels in Patong based on features like location, facilities, amenities, and guest ratings.
BYD Lofts Boutique Hotel and Serviced Apartment
BYD Lofts Boutique Hotel and Serviced Apartment is an easy walk to the beach and Bangla Road, putting you in the middle of all of the action. The one- or two-bedroom apartments all feature modern furnishings and come complete with a kitchen, living area, and a terrace. A rooftop pool and airport limousine service are just some of the many perks offered to guests staying at this property.
The Marina Phuket Hotel
A little further from the beach but still within walking distance, The Marina Phuket Hotel offers all of the amenities you could need during your stay. Guests can enjoy a mid-day swim at the outdoor pool and relax by the poolside bar, or you can go for a workout in the fitness center. The property also has a relaxed restaurant and a cafe where you can grab a bite to eat before heading out shopping.
Baan Laimai Beach Resort & Spa
Have your feet in the warm sand of the beach within minutes by staying at the Baan Laimai Beach Resort & Spa. This stunning beach resort also offers a prime location near some of the best shopping and dining in the area. Facilities include an outdoor pool complex, a fitness center, a restaurant, a bar, and full-service laundry. Some rooms provide beautiful views of the sea while others look out over the pool.
Zenseana Resort & Spa
Just a five-minute walk to the beach, Zenseana Resort & Spa is well-placed within the nightlife and dining scene as well. It is a casual hotel with contemporary decor, and the rooms also come with private balconies. There is a restaurant and a cafe on-site, and the rooftop terrace pool is accompanied by a snack bar. Room bookings include a complimentary breakfast buffet with a great selection.
Baan Yin Dee Boutique Resort
For a hotel with a more traditional Thai feel, choose the Baan Yin Dee Boutique Resort. Built into a hillside, it offers wonderful views of Patong Beach. The upscale rooms are comfortable and come with a whole host of amenities, and breakfast can be included with your booking. Upgraded rooms also offer direct pool access. The beach is within walking distance, but hotel guests can take advantage of free shuttle service as well.
Novotel Phuket Vintage Park Resort
Novotel Phuket Vintage Park Resort offers a luxury stay for unbeatable value. The well-appointed rooms feature Thai artwork and wood floors, as well as 24/7 room service. On-site restaurants serve a wide variety of cuisine, and the property has a large outdoor pool to comfortably accommodate all guests. Other facilities include a spa, a fitness center, and even a kids club. This is a particularly popular hotel with families with young children.
Avista Hideaway Phuket Patong MGallery by Sofitel
Avista Hideaway Phuket Patong MGallery by Sofitel is a good place to stay if you are looking for a quieter and more relaxing getaway. It is surrounded by beautiful gardens, and some suites even come with outdoor living areas. Though a little further from the beach, shuttle service will get you there in no time. Indulge in the tasty breakfast buffet before setting off for the day and take advantage of free parking if you have a rental car.
Hotel Indigo Phuket Patong
For those looking to stay in the heart of the city, Hotel Indigo Phuket Patong will have you situated right by all of the top shopping, dining, and nightlife. It is just a five-minute walk to the beach as well. Standard rooms come with balconies, and upgraded rooms offer direct pool access. The property also has two pools, one with a rooftop location. Other amenities include a restaurant, a bar, a fitness center, and a spa.
Amari Phuket
Amari Phuket boasts perhaps the best location for those who want easy beach access without the accompanying crowds, as is situated on the quiet end of Patong Beach. Some rooms have stunning sea views, and suites add a kitchen or kitchenette. Two bars and three restaurants provide plenty of options when it comes to food and drink, and breakfast is complimentary as well. There is even a professional diving center located on-site!
Grand Mercure Phuket Patong
For a comfortable and convenient base from which to explore Patong, choose a room at the Grand Mercure Phuket Patong. Step right out to plenty of entertainment opportunities and enjoy an easy stroll to the beach. At the hotel itself, guests can pass the time at the fitness center, the pool, or the spa. There are many different types of suites available, from chic and trendy twin rooms to direct pool access villas.
FIND & BOOK A HOTEL IN PATONG, PHUKET