Osaka food choices can be found on every street corner, but some of the best places to eat in Osaka are tucked away in back alleyways and hard-to-find basements. These "kappo," as locals call them, might be an adventure to find, but the reward of trying must-eat specialties and some of the most famous food in the "Kitchen of the Nation" is totally worth it!

Takoyaki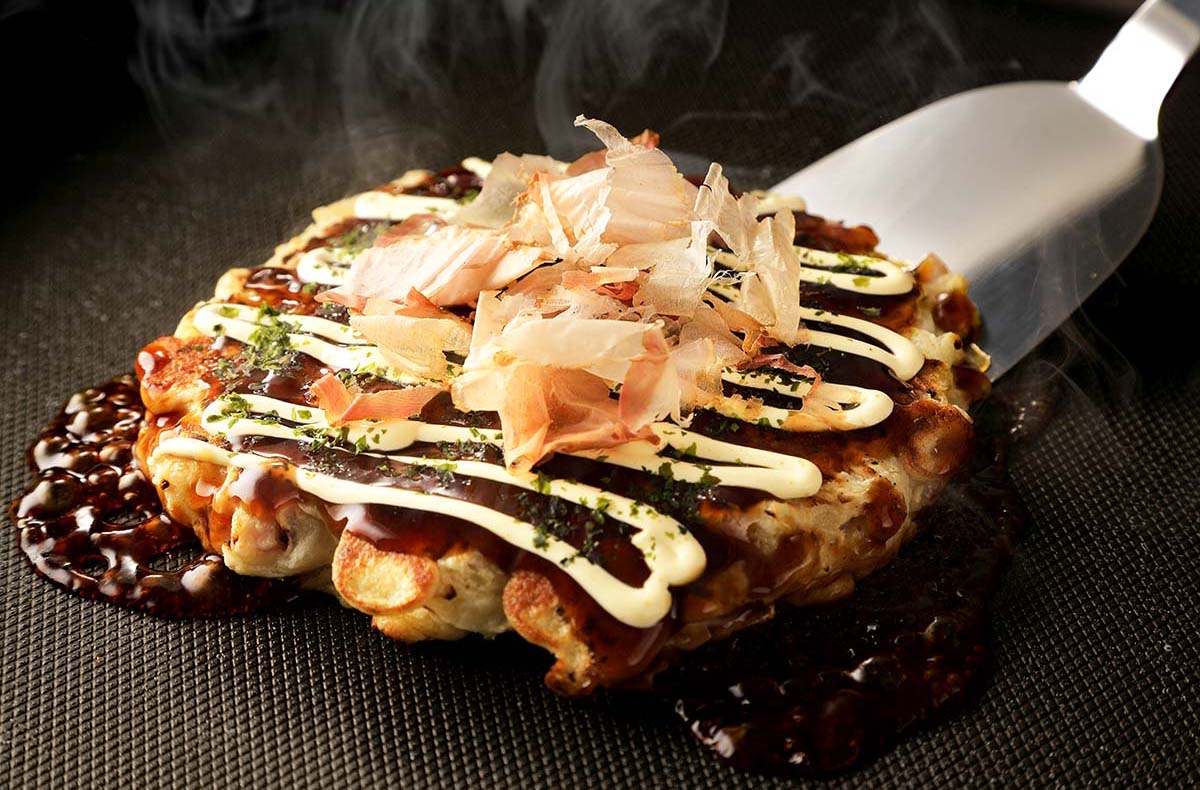 Okonomiyaki
Negiyaki
Local Osaka food specialties
Takoyaki: this specialty Osaka food generally contains bits of octopus, ginger, spring onions and tempura crumbs. The batter is grilled into ball-shaped dumplings, which can be eaten plain or topped with mayonnaise, seaweed and dried fish flakes.
Average price for 8 to 10 takoyaki balls: 450 to 600 yen (4.15 to 5.50 USD)
Okonomiyaki: meaning "grilled as you like it," okonomiyaki is a savory pancake made with eggs, flour, grated yam and shredded cabbage. Top the pancake "as you like it" with choices of seafood, pork, cheese and tomato. After everything is piled high, a dressing of mayonnaise, okonomiyaki (sweet and tangy brown) sauce, seaweed and dried bonito (fish) flakes goes on top.
Average price for okonomiyaki: 700 JPY and up, depending on toppings (6.50 USD)
Negiyaki: this savory pancake is similar to okonomiyaki but stuffed with green onion, rather than cabbage.
Average price for negiyaki: 1,000 to 2,000 JPY (9 to 18.50 USD)
Kushikatsu
Kitsune udon
Kushikatsu: popular with beer and available at many izakaya restaurants, kushikatsu is a skewer of meat, seafood or vegetables that is coated in panko and deep-fried to golden brown.
Average price for kushikatsu: 80 to 200 JPY per skewer, depending on ingredients (1 to 2 USD)
Kitsune udon: thick noodles topped with a large piece of fried tofu and covered in dashi (seafood) soup stock.
Average price for kitsune udon: 550 to 3,000 JPY (5 to 28 USD)
Tecchiri
Horumon
Unusual food to try in Osaka
Tecchiri: a hot pot dish containing fugu, or pufferfish.
Average price for tecchiri: lunch – 2,000 JPY; dinner – 4,000 JPY (19 to 37 USD)
Horumon: the one thing that separates horumon from yakiniku (Japanese barbecue) is the cut of beef. While yakiniku features prime cuts of high-grade beef, horumon showcases the organs and innards.
Average price for horumon: 1,000 to 5,000 JPY (9 to 46 USD)
5 famous horumon restaurants in Osaka
Sora: 3 Chome-4-21 Minamisenba, Chuo Ward
Yakiniku-Manno Horumonho Tennoji: 16-6 Horikoshicho, Tennoji Ward
Tachizushi Horumon Shinsenya!: 2 Chome-2-8-16 Nipponbashi, Chuo Ward
Kadoya: 1 Chome-4 Nanbanaka, Naniwa Ward
Horumon Yamato Teradacho: 4 Chome-2-7 Daido, Tennoji Ward
Check In to a hotel or apartment near Tennoji Station
Hotel Cocode Plus
EX Big Maisonnette Apartment in Namba
Ishimura Koshin Building
Step Out to the best Osaka food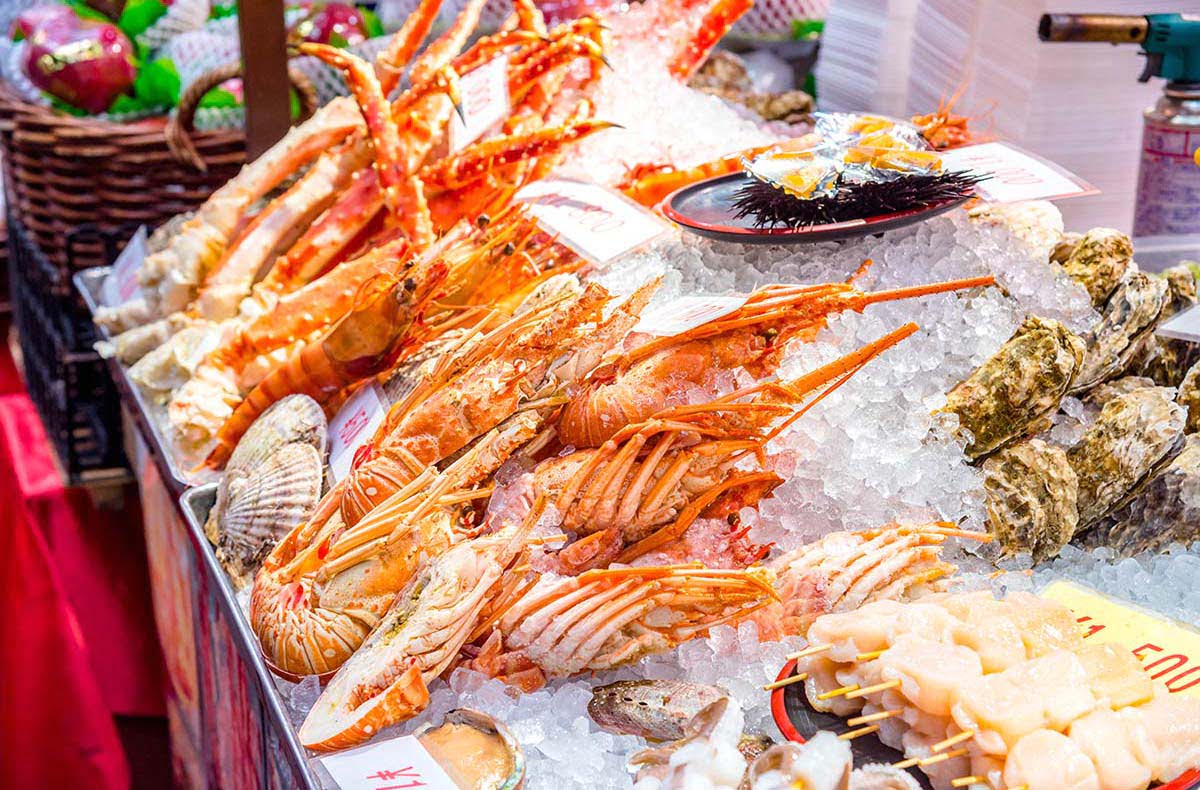 Best markets and street food in Osaka
Kuromon Ichiba Market
Since 1822, Kuromon Market has served as the backbone of Osaka food culture, supplying restaurants and chefs daily with fresh produce, seafood, meats and kitchenware. Through the years, the market has grown into one of Osaka's most popular tourist destinations, and it's one of the best places in the city to enjoy a freshly-cooked, authentic Japanese meal.
More than 23,000 people visit the market each day to buy fresh goods and snack on street food cooked at more than 150 stalls along the market path. The market contains about 25 restaurants, including cheap noodle and curry shops, as well as a handful of izakaya (Japanese bars), cafés and seafood restaurants.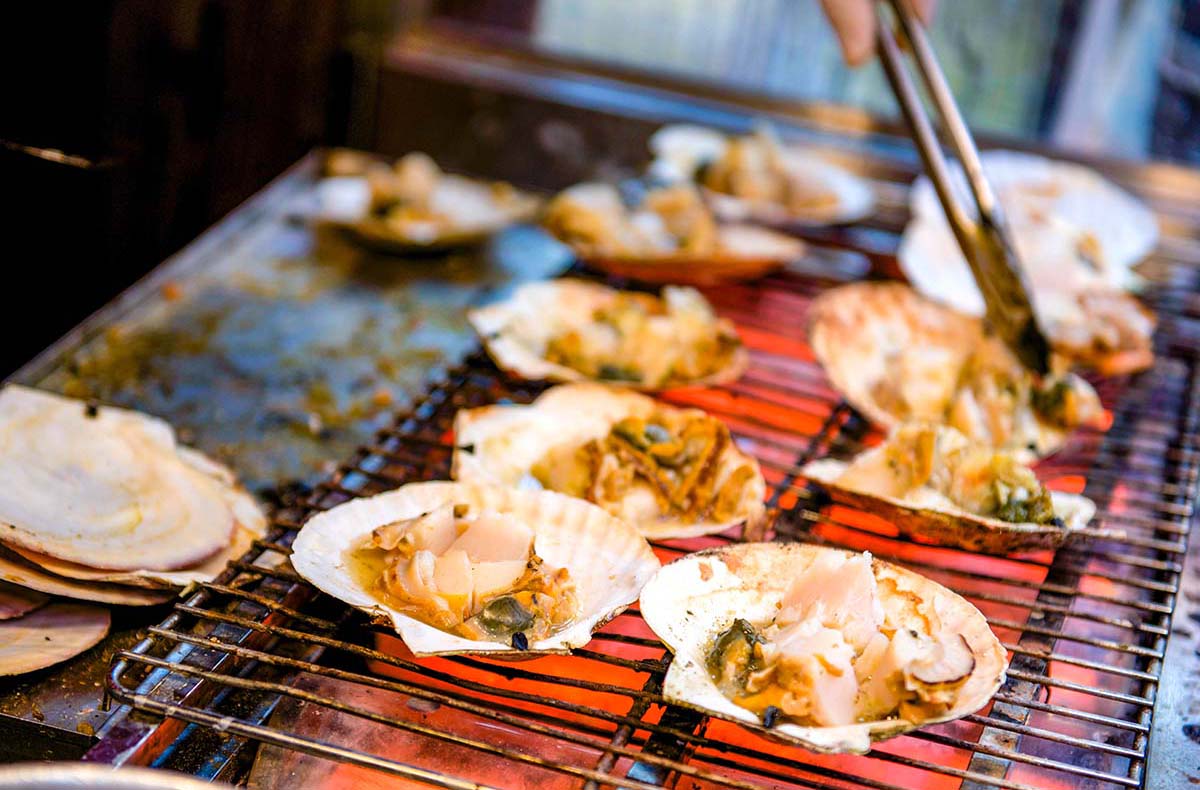 Grilled scallop
Sashimi
Oden
What to eat at Kuromon Market
▪ Takoyaki: best eaten while strolling through the market, takoyaki is an octopus-stuffed dumpling that is crispy on the outside and warm and gooey on the inside. One service of takoyaki generally contains eight octopus balls.
▪ Grilled scallop: enjoy buttery scallops grilled in the shell and seasoned with a drizzle of soy sauce.
▪ Sushi and sashimi: sample different varieties of sushi and sashimi while watching butchers masterfully carve out bite-sized morsels of fresh tuna.
▪ Oden: considered a wintertime comfort food, oden describes different types of fish cakes and balls that are skewered and then soaked in a bath of fish broth.
How to get to Kuromon Market
Take a train to Nippombashi Station and find Kuromon Market just outside Exit 10.
Discover more Osaka food at Kuromon Market: Cheapest Osaka Food & Japanese Restaurants
Nakanoshima Fishing Port
Located just outside Osaka's government district and alongside the Ajigawa River, the Nakanoshima fishing port is one of the newest attractions in Osaka. The waterfront market receives daily supplies of fresh seafood, and open-air restaurants have been growing in popularity since the market opened in 2015. Taste fresh-out-of-the-water sushimi and sushi carved by skilled local chefs who know their way around a tuna! Grilled shellfish and Japanese tuna bowls also are popular grab-and-go dishes in the Nakanoshima Minato dining area at the market.
How to get to Nakanoshima Fishing Port
Awaza Station is an 11-minute walk from Nakanoshima Fishing Port. Sightseers, however, can enjoy a few Osaka landmarks at Nakanoshima Station, which is a 15-minute walk from the port.
Attractions near Nakanoshima Station
▪ Takamatsu Clan Osaka Kurayashiki Landmark
▪ Nakanoshima cutting-edge scenic viewpoint
▪ Nakanoshima River Cruise
▪ Osaka City Hall
▪ Kansai Electric Power Headquarters
▪ ABC Hall (philharmonic hall)
▪ Dojima River Forum art gallery
▪ KURIOS: Big Top Touring Show
Dotonbori
Dotonbori is not a large area compared to other popular districts in Osaka, but Dotonbori definitely is the zone packed with the most restaurants, street food vendors and open-air stalls. Head down to the neon waterfront district about 5 p.m. and start queuing up for Dotonbori specialties like sukiyaki, yakisoba and yakitori. The more you eat, the more you'll fit in! Dotonbori is famous for upholding Osaka's obsession with food, which is summed up in the expression "kuidaore." The literal translation means "eat until you go into financial ruin," but the saying has been adapted to mean "eat until you drop!"
Ramen
Grilled crab for take-away at Kani Doraku Dotombori Honten
Gyoza
What to eat in Dotonbori
▪ Takoyaki: cooked in round, steel molds, takoyaki are a crispy-on-the-outside, creamy-on-the-inside ball stuffed with bits of octopus, green onion, pickled ginger and tempura crumbs. Eat takoyaki hot off the grill or top it with brown sauce, mayonnaise and dried bonito (fish). Some stalls in Dotonbori top their takoyaki with a soft-boiled egg.
▪ Okonomiyaki: this pancake gone wild is a savory flapjack stuffed with cabbage and topped with absolutely anything else you are craving. Fresh seafood and squid are popular choices. After everything is piled on, the entire heap gets decorated with lines of Okonomiyaki sauce and mayonnaise and sprinkled with bonito flakes.
▪ Ramen: Japan's beloved comfort food is dished up daily in Dotonbori. Dive into creamy bowls of pork and chicken bone broth chockful of springy noodles, tender pork and crunchy bean sprouts.
▪ Crab at Kani Doraku Dotombori Honten: it's fun to sit down and savor the flavors at Osaka's iconic crab shack, but if time is of the essence, grab a grilled crab from the takeout window and keep exploring Dotonbori!
▪ Gyoza: these little pockets stuffed with tasty ground meat and green onion are popular on the street and in every izakaya. Gyoza are served in various ways, but most foodies agree that they are best grilled, dipped in soy sauce and washed down with a beer!
▪ Kitsune udon: made with thick udon noodles, green onion and a dashi (seafood) soup stock, kitsune udon's signature ingredient is a deep-fried slab of tofu placed right on top.
▪ Kushikatsu: a great Japanese snack to grab on the go, kushikatsu is a skewer of meat, fish or vegetables that is coated in egg and panko and deep fried to crunchy perfection.
How to get to Dotonbori
Namba Station is a 5-minute walk from Dotonbori.
Tsuruhashi | Osaka Koreatown
Known for its kimchi shops and Korean barbecue street, Tsuruhashi – or Koreatown – contains a maze of Korean restaurants, K-pop stores and Japanese souvenir shops. Discover more varieties of kimchi than you ever knew existed, and drool all the way down an entire street devoted to yakiniku (grilled meat).
How to get to Tsuruhashi (Koreatown)
Tsuruhashi Station drops passengers off at the entrance to Koreatown.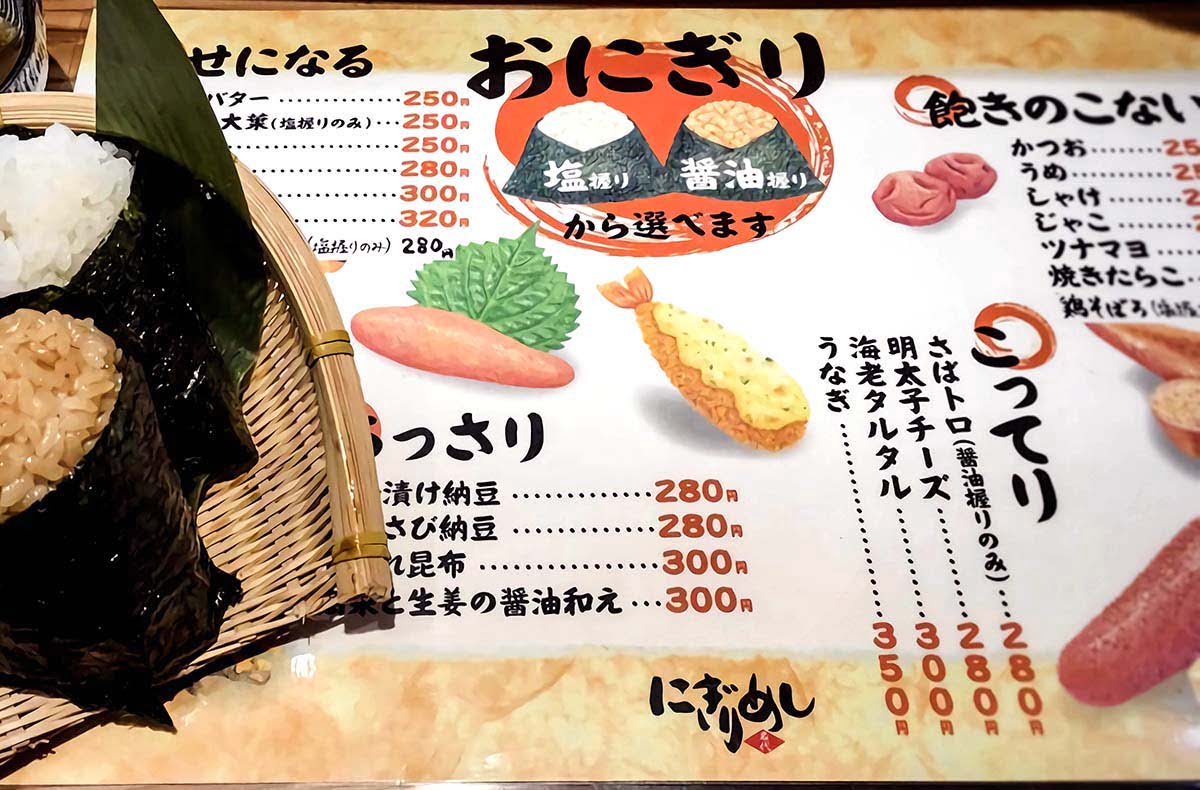 How much does it cost to eat in Osaka?
Prices range drastically for Osaka food, but the best news is that some of the tastiest dishes don't cost an arm and a leg.
Cheap street food like okonomiyaki, takoyaki, ramen, soba and udon costs between 500 and 1,000 JPY (4.60 to 9.25 USD).

Casual dining in Osaka can cost between 1,000 and 3,000 JPY (9.25 to 28 USD), and restaurants often offer discounted "set menus" during lunchtime. Bento boxes, or lunch boxes, also are popular with locals because they can be purchased on the run at any convenience store or train station.

Upscale dining in Osaka is a treat, for sure, and prices vary greatly. Most fine dining establishments require a reservation and observe strict dress codes.
Discover 18 Best Restaurants in Osaka for the Ultimate Japanese Food Tour
Check In to a hotel or apartment near Nippombashi Station
HOTEL ASIATO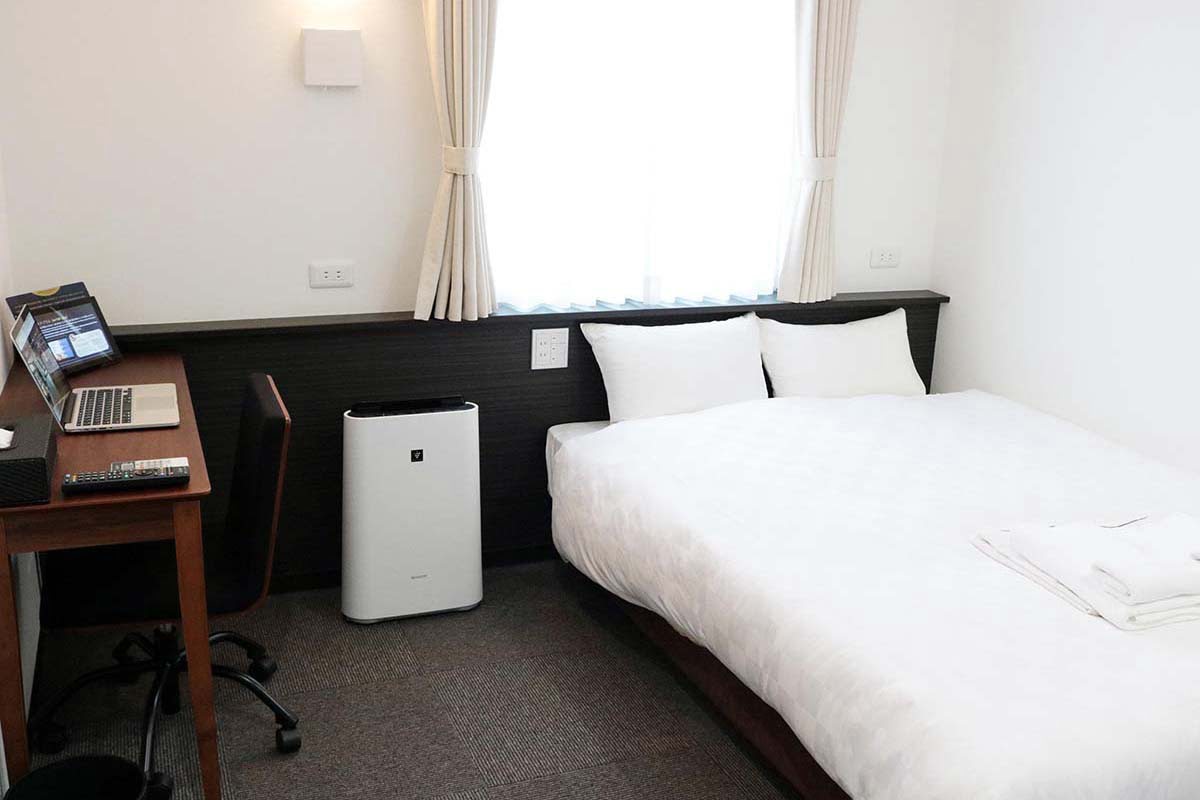 Universal Hotel Reborn
Hotel Relief Namba Daikokucho
Step Out to the best food in Osaka